If you click on the links in this post, we may earn money from the companies mentioned in this post, at no extra cost to you. You can read the full disclaimer here.
Are you looking for a great restaurant in Tybee Island, Georgia?  Then look no further than Salt Island Fish and Beer!
My family was recently in Tybee Island looking for a place to eat.  A great thing about Salt Island about this restaurant is the hours.  While it is not open on Tuesday, it is open from either 11:00 AM or 12:00 PM to 10:00 PM each day.  A lot of restaurants in Tybee Island close mid-day, so if you like a late lunch or you arrive in Tybee Island later than you were planning (hint: this is what happened to us), this is a great choice for a restaurant.
Since we did get there outside traditional lunch or dinner hours, the restaurant wasn't too crowded when we arrived.  The interior of the restaurant is really cute and colorful.
It was an incredibly hot day (what day hasn't been hot this summer?) so it was nice to sit inside in an air-conditioned.  They also had plenty of fans, too.  That made this restaurant more appealing to oceanside dining.  Salt Island does have patio seating.
But since it was so hot I am not surprised no one was sitting there.
I was hoping for an ice-cold Coca-Cola to hit the spot, but unfortunately, they are one of those rare restaurants in the state of Georgia that serve Pepsi products instead.  I normally order a Mountain Dew whenever a restaurant serves Pepsi products, but they didn't have that, either.
The good news here?  They had really good water.  And I was particularly pleased with this since I don't usually like water whenever I order it at the beach.  But their water was really good.  An added bonus?  The jars they came in were really cute.
Since we were there in the afternoon, I wasn't necessarily looking for an alcoholic drink.  But if I had, I would have been pleased.  With the bar and drinks they have, I imagine they do a great business in the evening.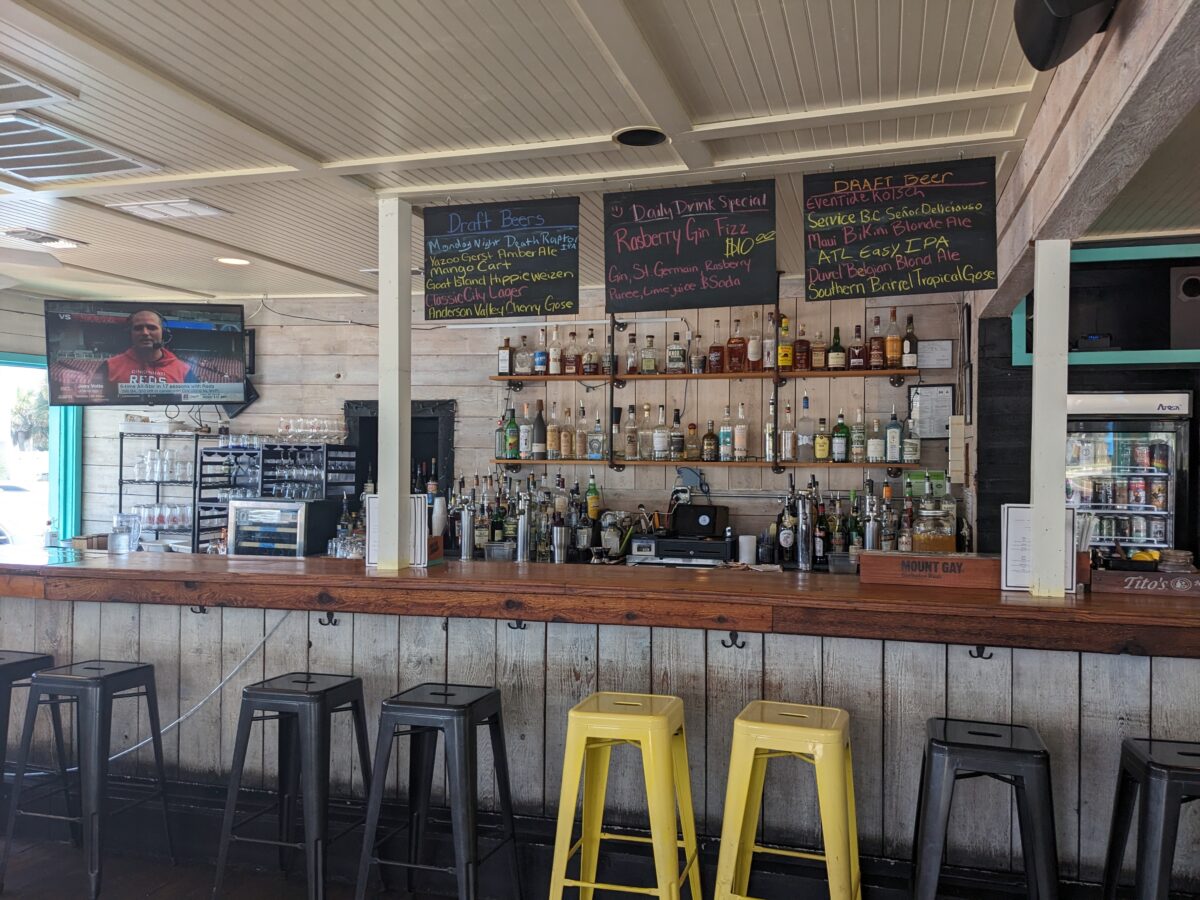 Plus, they even have live music every Friday.
Food Review
But since I was here during the week at lunch, I was here for the food.  We were hungry since we had arrived at lunch later than we would have liked.  But luckily, we did not have long to wait for our food.  We were very impressed with how quickly they brought out the food.  You could see the steam coming off it, too.
Now, whenever I go to the beach, I love to order seafood.  Seafood on the coast, in my opinion, is the best seafood you can get.  But they had a really intriguing Cobb Salad also on the menu.
Luckily, I did not have to choose between dishes.  I could just add shrimp to the dish!
Not only that, but they let me choose how I wanted the shrimp prepared.  I chose to have the shrimp marinated with a lemon-garlic butter mixture.  And let me tell you, it was so delicious.  I love shrimp plain, but that's a really great way to eat shrimp.  It was some of the best shrimp I have ever had.  And there was plenty of shrimp.  You don't always get that with
The rest of the salad was great, too.
But this restaurant isn't just great seafood.  They have other great non-seafood items as well.  For example, they had a great Patty Melt!
This was so good!  All the flavors blended perfectly.  The meat in particular was really good.
Conclusion
Salt Island Fish & Beer is a great restaurant with plenty of indoor seating in air conditioning, which is much appreciated this summer.  The service was great and the food is delicious.
And going to this restaurant is very convenient for anyone traveling to Tybee Island, especially if you are staying in one of Tybee Island's hotels like Hotel Tybee, DeSoto Beach Hotel, Dunes Inn & Suites.