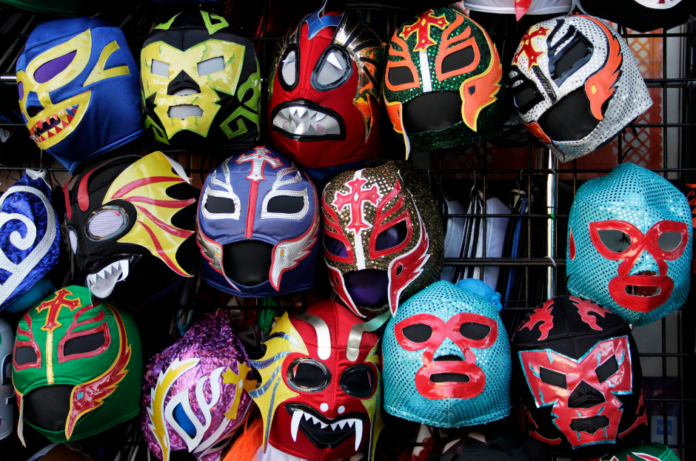 If you click on the links in this post, we may earn money from the companies mentioned in this post, at no extra cost to you. You can read the full disclaimer here.
Lucha Libre has been a very popular form of professional wrestling ever since it first originated in Mexico.  Its great storytelling, colorful masks, and "high-flying" acrobatic tricks make it a lot of fun to watch.
And if you would like to experience this for yourself, then you should attend the upcoming La Bulla!  Antonio Pelayo Productions is presenting the ninth annual La Bulla.  This is a Lucha Libre Music & Arts Festival.  This year, it will be hosted by Fabian Alomar.
You'll be getting to some great wrestling.  This includes EL CONJUNTO NUEVA OLA, PHYCHOSIS, and Lil Cholo's House of Lucha.
Dj Sloe Poke, & DJ Sizzle Fantastic, and DJ OSKR will be there bringing great music to the event.  You can enjoy Cumbia and dancing.  Lizzy G & Player WON!! will be there giving live performances.
There are Mexican food and drinks available if you get hungry or thirsty.  There's a bike show presented by Mezkla MC and a fashion show presented by Thrifs.
Art Show
And then there is a great art show curated by Eddie Donaldson.  Participating artists include:
Aaron Hernandez
Annie Mickle
Bleek
Alfredo Saldana
Alfie Numeric
Beth Bowen
Chato
Beatriz Ochoa
Carla Guerra
Cesar Martinez
David Palacios
Eduardo Guttierez
Ernan Landa
Cindy Hernandez
Esmeralda Ezz
Cosme Cordova
Daniel Boza
Daniel Hernandez
Dante Marshal
Hope Garcia
David Arquette
Dave Navarro
Edmundo Duran
El Sid
Eloy Martinez
Erik Guzman
Frances Loquet
Giselle Ramirez
Guerin Swing
Jessica Simone
Jorge Gervacio
Johnny Ruthless
Leticia White
Manny Torres
Isaac Pelayo
Jacqueline Valenzuela
Jasmin Nicole Garcia
Jeremy Gonzales
Trisha Blaze
Jesse Palacios
Jennifer Korsen
Jim Evans TAZ
Joe Tate
Joey Moreno
Marco Mosqueda
Mathew Weinberg
Michael Kirst
Oscar Ramirez
Joey Perez
Julian Gonzalez
Lupe Casas
Love Crew
Marlene Calderon
Mando Espinoza
Matthew Ehrmann
Mario Alberto
Mark Sandoval
Menso
Rafa Ruiz
Paco Montes
Sam Flores
Stephanie Ortiz
Violeta Amaral
Misael Gaona Berrios
Nick Guzman
Oscar Magallanes
Pablo Damas
Pepe Vazquez
Plastic Jesus
Priscilla Martinez
Raul Antonio Rivas
Rob Guadarrama
Ryan Campbell
Saber
Shwalami
Spanky Loco
Tonantzin Reyes
Tommy Hollenstein
Vyal Reyes
Wizrock One
Yesenia Calvillo
Ruben Lopez
Zea
Location
La Bulla Lucha Festival will take place at Plaza de la Raza on August 19, 2023, in Los Angeles, California.  It takes place at 7:00 PM.  And if you want to purchase a ticket to the event, keep reading to find out how to save money on this ticket!
Promo Code
Looking to save money on admission to this festival with a promo code?  Well, I know a way you can save money that is even better than a promo code: an automatic discount!
You just need to purchase your festival ticket here.  Then you'll save 20% on your ticket.  No promo code or coupon code is needed since the discount is automatic!