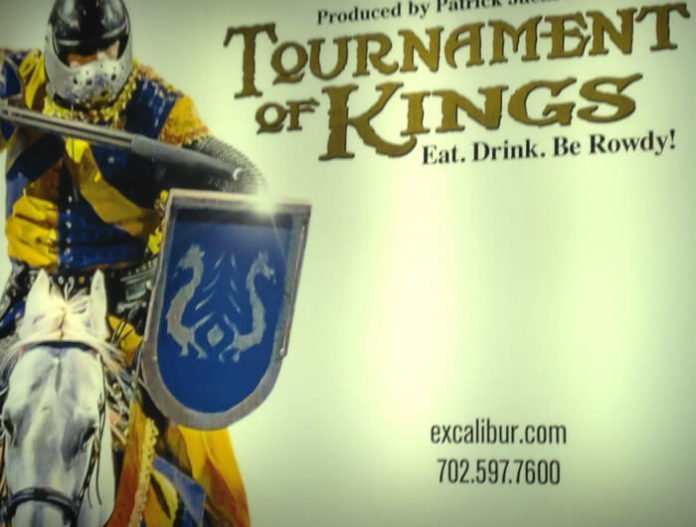 If you click on the links in this post, we may earn money from the companies mentioned in this post, at no extra cost to you. You can read the full disclaimer here.
Las Vegas may be known as Sin City and America's adult playground, but what happens if you wind up there with kids?  Well, dispel any former notion you had that there aren't any family friendly attractions in Las Vegas, because there's actually a lot of great things to do in Las Vegas that would be fun for the whole family.  Whether you have toddlers, older children or a mix, there are bound to be enough activities to interest – and be appropriate – for your whole family.  Here are 10:
1. Tournament of Kings:
You and your family can enjoy a three-course meal while being entertained by a show in which King Arthur welcomes several different kings from around Europe representing different sections of the arena, and you can cheer the knights from your section on as they joust and sword fight.  It's exciting but kid friendly, and as an added bonus, kids under 3 can sit in your lap and eat for free.  And you can get a good price for your tickets by purchasing tickets here.
2. Shark Reef Aquarium at Mandalay Bay
Children and adults alike are fascinated by sharks, which make the Shark Reef Aquarium at Mandalay Bay the perfect activity for both children and adults wanting to spend time together as a family.  There are more 2,000 different animals at the Shark Reef Aquarium, and it's North America's only predator-based aquarium & exhibit. And if you book your ticket here, you can save money.
3. Circus Circus
Your family should absolutely love all the fun activities that you can find at Circus Circus.  You can enjoy all kinds of fun activities here: roller coaster rides (including the world's only indoor double-loop, double-corkscrew roller coaster), midway games, bumper cars, family & junior rides, an arcade, rock climbing, bungee jumping, miniature golf, free clown shows and more.  And if you want to stay here during your trip to Las Vegas, you should book the hotel through Hotels.com, where you can get significantly reduced rates.
4. High Roller Observation Wheel
Here's a ride your kids can enjoy – but unlike roller coasters you might find at theme parks, adults like myself could actually ride without worrying about losing their lunch.  It's the world's largest observation wheel and you'll get 360-views of the Las Vegas Strip & surrounding city while enjoying entertainment in your glass-enclosed cabin.  And if you book this experience here, you can save up to 35% off.
5. Blue Man Group
The Blue Man Group has proven to be popular with both adults and children.  The music, comedy & multimedia theatrics plus audience interactive elements will make for an experience your whole family will enjoy.  The Blue Man Group is at the Luxor Hotel, and you can purchase discounted tickets here.
6. Popovich Pet Theater
If your family loves their pets, then you'll enjoy this family-friendly show!  This show features clowns, jugglers and 10 dogs and 15 cat performers who were rescued from animal shelters.  The Popovich Pet Theater has been featured on both the Tonight Show and America's Got Talent, and now you can see it at Planet Hollywood's V Theater – and you can save up to a whopping 77% on admission by booking your ticket here.
7. Marvel's Avenger STATION
Once again, if your children love superheroes, they're going to love this.  It's a full immersive and educational experience located inside Treasure Island Hotel.  You'll be able to gain access to classified studies & experiments all the while training to become an agent of the STATION. You can also see a range of Avengers operational equipment, like Bruce Banner's laboratory and Captain America's uniform & shield, plus you can learn to operate Iron Man's suit!  And if you book this experience here, you can save 29%.
8. SeaQuest Las Vegas
So you know how I mentioned sea animals are great for both children and adults?  Well, another great aquarium to visit is SeaQuest!  They have over 1,500 species of animals.  It is really an immersive experience.  And you can find out how to get a coupon for the experience here.
9. Madame Tussauds
Your whole family will get a kick out of seeing wax replicas of movie & TV stars, musicians athletes and famous Las Vegas icons (though be warned that some of the outfits you may not find appropriate – I would check out the pictures on the website to give yourself a good idea of whether or not it's what you want for your family).  If you decide to go, you can purchase a discounted ticket here.
10. Wet 'n' Wild Las Vegas
Just 25 minutes away from the Strip is this top family attraction, a waterpark on 33.5 acres with something for everyone, with more than 25 waterslides (including a waterslide gaming experience & a funnel slide catapulting you through the air), a lazy river, a wave pool & a Kiddie Cove with 3 waterslides for kids.  And you can purchase tickets online here.