If you click on the links in this post, we may earn money from the companies mentioned in this post, at no extra cost to you. You can read the full disclaimer here.
Are you planning a trip to Orlando for the Walt Disney World 50th Anniversary Celebration?
This is a fun, 18-month event that will be held all over the Walt Disney World Resort.
And one of the ways that Disney is celebrating is with special 50th anniversary food items!
Let's take a look at where to find some of the best Disney World 50th Anniversary snacks so that you'll know what you can't miss on your next Disney vacation.
Magic Kingdom
Adventureland
Fifi, Gigi, Mimi – Aloha Isle
This treat is made of vanilla, orange, and pineapple bundt cakes stacked and filled with Dole Whip Pineapple.
Showtime with Jose – Aloha Isle
Is Jose your favorite of the Tiki birds? Then you might want to try this vanilla and mango soft-serve swirled pineapple float decorated with a blue feather.
Tropical Serenade – Aloha Isle
This is a passion-orange-guava juice, coconut soft-serve, pineapple upside-down cake pop.
Fantasyland
Mr. Toad Dome Cake – The Friar's Nook
This peanut cake also includes chocolate-peanut butter mousse and salted caramel.
The Wild Ride – The Friar's Nook
With this snack, you'll get a frozen sour apple, blue raspberry, and apple slushy that's topped with a black licorice wheel.
Mickey Mouse Dome Cake – Gaston's Tavern
Enjoy a spiced chocolate dome cake filled with crème brûlée – and chocolate gazed with Mickey Ears and the 50th Castle Logo!
Heigh-Ho Sundae! – Storybook Treats
This is a delicious sundae with chocolate soft-serve, graham cracker pieces, hot fudge, whipped cream, and chocolate gems.
Snow White – Storybook Treats
Dole Whip Lemon, Blue Cone, Chocolate Bird, and Sugar Bow makes up this fun snack.
Frontierland
Wendell's Bear Claw – Golden Oak Outpost
Country Bear Jamboree fans, check out this traditional bear claw that's been dipped in chocolate sauce and sprinkled with hazelnuts!
Main Street USA
Pressed Penny Silk Pie – Casey's Corner
This fun menu item consists of a chocolate tart shell, sweet whipped cream, silky chocolate filling, and a chocolate-pressed penny.
Tomorrowland
Uncle Orville Great Big Beautiful Tomorrow Sundae – Auntie Gravity's Galactic Goodies
Named for the long-suffering relative in the Carousel of Progress, this impressive sundae is made with vanilla and chocolate soft-serve, hot fudge, whipped cream, and brownie pieces, and topped with red, white, and blue sprinkles. And it's fittingly served in a bathtub!
EPCOT
World Celebration
This croissant doughnut is covered with sprinkles and blue icing.
World Nature
Lemon Chiffon – Sunshine Seasons
You'll get lemon chiffon cake with blueberry mousse when you order this treat.
Mini Chocolate Bundt Cake – Sunshine Seasons
This mini chocolate bundt cake has sprinkles, chocolate ganache, and icing. And it's dusted with Chocolate 50th Anniversary Garnish and EARidescent Shimmer.
Hollywood Studios
Echo Lake
Glimmer and Shimmer Funnel Cake – Epic Eats
This funnel cake dish includes cookies 'n cream and soft-serve vanilla ice cream. It's also topped with golden cookies and sprinkles.
Hollywood Boulevard
Glimmer and Shimmer Pineapple Mousse – The Trolley Car Café
Caramel cream and Matcha sponge cake accompanies this golden pineapple mousse on a toasted coconut crisp.
Pumpkin Mousse – The Trolley Car Café
This milk chocolate-chai mousse is filled with pumpkin bread and placed on top of a chocolate shortbread cookie and vanilla buttercream.
Sunset Boulevard
Glimmer and Shimmer Blondie – Fairfax Fare
Celebrate the 50th anniversary with this gooey toffee and toasted coconut blondie, with festive gold nuggets and salted caramel buttercream.
Disney's Hollywood Studios 50th Celebration Sandwich Cookie – Rosie's All-American Café
This treat is a pretzel shortbread cookie with strawberry jam and peanut butter-chocolate fudge.
Animal Kingdom
Africa
Birthday Blueberry Muffin – Tamu Tamu Refreshments
Colorful sprinkles add some celebratory fun to this house-made blueberry muffin.
Colossal Mickey Cinnamon Bun – Tamu Tamu Refreshments
Royal blue icing decorates this huge cinnamon bun made in the shape of Mickey Mouse.
Scar's Lair – Tamu Tamu Refreshments
Sour apple-flavored syrup sets this Dole Whip apart.
Lion's Lair – Tamu Tamu Refreshments
Adults ages 21 years and older can enjoy this grown-up treat – it's basically Scar's Lair, but with Parrot Bay Coconut Rum.
Asia
KiteTails Sundae – Anandapur Ice Cream Truck
You can pick up this sweet treat on the way to the new KiteTails show, which debuted just in time for the 50th Anniversary. The sundae has strawberry and lemon-flavored soft-serve that is swirled together. On top, there is a white chocolate medallion.
Hand-dipped 50th Celebration Mickey's Premium Ice Cream Bar – Drinkwallah
Treat yourself to a classic Nestle Mickey's Premium Ice Cream Bar – but this time, it's dipped in blue raspberry-flavored coating, with celebration sprinkles… and a little bit of pixie dust!
DinoLand USA
50th Celebration Ice Cream Sandwich – Dino-Bite Snacks
You'll find delicious vanilla ice cream in between two house-made double chocolate chip cookies. And to top it off, this special ice cream sandwich also has celebration sprinkles and a 50th anniversary medallion.
Discovery Island
Colossal Mickey Cinnamon Bun – Creature Comforts
If you're not able to make it to the Africa section of Animal Kingdom, you can also find the Colossal Mickey Cinnamon Bun here.
50th Celebration Mickey Mousse Dome – Creature Comforts
This fabulous sweet treat is made from a chocolate brownie base with gold-dusted chocolate sprinkles, and birthday cake-flavored mousse with a gold-dusted 50th anniversary medallion and gold-dusted Mickey Ears.
50th Anniversary Celebration Cupcake – Creature Comforts & Flame Tree Barbecue
This cupcake is made of lemon cake, lemon chiffon filling, and vanilla frosting. It also features celebration sprinkles, a gold-dusted 50th anniversary medallion, and a splatter-coated chocolate Mickey.
Birthday Blueberry Muffin – Isle of Java
In addition to buying this special blueberry muffin at Tamu Tamu Refreshments, you can also find it at Isle of Java.
Disney Resort Hotels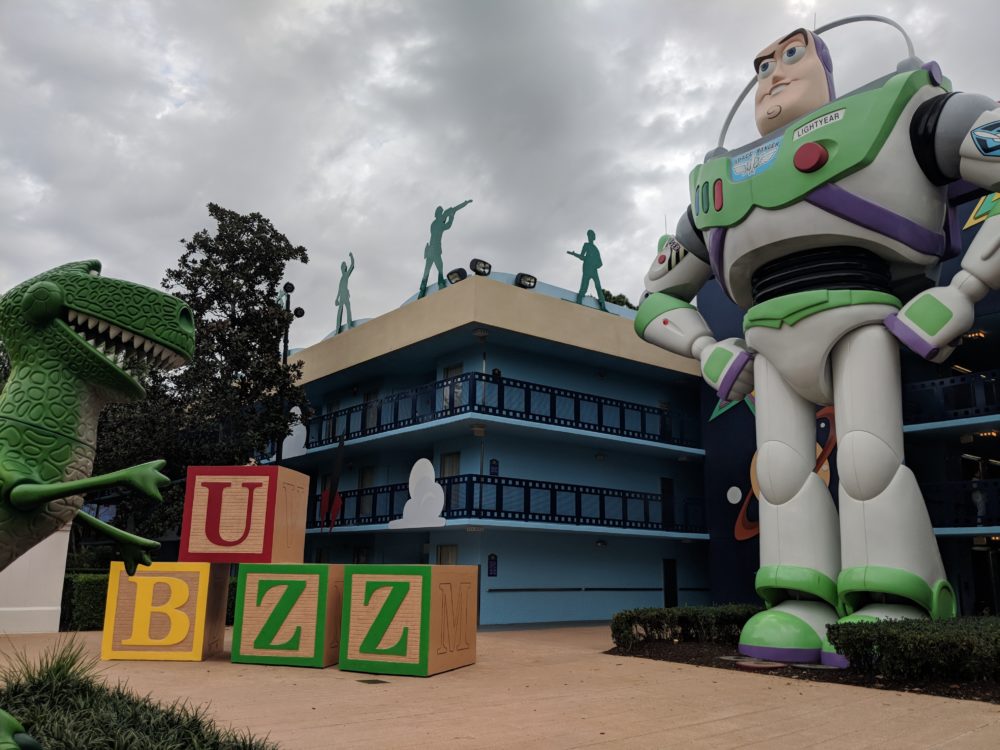 All Star Movies
50th Anniversary Dessert – World Premiere Food Court
This gluten friendly menu option consists of a raspberry cheesecake with a rose gold champagne-infused glaze on an almond cookie.
All Star Music
50th Anniversary Dessert – Intermission Food Court
If you're staying at All Star Music, no need to walk over to All Star Movies for this delicious raspberry cheesecake treat – you can find it in both food courts.
Boardwalk
50th Celebration Cupcake – BoardWalk Bakery
You don't want to miss this scrumptious cupcake, which has marshmallow cream and is decorated with gold crisp.
Contemporary Resort
50th Anniversary German Chocolate Cupcake – Contempo Cafe
This is a chocolate cupcake with German chocolate filling inside. On top, you'll find buttercream, a white chocolate curl, and a chocolate Disney's Contemporary Resort anniversary piece.
50th Anniversary Peanut Butter-Banana Pie – Contempo Café
The sweet tart shell is full of peanut butter mousse and banana sauce. On top, there is a chocolate glaze and chocolate decor.
Old Key West
Crème Brulée Éclair – Good's Food to Go
You'll love the crème brulée custard, sugar crust and caramel ganache with a milk chocolate disc.
Polynesian Resort
50th Celebration Cupcake – Captain Cook's
This fun treat includes a Dole Whip pineapple center, tropical fruit salsa and a pineapple macaroon.
50th Celebration Dole Whip Lime – Pineapple Lanai
Enjoy lime Dole Whip with a 50th white chocolate medallion.
Riviera Resort
This fabulous snack is made of espresso and Italian liqueur-soaked lady fingers with a light mascarpone cream, dusted with cocoa powder. And there's a chocolate 50th anniversary stamp to top it all off!
Saratoga Springs
Lemon Meringue – The Artist's Palette
In honor of the 50th anniversary, enjoy this lemon meringue, with graham cracker crust, lemon curd, honey-swiss meringue and fondant decor.
Wilderness Lodge
Petit Stump Cake – Roaring Fork
Honor Disney World's 50th birthday with a fun themed treat! It's a chocolate cake with birthday cake buttercream filling. And it's surrounded by chocolate "bark" fondant with a 50th anniversary chocolate piece on top.
Disney World 50th Anniversary Vacation
So if you want to take that Disney World vacation during the 50th Anniversary Celebration, you'll definitely want to save money on your trip.
Click here to find ways to save on your theme park admission.
And click here to learn about the best ways to book your hotel stay that will give you the lowest rates.
If you stay at a Disney resort right now, you'll be able to take advantage of the Early Entry benefit for Disney hotel guests. So keep this in mind when you're making your plans!