If you click on the links in this post, we may earn money from the companies mentioned in this post, at no extra cost to you. You can read the full disclaimer here.
When you visit the Walt Disney World Resort in Orlando, Florida, staying onsite really has a lot of perks.
The main perk to me is the bus system.  Buses are there to take you to the parks and take you back to your hotel, and they run all day.  Hotels offsite may have a bus to take you to Disney World, but they typically run only a few times in the morning to take you there and a few times in the evening to take you back, so staying at a Disney hotel gives you a lot more flexibility.  And it's certainly a lot easier than driving yourself to the parks and dealing with those parking lots.
But the Disney World Resort has a lot of great hotels with a lot of other fun features, too.  And it's really neat to feel that special magic Disney feeling during your whole trip.
So the real question for you might not be whether you want to stay onsite.  The question might be more, which hotel should my family stay in?
Two hotels that may have jumped out to you as appealing are Disney's Pop Century Resort and Disney's All Star Movies Resort.  Both of these hotels are fun with great theming.  They have wonderful Disney touches and attention to detail.  They are also both considered "value" hotels so they are more affordable than other Disney hotel options.
But which one should you choose?  Today I'll compare the two hotels to get you a better idea of which one you should choose.
Skyliner Access
So the main difference between the two hotels is that Pop Century has a Skyliner station right behind the hotel.  You can use the Disney Skyliner to take a Skyliner to either Epcot or Hollywood Studios.
This is an incredibly convenient way to visit the parks.  I praised the buses before, but to me this is an even better way of transportation.  The Skyliners keep coming continually so it's quicker.  You don't have to worry you missed the bus and wait another twenty minutes or so.  And you can get some nice views from up high.  It takes you right to the World Showcase entrance of Epcot, so it's great if you like that part of Epcot.  And it takes you really close to the entrance of Hollywood Studios.
All Star Movies does not have a Skyliner station.
Advantage: Pop Century
Pricing
So, the Skyliner transportation is a huge asset to Pop Century.  Because of this, Pop Century is generally more expensive than All Star Movies.  And by the way, you can find great rates for All Star Movies here and great rates for Pop Century here.  I've found so much better rates there for Disney hotels than on other websites, including the pass holder rate on Disney's website.
Advantage: All Star Movies
Theming
As the name implies, All Star Movies is themed to movies.  Specifically, Disney movies.  Well more specifically, five different Disney movies: Toy Story, 101 Dalmatians, Fantasia, Mighty Ducks, and The Love Bug.  There are different sections for each movie.  And what is neat about this theming is that there are huge, larger-than-life versions of popular characters throughout the section, plus other neat Disney touches.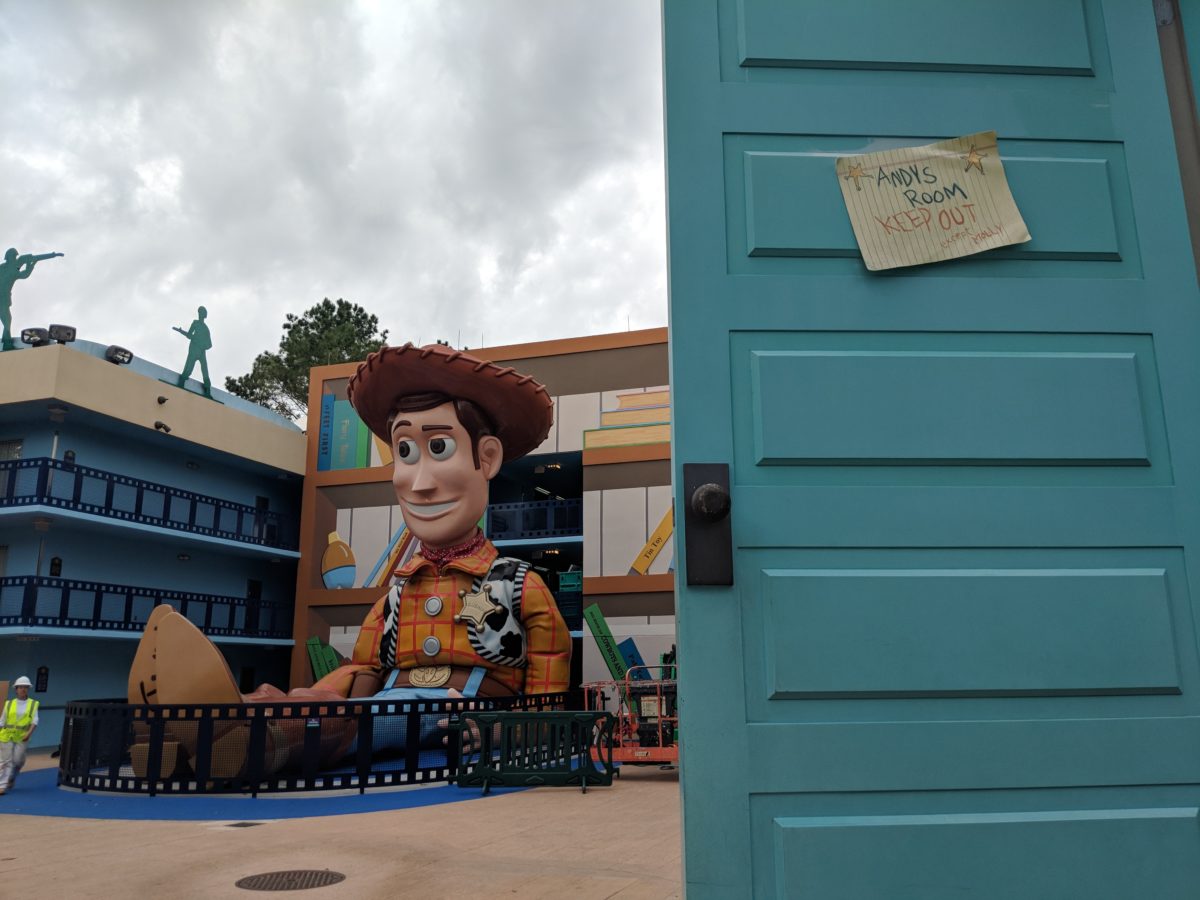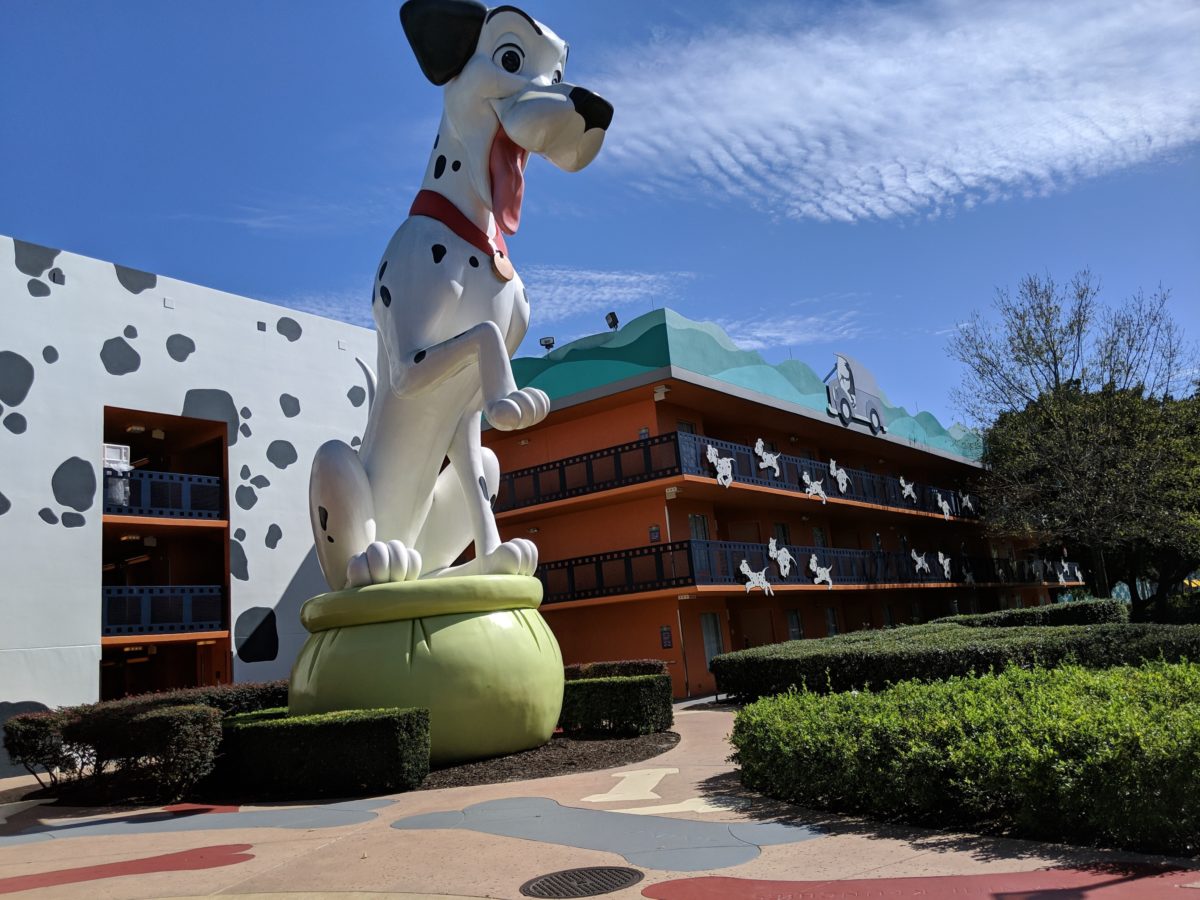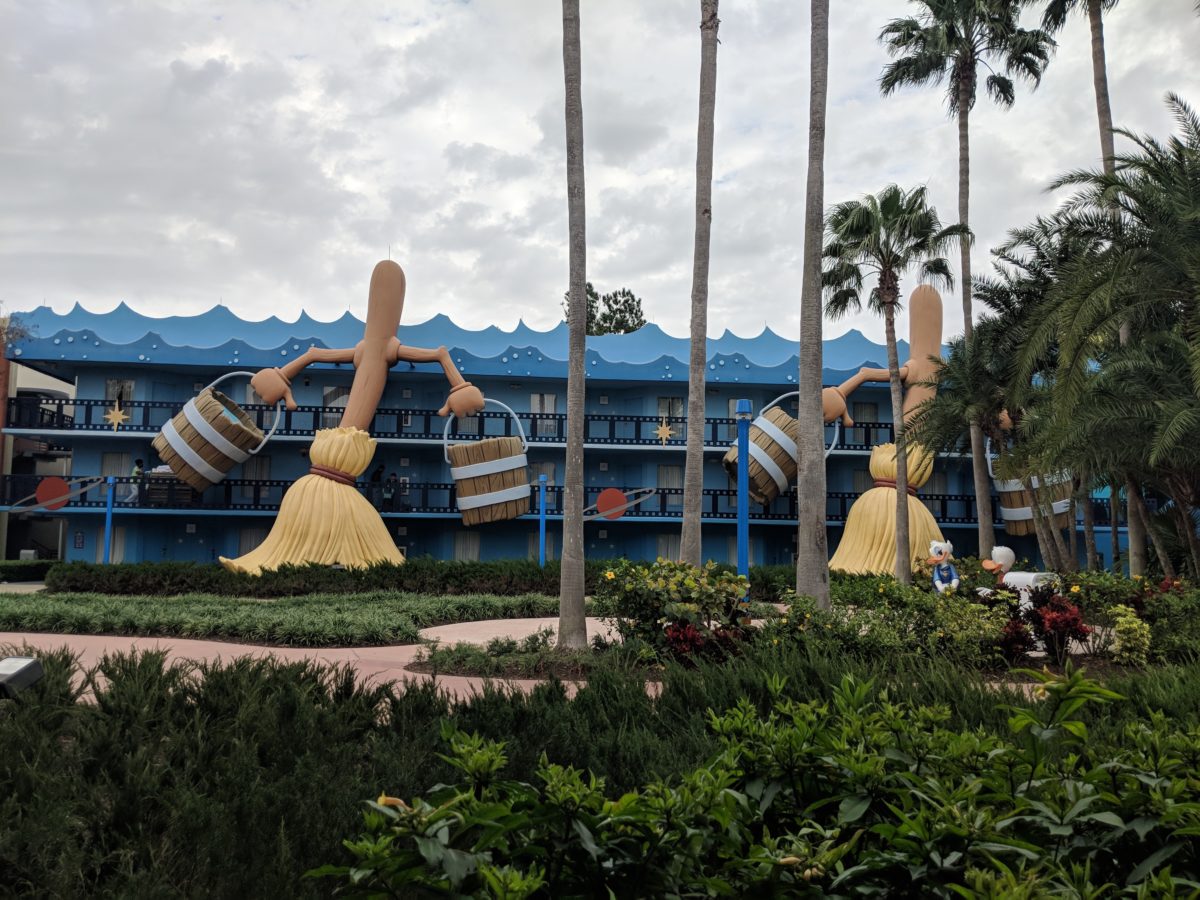 Now, if one of those movies is your favorite, then I think that would help push this resort as your favorite.
But first, let me tell you about Pop Century Resort.  It is themed to the later half of the twentieth century.  Its five sections are themed to the different decades: the 1950s, the 1960s, the 1970s, the 1980s, and the 1990s.  You can find giant versions of different pop culture items up at the different sections that can be a fun nostalgic trip down memory lane (provided of course you aren't say 25 years old and younger).
There are even fun facts filling up the walkways from the different decades.
You can find a Rubix's Cube in the 1980s section, an oversized retro computer in the 1990s section, and Play-Doh in the 1960s section.  There's even a huge 1970s Mickey Mouse telephone!
But guess what.  You know how All Star Movies has huge, gigantic movie characters?  Well, Pop Century actually has that, too!
Like you can see Lady and Tramp in the 1950s section, Baloo & Mowgli from The Jungle Book in the 1960s section, and Roger Rabbit from Who Framed Roger Rabbit? in the 1980s section.
So, in a way, at Pop Century, you get some of the perks with All Star Movies but with other fun features on top of that.
Advantage: Pop Century
Guest Rooms
Now, here's with the differences are a lot less.  Both hotels have a lot of the same features.  The guest rooms are the exact same size.
Advantage: Tie
Pools
Pop Century has three pools throughout the resort, with a main pool, the Hippy Dippy Pool in the 1960s section at Pop Century.
Additionally, they have a 1990s computer pool and a 1950s bowling pin-shaped pool.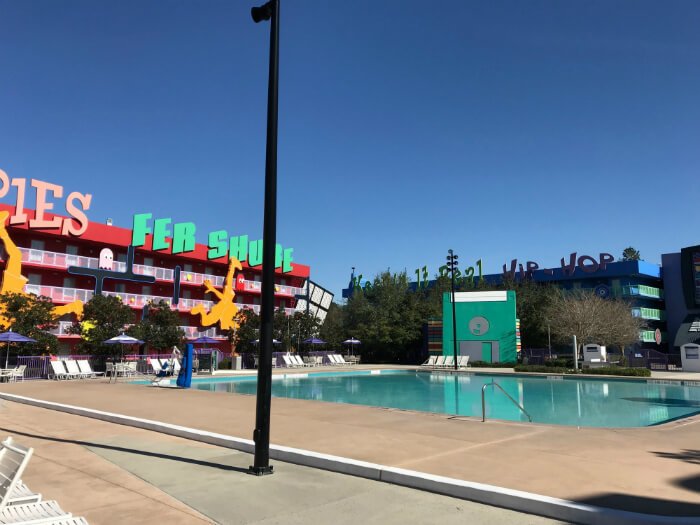 All Star Movies, on the other hand, has just two pools.  There is a main pool, the Fantasia themed pool, at the center of the hotel.  Then there is also a second pool, the Duck Pond Pool, in the Mighty Ducks section.
So if you really like pools, Pop Century does have an advantage in having more.
Advantage: Pop Century
Dining
The dining options at the All Star Movies Resort and Pop Century are pretty similar.  Both have a food court option.  These food courts have the refillable mug option where you buy a mug for the duration of your stay and then you can refill it throughout your vacation, which I really like.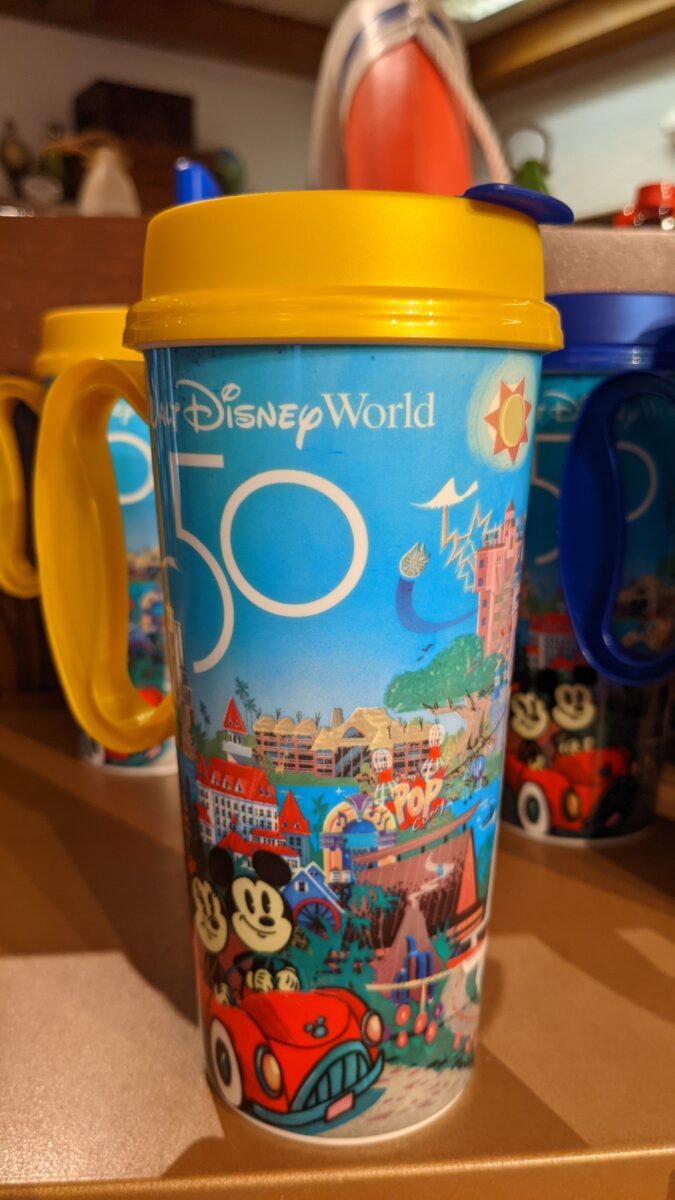 The menus might have slight differences from time to time.  And they will sometimes offer food options to reflect the hotel's specific theming, such as a Showstopper Burger they currently have on the menu at All Star Movies Resort or the tie-dye cheesecake you can get at Pop Century.
But mostly, they are the same.  They have the same great pizza, which I highly recommend if you are looking for something more affordable at Disney World since your family can share the pizza.
But yeah, the food courts are similar in their food offerings.  And both resorts even play the same Disney content on the TVs in the food court.
But aesthetically, there are differences.  All Star Movies Resort has a great cinema-themed food court, the World Premiere Food Court, which is perfect for the hotel's theme.  The food court has neat touches, like food specials displayed as if they were an upcoming feature.  And speaking of upcoming features, there are movie posters up on the walls of upcoming Disney movies.
Pop Century, on the other hand, doesn't have a clear theming in Everything Pop Dining, which is their food court.  It's not that it's unattractive, because that's not the case, but the theming does not jump out at you.  You don't look it and automatically know what the hotel you are staying in the way you do for All Star Movies.
I will say one thing I like about the food court at Pop Century is the music they play.  You can hear different hits from the 1950s through the 1990s.  That kind of music selection is different from any other hotel at Disney World and it can be a treat hearing what music they play.
But otherwise, I would give the edge to All Star Movies Resort.
Winner: All Star Movies Resort
Conclusion
Both hotels have a lot of advantages.  I have stayed at both hotels many times, and I have enjoyed my stays at both.  You're not going to go wrong with either.  So, basically, your choice comes down to what you more want out of your stay.
Pick All Star Movies if you:
Want to spend less money on your hotel room
Really like either Toy Story, Fantasia, 101 Dalmatians, The Love Bug, or Mighty Ducks
Want a more themed food court
Pick Pop Century if:
Want Skyliner access to Epcot & Hollywood Studios
Prefer more extensive theming
Want more pools at your hotel