If you click on the links in this post, we may earn money from the companies mentioned in this post, at no extra cost to you. You can read the full disclaimer here.
The Walt Disney World Resort in Orlando, Florida has three tiers of hotels: deluxe, moderate, and value.  The value hotels are Art of Animation, Pop Century, and the three All Star hotels: All Star Movies, All Star Sports, and All Star Music.
A big thing that differentiated the value hotels is the price.  As you would expect from the classification, they are usually a bit cheaper (though you can sometimes find prices rooms in deluxe hotels that rival value hotel prices if you go through these steps).
Once a long time ago in a galaxy not so far away, and by long time ago I mean say 2016, all the guest rooms at Disney value hotels had double beds.
But recently, Disney has started refurbishing all their value hotels.  And one of the new features in these refurbished rooms is queen beds!  It's just one of the great new features of a refurbished value hotel.
But as I said, Disney has started the refurbishments.  They have not finished them.  So you might be wondering if All Star Sports has been refurbished yet.
Is Disney All Star Sports Refurbished?
Well, here's the thing.  All Star Sports is the one value hotel that has not been entirely refurbished.  So right now, if you want the cheapest Disney World hotel and want a refurbished room, you should book a room at either All Star Music or All Star Movies.
But that's not to say that there are no rooms at All Star Sports that are refurbished.  There is currently an entire section of Disney's All Star Sports Resort where every room has been refurbished.  And that is the Touchdown! section.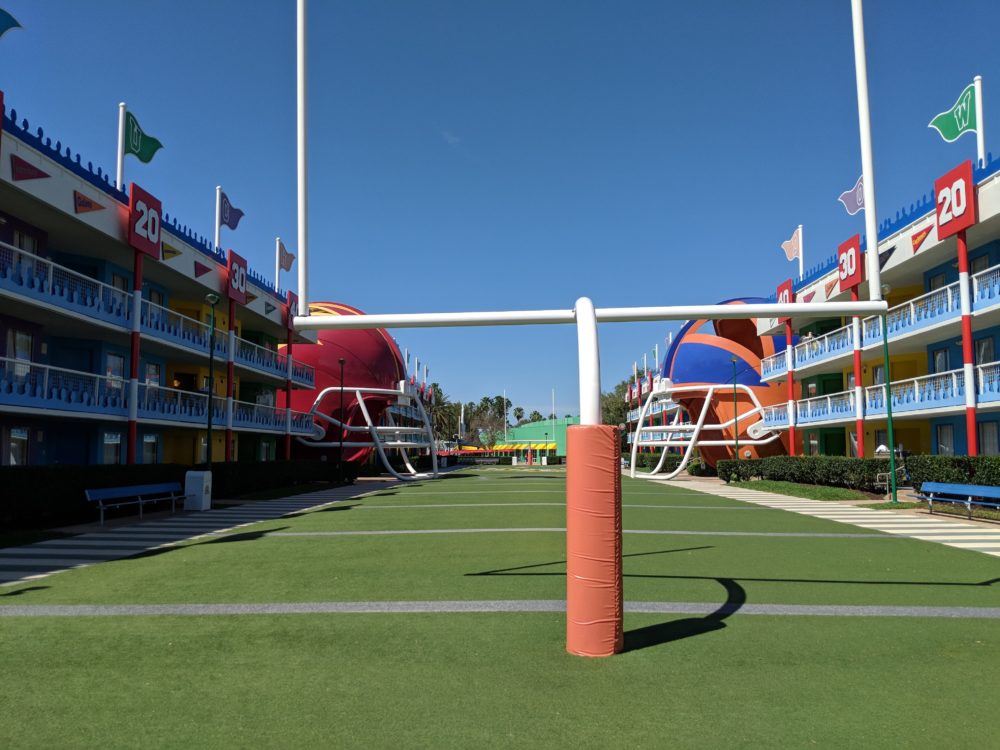 Touchdown! is one of the five sections of All Star Sports.  You can see where it falls in our ranking of the All Star Sports sections here.  It is really close to the main building where you can find the food court and busses to the theme parks.
Its great location means all rooms here are considered a "preferred room" along with the Surf's Up! section.  Since it is a preferred room, you'll have to pay more money to stay in one of these rooms.  On top of that, you'll need to request to stay in a Touchdown! room (because if you get a room in the Surf's Up! section, you might not get a refurbished room).  So if you are deadset on a refurbished room and don't want to pay the preferred rate, again, you might want to consider staying at one of the other All Star hotels.  All the All Star hotels are very similar, just with different theming.
But we wanted to try the refurbished room at All Star Sports.  So we booked a preferred room and requested a Touchdown! room.  We got lucky and got one.  So let me tell you about the rooms.
Refurbished All Star Sports Rooms Review
So as I mentioned earlier, a big thing I like about the rooms is now they have two queen beds.  But you might be wondering about space.  After all, these rooms are not going to physically get bigger.  If the beds get bigger, will you have less space?
Well, I actually felt I had more.  Here's why.  Disney was quite creative with the way they have designed their new rooms.  For starters, they have essentially combined a table and a bed.  When you walk in the room, you see a table and chairs.
But at night, you can move the chairs and pull down a second bed!
This means during the day, you'll have more space to walk around, get some work done, or eat on the table.  Now, that can be a little annoying, like if say someone in your family needs the desk and someone else wants to take a nap.  But overall, I really like the additional space.
Another way the rooms save space is that you can stuff under the non-pull-down bed.  I was able to put a lot of my family's luggage there so it wouldn't get in the way.
Refurbished All Star Sports Room Decor
I also like the decor of the new refurbished rooms.  Now, one interesting note about the refurbished rooms is that all three All Star resort rooms will look identical.  All rooms are themed to all three themes of movies, sports, and music.
Now, this is not necessarily a bad thing.  I like all three themes.  But I personally think it would have been cool to have the rooms look unique to the hotels, or even the sections they're in.  For example, when I stayed in the Mighty Ducks section of All Star Movies a few years ago, the rooms were themed to Mighty Ducks.
But sadly for me, I do not make these decisions.  And again, I really do like the decor of the new rooms.  I love the classic Disney characters above the main bed that make you know under no uncertain terms that you are staying at a Disney hotel.
And I love the pictures of Huey, Dewey, and Louie on the headboard of the pull-out bed!
I have always loved Huey, Dewey, and Louie (Duck Tales was one of my favorite shows as a kid).  And this picture is an example of how it is themed to all three All Star Hotels.  There are pictures for all three hotels.  The three ducks are dreaming of either being a soccer star, an actor at a movie premiere, or a member of a band.
The chairs are also an example of how the room is decorated for all three All Star hotels.
You can see baseballs and basketballs for All Star Sports, records for All Star Music, film for All Star Movies, etc.
So even though my initial reaction is to wish the rooms were themed more to the specific hotel or even hotel section, I really like the decor of the room.  So overall, I think the refurbished rooms are a huge improvement over the old rooms, because of the extra space and the queen beds.
And you can see all this for yourself in this video.
Booking All-Star Sports Resort
If you'd like to stay at All Star Sports, or any of the value hotels at Disney World, then consider booking your stay through this website.  I've booked through this website before with great success.  You'll save money versus going through Disney's official website.  Additionally, you can book your Disney World tickets with your hotel to save more money.