If you click on the links in this post, we may earn money from the companies mentioned in this post, at no extra cost to you. You can read the full disclaimer here.
Let's face it, food at theme parks can be a bit hit or miss.  It can be hard to find a place to eat at theme parks the whole family can enjoy.  And some of the best dining options at Disney World, in particular, are often expensive buffets, like the Crystal Palace at Magic Kingdom or expensive fixed-price menus like Space 220 at Epcot.
So if you are visiting the Animal Kingdom theme park at the Walt Disney World Resort in Orlando, Florida, you may be unsure where to eat.  But my family knows a restaurant that we highly recommend.  And that restaurant is Pizzafari!
We'll go over the reasons why Pizzafari is a go-to restaurant at Animal Kingdom.  And then we'll tell you how to save money on tickets to Disney World!
Pizzafari Menu
The main reason to go to Pizzafari is the menu or the food.  Because let's face it.  If the food stinks, why go?
But luckily that is not the case at Pizzafari.  My family loves the pizza here.  Most of us got the cheese pizza, which is delicious.
If you have meat lovers, they have pizzas with meat on it, too.  My family loved the pepperoni pizza.  These are really great pizzas.  There's a reason why Pizzafari made our list of the best pizza at Disney World.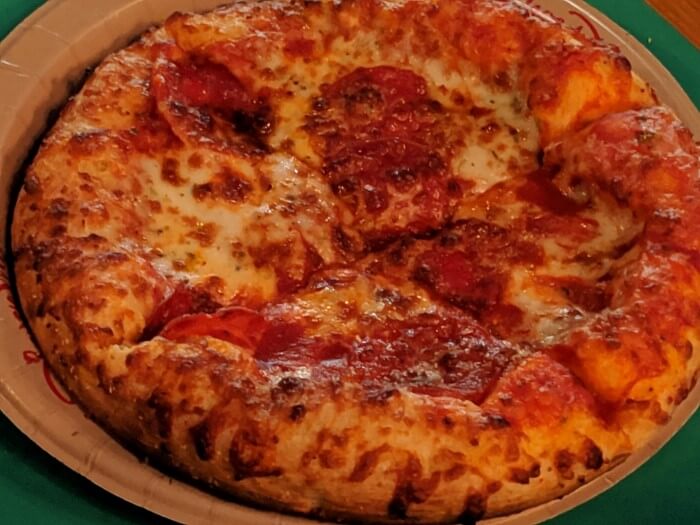 They also have a Sausage & Pepperoni Pizza.  The pizzas even come with a Side Caesar Salad.
But they don't just serve pizzas.
They also serve a Chicken Caesar Salad and a Plant-Based Greens and Grains Salad.  And they serve Chicken Parmesan Sandwiches.  They also have other sides, like Garlic Knots.  They have children's meals, too, like cheese pizza, pepperoni pizza, and Macaroni & Cheese.  Pizzafari also has allergy-friendly options too, for common allergies like milk, soy, peanut/nut, fish/shellfish, gluten/wheat, and egg.
You can get a dessert here, a, if you can believe this, Spaghetti and Meatball Cupcake.  But it's not exactly what it sounds like.  It's a Vanilla Cake with Chocolate Chip Cannoli Filling that's topped with Vanilla Buttercream (this is the "Spaghetti"), a Chocolate Doughnut (this is the "Meatball"), and Vanilla (this is the "Pasta Sauce").
But you might be most pleased about the beverage.  It's got a lot of the beverages you might expect at a theme park, such as soda (by the way, I really love their Coke here).  But they also have alcoholic beverages.
They serve:
Blue Lagoon Lemonade with Rum
Copa Di Vino Moscato (Oregon)
Copa Di Vino Pinot Grigio (Oregon)
Bud Light Lager (St. Louis, Missouri)
Safari Amber (St. Louis, Missouri)
So this definitely makes the restaurant even more of a plus.
It's Very Quick
Another advantage of Pizzafari is that it is quick service.  It can definitely be nice to make a reservation and take a long lunch or dinner.
But at the same time, that doesn't always work with your plans.  The last time we were at Animal Kingdom, eating at Pizzafari worked perfectly with our schedule.  We were using Disney's new Genie Plus to get a Genie+ Lightning Lane reservation for specific rides so we could skip the lines (if that sounds confusing to you, don't worry; we go into an explanation of what this in our Disney Genie Review).  Since you can't get Genie+ well in advance, a reservation at a sit-down restaurant like Yak & Yeti wouldn't have worked for us.  We were able to get in, quickly have a great lunch, and then head to the Na'vi River Journey in time for our Lightning Lane reservation.
You can order ahead through Mobile Order.  This is what we did.  We ordered it on the bus from Old Key West to Animal Kingdom.  Then we headed straight there at the park.  On the way there, I clicked on the button on the App to let Pizzafari know that we were there and ready for our order.  We were able to pick up our order at the front of the restaurant.
If you do not like ordering over your phone, you can also order your food at the front of the restaurant.  Either way, you save time over having to wait for a server to take your order.
Decor
We absolutely loved the decor at this restaurant.  It is a wonderful mix of beautiful colors.  It is so bright and happy.  And I love all the animals on display, too.  You can see them in wall paintings and decor coming from the ceiling.  It is so perfect for Animal Kingdom.
Lots of Seating, Indoors & Outdoors
Another huge advantage of Pizzafari is how much seating there is.  There is plenty of seating inside the restaurant.
I really like eating inside.  Not only is it nice because of the great decor and atmosphere.  But it's also great because of Florida's weather, which is quite unpredictable.  It often rains, and in that case, you'll be glad to be eating inside.  It can on occasion in the winter be very cold (it has actually happened to me more than once in January).  But more likely than not, it is really hot.  And then you'll really appreciate getting to eat inside with the air conditioning.
But if you do like eating outside, you can opt for outdoor seating.  And since Animal Kingdom is so beautiful, you'll be in a great atmosphere.
Location
The last reason I love Pizzafari is the location.  It's located at the front of the park.  It is really close to my two favorite parts of Animal Kingdom, which are Africa and Pandora – The World of Avatar.  So it can make for a good meal if your next destination is one of those sections of Animal Kingdom.  And because it is conveniently located at the front of the park, you are not too far away from anything else.
Its location was really helpful to us last time we ate there because we had a Genie+ reservation for the Na'vi River Journey.  We knew once we were done eating, we could quickly get to the ride.  It would have been the same if we had had a Genie+ reservation for Kiliminjaro Safari, which is another favorite ride of my family, or Avatar Flight of Passage.
Disney World Ticket Discounts
So you will need a ticket in order to get into Animal Kingdom and eat at Pizzafari.  You can find discount tickets to Disney World by clicking here.