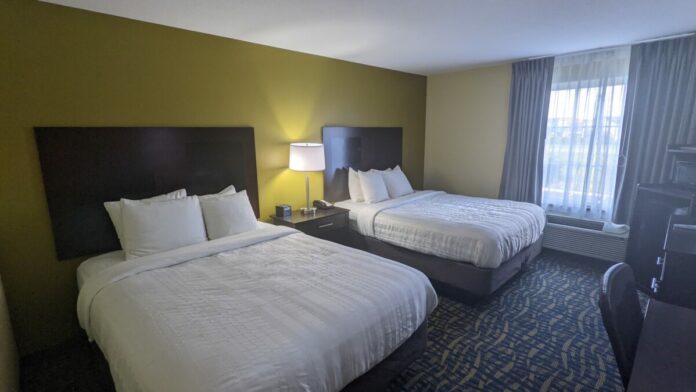 If you click on the links in this post, we may earn money from the companies mentioned in this post, at no extra cost to you. You can read the full disclaimer here.
Brunswick, Georgia is a great city my family likes to visit.  It has a lot of history and great dining.  It is also considered a Gateway to the Golden Isles.  You can stay in Brunswick and easily visit St. Simons Island, Sea Island, Jekyll Island, and Little St. Simons Island.  So it is a good city to visit when visiting the beaches.  Brunswick is also a place my family likes to stay when traveling to Orlando, Florida in order to break up the driving.
We are always looking for great hotels in Brunswick.  I am happy to say we found another great hotel in Brunswick.  And that hotel is Best Western Plus Brunswick Inn & Suites.
We'll go over different aspects of the hotel and let you know what we liked (or didn't like) about the hotel.  And then we'll tell you how to save money on your stay here!
Location
Best Western Plus Brunswick Inn & Suites is conveniently located near Interstate 95.  It is also close to a lot of great restaurants like Harris Steak and Seafood, which we reviewed here.
Lobby & Atmosphere
When you walk into the hotel, there is a small, attractive lobby.
The rest of the hotel is attractive, too, with decor fitting of a port city.
The hotel had a welcoming atmosphere.  This was helped tremendously by the incredibly helpful handouts they had at the front desk.  I definitely recommend picking one up if you stay here.
It lists different restaurants and what light you would turn on to get to the restaurants.  They listed restaurants we were familiar with (like Harris's Steak & Seafood), but we discovered new restaurants like Broomeli Boys Pizza.  We went there and had a great time that night.  If we had decided to stay in, they listed phone numbers for food delivery.  This is also helpful if say you needed to buy something because it gives you directions to helpful stores like Target, Wal-Mart, Publix, and Walgreens.  I think the fact they left this for guests is a good sign that this is a hotel that cares about the customer experience.
Room
I really liked our room here.
The bed was really comfortable, though a bit squeaky.
I also liked how the room was set up.  It was a great use of space.  I liked the way the refrigerator, microwave, and coffee maker were all in the corner.
I also liked how many outlets there were in the room.  The clock radio, for instance, had three outlets including a USB slot for your phone and a USB slot for charging your tablet.
Amenities
Best Western Plus Inn offers guests a lot of different amenities to make your stay better.
This includes an outdoor pool.
It is a bit small but can still be a fun way to cool off.  There was also a nice area with chairs and tables you could sit and relax.
There is also a fitness center with a lot of exercise equipment for those wanting to work out while on vacation.
They have a business center if you need to print anything off.
They also have a laundry room for guests.
Free Breakfast
But perhaps my favorite thing Best Western Plus Inn & Suites offers guests its continental breakfast.  First of all, it is a great deal whenever you can get a free breakfast included in the cost of your hotel.  You save money rather than having to buy your breakfast somewhere else.
But on top of that, they had a great breakfast.  There were hot and cold items like fruit, cereal, and pastries.
They also have coffee, juice, and milk.
But my favorite feature was that they had both waffle makers and a pancake maker.
I am used to waffle makers at continental breakfasts but rarely do I see a pancake maker.  Personally, I prefer a pancake maker.  They are a lot easier to use than the waffle maker.  You don't have to put the batter in yourself.  All you have to do is press a button and wait a minute for your pancake.  That's it; it is that simple.  And the pancakes were soft and delicious.
Conclusion
Best Western Plus Brunswick Inn & Suites is a welcoming hotel close to a lot of great attractions with great amenities like a free breakfast.  My family definitely recommends this hotel.
Hotel Savings
One of the great things about Best Western Plus Brunswick Inn & Suites is that it is an affordable hotel.  But it is even more affordable if you book your hotel here.