If you click on the links in this post, we may earn money from the companies mentioned in this post, at no extra cost to you. You can read the full disclaimer here.
Last month, my family had the pleasure of staying at Hilton Orlando Lake Buena Vista Palace Disney Springs area.  This is one of the Disney Springs area hotels that are not owned by Disney but are on Walt Disney World property.  I had heard good things about this hotel so I had high hopes.  But even my high expectations were shattered with how great this hotel was!  You can get a glimpse of our stay here in our video from our trip:
I think you guys would love a stay here.  But if you're not convinced yet, see our ten reasons why we know you'll love this hotel!
1. Walking Distance of Disney Springs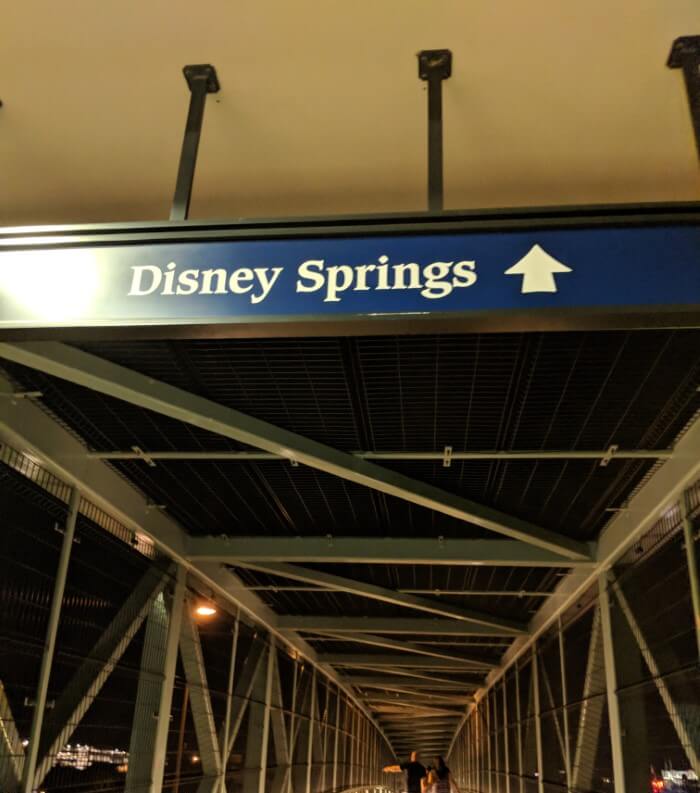 I love a lot of things about Hilton Orlando Buena Vista Palace.  But chief among these reasons would have to be its location.  Hilton Orlando Buena Vista Palace is just a short walk away from Disney Springs.  There are other hotels within walking distance of Disney Springs, but Buena Vista Palace is definitely the closest.  And its an easy walk guided by signs.
If you haven't been to Disney Springs yet, then I definitely recommend it.  It has great shopping, experiences, and restaurants.  The restaurants are definitely my favorite part.  My favorite sit down restaurant would be T-Rex.  It's more of an experience than just a restaurant; there are animatronic dinosaurs all over the restaurant.  But it has delicious food, too!  And if you are looking for a good quick-service restaurant, check out Earl of Sandwich.  It is the closest restaurant to the entrance you'll go in from Hilton Orlando Beuna Vista Palace.  Not only are the sandwiches and salads delicious, but the prices are affordable, too.
Disney Springs is also home to a really large Disney store if you are looking for that perfect Disney souvenir.  And it has a Bibbidi Bobbidi Boutique, NBA Experience, and much more.
Great Rooms
You might think with its great location, Hilton Orlando Buena Vista Palace would be stingy on the rooms.  But that's absolutely not the case.  The rooms are incredibly spacious.  Much larger than say a value hotel at Disney World.  And the beds were so comfortable!  Which is definitely needed after your muscles hurt from a day of hitting the Disney parks.
The guest rooms also included features I really like in a hotel room.  There was a refrigerator which we used to store drinks we brought from home and leftovers, which saved us money (Buying water beforehand is one of our tips on things to buy before you visit Disney).  The room had a coffee maker.  There was a wonderful desk you could use if you need to do business.  The vanity area was separate from the bathroom itself.
Our room also had a balcony with wonderful views.  I could see other Disney Springs hotels and pool areas.  And the lake views were gorgeous!
Great Pool Complex
The pool complex is also a big reason why I loved Hilton Orlando Buena Vista Palace.  The hotel has a swimming pool, hot tub, splash area for kids and lazy river!  The lazy river is completely free for guests (you can pay to rent a different tube though if you want).  These are really amazing features on a hot day at Disney World (and these days, what isn't a hot day?).
Recreational Activities
The pool complex is not the only great recreational activity offered to guests at Hilton Orlando Buena Vista Palace.  There are games and activities outside near the pool like soccer and a huge chess board.  There are hammocks outside to relax in.  They have a great arcade with lots of games.  They also offer a DVD rental where you could rent a DVD downstairs and take it up to your room.  There are also children's activities available.  They've even got Zoltar in the lobby!
Disney Hotel Perks
Even though Hilton Orlando Buena Vista Palace isn't owned by Disney, it is an official Disney Springs hotel.  And what means is that you can get some of the same perks offered by Disney hotels.  For starters, you get a bus system that comes every thirty minutes that will take you to the Disney theme parks (Magic Kingdom, Animal Kingdom, Epcot & Hollywood Studios).  This is more than what is offered at other Orlando hotels that might have a shuttle that drops you off in the morning and comes back at night.  Since the bus system is so frequent at Hilton Orlando Buena Vista Palace, you can easily come back to your room for a nap if needed.  Or you could take a break in the afternoon, go swimming, and come back at night.  When I visited here, I went to Mickey's Not So Scary Halloween Party and the bus picked us up afterwards.
But the perks don't stop at the busses.  You also get to book fast passes for popular Disney rides 60 days in advance.  If you were staying at a non-Disney Springs or Disney hotel, you could only do it 30 days in advance.  Since you get to book earlier, you have a better chance of getting a fast pass for popular rides like the Avatar rides at Animal Kingdom, Seven Dwarfs Mine Train at Magic Kingdom, the Slinky Dog roller coaster at Hollywood Studios, etc.  With a fast pass, you don't have to wait in the really long lines.  Please note, though, that in order to get this feature, you must have already purchased Disney World tickets.  You can get them at a great rate by clicking here.
You also get to participate in Disney's extra magic hours.  This is when you get to stay at the theme parks after the parks ends or before the park opens.  This is another way to get to do the popular rides without the super long lines.
Earn Hilton Points
So while you get Disney hotel perks, you also get the advantage of staying at a chain hotel.  And what I mean by that is you can earn points for your stay.  Hilton has a great Hilton Honors system.  If you book through Hilton by clicking here, you can earn points for future stays here or any of the other Hilton hotels.  And that's something you don't get when staying at a Disney hotel.
Lots of Dining Options
Another really great feature of Hilton Orlando Buena Vista Palace Disney Springs is the dining options.  They have a lot of restaurants that cover lots of different budgets and tastes:
Letterpress: This is a modern printing shop themed restaurant with great table service dining.  You can enjoy great American cuisine for breakfast, lunch and dinner.  You can enjoy great lake views while you eat.  And on Sundays, they even have a Disney character breakfast!
Citrus 28: This is the cheapest option.  You can go here for grab and go options.  This is also where you go for Starbucks in the morning!
Shades: Want to enjoy the beautiful Florida weather?  Then enjoy this poolside restaurant.  You can enjoy burgers, flatbreads, wraps and more.  And they also offer great cocktails.
Sunnies: This is the lobby bar that offers great drinks.
And if you feel like staying in your room, you can get room service, too!
Great Hotel Layout
While this is a large hotel with lots of features, it is still easy to get around the hotel.  It's not one of those hotels where you have to walk twenty minutes just to get to your room at the end of the day.  You're often just a short elevator ride away from your room.  And the hotel has plenty of elevators, which I really like.  That means you aren't likely to have to wait a long time for an elevator.  And you can get around the hotel often by walking around indoors, which is great when it's really hot or raining (which happens a lot in Florida!).
Hotel Atmosphere & Decor
Hilton Orlando Buena Vista Palace has a great atmosphere.  It manages to mix a luxurious feel with a laid back atmosphere, which is really hard to achieve.  And while this is a hotel with a lot of business conventions, it still feels Disney.  You've got Disney decorations on the elevators, Disney signs up, and a Disney gift shop on site.
Fitness Center
So one complaint I've heard about Disney hotels is that they often don't have a fitness center.  But that is not the case with Hilton Orlando Buena Vista Palace.  They actually have a really nice fitness center you can take advantage of during your trip.