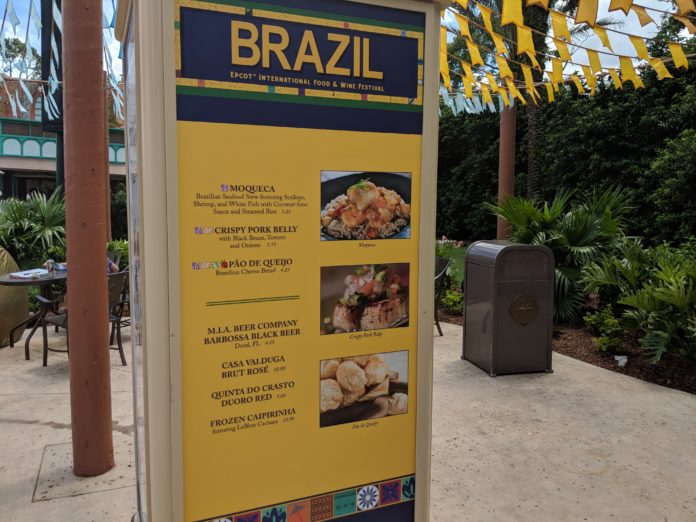 If you click on the links in this post, we may earn money from the companies mentioned in this post, at no extra cost to you. You can read the full disclaimer here.
If you haven't already been to the EPCOT Food & Wine Festival, then you really need to check it out.  It runs between now and November 12, 2018 and I have had a blast there so far. As the name suggests, there's a lot of great food & wine to enjoy, but there's also great live entertainment and great activities for kids, too.  
If you are thinking about going, here is my tip on where to stay to get the most out of your experience.  Also, please note you will need a ticket for EPCOT in order to attend the festival; here's how you can find the cheapest Disney World tickets.
But if you aren't thinking about going, maybe you should reconsider.  There are so many reasons why I think you will love it that I could hardly contain myself – I have compiled 300 reasons why I think you will love this festival.
Festival Dining Events:
Sunday Brunch with the Chef at World Showcase Events Pavilion on Select Sundays

Party for the Senses at World Showcase Events Pavilion on September 22; October 6, 13, 20; November 10

Eat to the Beat Dining Package: Combine dining at select EPCOT restaurants with guaranteed seating at the Eat to the Beat Concert Series

Specialty Dining & Pairing Events
Fun Events:
Eat to the Beat Concert Series: Nightly at 5:30 PM, 6:45 PM & 8:00 PM at America Gardens Theatre there will be concerts by different artists such as Boyz II Men, Smash Mouth, Big Bad Voodoo Daddy, Billy Ocean, Tiffany, Baha Men, Plain White T's, Sugar Ray, David Cook, etc.

Back to Basics: Learn tips & tricks from some of the best culinary pros around!  On Fridays, Saturdays & Sundays on 11:00 AM in the Festival Centers (please note that there is limited availability and you will need to sign up first at TasteEpcot.com).

Book Signings and Meet & Greets: Meet industry professionals & celebrated authors at the Festivals Center

Bottle Signings: Get autographs from prominent vintners & industry professionals

Brewing the Perfect Cup, from the Ground Up: Learn how coffee gets to your mug, sample it & then you can purchase select coffees from Joffrey's Specialty Disney Coffee Collection.  Held at the Festivals Center.

The Chocolate Experience: from the Bean to the Bar: You can learn how chocolate is made & then sample & shop Ghiradelli treats & gourmet drinking chocolate plus you can see spectacular chocolate sculptures, available at the Festivals Center
Fun Events for Kids:
Junior Chef Kitchen: Children become chefs in a free family-friendly culinary experience at the Festivals Center

Candy Sushi: Kids can learn how to roll their own sushi treats with a Disney chef at Sunshine Seasons daily from 3:30 & 5:30 (please note that there is limited availability and you will need to sign up first at TasteEpcot.com)

Festival Play Area: Near

Test Track

, it is themed to

Wreck It Ralph

(naturally)

Disney De Jour Dance Party: Different Disney characters as they join kids as they dance to hit songs & play games, plus a special Radio Disney guest will top off the party with a concert!  This takes place at the Fountain View Stage on Fridays & Saturdays from 5:30 PM to 9:30 PM

Remy's Ratatouille Hide & Squeak: You can purchase maps & stickers at the Festival Center, Disney Traders, Pin Central or World Traders and then your kid can search for Remy on a fun Festival Scavenger Hunt
Seminars & Demonstrations
Culinary Demonstrations: Learn from celebrated chefs

Beverage seminars: Sample select beer, wine or spirits

Food & Beverage Pairing: You can watch a culinary demonstration by a beverage presenter & culinary expert

Cheese Seminars: Learn about the major textures, aromas & flavor levels of your favorite cheeses and you can sample artisan selections with free craft beers, wine & other beverages
Shops at the Festivals Center
The Stockpot Shop: Get festival merchandise, like the festival cookbook (I love buying these and trying out the recipes at home), artwork, etc.

The Festival Center Wine Shop: There's a great selection of wines & spirits from prestigious makers

Simmering Sips Mimosa Bar

The Festival Center Wine Shop: This includes the Disney Family of Wine, and you'll enjoy seeing the wine here and the connections they have to Disney

Craft Drafts
Major Marketplaces:
Simmering Sips Mimosa Bar
Tropical Mimosa

Blood Orange Mimosa

Key Lime Mimosa

Madras Mimosa

Frozen Mimosa (featuring White Claw Natural Lime Hard Seltzer)

Non-alcoholic frozen pie drink

Joffrey's Cold Brew Coffee

Chocolate Croissant

Almond Croissant

Jumbo Blueberry Muffin
Craft Drafts:
First Magnitude Brewing Co. Lemongrass Saison from Gainesville

Bold City Brewing 1901 Roasted Red Ale from Jacksonville

Florida Beer Company Passport Triple Chocolate Milk Stout from Cape Canaveral

JDub's Brewing Company Honeydew Melon Kolsch from Sarasota

Shipyard Brewing Company Monkey First IPA from Clearwater

Central 28 Beer Company Wolf-Ale from DeBary
Craft Wine Shop:
Fess Parker Riesling

Fess Parker Rodney's Vineyard Syrah

MacMurray Estate Vineyards Pinot Gris

Silverado Vineyards Sauvignon Blanc

Silverado Vineyards Chardonnay

Kurt Russell's Gogi Wines "Goldie" Chardonnay

Kurt Russell's Gogi Wines "Birdie" Pinot Noir

MacMurray Estate Vineyards Pinot Noir

Skywalker Vineyards Sommita Pinot Noir

Skywalker Vineyards Fantasia Sangiovese Blend

Chappellet Mountain Cuvee Bordeaux Blend

Frank Family Vineyards Cabernet Sauvignon

Charcuterie Plate

La Bottega di BelGioioso Cheese Plate

Bloody Mary Seafood Cocktail
Taste Track
Pancake Milkshake

Croissant Doughnut Tossed in Cinnamon Sugar

Croissant Doughnut with Chocolate & Marshmallows

Croissant Doughnut with Chocolate Hazelnut Cream

Croissant Doughnut with Sprinkles

Gelato
Flavors From Fire:
Orlando Brewery Smokin' Blackwater Porter

Michael David Winery 7 Deadly Zins

Swine Brine

Piggy Wings

Smoked Corn Beef

Charred Chimichurri Skirt Steak

Chocolate Picante
Light Lab:
Bleu Spectrum

Original Sin Dry Rose Hard Cider

3 Daughters Brewing Blueberry Peppercorn Hard Cider

Ciderboys Zen Berry Hard Cider

Playalinda Brewing Co. Red Cherry Tart

GrassLands Brewing Company Green Kiwi Blonde

M.I.A. Beer Company Blue-berry Golden Ale

InfraRED

UltraVIOLET

Phosphorescent Phreeze
Earth Eats:
Health-Ade Kambucha Pink Lady Apple

Health-Ade Kambucha Pomegranate

Health-Ade Kambucha Beet-Lime

The Steakhouse Blended Burger

The IMPOSSIBLE Burger Slider
Active Eats:
Evolution by Sokol Blosser Pinot Noir (Willamette Valley, OR)

M.I.A. Beer Company HRD WTR Pineapple Coconut Hard Sparkling Water (Doral, FL)

L'Ecole No. 41 Chenin Blanc Old Vines (Columbia Valley, WA)

Loaded Mac 'n' Cheese

Spice-crusted Verlasso Salmon

Active Eats Energy Bar Bites
Coastal Eats:
A to Z Wineworks Pinot Gris (Oregon)

ROCO Gravel Road Pinot Noir (Oregon)

Lump Crab Cake

Baked Shrimp Scampi Dip

Seared Scallops
The Chocolate Studio:
Banfi Rosa Regale Sparkling Red (Piedmont)

Daou Vineyards Cabernet Sauvignon (Napa Valley, CA)

Twinings Pumpkin Spice Chai Tea and Chocolate Shake (non-alcoholic)

Croft 10 Year Towny

Liquid Nitro Chocolate-Almond Truffle

Sweet Dark Chocolate Raspberry Torte
The Cheese Studio:
Florida Orange Groves Winery Sparkling Blueberry Wine (St. Petersburg, FL)

La Crema Pinot Gris (Monterey)

Alta Vista Estate Malbec (Mendoza)

Domaine Saint Andre de Figuiere Rose (Cotes de Provence)

Cheese Trio

Maple Bourbon Boursin Cheesecake

Braised Beef Strogonoff
The Wine & Dine Studio:
Reata Chardonnay (Sonoma Coast)

Spellbound Petite Sirah (California)

Rainstorm Silver Linings Pinot Noir Rose (Oregon)

Seared Scallops

Butternut Squash Ravioli

Trio of Arisan Cheese
The Almond Orchard:
Almond Breeze Strawberry Smoothie (non-alcoholic)

Moet & Chandon Imperial Brut Champagne

Dom Perignon Brut Champagne

Veuve Clicquot Ponsardin Brut Rose Champagne

Banana Almond Soft-Serve Sundae

Fire-roasted Tomato Hummus

Creamy Spinach & Artichoke Dip
Refreshment Port:
Dragon  Berry Refresher

Pineapple Soft-Serve Ice Cream

Beef Brisket Poutine

Sweet Potato Poutine
Refreshment Outpost:
Bain's Cape Mountain Whisky & Frozen Cake

Spicy Hot Dog
Brewer's Collection:
Radeberger Zwickel Pilsner

Hacker-Pschorr Hefe Weisse

Schofferhofer Hefeweizen Pomegranate Beer
Fire & Drum Tavern:
Hanson Brothers Beer Company Mmmhops Pale Ale (Tulsa, OK)
Block & Hans:
Dogfish Head Brewery 60 Minute IPA (Milton, DE)

Ciderboys Strawberry Magic Hard Cider (Stevens Point, WI)

Full Sail Brewing Co. Blood Orange Wheat (Hood River, OR)

Karbach Brewing Co. Love Street Kolsch Style Blonde (Houston, TX)

Big Top Brewing Company Hawaiian Lion Coconut & Coffee Porter (Sarasota, FL)

Lexington Brewing & Distilling Co. Kentucky Bourbon Barrel Ale (Lexington, KY)
Hops & Barley:
Broadside Cabernet Sauvignon (Paso Robles)

North Coast Brewing Co. Blue Star Wheat (Fort Bragg, CA)

Heavy Seas AmeriCannon APA (Baltimore, MD)

Angry Orchard Rose Hard Cider (Walden, NY)

Mer Soleil Reserve Chardonnay (Santa Lucia Highlands)

3 Daughters Brewing A Wake Coffee Blonde Ale (St. Petersburg, FL)

New England Lobster Roll

New Brunswick Slider

Freshly Baked Carrot Cake
Funnel Cake:
Maple Bacon Funnel Cake
New Zealand:
Kim Crawford Sauvignon Blanc (Marlborough)

Antmoore Wineworks MOKOblack Pinot Noir (Marlborough)

Frozen Wine Cocktail

Streamed Green Lip Mussels

Lamb Meatball

Seared Venison Sausage
Australia:
Coopers Brewery Original Pale Ale

Yangarra Shiraz

Hope Estate "Wallombi Brook" Semillon (Hunter Valley)

Franklin Tate Estates Chardonnay (Margaret River)

Grilled Lamp Chop

Lamington

Grilled Sweet & Spicy Bush Berry Shrimp
Hawaii:
Maui Brewing Company Bikini Blonde Lager

Florida Orange Groves Sparkling Pineapple Wine

Mai Tai

Passion Fruit Cheesecake

Kalua Pork Slider

Grilled Tuna Tataki

Teriyaki-glazed SPAM Hash
Islands of the Caribbean:
Red Stripe Lager

Frozen Mojito

Caribbean White Sangria

Ropa Vieja Empanada

Quesito

Jerk Spiced Chicken Lollipop
Greece:
Domaine Skouras Moscofilero (Peloponnese)

Domaine Sigalas Assyrtiko (Santorini)

Argyros Atlantis Red Blend (Santorini)

Loaded Greek "Nachos"

Bougatsa

Taste of Greece

Spanakopita
Thailand:
Singha Lager

Maison Willm Gewurztraminer

Marinated Chicken

Seared Shrimp & Scallop Cake

Red Hot Spicy Thai Curry Beef
Mexico:
La Chancla

Cerveza Por Favor

Mariachi Loco

Ay Caramba

El Padrino

Short Rib Tostado

Shrimp Quesadilla

Coconut Rice Pudding
China:
Jasmine Draft Beer

Happy Peach

Kung Fu Punch

Byejoe Punch

Honeydew Bai Jiu Cocktail

Manga Bubble Tea (non-alcoholic)

Chicken Dumplings

Xi'an Pancake

Beijing Roasted Duck Bao Bun

Black Pepper Shrimp
India:
Godfather Lager

Sula Chenin Blanc (Nashik)

Sula Shiraz (Nashik)

Mango Lassi with Somrus Indian Cream Liqueur

Mango Lassi (non-alcoholic)

Madras Red Currey

Warm Indian Bread

Korma Chicken
Africa
Cederberg Chenin Blanc

Groot Constantia Pinotage

Jam Jar Sweet Shiraz

Spicy Ethiopian Red Lentil Strew

Berbere-style Beef Tenderloin
Germany:
Carl Graff Graacher Himmelreich Riesling Spatlese (Mosel)

J&H Selbach Bernkasteler Kurfurstlay Riesling Kabinett (Mosel)

Selbach-Oster Zeltinger Himmelreich Riesling Kabinett Halbtrocken (Mosel)

Villa Wolf Pinot Noir (Pfalz)

Apple Strudel

Roast Bratwurst

Schinkennudeln
Spain:
Lagar de Bouza Albarino (Rias Baixas)

Casa Castillo Monastrell (Jumilla)

Espelt Garnacha Old Vines (Catalonia)

Spanish-Style Paella

Seafood Salad

Charcuterie in a Cone
Italy:
Moretti Lager

Moretti La Rossa Double Malt

Placido Chianti

Placido Pinot Grigio

Villa Sandi Prosecco

Montegrande Corbinello Spumante Dolce

Fior d'Arancio Montegrande Moscato

Frozen Margarita

Mezzi Rigatoni

Pollo Alla Cacciatora

Fritto Misto
Japan:
Kirin Ichiban Lager

Ozeki Rai Sake

Fuji Apple Cocktail

Spicy Roll

Teriyaki Chicken Bun

Beef Nigiri

Spicy Roll
Morocco:
Casa Pale Lager

Kasbah Prestige Red Wine

Mimosa Royale

Red Organic Sangria

Kefta Pocket

Chocolate Baklava

Hummus Fries
Belgium:
Leffe Blonde Belgian Pale Ale

St. Bernadarus Witbier

St. Bernarndus ABT 12

Stella Artois Hard Cidre

Chilled Coffee

Belgian Waffle with Warm Chocolate Ganache & Whipped Cream

Belgian Waffle with Berry Compote & Whipped Cream

Beer-braised Beef
Brazil:
Casa Valduga Brut Rose

Quinta do Crasto Duoro Red

Frozen Caiprinha

M.I.A. Beer Company Barbossa Black Beer

Crispy Pork Belly

Pao de Queijo

Moqueca
France:
Kronenbourg Blanc 1664 Pale Lager

Chardonnay, Le Vieux Manoir

Cabernet Sauvignon, Village la Tourelle

St.-Germain Sparkling Kir

La Passion Martini Slush

Croissant aux Escargots

Carbonade de Boeuf, Puree de Pommes de Terre

Creme Brulee a la Confiture de Framboises
Ireland:
Guinness Baileys Shake

Guinness Foreign Extra Stout

Bunratty Meade Honey Wine

Warm Irish Cheddar Cheese & Stout Dip

Roasted Irish Sausage

Warm Chocolate Pudding
Canada:
Moosehead Radler

Chateau Des Charmes Vidal Icewine

Chateau Des Charmes Equuleus Red Blend

Canadian Cheddar Cheese & Bacon Soup

"Le Cellier" Wild Mushroom Beef Filet Mignon
Joffrey's Coffee & Tea Company: Found Throughout the Park:
Future World East: Frozen Cappuccino with Brown Jug Bourbon Cream

Showcase Plaza: Frozen Wild Berry Acai with Grey Goose Vodka

The American Adventure: Frozen Lemon with Fireball Cinnamon Whisky

Canada; Frozen Orange Pineapple with Grand Marnier
Festival Merchandise: In case you want to remember this festival for years to come, here is some of the festival merchandise available at EPCOT:
Festival-themed shirts

Festival-themed wine glasses

Festival-themed cutting boards

Festival-themed Mickey Mouse ears

Festival-themed aprons

Festival-themed ornaments

Festival-themed hats

Festival-themed plates

Festival-Themed Disney Gift Card & specialty themed lanyard & medallion (makes a great gift!)