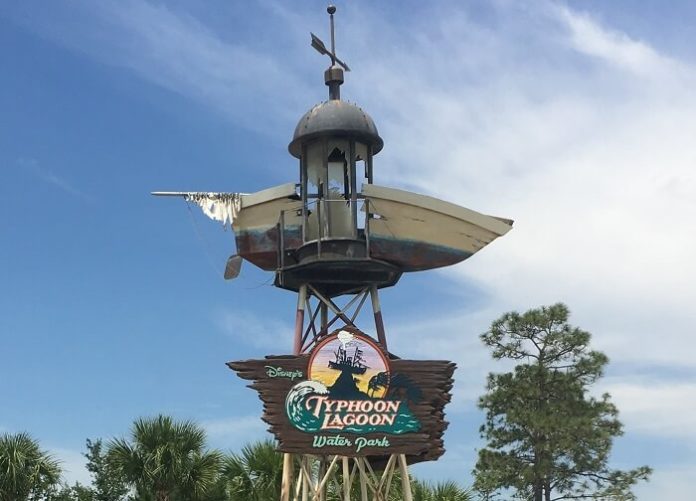 If you click on the links in this post, we may earn money from the companies mentioned in this post, at no extra cost to you. You can read the full disclaimer here.
When you think of the Walt Disney World Resort in Orlando, Florida you may think of Magic Kingdom, EPCOT, Animal Kingdom or Hollywood Studios.  But you may not think about water parks, but there are actually 2 great waterparks in the Walt Disney World Resort.  At Disney's Typhoon Lagoon, you'll enjoy a tropical paradise that was transformed by a typhoon (or so Disney legend says) into pure fun with water slides, beaches and one of the world's largest outdoor wave pools.  Disney's Blizzard Beach is themed like a ski resort with winter themed water slides, lazy river, pools & more.  We go into a lot more detail about Typhoon Lagoon in our Typhoon Lagoon Travel Guide.
If you would like to visit one of these parks during a Walt Disney World trip, then you should be aware that admission is not covered in a regular Disney World park hopper ticket.  If you are worried that visiting these water parks on top of your already expensive Disney World tickets will be too much money, well, there are ways of visiting these water parks without spending too much money.
1. Buy single tickets through Best of Orlando
You can save a couple dollars off your admission to the water parks by purchasing through Best of Orlando. You can buy either a Typhoon Lagoon or Blizzard Beach on-ed-day water park pass, but it really doesn't matter which one you buy if you want to visit both because you can park hop between the two water parks with this ticket.  On Best of Orlando's website, you can buy an adult ticket for $59 and a child's ticket for $54.
2. Buy water park annual pass
Disney has an annual water park pass which will get you a year in the Disney water parks for just $130.00. This is a good option if you think you'll spend at least 3 days in the water parks this year but if you just aren't sure you might be better off buying a single ticket.
3. Buy Park Hopper Tickets Plus Option through Undercover Tourist
If you haven't bought your Disney World (Animal Kingdom, Magic Kingdom, EPCOT & Hollywood Studios) tickets yet and you want to add on water parks then your best bet would be to buy a Park Hopper Ticket Plus which gives you access too all 6 Disney parks. You can get the best price for this option by buying through Undercover Tourist.
4. Buy Ultimate Disney Ticket
If you are from the United Kingdom or Ireland, then there's a great Ultimate Disney Ticket which gives you 2 weeks of admission into all 6 Disney parks. But if you aren't from the United Kingdom or Ireland then you can't buy this ticket, so you should just move on to the next point here.
5. Buy Platinum Plus pass
If you know you're going to spend a lot of time at Disney World this year and want that time to include the water parks, then it is the most cost effective to be a Disney Platinum Plus Pass. This gets you access to all 6 parks for a year, plus access to Disney's Wide World of Sports and Disney's Oak Trail Golf Course.  If you are worried about the price being over $1000, then one thing you can do to save money here would be earn money through Swagbucks.  I use this to help pay for my annual pass.