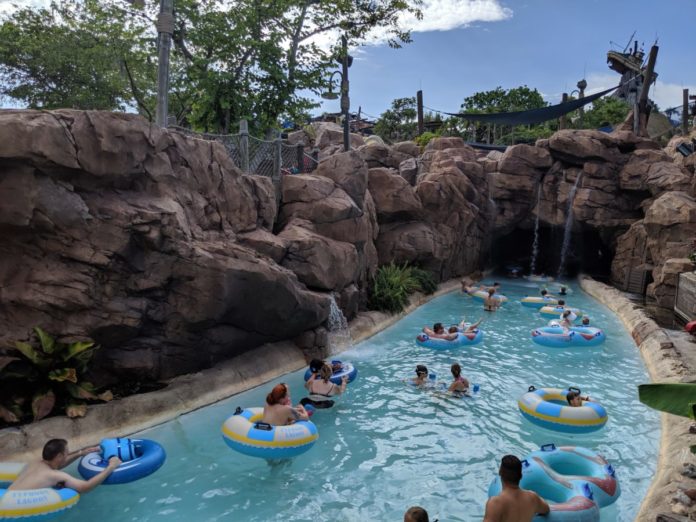 If you click on the links in this post, we may earn money from the companies mentioned in this post, at no extra cost to you. You can read the full disclaimer here.
Disney's Typhoon Lagoon is a themed water park and one of the six theme parks located at Walt Disney World Resort in the Orlando, Florida area (the other five parks being Magic Kingdom, Epcot, Disney's Animal Kingdom, Disney's Hollywood Studios and Disney's Blizzard Beach).
Typhoon Lagoon is the second most visited water park in the world (and the most visited in North America), with over 2 million guests a year in recent years. The park includes a wave pool, lazy river, water slides, a children's play area and more.
You can take a virtual tour of the water park here:
How Many Water Parks Does Disney Have?
Typhoon Lagoon is actually the second of three water parks to open at Disney World.
Disney's River Country, which opened on June 20, 1976, was the first. River Country was located on Bay Lake near the Fort Wilderness resort and themed as an old-fashioned swimming hole.
You can get an idea of what River Country was like in this YouTube clip of the Mousketeers at River Country from the 1977 television special, "The Mousketeers at Walt Disney World":
Disney World's other water parks opened years later – Typhoon Lagoon on June 1, 1989 and Blizzard Beach on April 1, 1995.  (Blizzard Beach, the water park with the second highest attendance numbers in North America behind Typhoon Lagoon, has a ski resort theme with a quirky Disney backstory.)
After the terrorist attacks on September 11, 2001, the tourism industry was negatively impacted – and Disney World was no exception. River Country was closed indefinitely in 2002, and in 2005 it was announced that the water park was closing permanently. While the park remained basically abandoned (instead of demolished) for years, Disney announced in 2018 that they would be building a new hotel, Reflections – A Disney Lakeside Lodge, on the site of what was once River Country.
So, though the Walt Disney Resort once boasted 3 different water parks, only 2 still exist – but they are 2 of the most popular in the world.
Typhoon Lagoon Theming
Typhoon Lagoon's theming is classic Disney – very detailed and thorough, with a backstory.
The idea is that a typhoon hit a tropical paradise that was previously in perfect, untouched condition. Thanks to the storm, you'll see things like ships, fishing gear, and surfboards all over. Probably the most recognizable part of the park is "Miss Tilly" – a shrimp boat on top of a mountain known as "Mount Mayday".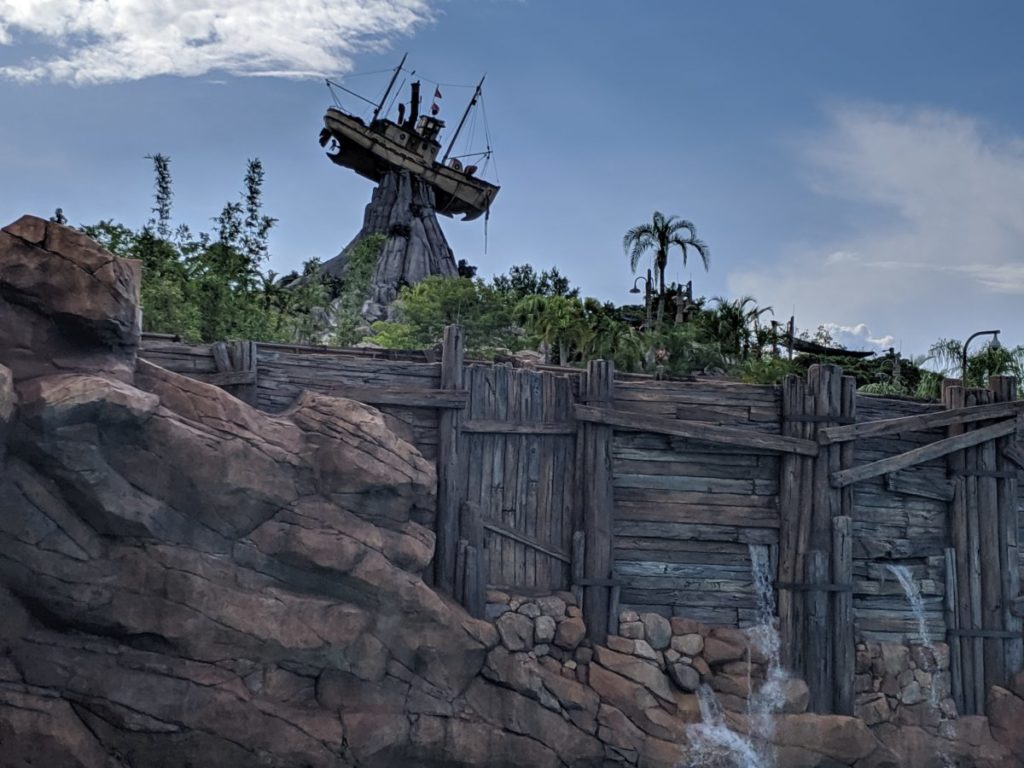 If you don't focus on the actual typhoon part, the theming is actually quite fun. It's one of those Disney things that ties together an entire park and adds to the overall enjoyment.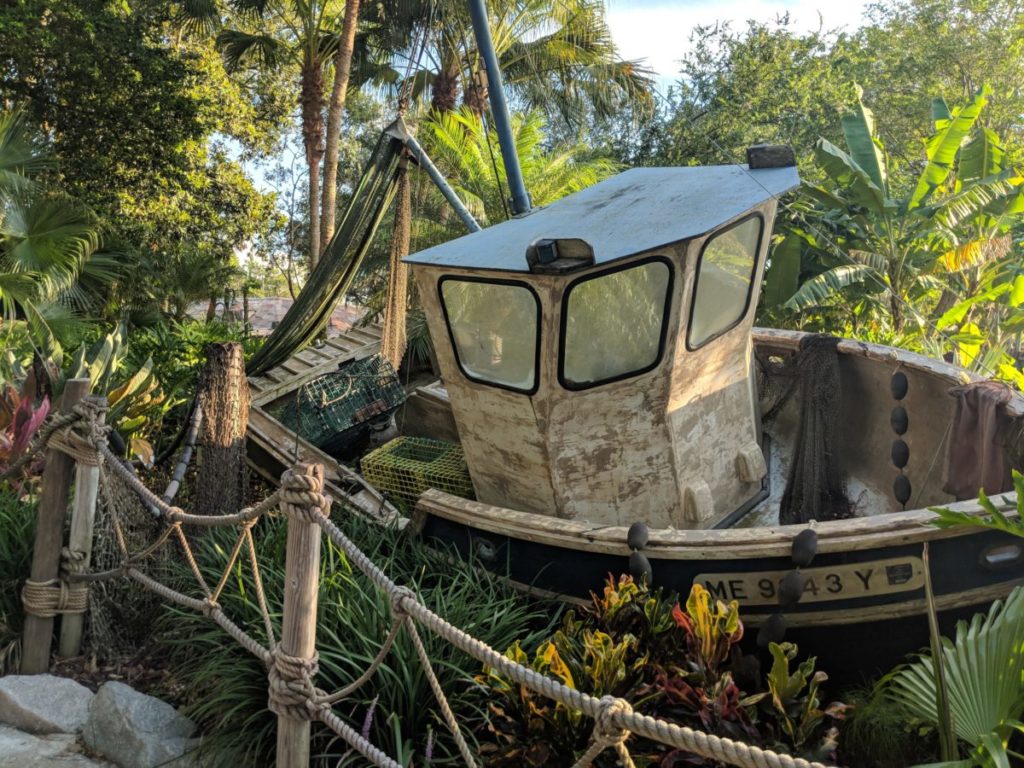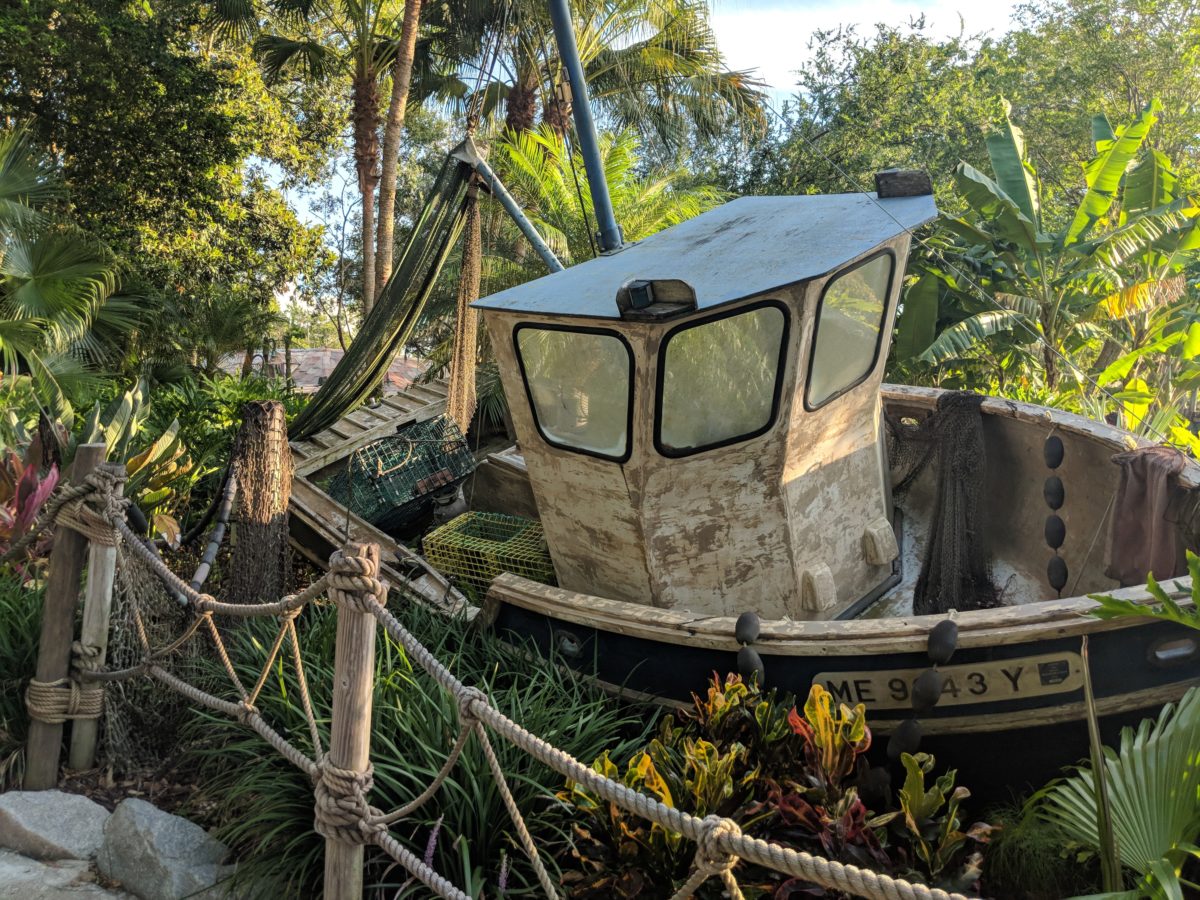 Typhoon Lagoon Rides
The following is a list of Typhoon Lagoon attractions with descriptions including:
Appropriate Age Groups
Height Requirements (if any)
Warnings (such as small drops)
Bay Slides
Appropriate for: Preschoolers, Kids, Tweens
Height Requirement: 60 inches or shorter
The perfect ride for children, Bay Slides is a beginner/kids version of Storm Slides.
Bay Slides are two side-by-side slides with gentle downhill slopes and a splashdown at the end. The slides feed into a shallow corner of the Typhoon Lagoon Surf Pool, which is where parents can meet their children at the end of the ride.
Riders ages 10 and under must be accompanied by an adult age 18 or older.
Castaway Creek
Appropriate for: Everyone
Height Requirement: None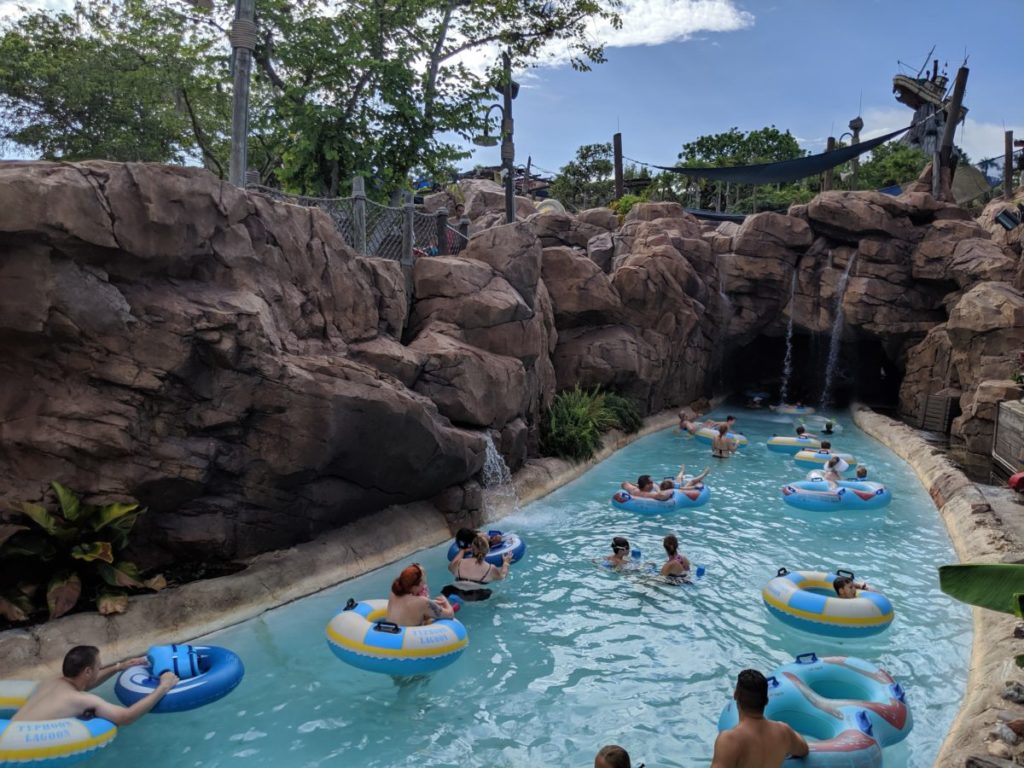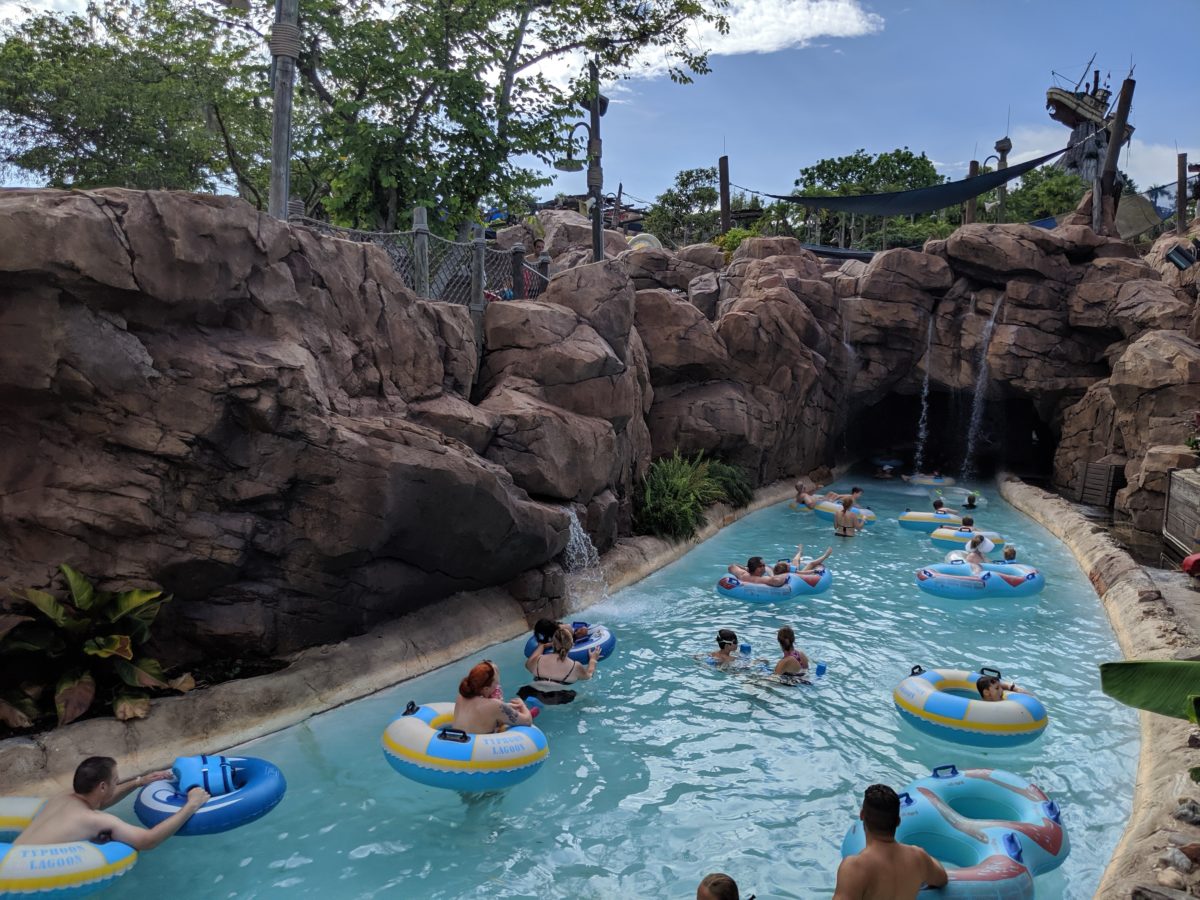 Castaway Creek is a relaxing, fun lazy river that actually takes you around the entire water park – it's a 2,000 foot long route!
You'll get to enjoy the fabulous theming, cool mists, waterfalls, grottoes, overhead rope bridges and more. (The mists and waterfalls feel especially wonderful in the Florida heat.)
You don't need to bring your own inner tube – you can just grab one when you enter the river. You can choose from single and two-rider tubes. There are 5 different entry points where you can ease into Castaway Creek – just make sure to pay attention to where you enter so you'll know where to get back off! (Alternately, you can use Castaway Creek as a fun way to get to another part of the park.)
Crush 'n' Gusher
Appropriate for: Kids, Tweens, Teens, Adults
Height Requirement: 48 inches or taller
Warnings: Thrill Ride, Small Drops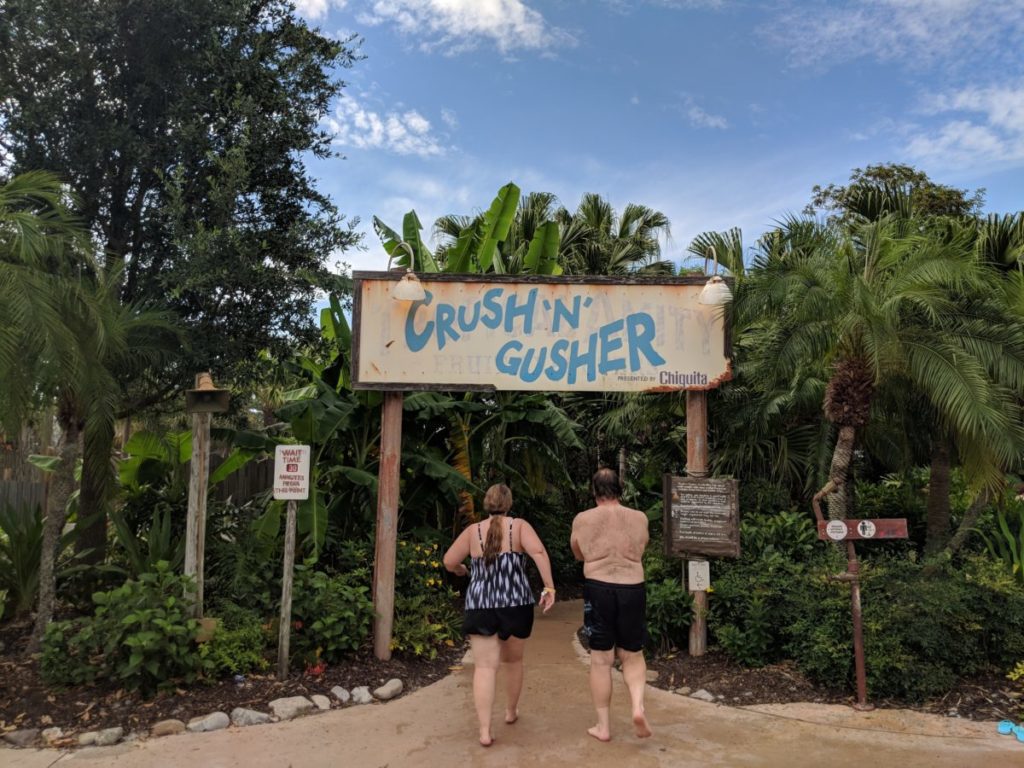 On this wild "water coaster" (coaster like raft ride), you'll ride down a 400-foot-long tube slide, in a raft propelled by powerful water jets. You can choose from one of three "fruit chutes" – the Pineapple Plunger, Coconut Crusher or Banana Blaster.
This ride involves sudden drops, sharp turns, both dark and open sections, uphill climbs – and plenty of surprises!
Note that riders should also be strong swimmers. The pool depth at the bottom of the slides is 3 feet 6 inches. If you require the use of an elevator, you can ask a Cast Member (i.e. Typhoon Lagoon employee) for assistance.
Gangplank Falls
Appropriate for: Everyone
Height Requirement: None
Warnings: Thrill Ride, Small Drops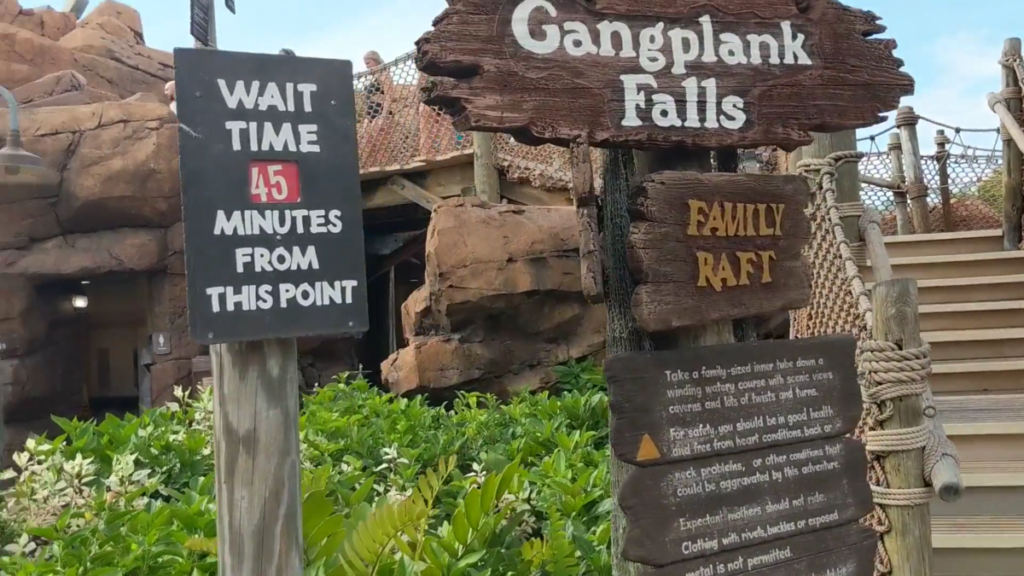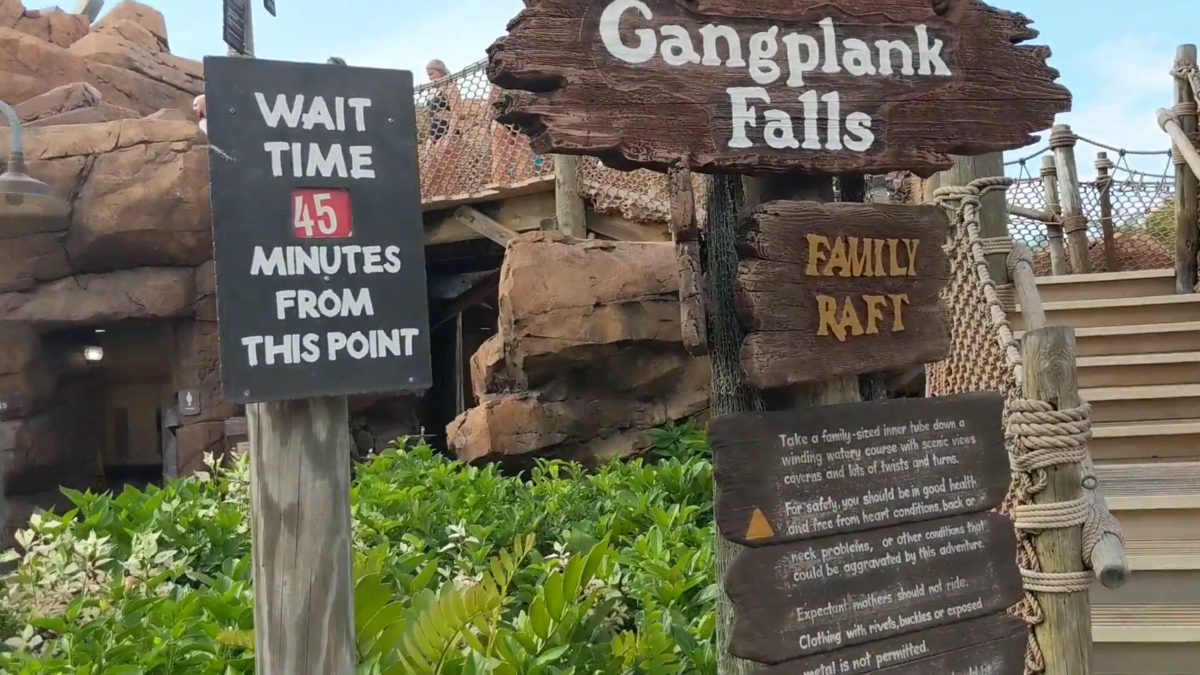 Gangplank Falls is a fun raft ride down a 300-foot-long waterslide.
The raft is a giant inner tube with room for 4 people. (If your party has less than 4, you may be asked to ride with other guests.)
On Gangplank Falls, you'll rotate and rush through rocky caverns and under waterfalls and rustic wooden bridges.
If you're comparing similar rides at Typhoon Lagoon, Gangplank Falls is more intense than Keelhaul Falls but less intense than Mayday Falls.
Humunga Kowabunga
Appropriate for: Kids, Teens, Tweens, Adults
Height Requirement: 48 inches or taller
Warnings: Thrill Ride, Big Drops

Humunga Kowabunga consists of 3 side-by-side enclosed body slides down Mount Mayday. You'll speed down at a 60-degree angle (i.e. nearly vertical) – basically a 5-story drop in the dark.
Keelhaul Falls
Appropriate for: Kids, Tweens, Teens, Adults
Height Requirement: None
Warnings: Thrill Ride
On this swift, single-rider inner tube ride, you'll enjoy scenic views while feeling the rush of whitewater rapids. Your course will take you between boulders and palm trees, through caverns and under waterfalls.
Keelhaul Falls is not as intense as, say, Gangplank Falls or Mayday Falls.
Ketchakiddee Creek
Appropriate for: Preschoolers
Height Requirement: 48 inches or shorter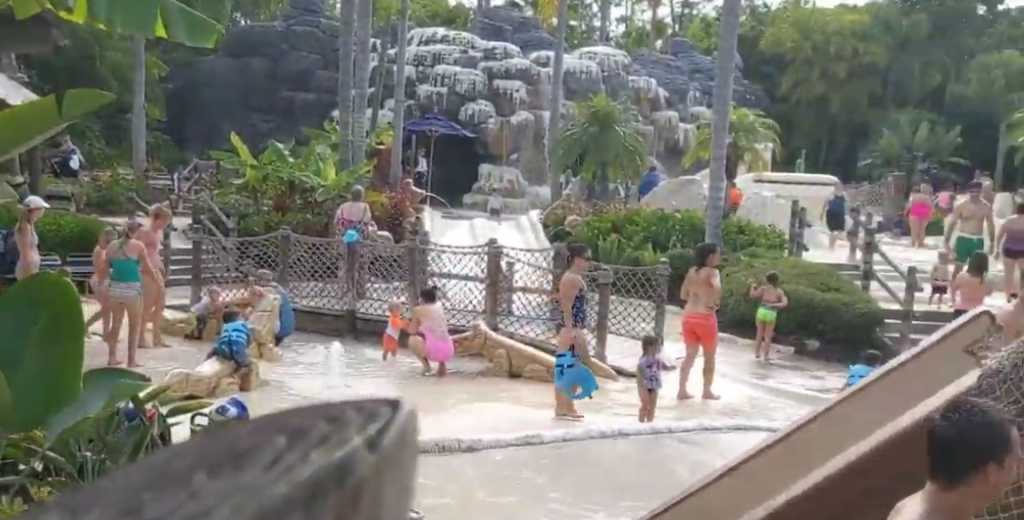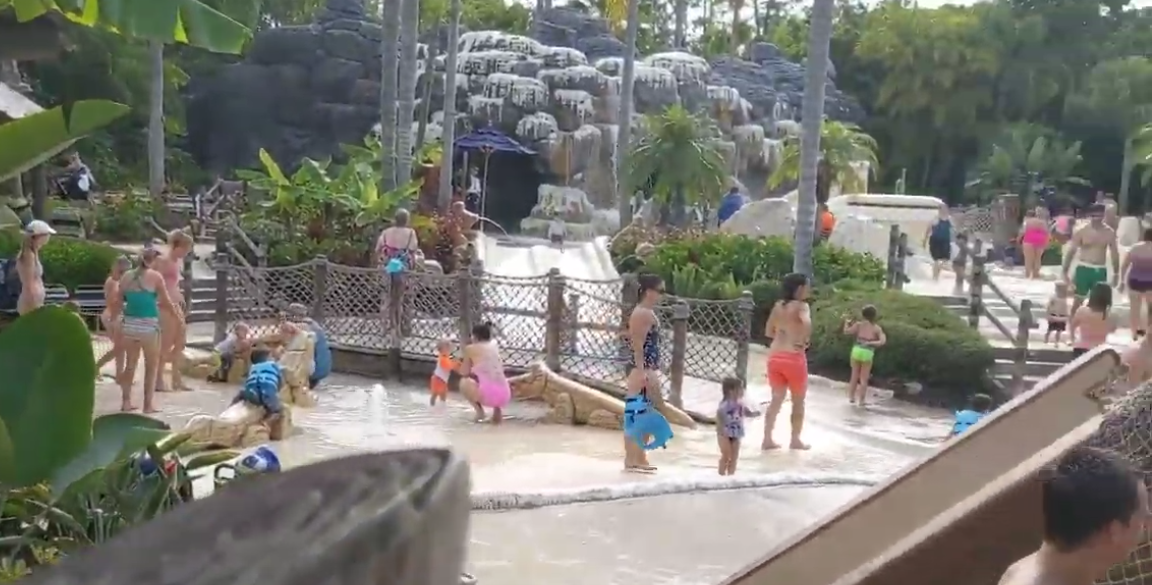 Ketchakiddee Creek is the perfect place for little kids to get rid of some of their excess energy! This is a fun playground for young children, with shallow pools, playful (fake) animals, mini waterslides and a cave with a waterfall. There's even a leaky tugboat, the S.S. Squirt, complete with a water cannon. The music is upbeat and kid-friendly, and the area also includes a small, sandy beach. This area is a must do for families with very small children.
Mayday Falls
Appropriate for: Kids, Tweens, Teens, Adults
Height Requirement: None
Warnings: Thrill Ride

If you're looking for the highest waterslide at Typhoon Lagoon, you've found it!
Mayday Falls is a fast ride in a single-rider inner tube down Mount Mayday. The medium-wild ride goes through caves, under bridges and past waterfalls.
This ride is more intense than Keelhaul Falls and Gang Plank Falls.
Miss Adventure Falls
Appropriate for: Everyone
Height Requirement: None

Miss Adventure Falls is actually the longest ride at any of the Disney water parks (as it's 2 minutes long). It's also fairly new, as it opened on March 12, 2017.
This 4-person raft ride has a backstory in keeping with the park's overall theme. The attraction is owned by Captain Mary Oceaneer, a treasure hunter whose haul was caught in – what else? – a typhoon. Since the typhoon scattered all of her treasures and artifacts all over Typhoon Lagoon, you'll get to see some of them during the ride. You might even see the captain's old partner, treasure hunting talking parrot who's still looking for more fortunes at the water park.
Storm Slides
Appropriate for: Kids, Tweens, Teens, Adults
Height Requirement: None
Warnings: Small Drops

Storm Slides include 3 body slides: Rudder Buster, Stern Burner or Jib Jammer.
All of these winding slides involve twisting and turning past rocks and greenery, through grottoes and finally down into a 3-story waterfall finish.
Kids not quite ready for Storm Slides (who also have a height of 60 inches or shorter) should consider Bay Slides, which is the mini-version of this ride.
Typhoon Lagoon Surf Pool
Appropriate for: Kids, Tweens, Teens, Adults
Height Requirement: None
Warnings: Keep an eye on kids who aren't strong swimmers
Typhoon Lagoon Surf Pool is the water park's signature attraction, and for good reason – it's the largest wave pool in North America! You can enjoy continuous 6-foot swells, either in the water or relaxing on the sandy white beaches nearby. You'll know a new wave is coming when you hear the "sonic boom" noise (or the excited screams of those in the water, giddy with anticipation). The waves are generated by a 12-cell prestressed concrete tank in the back of the lagoon (covered with the ship wreck scene).
The waves are stronger than some of the other wave pools you'll find in other water parks, so be prepared – they're strong enough to knock you backwards (or down), though not so violently that you should get hurt. Still, if you're not a stronger swimmer, you might want to start out in the shallower parts, and definitely keep an eye on any kids in your party (though, really, that's good advice for anywhere in the park).
The engineering team behind Typhoon Lagoon performed extensive tests and used computer modeling techniques before the park opened in the late 1980s in order to make sure they could produce waves that were perfect for surfing. Testing included determining wave shape, surfboard ride duration and how natural the waves felt when breaking on the beach at Typhoon Lagoon.
Typhoon Lagoon Dining
Trying to figure out where to eat in Typhoon Lagoon?
Well, if you're looking to save money, you can always bring a cooler with food and drinks (though no alcohol) into the parks. (More about cooler requirements later.)
If you don't care to bring food – or you've already gone through what you've brought! – there are still a lot of dining options at Typhoon Lagoon.
Happy Landings Ice Cream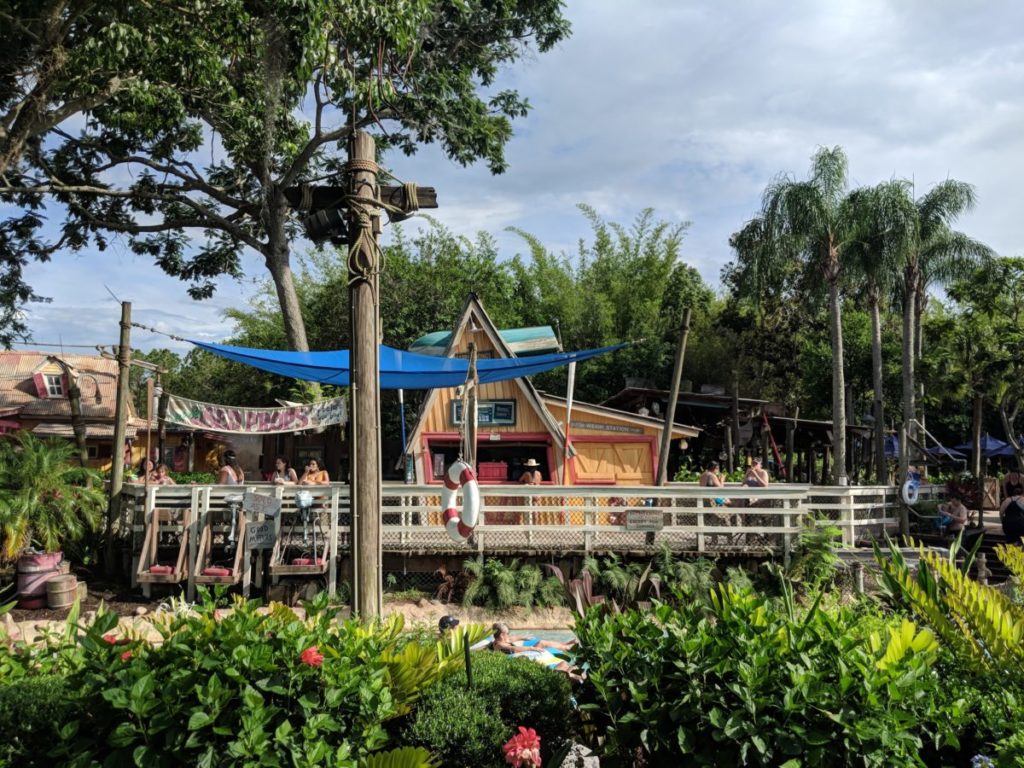 At this quick service snack location, you can enjoy root beer floats, sundaes and more delicious frozen treats.  Probably the most memorable menu item is the Sand Pail, which includes 2 kinds of soft-serve with toppings like Oreo cookies, waffle cone pieces, Mickey sprinkles and more!
If you're standing at Singapore Sal's (the gift shop when you first enter the park) and facing the surf pool, you'll need to head left to get to Happy Landings.
Leaning Palms
If you're looking for more of a meal than just ice cream, you can find a full lunch menu at Leaning Palms. This quick service dining spot offers a variety of menu items such as burgers, hot dogs, pizzas, sandwiches, salads, wraps and chicken nuggets. There's also a selection of both alcoholic and non-alcoholic drinks.
Leaning Palms is located in the same immediate area as Happy Landings.
Let's Go Slurpin'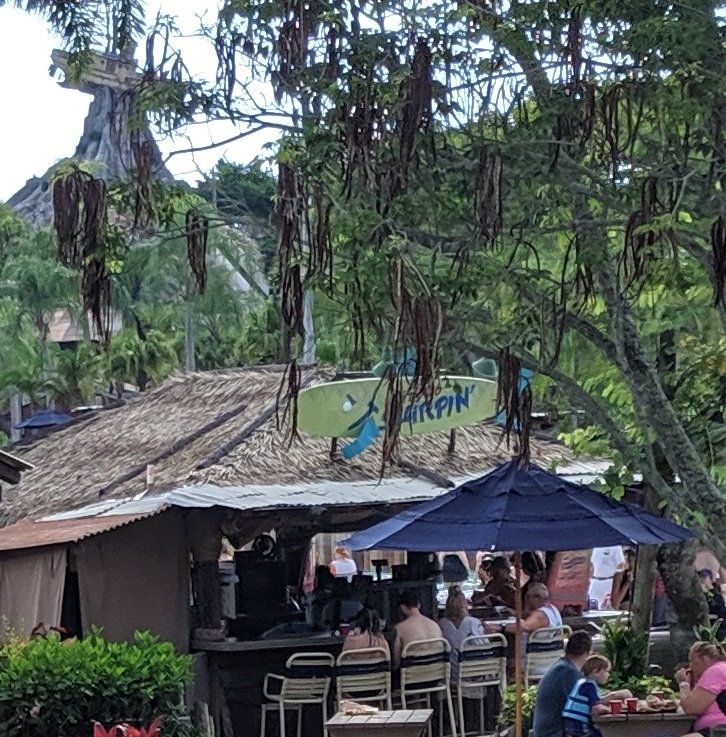 Looking for the drinks and not so much the lunch? Let's Go Slurpin' is the place for you! Standouts at this pool bar include the rum-based Miss Tilly or the strawberry margarita (made with Herradura Reposado Tequila).
Let's Go Slurpin' is located near the front of the park – Castaway Creek runs between it and the changing rooms.
Lowtide Lou's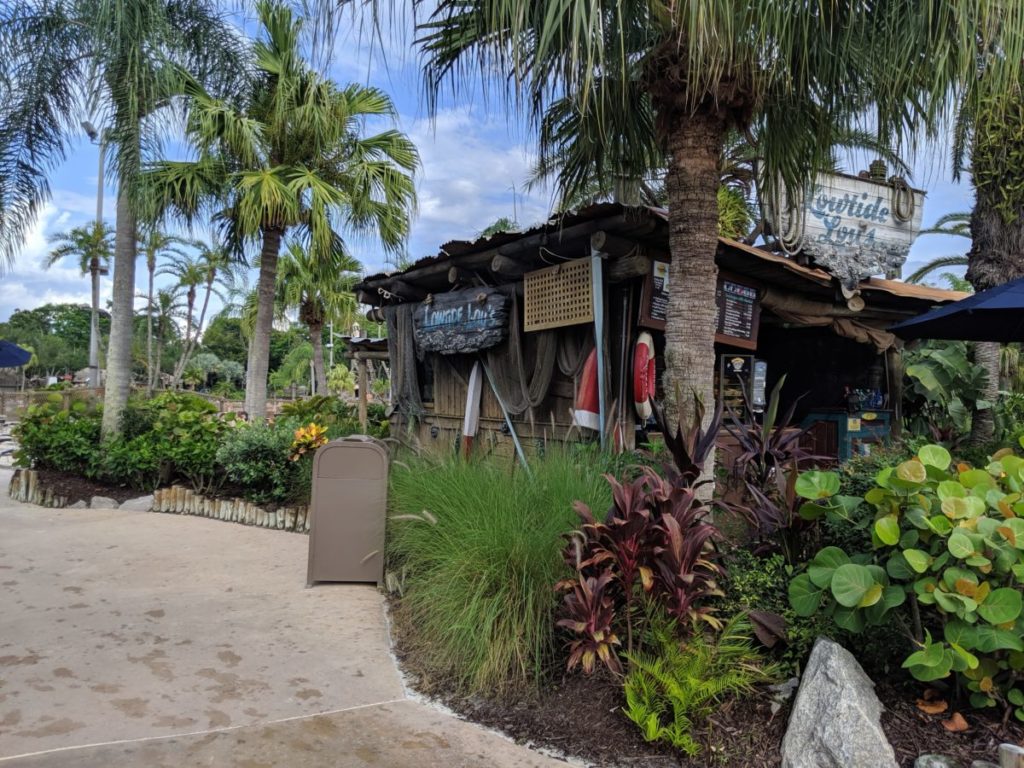 You can find sandwiches, wraps, snacks and drinks (including wine, beer and frozen cocktails) at Lowtide Lou's.  Please note that this quick service location is open seasonally.
Lowtide Lou's is located off the surf pool, near Mayday and Keelhaul Falls.
Snack Shack
The selection at this walk-up window includes a bit more than the name suggests, including lunch items (like sandwiches and salads), desserts and a few alcoholic beverages.
If you're entering the park and facing the surf pool, Snack Shack will be to the right of the wave pool.
Typhoon Tilly's
Located next to the Snack Shack in the same shared structure, Typhoon Tilly's offers fish baskets, fried shrimp and chicken wraps, as well as desserts, non-alcoholic drinks (including sodas and coffee) and alcoholic beverages.
Typhoon Lagoon Shops
Want to get some shopping done at Typhoon Lagoon? Maybe you need to pick up something you've forgotten to bring (like sunblock), or maybe you're wanting that perfect souvenir.  Unfortunately, there aren't a lot of places to shop in Typhoon Lagoon – but, luckily, the one store is pretty terrific!
Singapore Sal's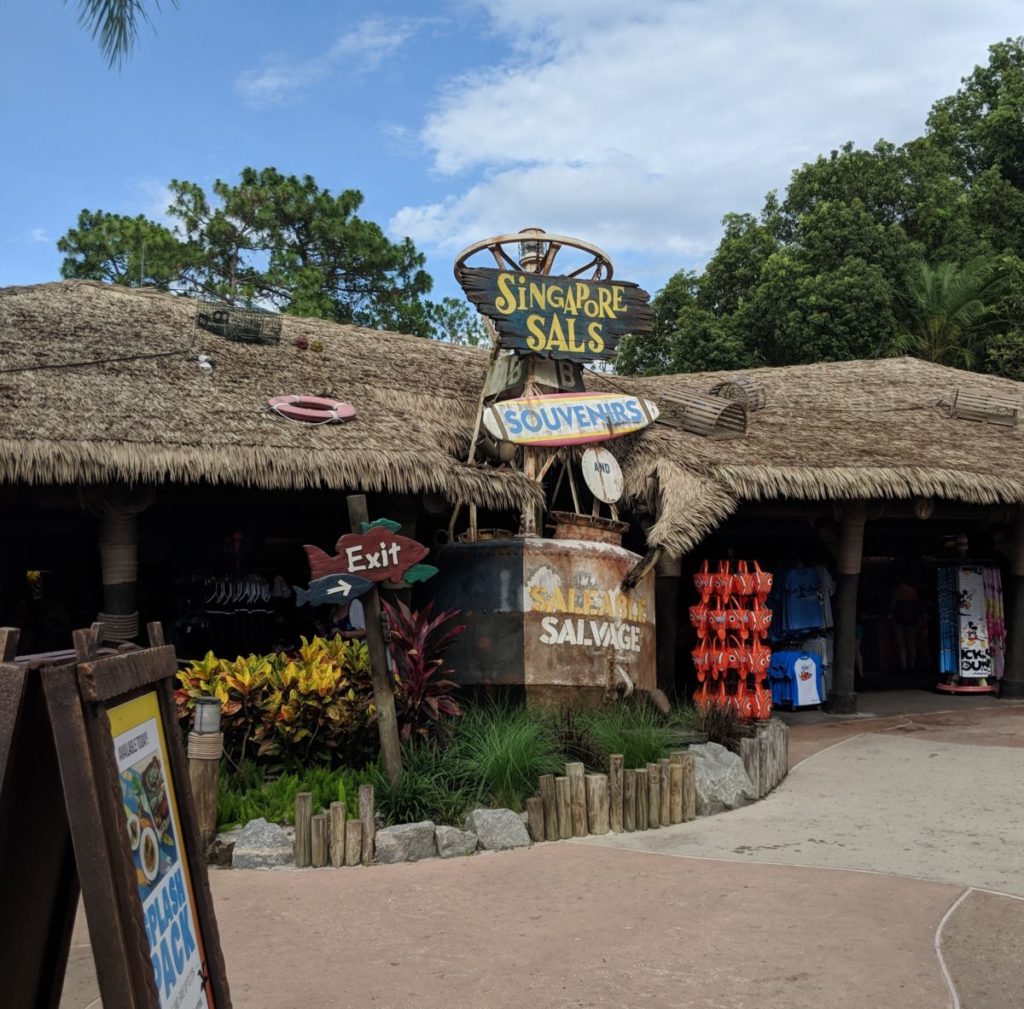 You can find sunscreen and towels (for rent or for purchase) inside Singapore Sal's, as well as sunglasses, sand pails, T-shirts and more. You can even find Disney themed swimwear!
When is the best time to visit Typhoon Lagoon?
When trying to decide what the best time of year (and day!) to visit Typhoon Lagoon is for you and your family, consider what you most want – things like smaller crowds, longer hours or warmer weather.
Typhoon Lagoon is open year-round, but it does shut down for annual maintenance during the off-season. In the past, it was often closed in the early months of the calendar year. (For example, Typhoon Lagoon closed in 2019 between January 6 and March 16.)
Typically, whenever Typhoon Lagoon is closed for refurbishments, Disney World's other water park, Blizzard Beach, is open (and vice versa).
While Typhoon Lagoon will often remain open until 8:00 pm during the summer, during the rest of the year it frequently closes as early as at 5:00 pm. The park typically opens at 10:00 am.
The water is heated during the winter, so if colder temperatures don't bother you, this might be a great way for you to enjoy the park with less crowds than the busy summer months. However, if the forecast calls for extreme cold (or, at least, extreme cold for central Florida), Typhoon Lagoon may announce that it will close for a day or a few days. This was the case in November and December of  2018.  If you think cold weather may be an issue for your trip, don't forget to keep checking both the forecast and the official park hours.
For safety reasons, Typhoon Lagoon will also shut down for thunderstorms. However, the weather changes so quickly in Orlando that the thunderstorms are often short-lived.
The water slides at Typhoon Lagoon have a limited capacity per hour due to the fact that they have slow loading times by design – for safety reasons, there has to be time for each guest to reach the bottom of the slide and then move out of the way before the next guest can start sliding. Therefore, if water slides are your favorite part of the water park and you want to minimize wait times, then you should try to get to the park when it opens (or, ideally, about 40 minutes before). Come dressed in your swimsuit and skip getting a locker (as changing and getting a locker takes up valuable time). Head directly to your favorite slide and try to ride as many times – or as many slides – as possible, before the park gets more crowded.
One last note when planning when to visit Typhoon Lagoon – keep in mind that, unlike the non-water parks at Disney World in Orlando, there are currently no Fastpasses or Extra Magic Hours at Typhoon Lagoon.  (Extra Magic Hours are when guests staying at Disney resorts can enter the park early or stay late on select days.)
Hotels Near Typhoon Lagoon
Staying at a hotel near a water park can be extremely convenient. While Typhoon Lagoon has dressing rooms and showers available for use, sometimes it's nice to be able to hop on a bus and then shower and change back at your hotel.
If you're looking for the hotels closest to Typhoon Lagoon, there are a few that are actually located approximately within 1 mile of the water park.
Closest Hotels to Typhoon Lagoon
Let's take a look at the 3 types of hotels you'll find near Disney World – official on-site Disney World hotels, official Disney Springs area hotels, and off-site Orlando area hotels.
All official Disney World hotels have free bus transportation to and from Typhoon Lagoon. The buses run approximately every 30 minutes (but times can certainly vary). Bus service to Typhoon Lagoon begins 45 minutes before the park opens and ends 1 hour before the park closes. Return bus service ends 75 minutes after the park closes.
Here's a list of all Disney World hotels, divided into the categories of Value, Moderate and Deluxe (with, for the most part, Value being the least expensive and Deluxe being the most expensive).
Disney World Value Resorts
Disney World Moderate Resorts
Coronado Springs
Fort Wilderness
Disney World Deluxe Resorts
In terms of distance to Typhoon Lagoon, the closest of these official on-site Disney World hotels are the Disney Springs area hotels (Old Key West, Saratoga Springs, Port Orleans: French Quarter and Port Orleans: Riverside) as well as Caribbean Beach Resort.
Speaking of Disney Springs, the official Disney Springs Resort Area Hotels also have complimentary shuttles to Typhoon Lagoon, as well as some of the other perks you get from staying at an on-site Disney World hotel (such as Extra Magic Hours before or after the main 4 theme parks open on select days). And since Disney Springs is located fairly close to Typhoon Lagoon, these hotels are also a great option for a vacation that includes the water park.
Disney Springs Resort Area Hotels
There are a number of other great hotels in the Orlando area, many of which also have transportation to Typhoon Lagoon (although you may have to make a reservation in advance and the buses may only run a few times a day).
No matter which hotel you choose, you're going to want to get the best deal and pay as little as possible for your hotel stay.
If you're looking at staying at a Disney World Deluxe Resort, we highly recommend going the DVC route. DVC stands for Disney Vacation Club, which is basically Disney's timeshare program. Don't worry, though – you don't have to be a DVC member to stay at a DVC resort! You can either rent points from a DVC member or you can rent a confirmed reservation (i.e. an actual reservation someone has already made). If that sounds confusing, don't worry! We have a video tutorial about renting DVC points and a guide to renting confirmed reservations. This is the easiest way to save a significant amount of money when staying at a deluxe resort.
No matter where you want to stay (onsite or offsite), we also recommend checking out our list of the ten best websites that help you save on Disney World hotels.
How to Save Money at Typhoon Lagoon
While a Disney World vacation may never be considered cheap, there are definitely ways you can save money without sacrificing quality or fun!
If you're looking for Typhoon Lagoon tickets, we have 5 ways to save money on tickets to Disney water parks.
You'll also want to check out our list of the 10 things you need to buy before a Disney World trip that will save you money.
Here are some additional money saving tips for visiting Typhoon Lagoon:
Bring Your Own Towel
One of the perks of staying at an official Disney World hotel – or official Disney Springs Resort Area hotel – is that you get free towel use at Typhoon Lagoon.
If you're staying off-site, though, you'll need to pay a $2 per towel rental fee. And while that's certainly not a fortune, consider buying towels beforehand. You'll save on rental fees – and, perhaps more importantly, not be as tempted to buy some of the (more expensive) fun towels at Singapore Sal's, the gift shop near the front of the park.
Buy a Refillable Mug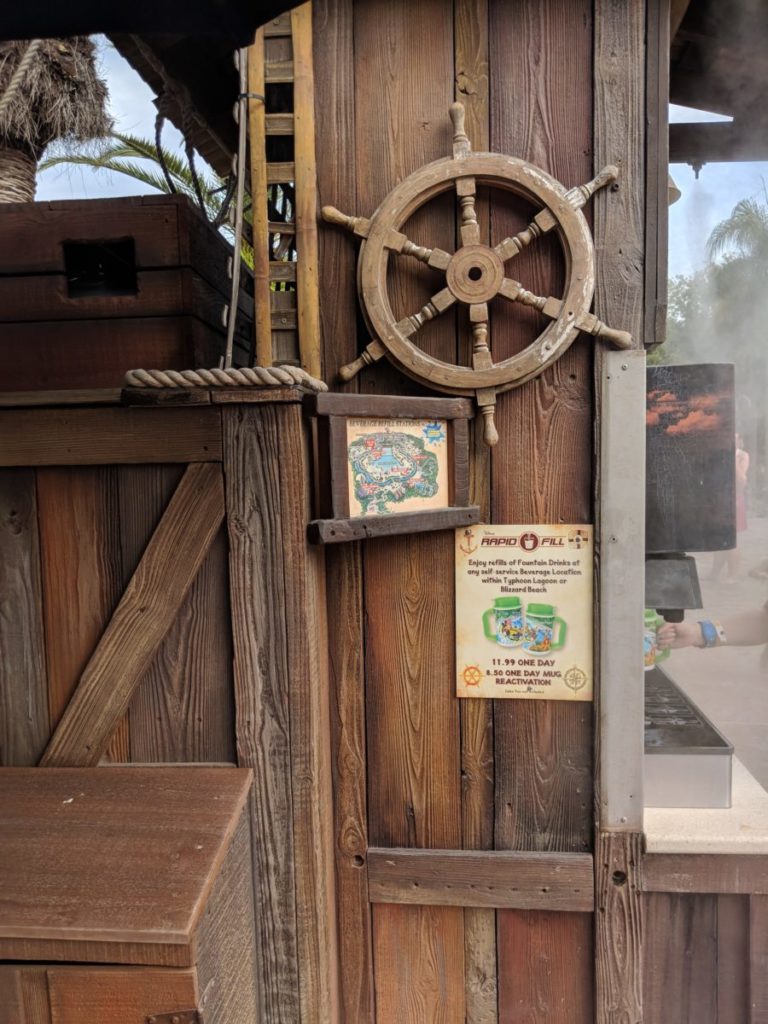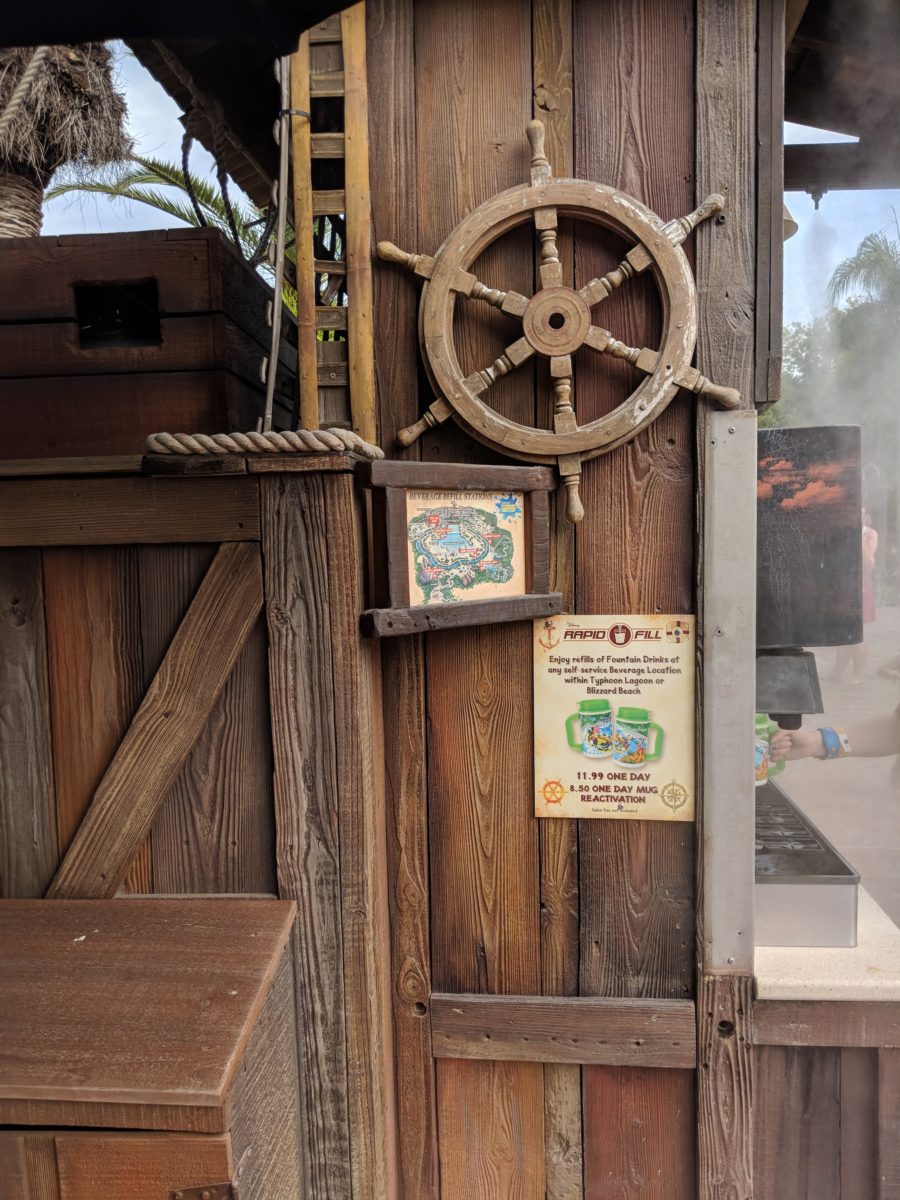 Unlike the non-water theme parks at Disney World, Typhoon Lagoon has a park-specific refillable mug system. For just $11.99, you can enjoy beverage refills all day long (and have a fun souvenir to take home!). If you're returning to Typhoon Lagoon and have already purchased a mug, you can reactivate it for the day for $8.50. (Keep in mind that just an ordinary soda tends to run about $4 at Disney World.)
Consider a Splash Pack
For a limited time, you can purchase a Splash Pack. This special bundle includes select food and beverages at the park, a refillable water park mug and a Disney-themed towel you can take home (as opposed to the plain towels for rent). Each Splash Pack costs $44 per person, plus tax.  If you're already planning on buying food, mugs and towels at the park, this could end up saving you money. You'll need to purchase the Splash Pack that day in the park (instead of in advance). You should be able to do so at Singapore Sal's. This bundle is only available through August 24, 2019.
Special Events at Typhoon Lagoon
During the summer, you can enjoy Disney H2O Glow Nights, a special ticketed event at Typhoon Lagoon. The event runs on select nights and includes shorter wait times for water slides as well as character meet and greets, a DJ-hosted dance party on the beach and more. You can read more about H2O Glow Nights here.
If you're in the Orlando area on Halloween, you can celebrate the holiday at Typhoon Lagoon! The water park has a number of special, family friendly activities and experiences on Halloween only. You can check out the top reasons to visit the park on Halloween here:
What to Bring to Typhoon Lagoon
When visiting Typhoon Lagoon, you won't want to forget your bathing suit or sunscreen. If you're looking for a new swimsuit, we highly recommend these 40 best Disney themed bathing suits for adults. As mentioned earlier, we also suggest bring your own towel.  You can, however, purchase all of these things (bathing suit, sunscreen and towel) at the gift shop, Singapore Sal's. You can also rent a towel at Singapore Sal's.
You can wear a bathing suit underneath your clothes, or you can use the dressing rooms near the gift shop to change into your suit once you arrive.
Bathing suits with buckles, rivets, zippers, exposed metal or any other sharp objects are not allowed on any of the attractions.  You also cannot wear jeans/denim or a wetsuit on Bay Slides, Humunga Kowabunga, Ketchakiddee Creek or Storm Slides.
If you're traveling with a diaper-age child who'll be going in the water, make sure they have plastic pants or swim diapers.
Goggles (covering only the eyes) are allowed on all rides except Humunga Kowabunga. If you prefer using goggles, you can order them online beforehand.  You can also bring a swim mask (which covers eyes and nose), but keep in mind you can only use it at Castaway Creek and the Crush 'n' Gusher swim area.
There are plenty of places to eat, but you can also bring a cooler with food and non-alcoholic beverages if you'd like. Be aware, though, that the cooler must be no larger than 24″ long x 15″ wide x 18″ high, and you cannot have loose or dry ice inside. (Disney recommends re-usable ice packs instead.)
What Not to Bring to Typhoon Lagoon
Leave your fins and snorkels at home – they aren't allowed anywhere in Typhoon Lagoon.
You also are not permitted to bring fun noodles, kick boards, personal inner tubes, rafts or any flotation device that does not come in complete contact with the body.
Other prohibited items include:
Balloons
Plastic straws
Folding chairs
Selfie sticks
Flags
Banners
Wagons
"Larger" suitcases, bags, coolers and backpacks (they must be no larger than 24″ long x 15″ wide x 18″ high)
"Larger" tripods or monopod stands (they must be able to fit inside a standard backpack and not extend over 6′)
Typhoon Lagoon Cabanas
Interested in renting a private cabana while at Typhoon Lagoon?
Then you'll definitely want to know about these options!
Beachcomber Shacks
Each Beachcomber Shack is a private, shaded area for up to 6 guests and includes:
Towels
A cooler with bottled water and ice
Refillable drink mugs
Cushioned seating
A locker
You'll also get to enjoy the help of attendants on hand who can take your food order (separate dining charges apply).
Rates vary depending on the season – recent summer rates were around $360 (including tax).
Beachcomber Shacks are first-come, first-served and are quite popular during the summer, so you'll want to call (407) 939-7529 to reserve one in advance. You can stop by Singapore Sal's the day of your park visit to check on availability, but there may not be any still available.
Getaway Glen Umbrellas
If you want to make sure you have seats in the shade but want a less expensive option, then the Getaway Glen Umbrellas may be perfect for you.
If you rent a Getaway Glen Umbrella for the day, you and up to 3 other guests will enjoy:
A beach umbrella
Towels
2 beach chairs
2 reserved loungers
A drink table
Recent pricing was around $75 and includes use for the entire day at the park, but you'll need to check to see current pricing for when you want to visit.
You may be able to secure a rental for the day of your visit at Singapore Sal's, but you can guarantee a reservation by calling (407) 939-7529 in advance.
Surfing at Typhoon Lagoon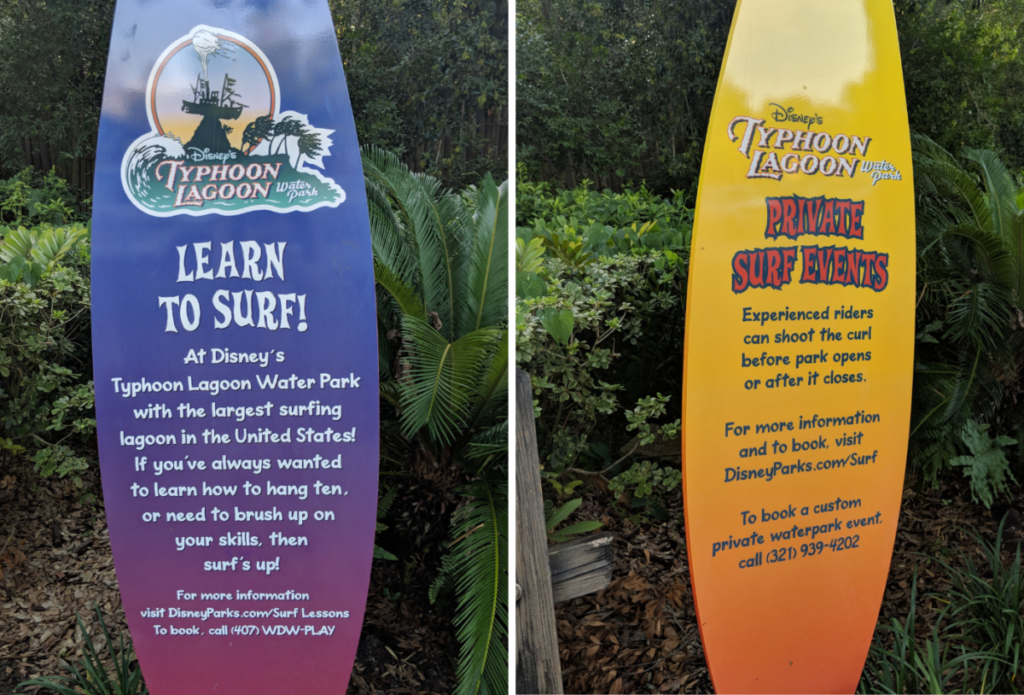 Not only is there a surf pool at Typhoon Lagoon, but you can actually take surfing lessons there!  And if you're already an experienced surfer, you can have your own private surf session.
Typhoon Lagoon Surf Lessons
The surf lessons at Typhoon Lagoon are perfect for beginner and intermediate surfers ages 8 years old and older. They are held in the mornings before the park opens on select days. For $190 per person (tax included), you'll have a little instruction on land, and then you'll be out on a soft-sided surfboard. You may even be riding waves up to 6 feet tall by the end of the lesson. The fee includes a light continental breakfast (which may include baked goods, whole fruit and coffee). Digital photography is also included in the lesson, so you'll have some great material for your social media accounts!
To set up a surfing lesson at Typhoon Lagoon, just call (407) WDW-PLAY or (407) 939-7529. (Those who are under 18 must have parent/guardian permission to call.) Each lesson is capped at 12 students and lasts approximately 2.5 hours. Surfing equipment (including towels and beginner surfboard) are provided.
Private Surf Session at Typhoon Lagoon
The private surf sessions, held before park opening or after park closing, are the perfect way for experienced riders to enjoy dozens of waves at Typhoon Lagoon!
Each session lasts 3 hours and includes 4 sets of 25 waves (so, 100 waves total). If your session is held after the park closes, you can also pay more to add up to 50 additional waves. You can choose the direction of all waves. Your session will include you and up to 24 other guests (including other surfers and spectators of your choosing). If you have more than 24 guests in your party, you can add up to 40 total participants for an additional fee.
There are options for adding a food and beverage package (or you can bring your own food and non-alcoholic drinks). You'll need to bring your own boards and towels. You and your guests can take photographs including using a GoPro camera, but using a GoPro while surfing means the camera must be mounted to the surfer's head, chest or surfboard.  Camera sticks (such as selfie sticks) and drones are not allowed.
If you'd like to choose the music, you can bring a smartphone or MP3 player and the music will be played over the park's sound system. Just keep in mind that this is Disney, so no profanity or "objectionable material" is allowed.
The base rate (not including any add-ons) for a session isn't cheap – it falls between $1,125.00 and $1,425.00, depending on the day and time of day (weekends and evenings are more expensive). However, you're paying for a memorable, one-of-a-kind experience! To book, call (321) 939-4202 or fill out this online registration form.
Conclusion
If you would like to read more about Disney parks, you could buy this Unofficial Guide to Walt Disney World Book.  This could make a great gift for anyone else you know who loves Disney!