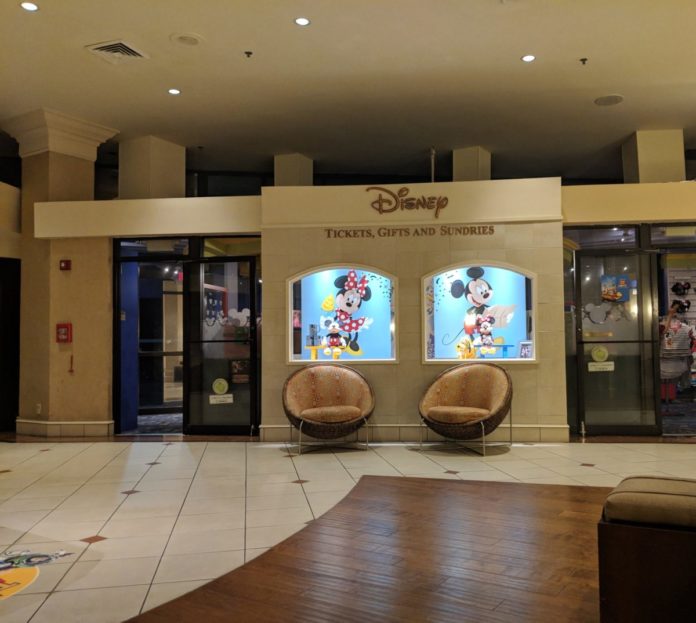 If you click on the links in this post, we may earn money from the companies mentioned in this post, at no extra cost to you. You can read the full disclaimer here.
My family recently had the pleasure of staying at Best Western Lake Buena Vista Resort Disney Springs Resort Area in Florida.  This is a hotel that's part of the Walt Disney World Resort in Orlando, Florida.  It is one of a select few hotels that are part of the Walt Disney World Resort complex without being an official Disney hotel.  We stayed at another Disney Springs hotel, Wyndham Garden Lake Buena Vista, recently and had a great experience so we decided to try another.
We planned to stay one night at Best Western after a stay at Art of Animation. after we found a great deal here (you should look there, too, if you want a good deal).  Well, after one night at Best Western, we actually loved it so much we called down to the front desk and added a day on to our stay!  It is currently undergoing renovations, but it did not affect our stay one bit.  I think your family will similarly love this hotel, and we'll go over twelve reasons why here.
1. Get the Perks of a Disney Hotel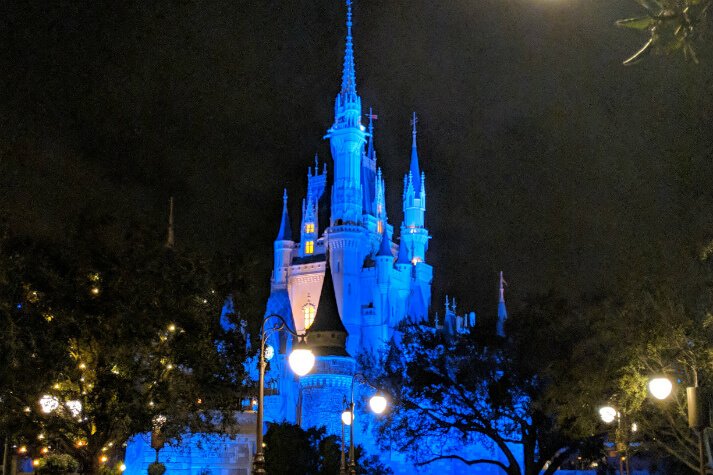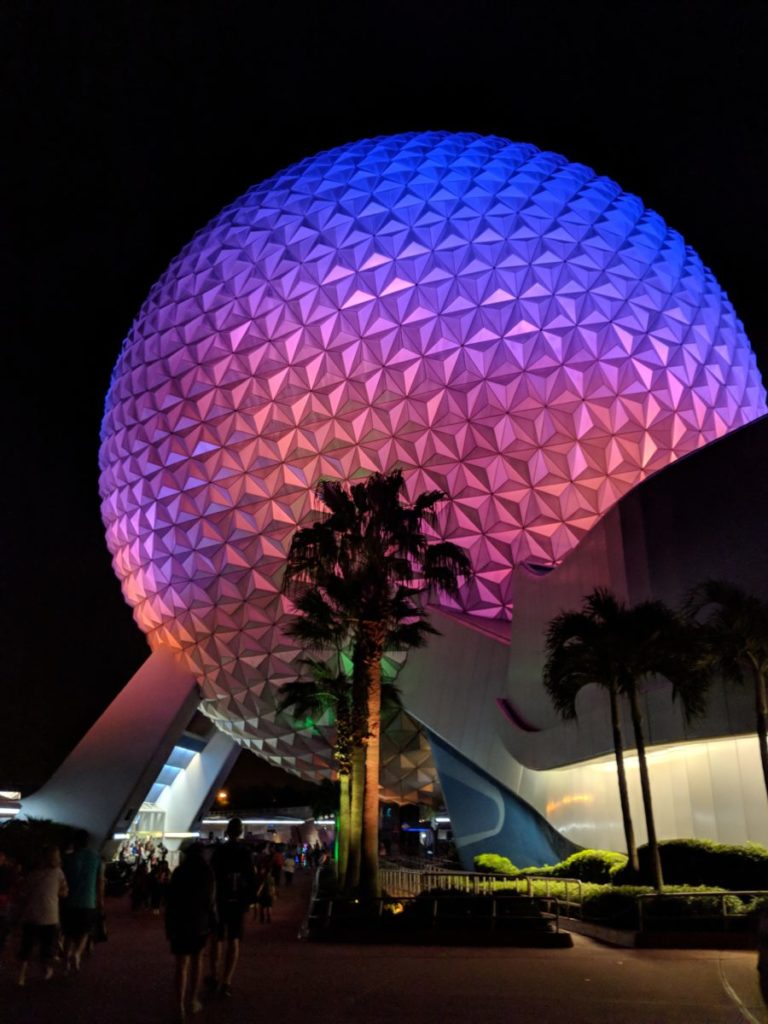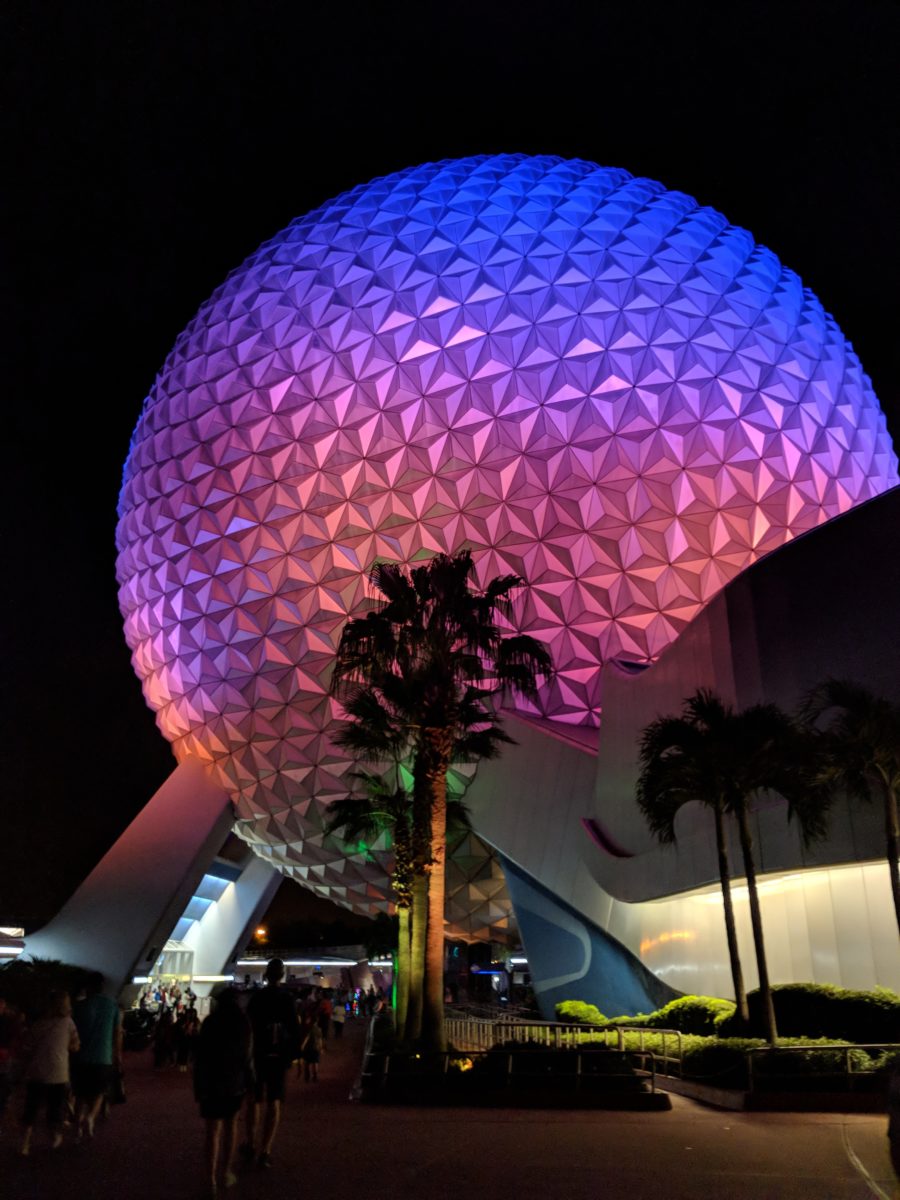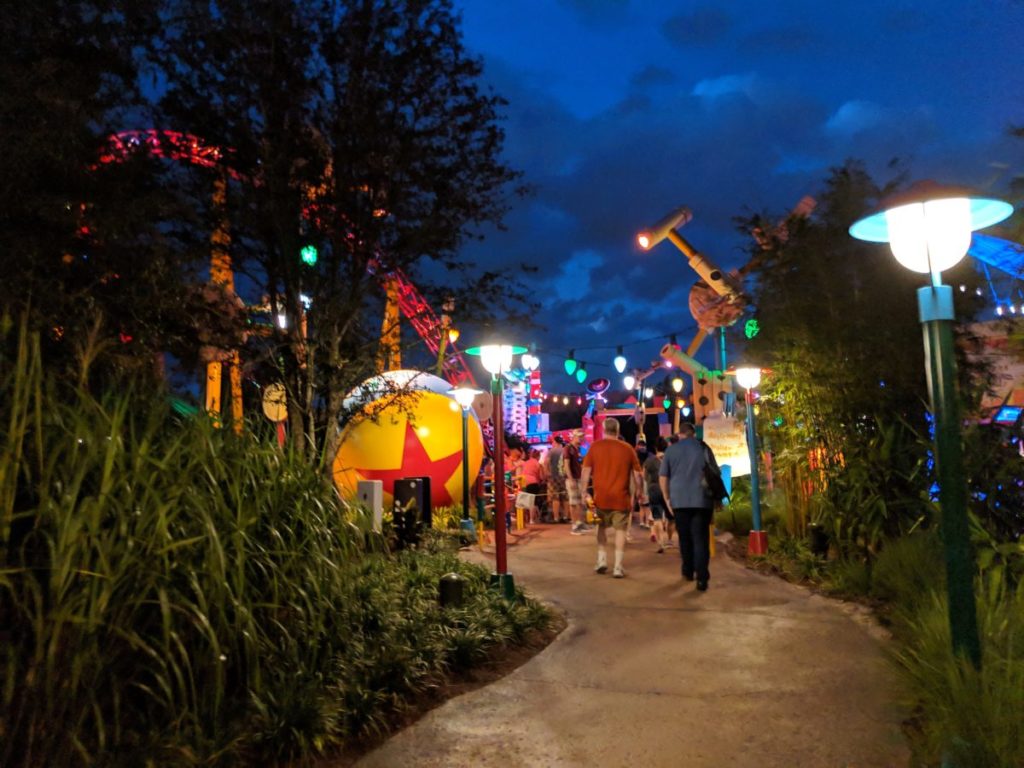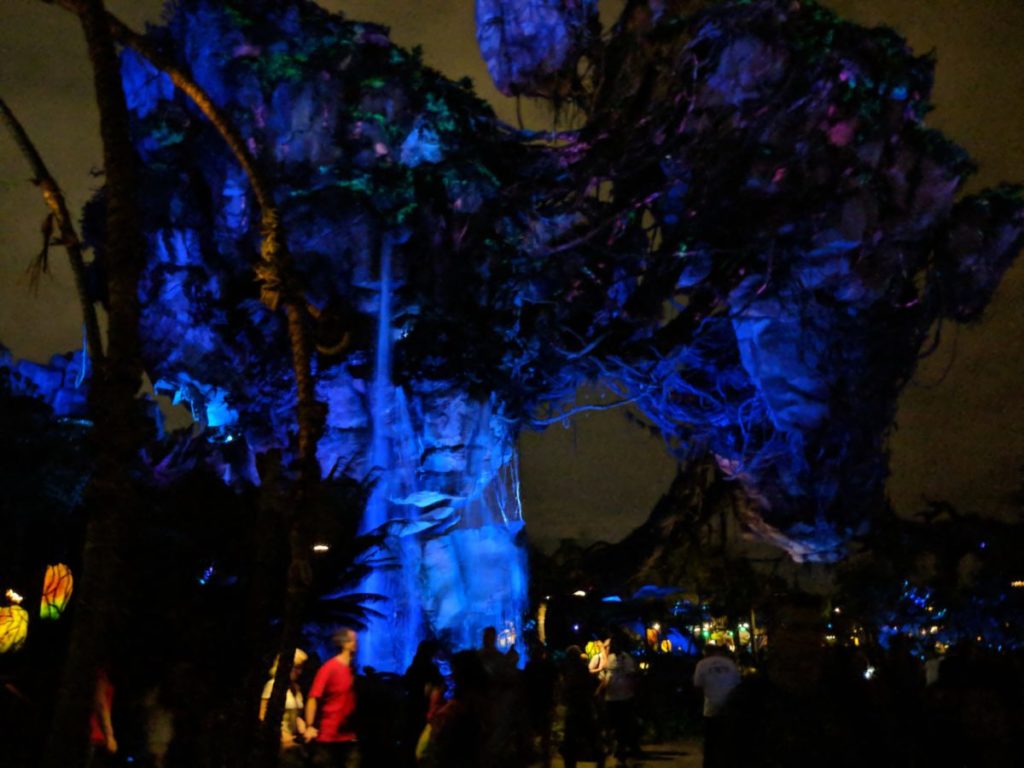 As I mentioned before, Best Western Lake Buena Vista is not technically a Disney owned hotel.  But that doesn't mean you can't enjoy some of the same perks of a Disney hotel!  One of the benefits of staying on-site at Disney World is that you get extra magic hours, meaning on select days you can get into the parks an extra hour earlier or an extra hour later.  Well, you get that same privilege at Best Western Lake Buena Vista Disney Springs!
Another perk of staying on-site at Disney World is that you get to book fast passes sixty days in advance as opposed to thirty days in advance like everyone else does.  Well, you get that at Best Western Lake Buena Vista Disney Springs, too!  This is important because fast passes for some Disney World rides (like the Slinky Dog roller coaster at Hollywood Studios, Seven Dwarf's Mine Train at Magic Kingdom, Frozen: Ever After at EPCOT or either of the Pandora: World of Avatar rides at Animal Kingdom) are really hard to get.  Being able to do it before other people makes it easier to get.  So it's really nice to get these great perks without having to pay Disney prices.
2. Very Affordable
Best Western Lake Buena Vista – Disney Springs Resort Area is one of the most affordable Disney Springs hotels.  Not only is the nightly rate low, but the extra fees aren't that expensive, either.  The parking fee is just $8 and the resort fee is just $13.99.  Disney World theme park tickets are expensive enough (you can save money on tickets though by clicking here), so it's nice that you can save some money on your hotel but still have Disney perks.
3. Better Bus System than other Non-Disney Hotels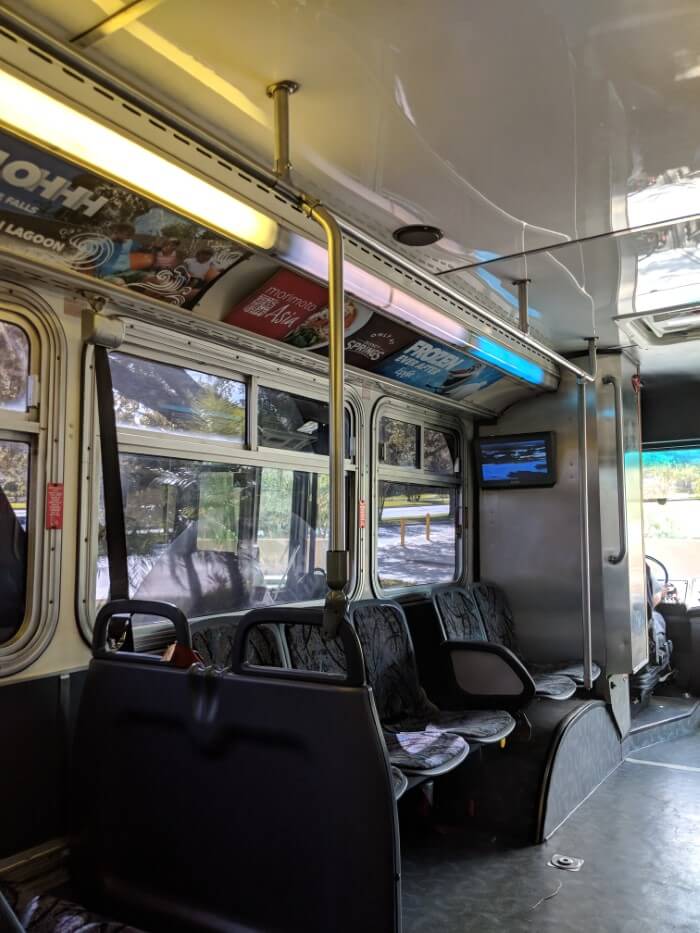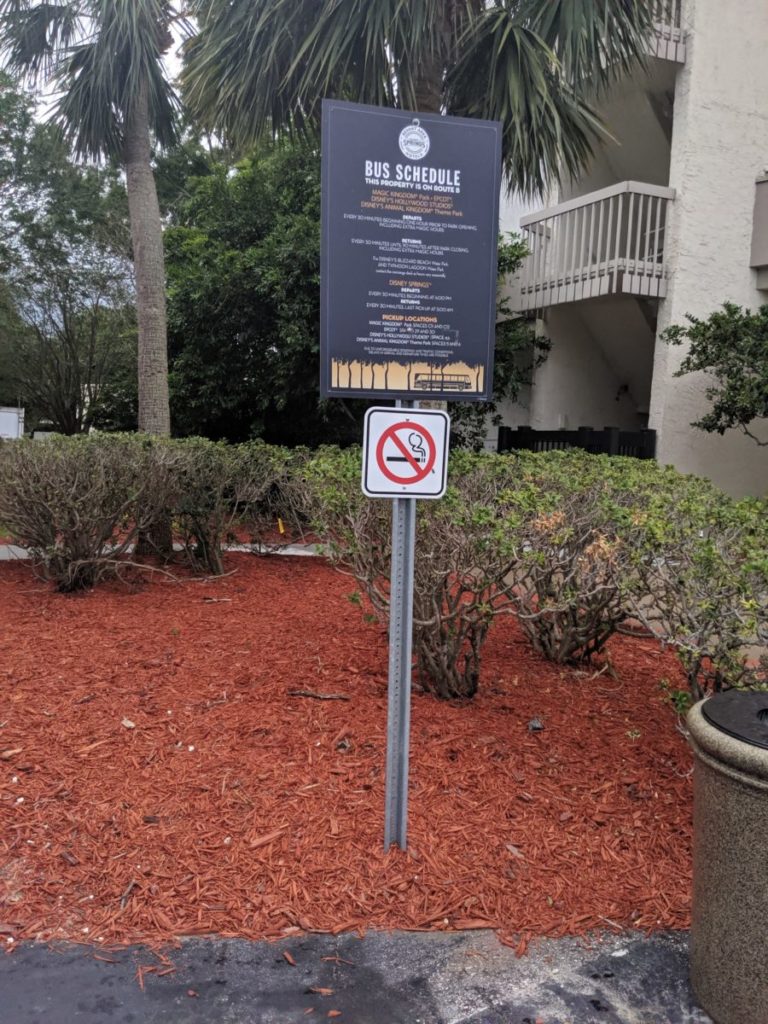 One of the negatives of stay off-site during a Walt Disney World vacation is that while other hotels my have shuttle systems, the only operate at certain times.  This mean there are usually only a few times in the morning you can get a shuttle to the park and you're not going to get a shuttle back to your hotel until late afternoon.  This can be a huge pain and not practical if your child (or you) needs a nap, it starts pouring rain, your child has a complete temper tantrum breakdown, etc.
Well, luckily the bus system does not work that way at the Disney Springs hotels.  The Disney Springs hotels have a dedicated bus system that takes people to and from the parks every thirty minutes.  It is similar to the bus system at the Disney hotels, except not as frequent and with more stops (but with a much more comfortable bus).
3. Within Walking Distance of Disney Springs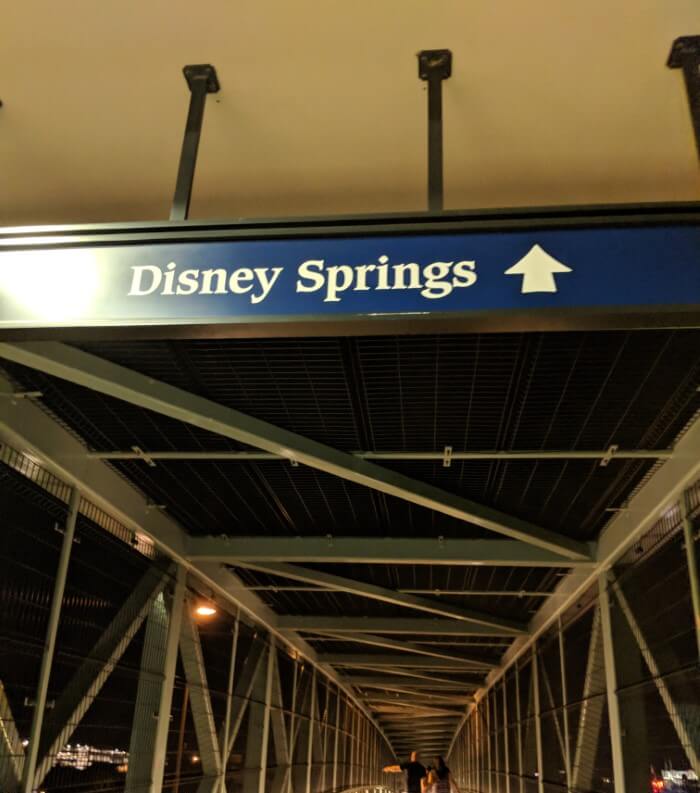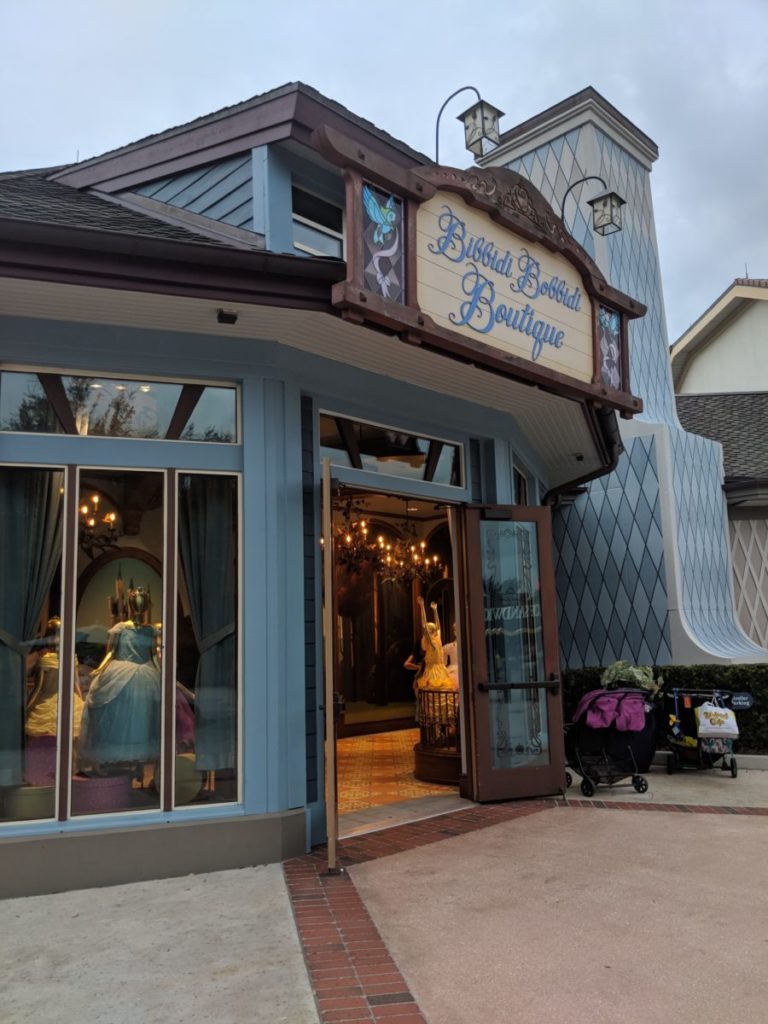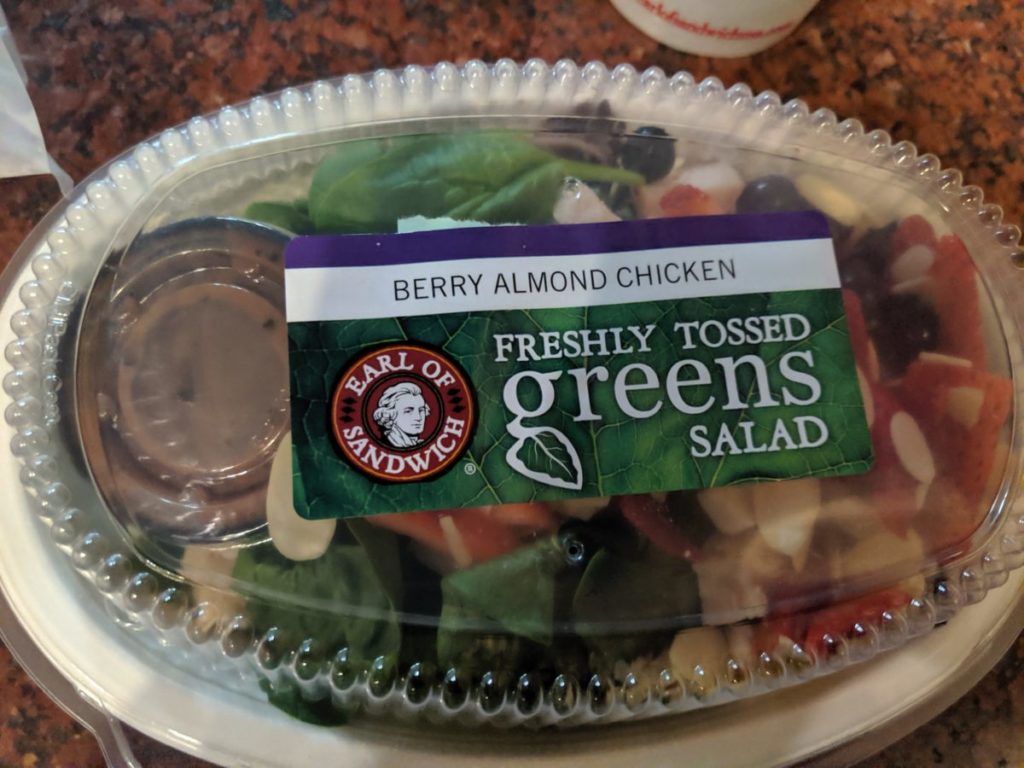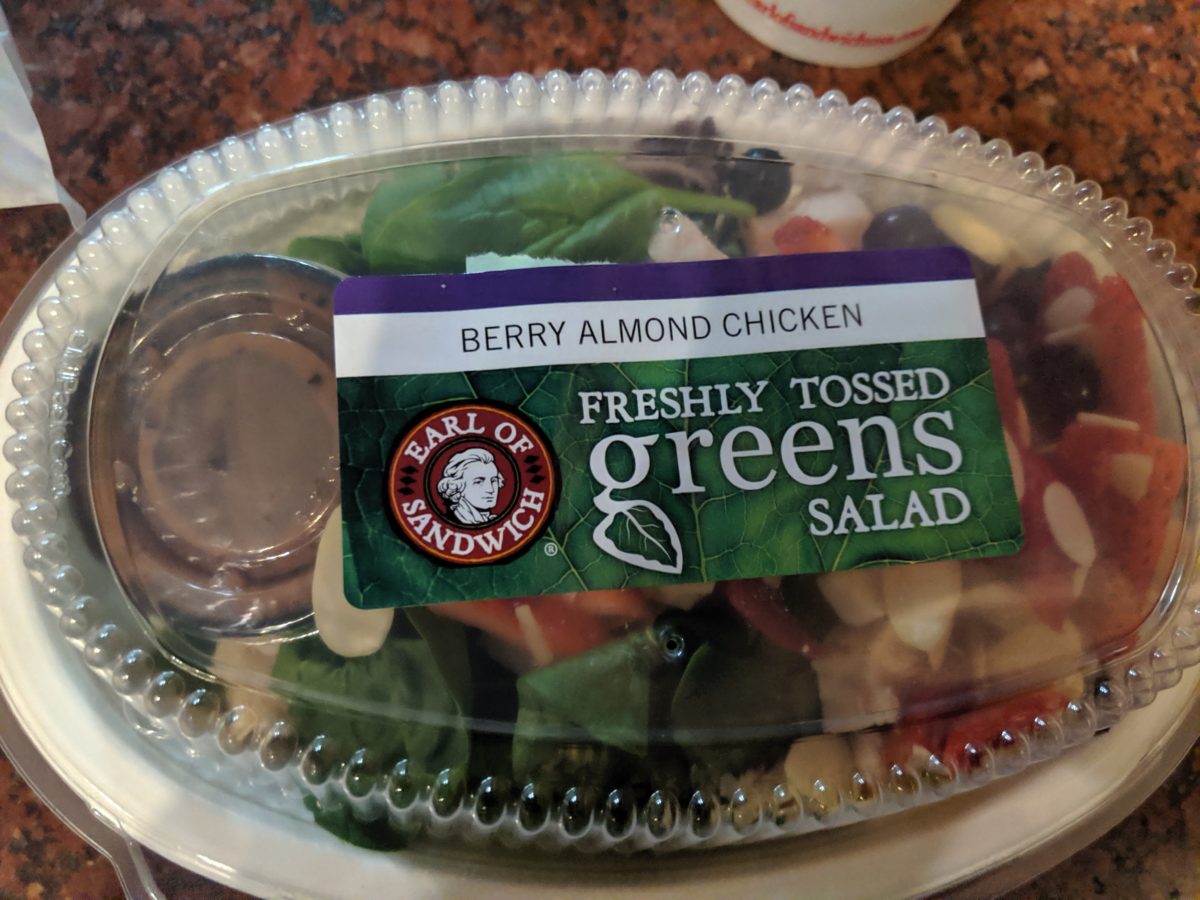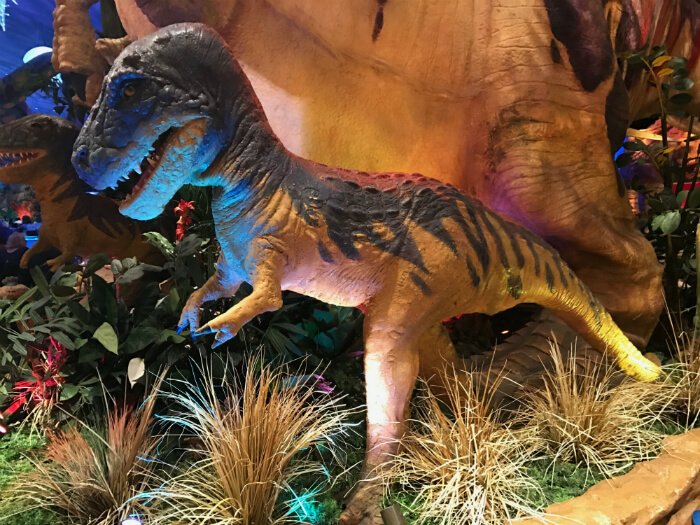 Even most official Disney hotels are not within walking distance of any Disney attraction.  So it's pretty great that you can stay at a more affordable hotel in Best Western Lake Buena Vista and be in walking distance of Disney Springs.
Disney Springs, in case you haven't been before, is a great collection of restaurants, stores, and experiences.  A great thing about Disney Springs is unlike the parks, admission is completely free.  It's a great option if you don't have tickets for every day of your visit, because even though a lot of the individual activities at Disney Springs cost, they are still often more affordable than Disney tickets.
You could go to the movies or go bowling.  There's even a Bibbidi Bobbidi Boutique there if your children like dressing up.  There are also a lot of great restaurants there; the dining selection is more varied than the parks and there are more affordable options, so you could consider eating dinner that at the end of the day instead of at the parks.  If you want a good, affordable option I recommend Earl of Sandwich.  It is more affordable than anything you'd find in the Disney parks but the sandwiches and salads are delicious.  It is really close to the entrance of Disney Springs you'll be walking in.  If you don't mind spending some more money, then I recommend T-Rex.  They have amazing animatronics of dinosaurs – and the food is so delicious!  And here are some tips on how to save money there here.
5. Spacious Rooms with Comfortable Beds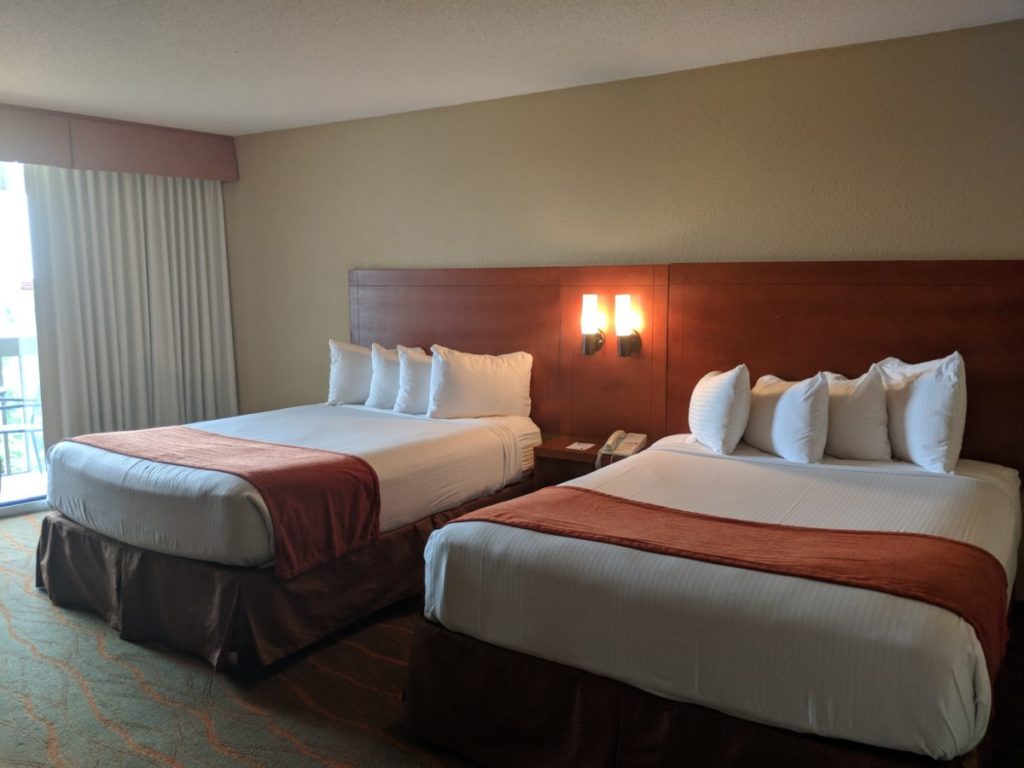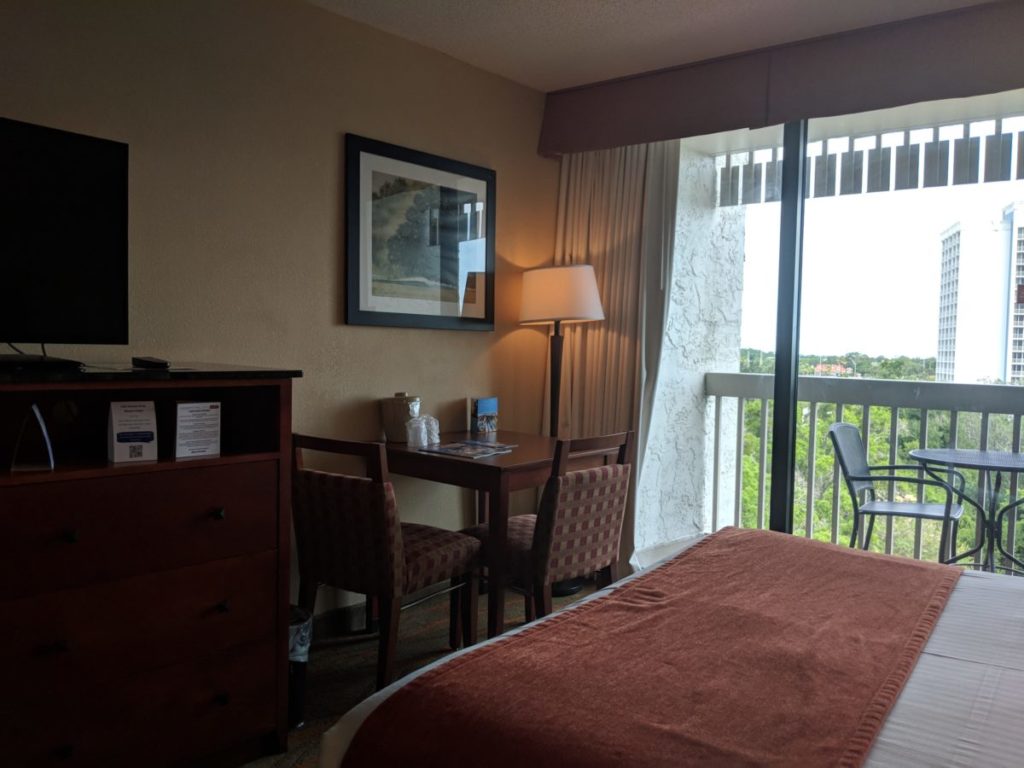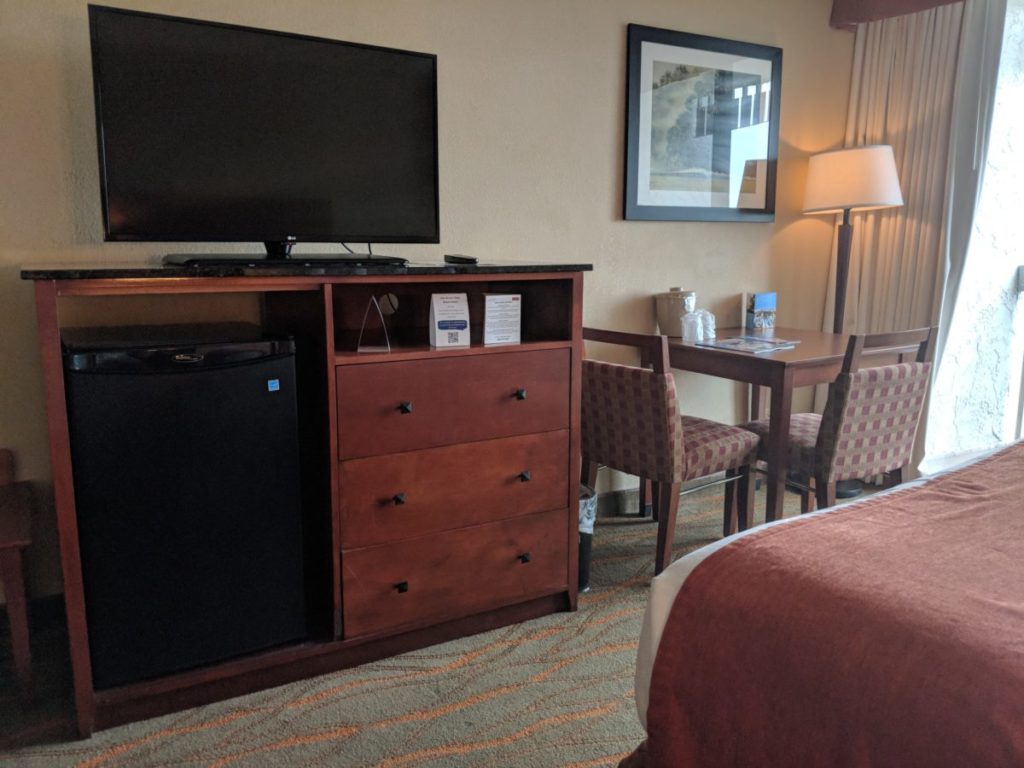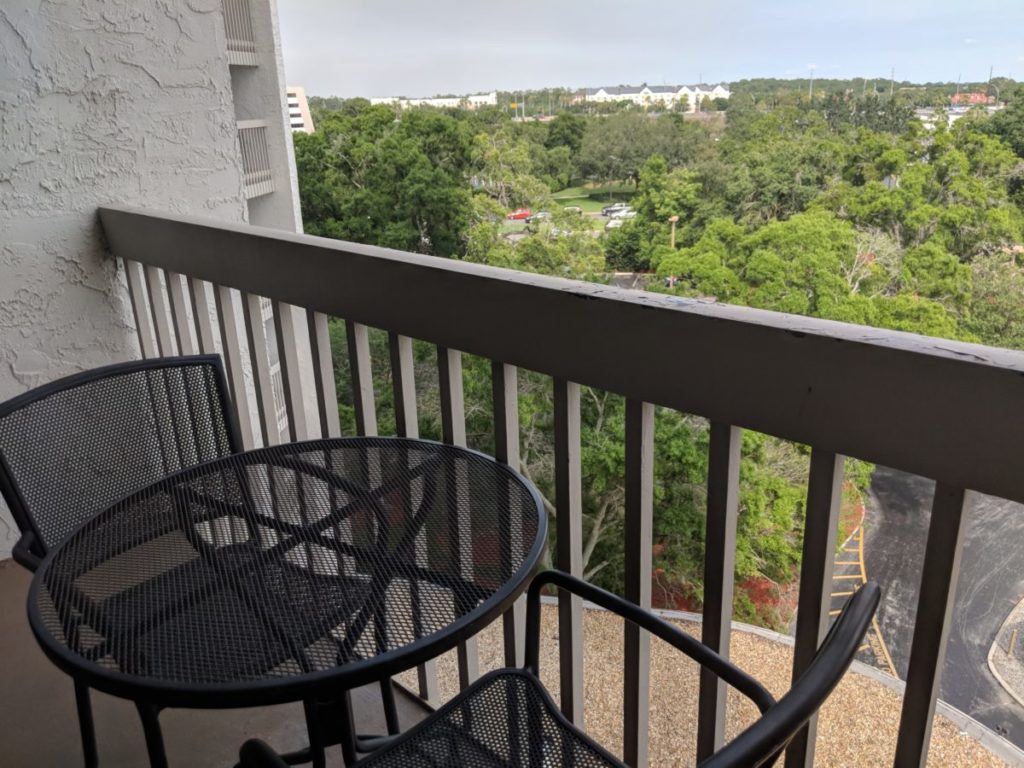 When you stay at a hotel that's within walking distance of a major attraction, you don't always expect a big room, so we were pleasantly surprised by how big the room was.  Our room also had a balcony with great views.  The beds were also extremely comfortable.  I also like that they have queen beds instead of double beds like you would get it if you stayed at a Disney value hotel.
6. Beautiful Lobby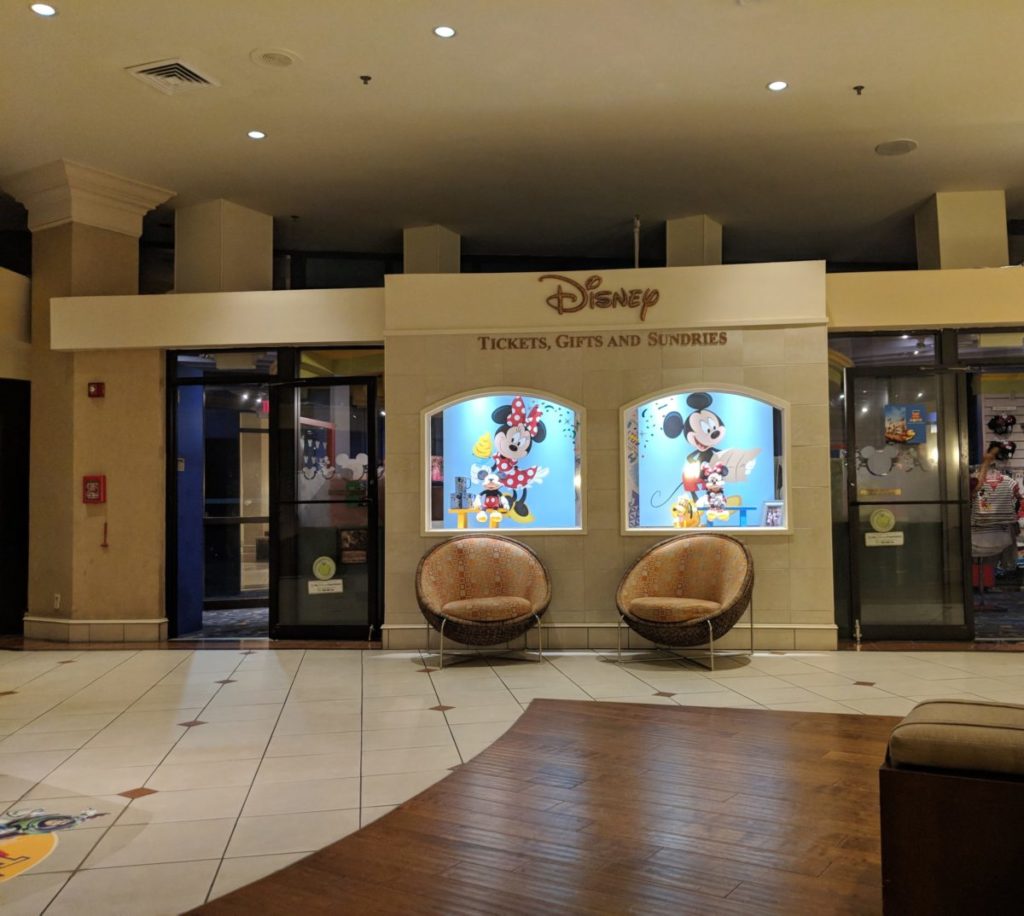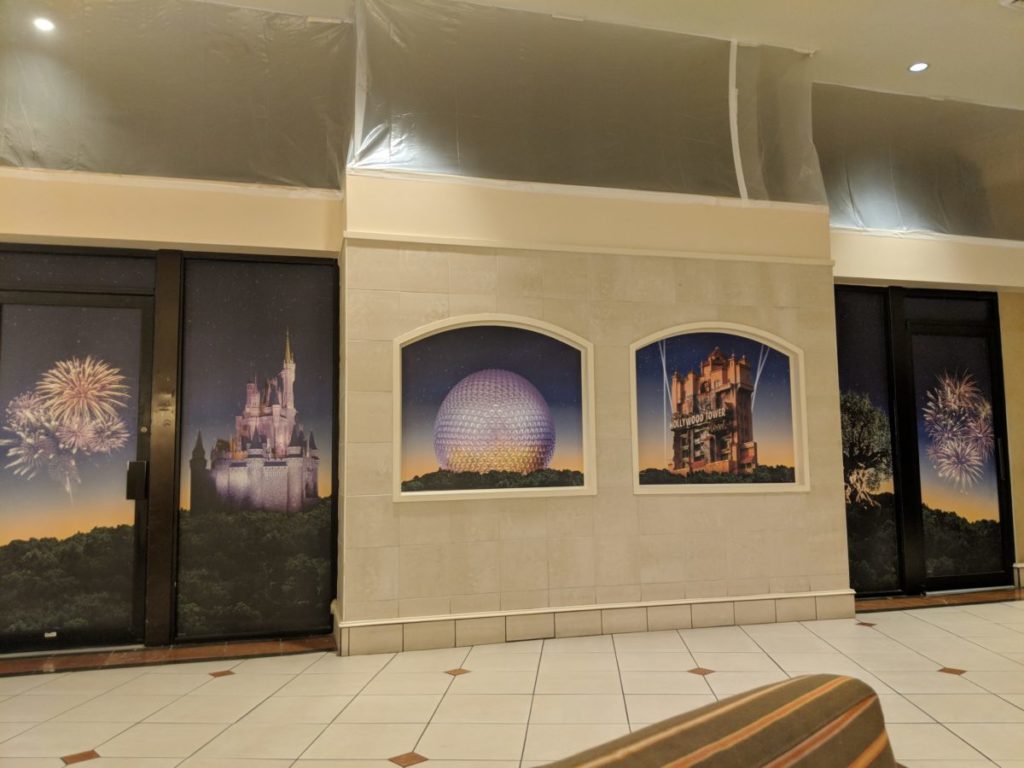 Whenever I am planning a Walt Disney World trip and I am debating whether or not to stay at a Disney hotel or off-site, one of my concerns in staying off-site is not having that "Disney feeling".  What I mean by that is that I like that feeling when you walk in the lobby, see Disney touches all over and you get that excited feeling like you're a kid on Christmas morning.  So I really like that Best Western Lake Buena Vista has a lobby with Disney decorations and a Disney gift store.  The lobby is also very attractive with very comfortable chairs.
7. Nice Pool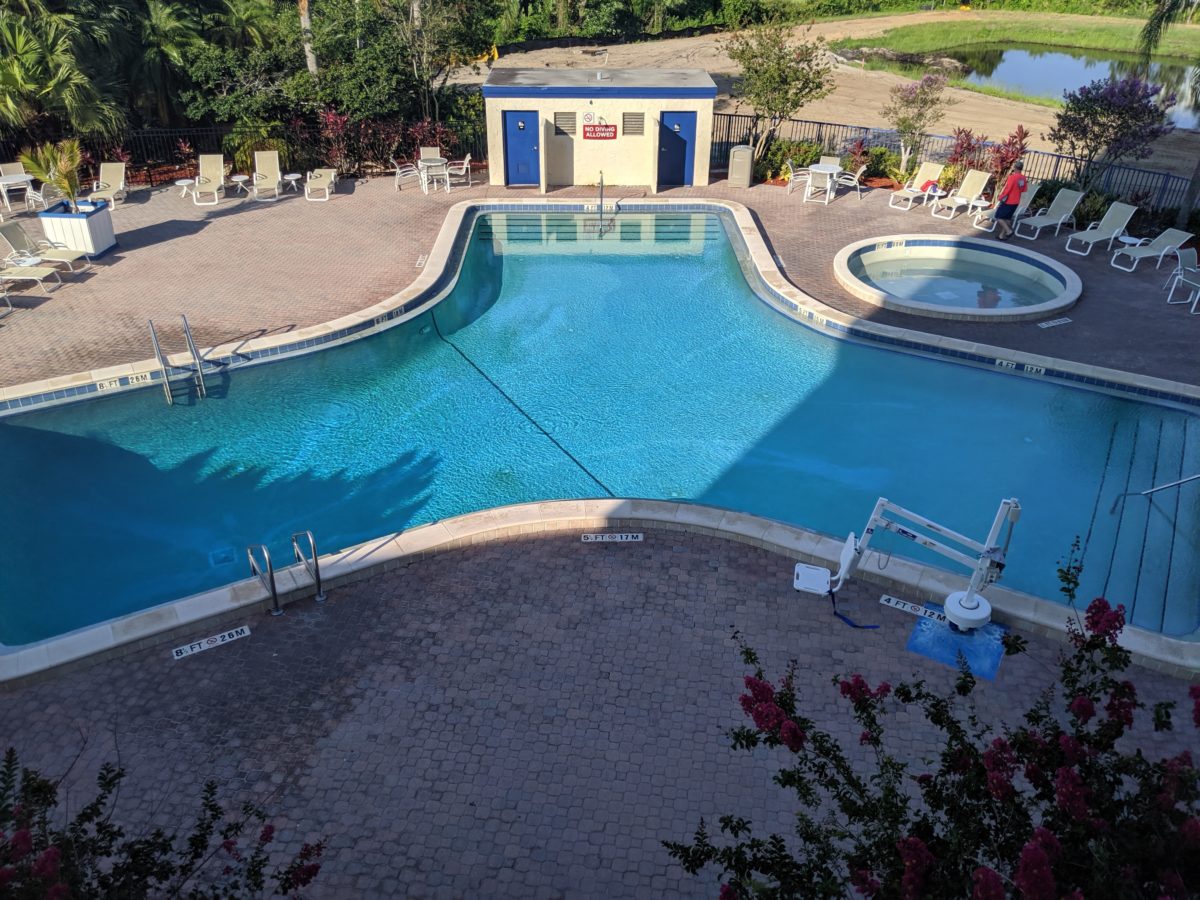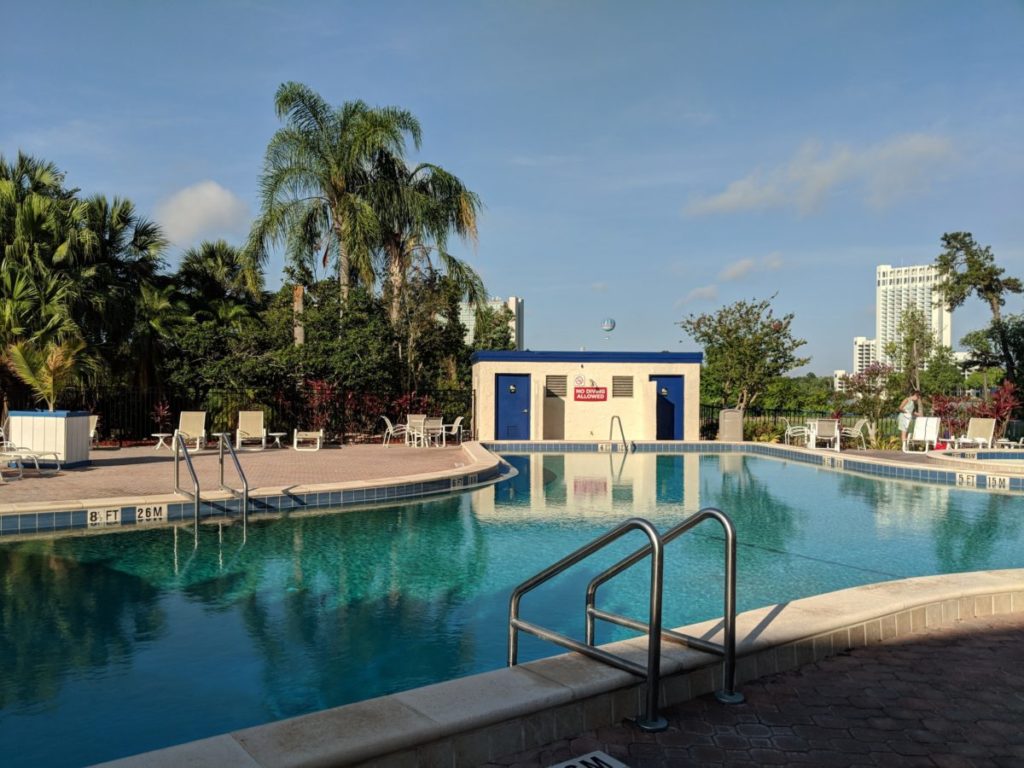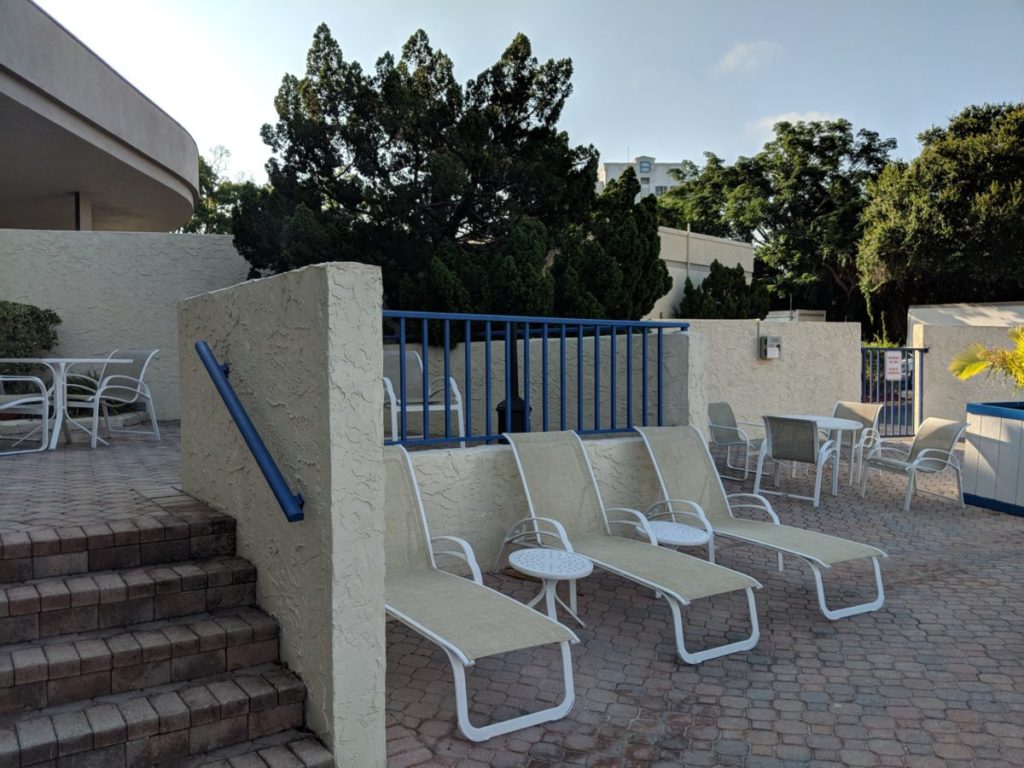 I stayed here in June, so needless to say it was quite hot.  So having a pool here was a definite plus!  There's an outdoor pool and kid's pool (heated, which is good in the winter months).  There are also lots of seating so you can relax if your family wants to swim in the pool and you don't.  There are beautiful views from the pool of trees and other Disney Springs resorts.  You can even spend the morning and early afternoon at the Disney parks, then swim in the afternoons and then walk over to Disney Springs for dinner!
8. Great Workout Room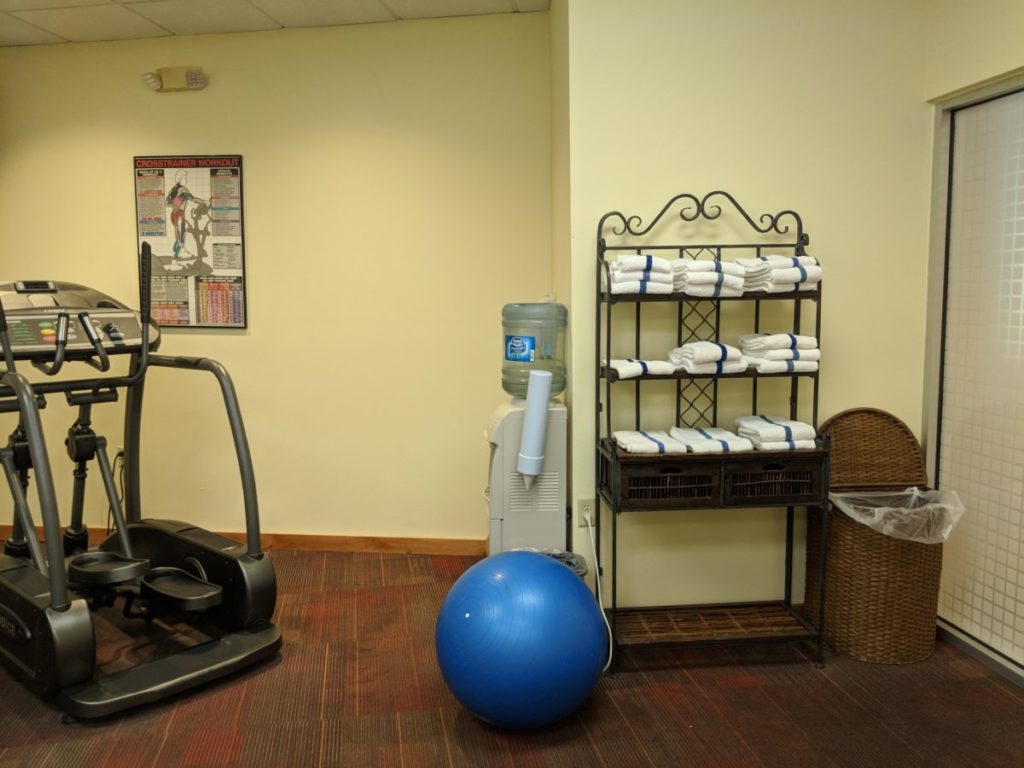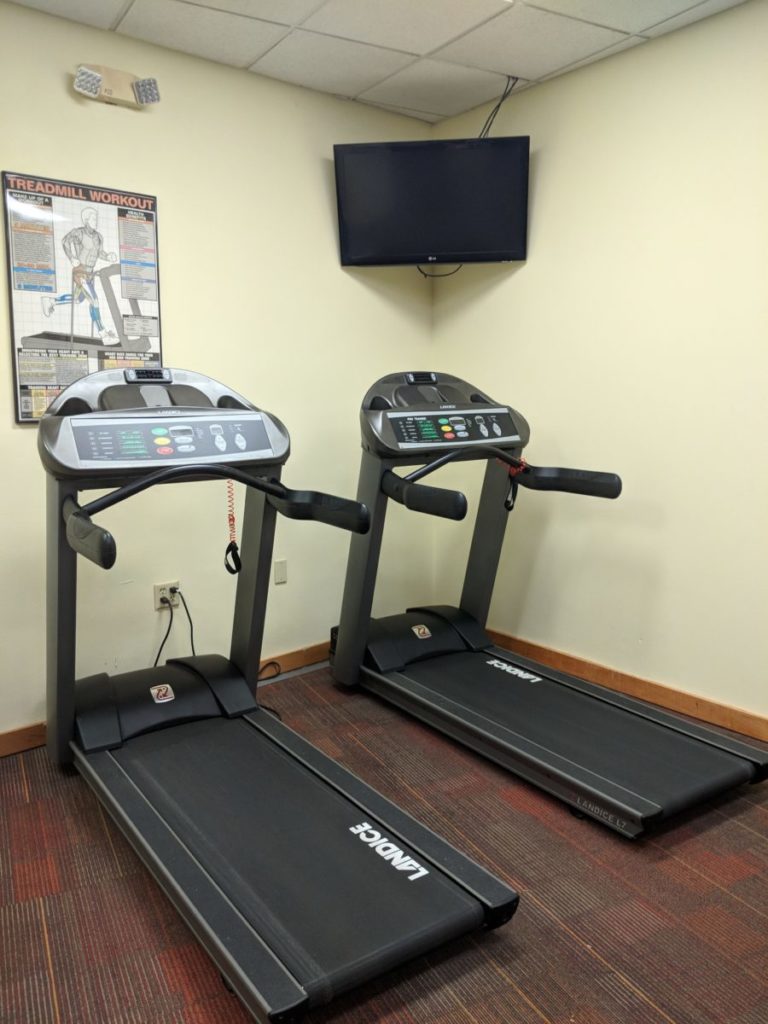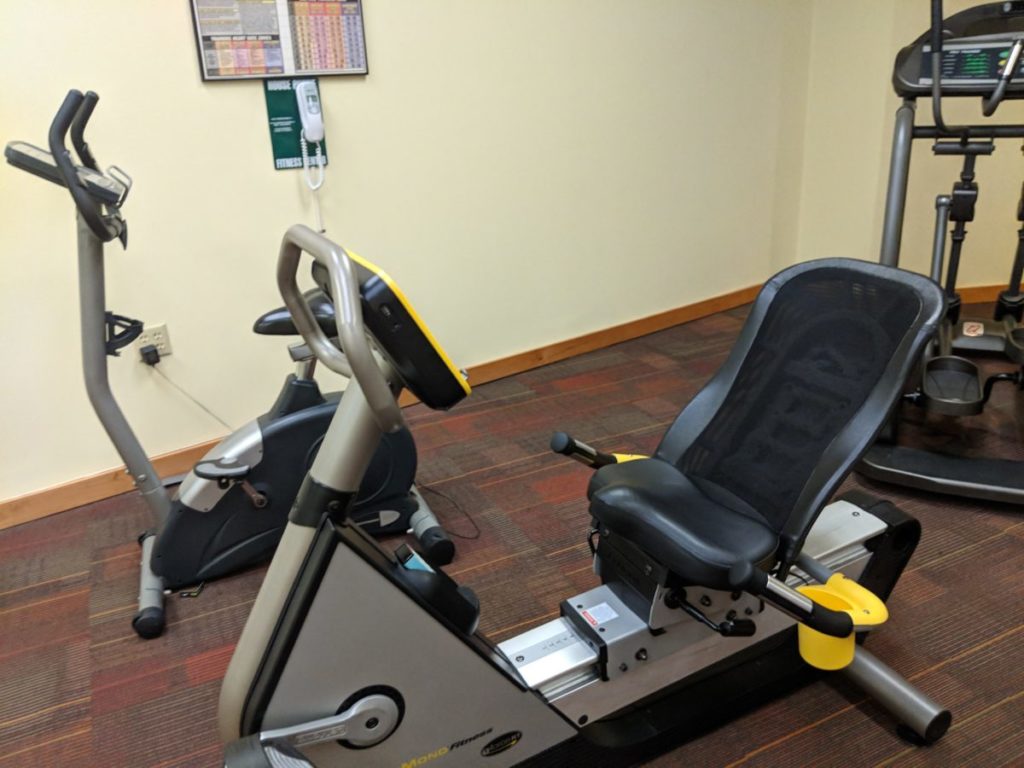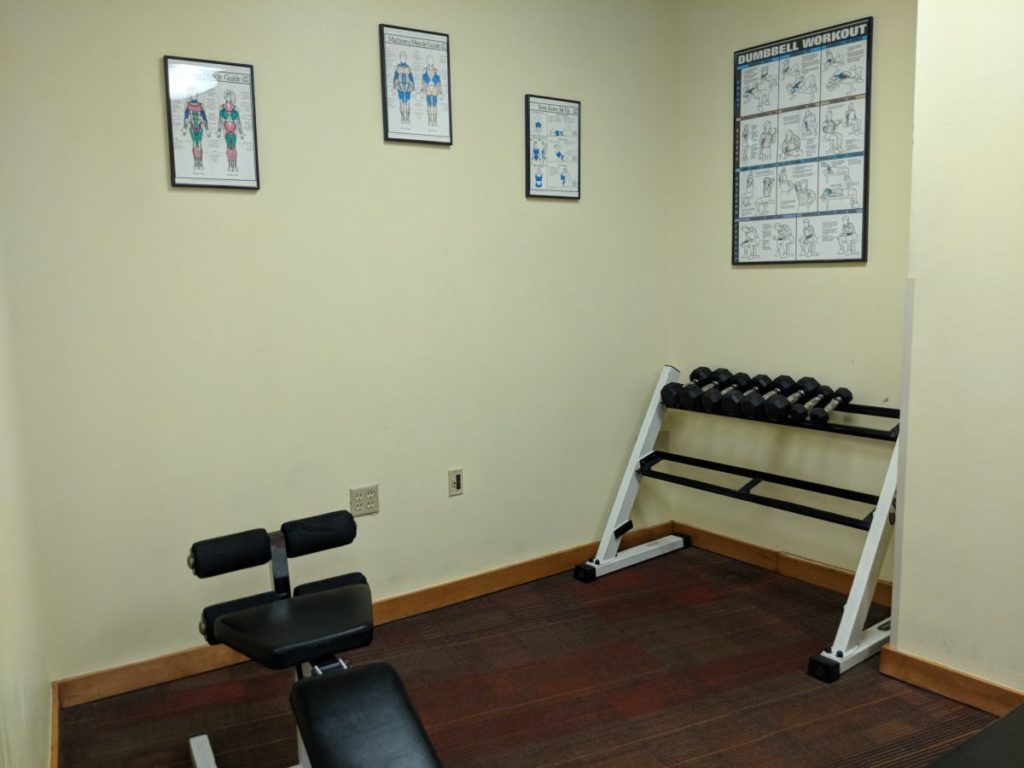 Not all Disney World hotels have a fitness room, so the fact that Best Western Lake Buena Vista Disney Spring has one is a plus in and of itself.  But it not only has a fitness center, it actually has a good one.  As you can see from the pictures, there's a large variety in the equipment you can use.  They also provide towels and water.  There's even a TV you can watch while you exercise.
9. Nice Staff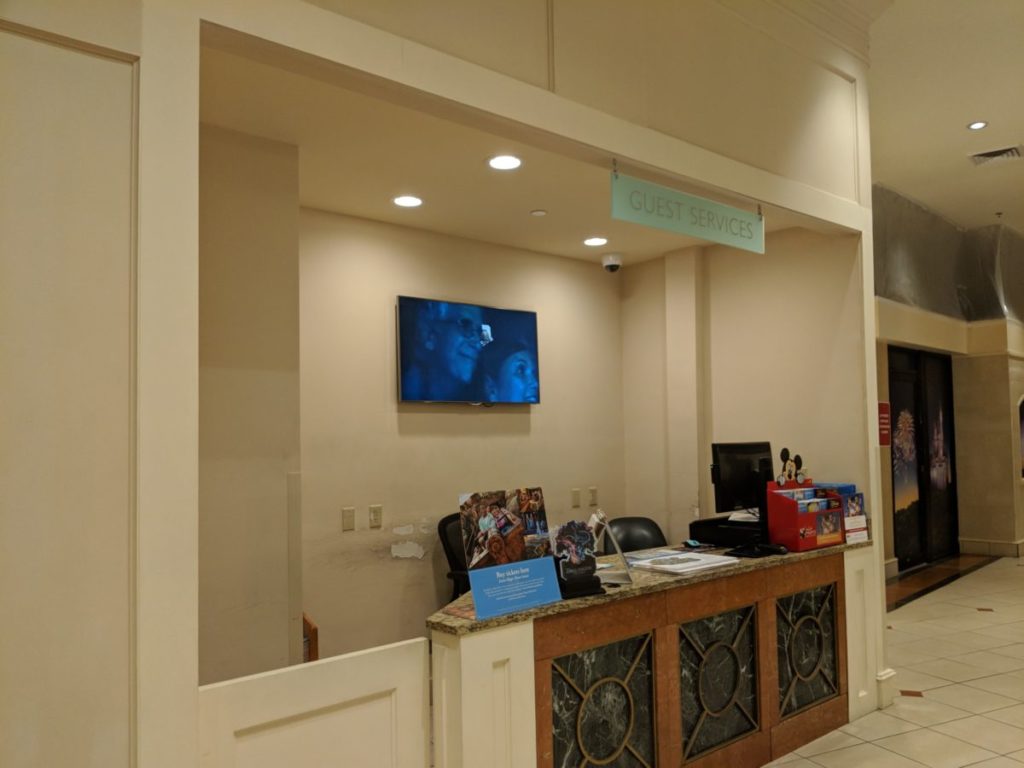 The staff was incredibly nice and helpful during my family's stay here.  When we asked to add on an extra day to our stay, they were very accommodating and got us a great price for the second night.  You don't always expect that kind of service when you stay at a hotel, but when you get it, you remember and appreciate it.
10. Great Onsite Restaurants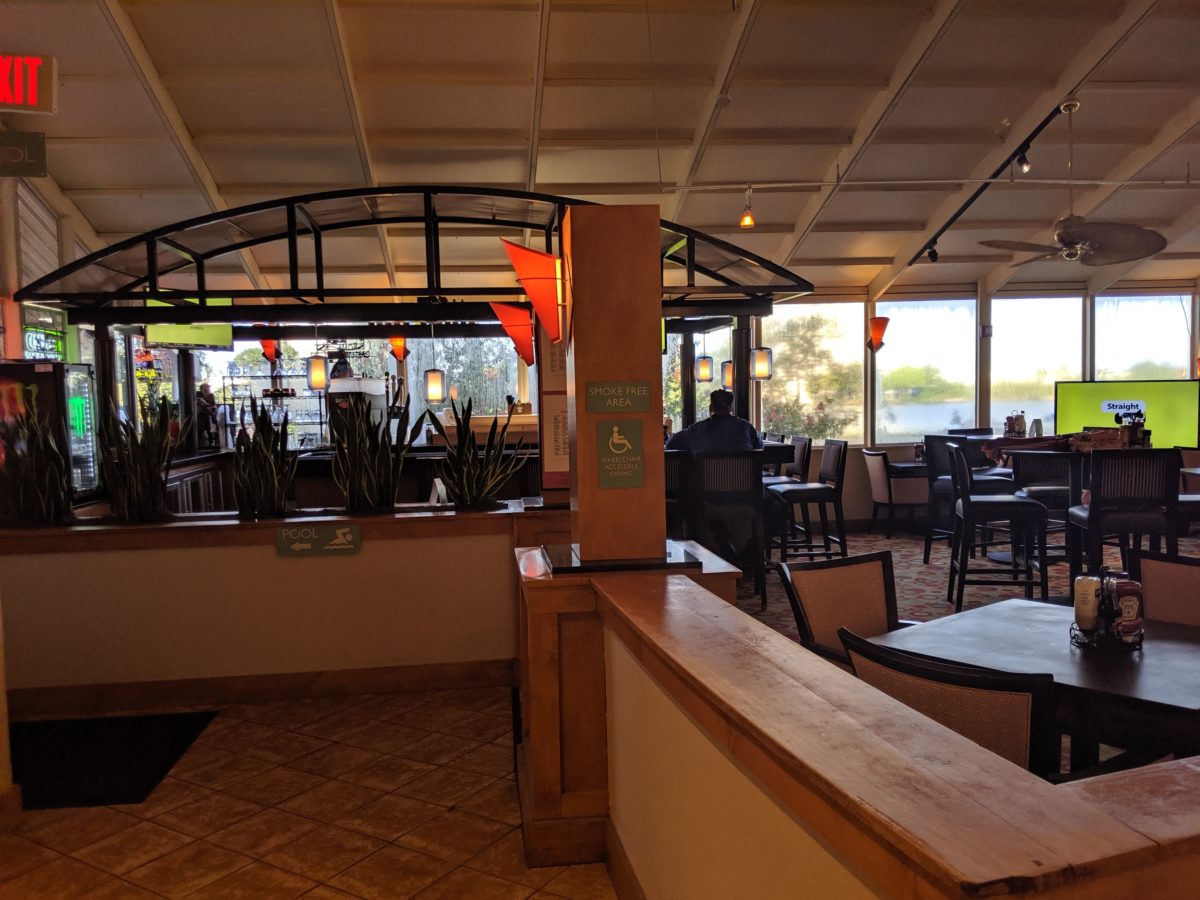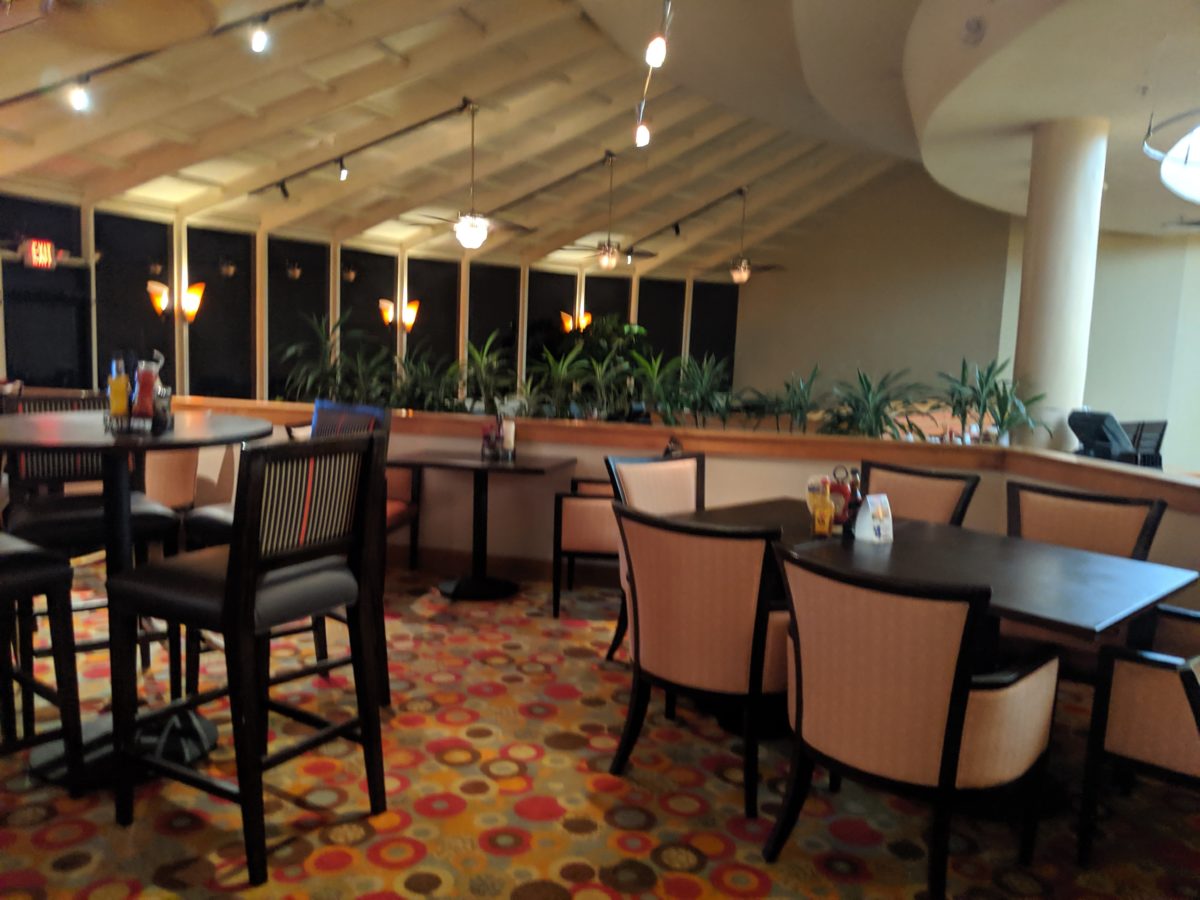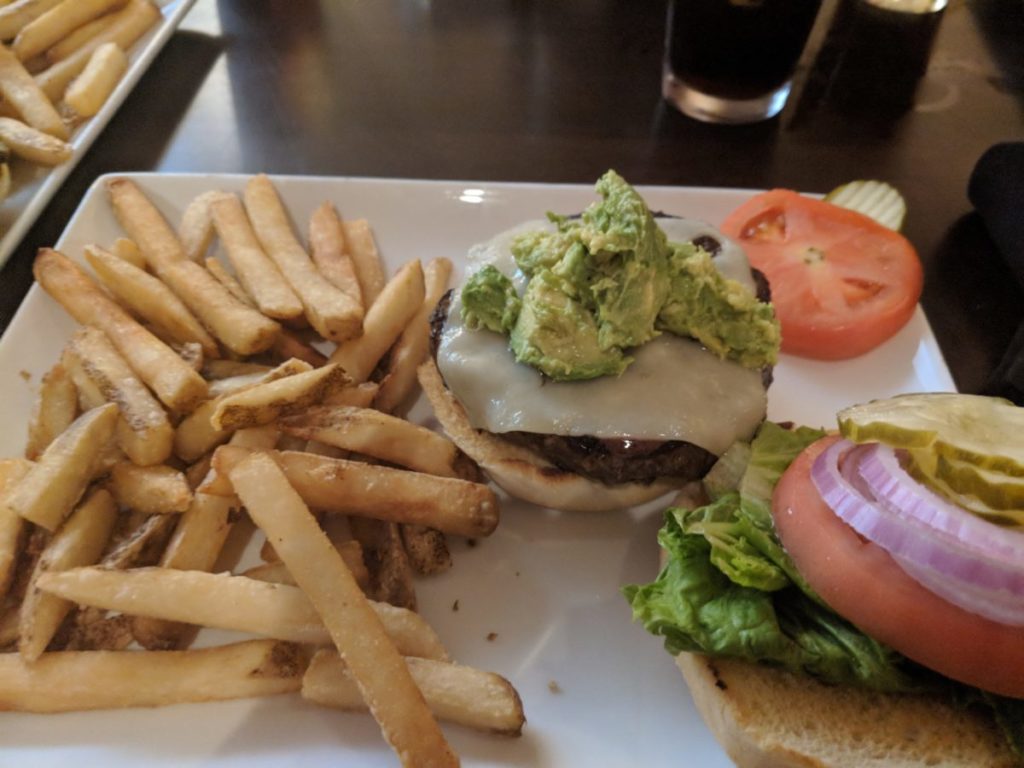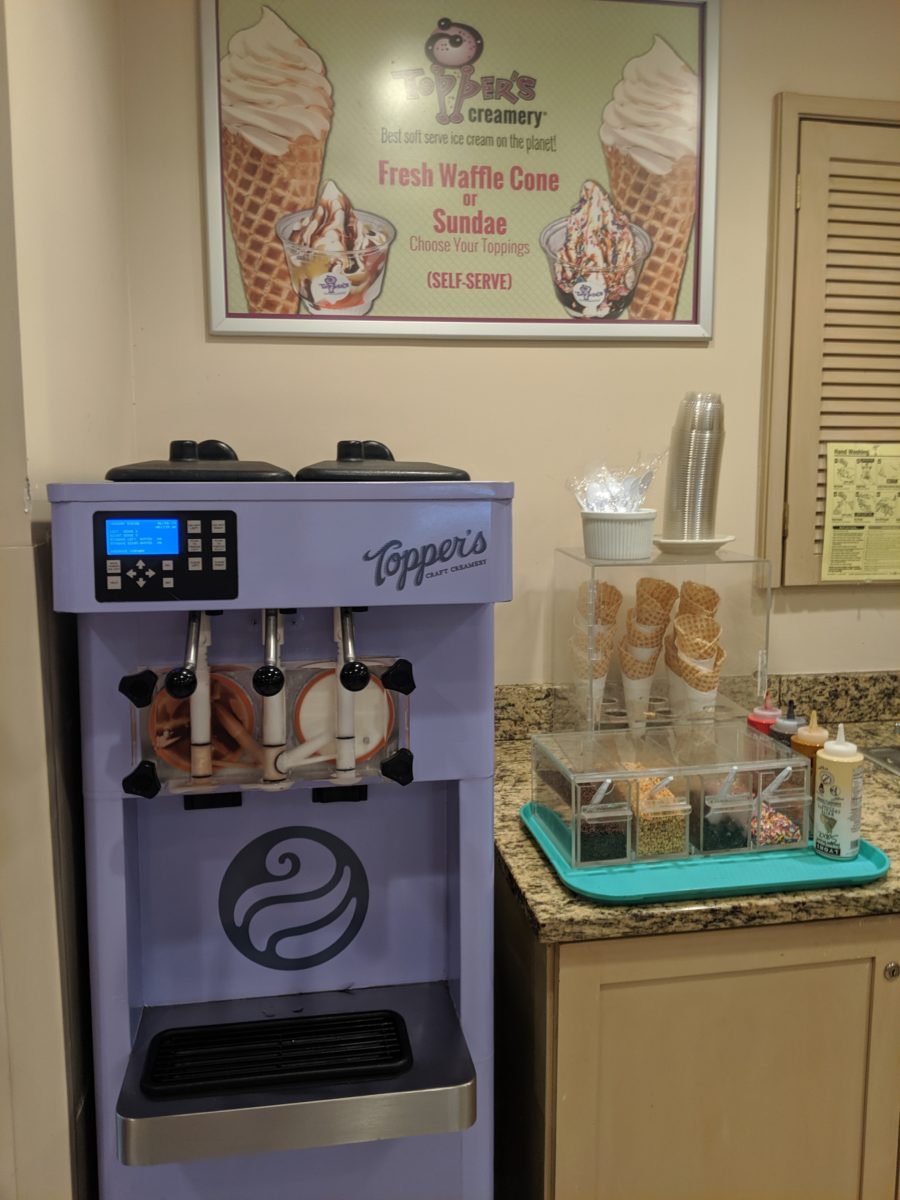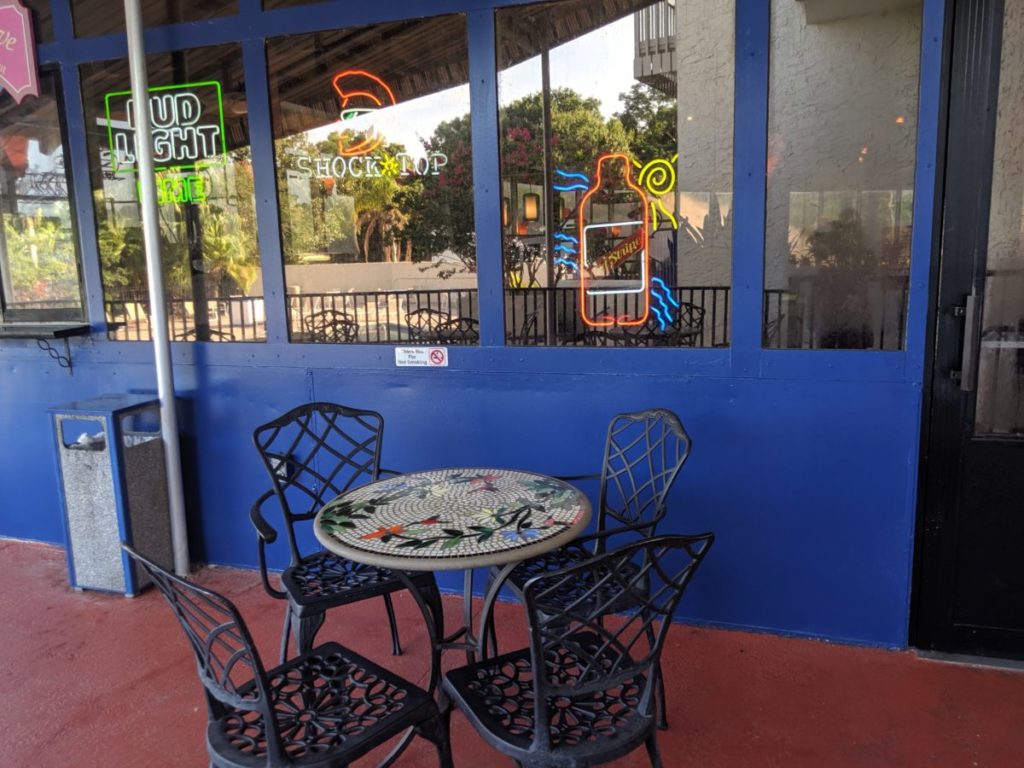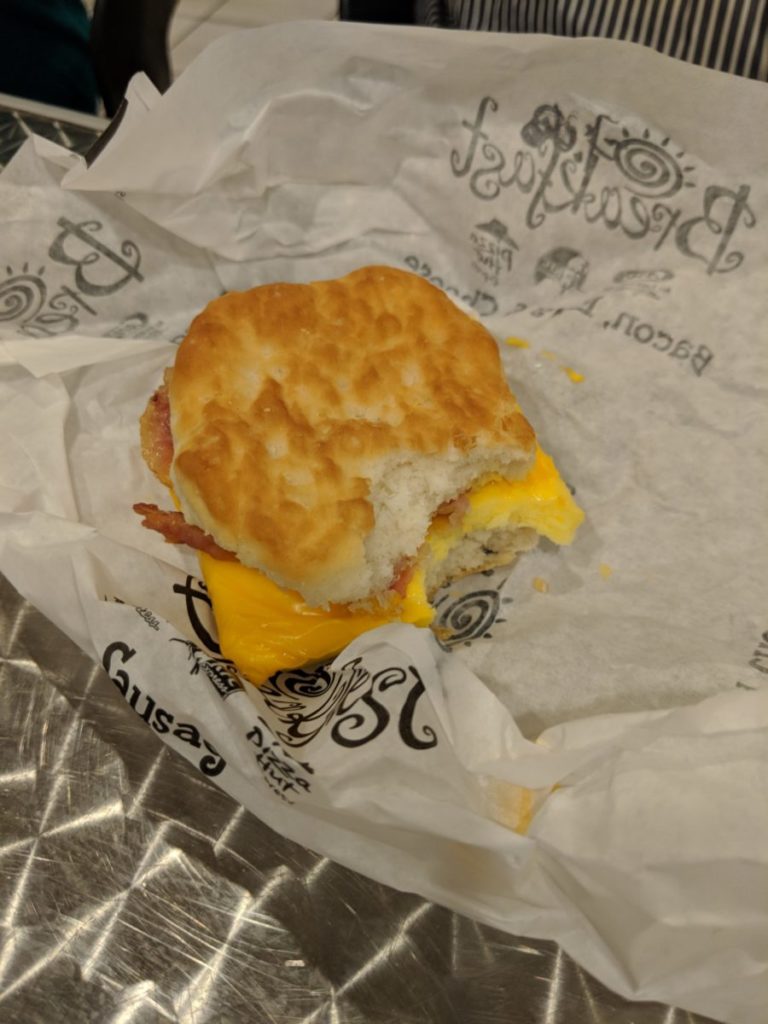 I love how this hotel has so many dining options.  For starters, there's a great sit-down restaurant, Trader's Island Grill.  In the morning, you can get a full breakfast buffet where you can even make your own Mickey waffle.  This restaurant also has great meals later in the day, and I highly recommend the Avocado Burger; it was delicious!  If you want more quick-service meals, don't worry; the hotel has that, too.  In fact, there's an on-site Pizza Hut Express where you can get pizza.  There's also a quick-service cafe that my family enjoyed at breakfast time.  You can see the biscuit sandwich and cinnamon roll we ordered in the pictures above.  There's a poolside bar & lounge and you can enjoy eating your meal outside.  And for dessert, don't forget to check out Topper's Creamery, where you can make your own fresh waffle cone or Sundae complete with your choice of toppings!
11. Lots of Elevators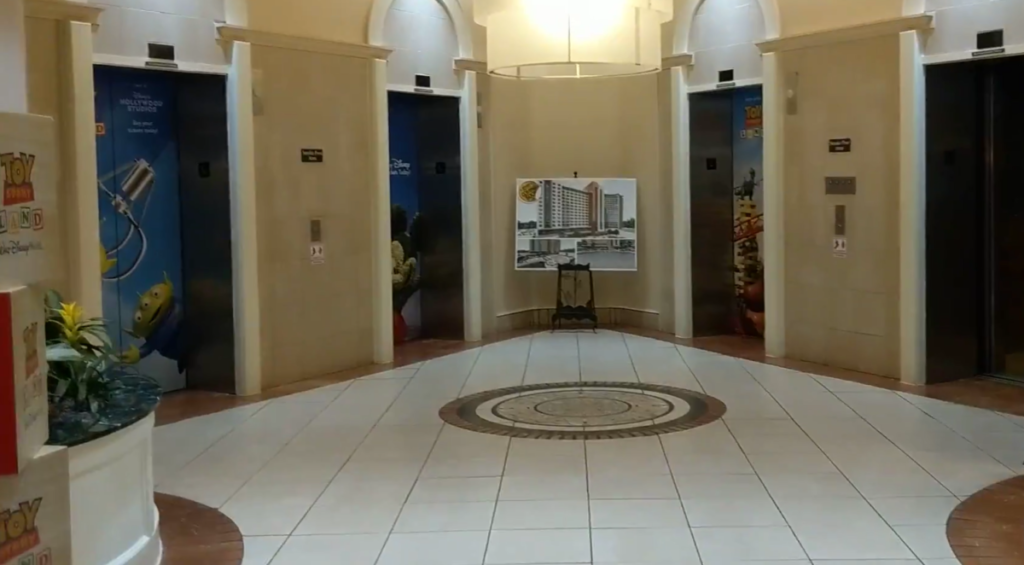 I like how Best Western Lake Buena Vista has a lot of elevators because that makes it a lot easier to get to your room.  Now, having a lot of elevators is something you might not think of when choosing a hotel.  But trust me, if you've ever stayed at a hotel with lots of floors and only one elevator, then you get why that is so important!  You can waste a lot of time on a trip waiting for the elevator, and it can be even worse waiting if, say, your kid had an emergency and you really need to get back to your room.  So I was very pleased with the amount of elevators the hotel had.
12. Great Layout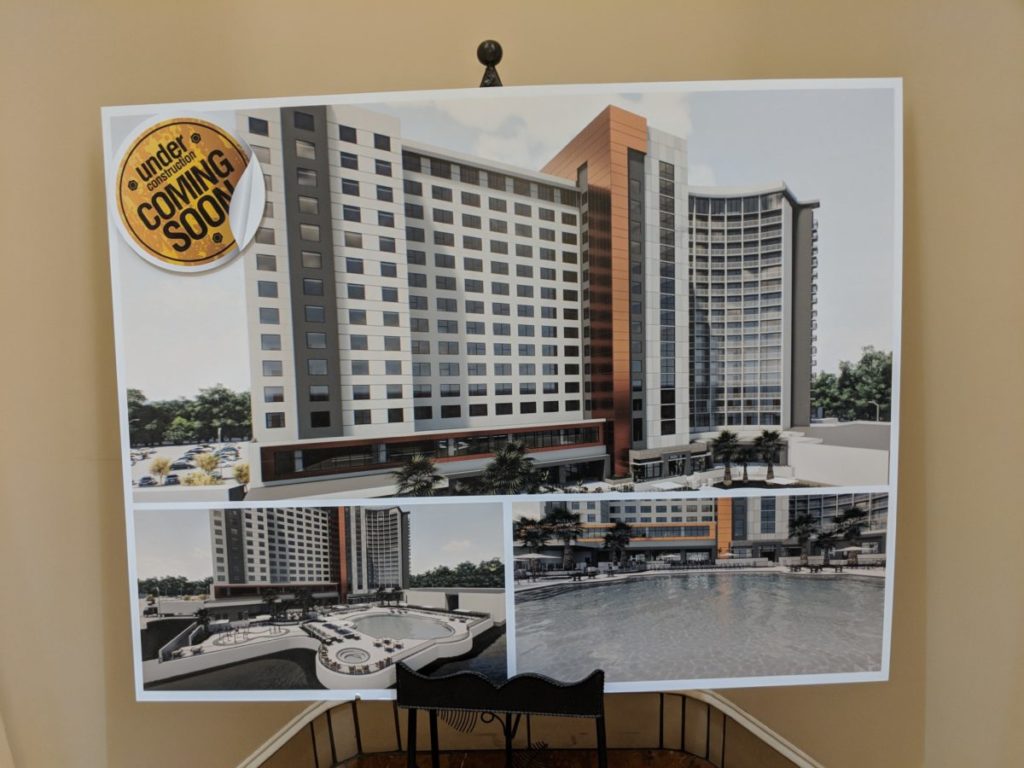 As I mentioned earlier, Best Western Lake Buena Vista is undergoing an expansion and you can see from the picture, the hotel will still have a great structure and layout.  What I mean by this is that since everything is so close together and connected, it's so much easier to find your room at the end of the day.  The negatives of staying at a huge resort, like Disney's Saratoga Springs, is that you can get lost looking for your room.  This is not the case here.  And a nice thing about its compact structure is that if it starts raining, you have everything you need in one building.  It was raining my last night here, and I was able to eat at the on-site restaurant and stay out of the rain.
Need more proof of how great Best Western Lake Buena Vista Disney Springs Resort area is?  Watch our virtual tour of the hotel!