If you click on the links in this post, we may earn money from the companies mentioned in this post, at no extra cost to you. You can read the full disclaimer here.
If you are looking for a good, affordable hotel option on the Walt Disney World Resort property in Orlando, Florida, then your best bet is Wyndham Garden Lake Buena Vista Disney Springs Resort Area.  I have outlined 8 reasons why you should consider staying at Wyndham Garden Lake Buena Vista:
Of all the Disney Springs hotels, this is the most affordable option.  You can get a great rate for this hotel through Hotels.com. It is comparable with off-site Disney hotels, but because this is a Disney Springs hotel, you'll get Extra Magic Hours where you can visit the parks before the park opens or after the park closes to the rest of the public, you'll be able to book your fastpasses at least 60 days in advance (which can help you snag fastpasses to the most popular rides) and you get a much more dedicated bus system than other Orlando hotels.
2
Convenience to Disney Springs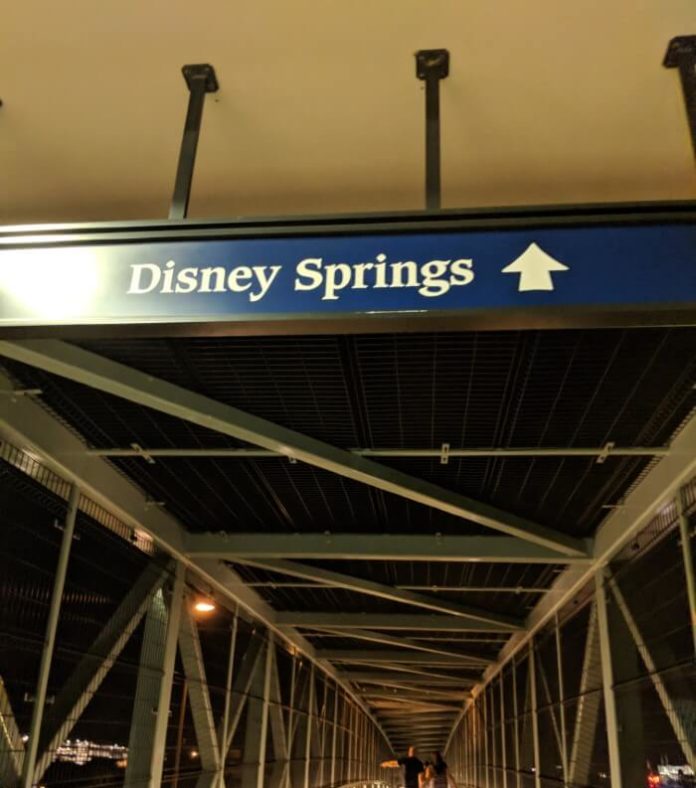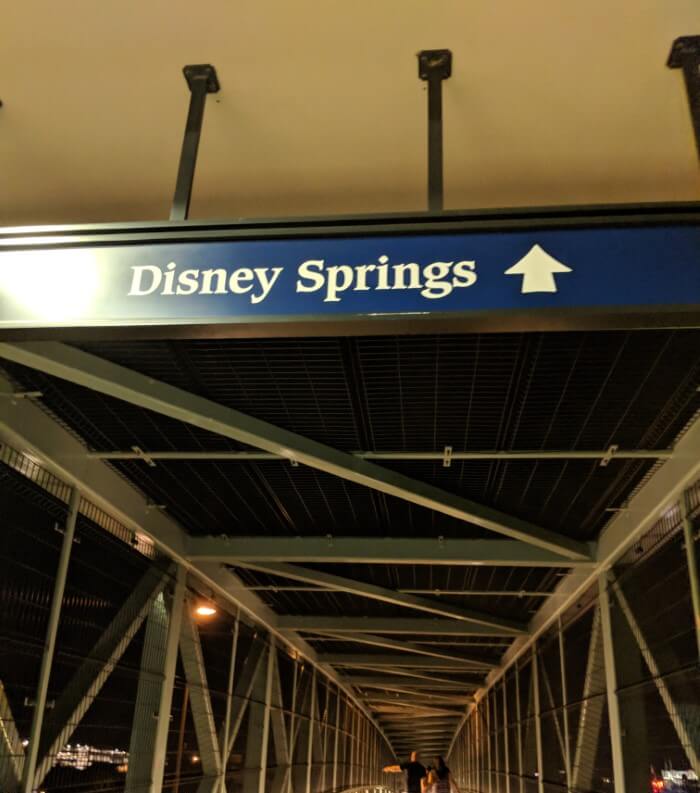 One of the things I like about some of the Disney deluxe hotels is how close they are to Disney parks and how you can walk to them (like how you can walk from The Beach Club to EPCOT, Contemporary to Magic Kingdom, etc.).  It's really great that for an affordable price you're able to get that same feature at Wyndham Garden Lake Buena Vista, because the walk to Disney Springs is close – like, so close you probably would walk less than you would if drove and parked and then walked to Disney Springs.  It is also an easier walk than from Saratoga Springs, the one official Disney hotel that is within walking distance of Disney Springs. There is a super convenient skywalk you can use to quickly get to Disney Springs, and you're right there near Earl of Sandwich (which is a great, affordable restaurant) and, during the holiday season, the Christmas Tree Trail (which I highly recommend!).  If you haven't been to Disney Springs before, you'll love it; they have great restaurants (my favorite being T-Rex, a fun restaurant with animatronic dinosaurs & delicious food), great shopping and entertainment – even a Bibbidi Bobbidi Boutique!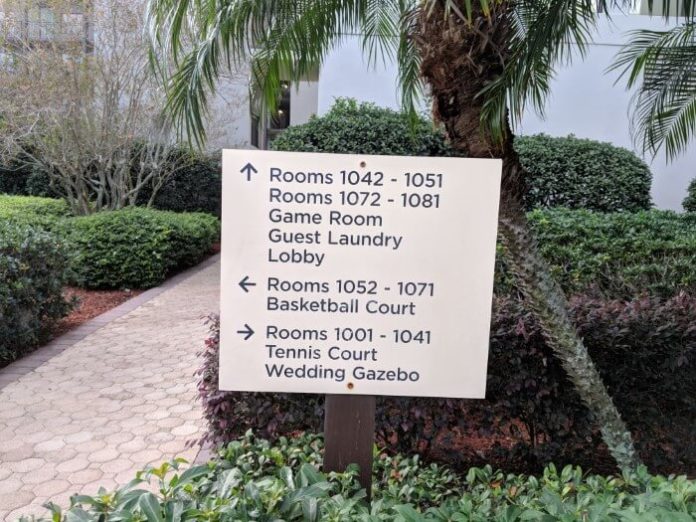 I really like how compact the entire resort is, because it's a lot easier to walk around at night, and that's a relief when you're tired from a day at the parks.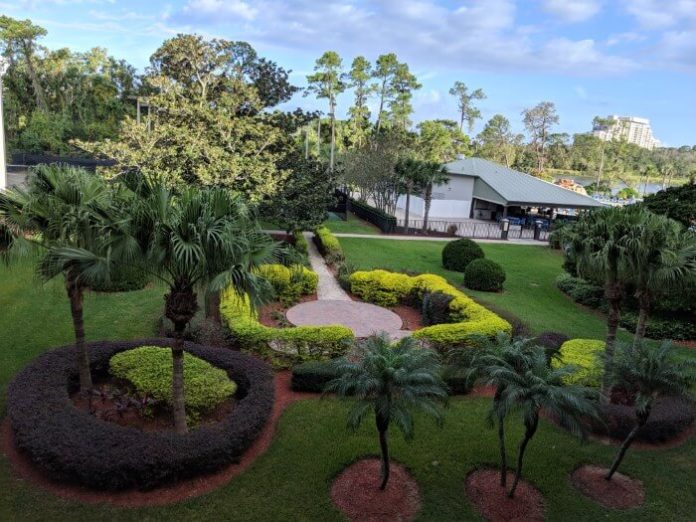 Just because the hotel is compact doesn't mean the hotel isn't beautiful.  I really like the gardens, and especially the Not So Hidden Mickey.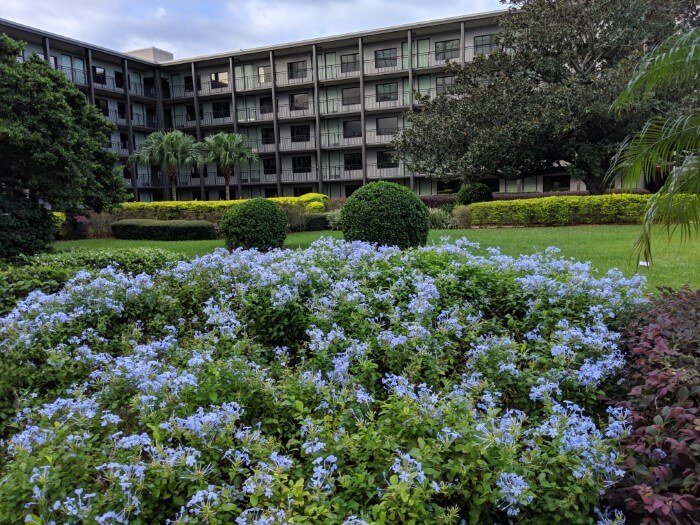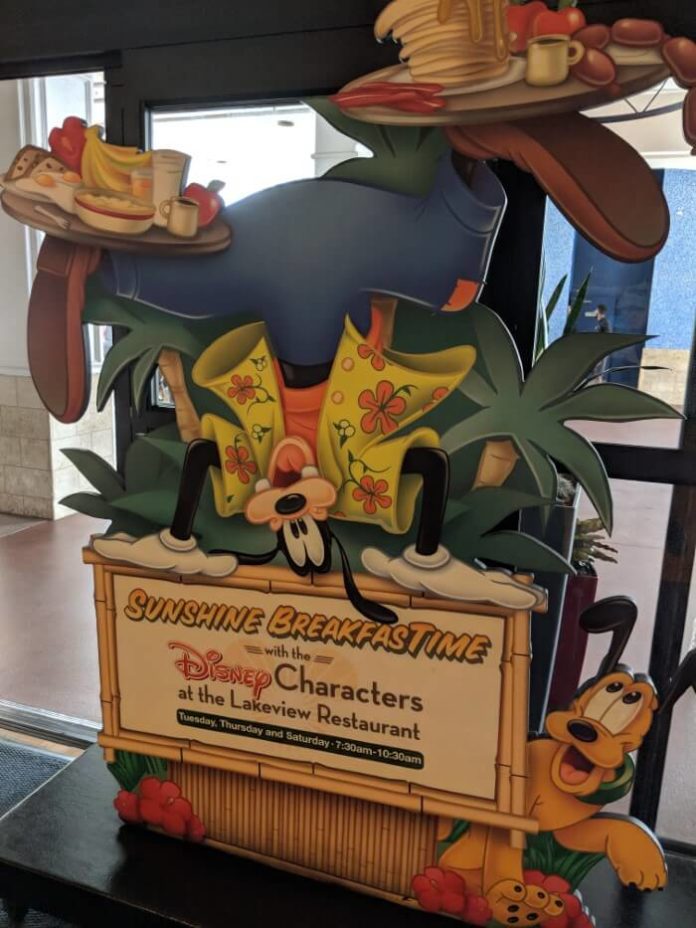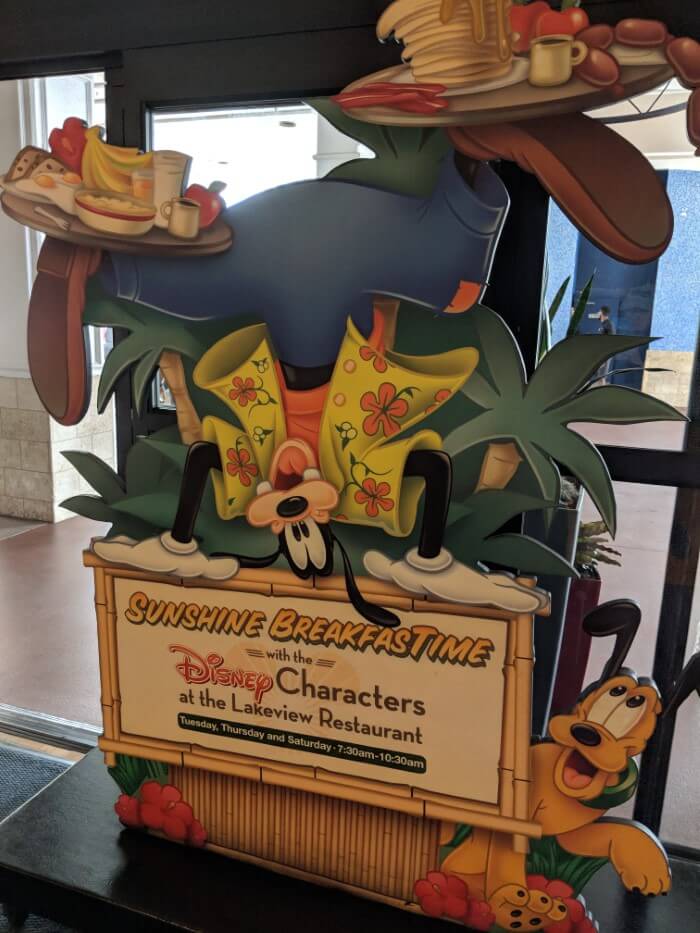 The hotel itself has a character breakfast, which is awesome because you're not going to get that at every hotel in Orlando that's not a deluxe Disney hotel.  Having the character breakfast at the hotel can be great, because if there are any spills you'll be able to go up to your room and change before you hit the parks.  You could also schedule the character breakfast for your last day and then you wouldn't have to buy a park ticket for the last day, which could save you money (whereas if you did a character breakfast at, say, Akershus at EPCOT, you would need a ticket to EPCOT).  It's also just extremely convenient to have the breakfast there are the hotel, because you don't have to worry about catching a bus and missing your reservation and you might even get to sleep a little later!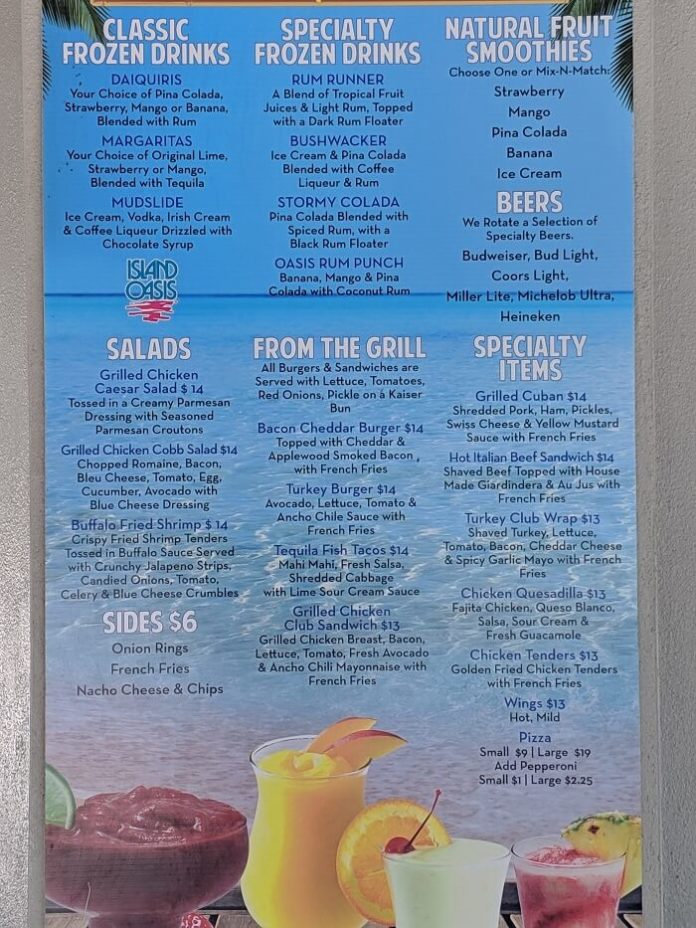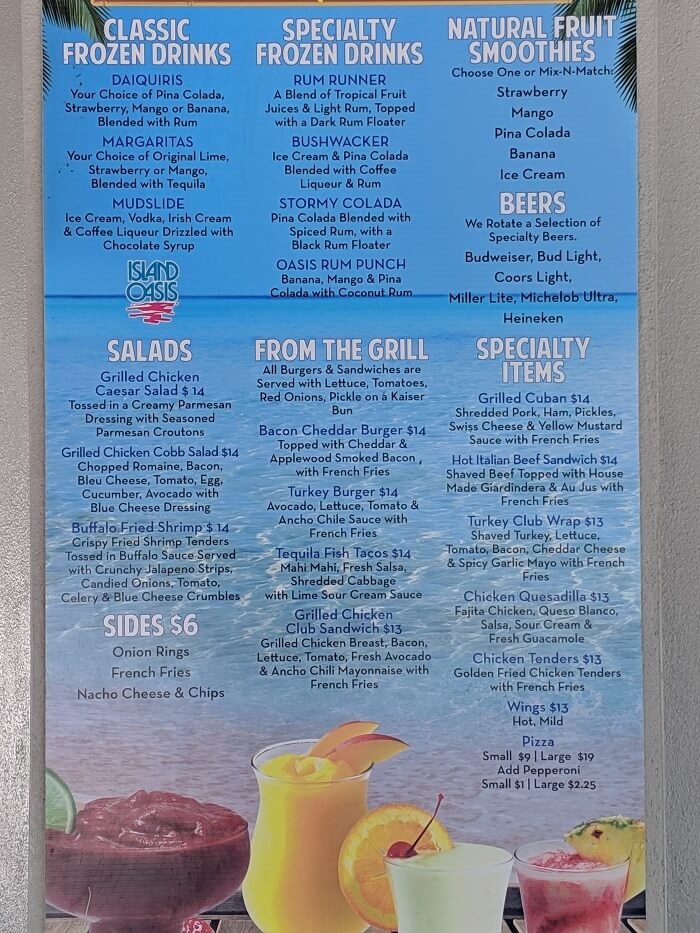 In addition to the Character Breakfast, there are other great dining options.  The Lakeview Restaurant (which is where the Character Breakfast is held) is open for dinners.  You can also enjoy delicious foods & drinks at the Oasis Bar & Grill by the pool. There are also picnic tables available if you like eating outdoors.  If you want some quick food indoors, I recommend the Sundial 24-7; I had a great muffin for breakfast. There's also an Eclipse Bar where you can sip cocktails, enjoy snacks or watch the game on the lounge big-screen TV.  And room service is available if you want to stay in.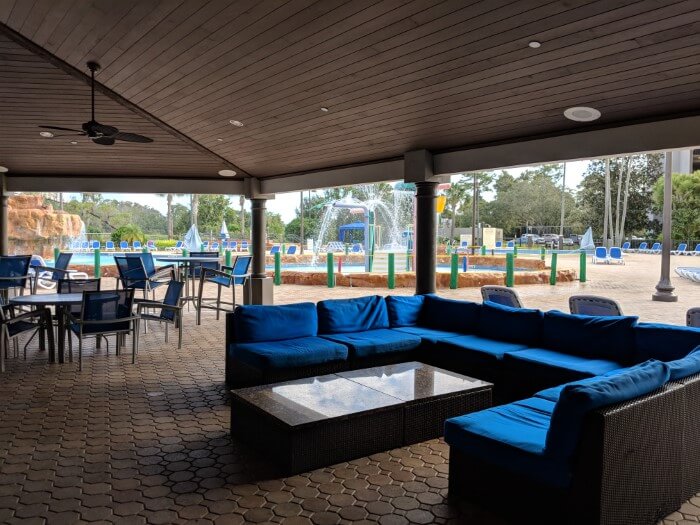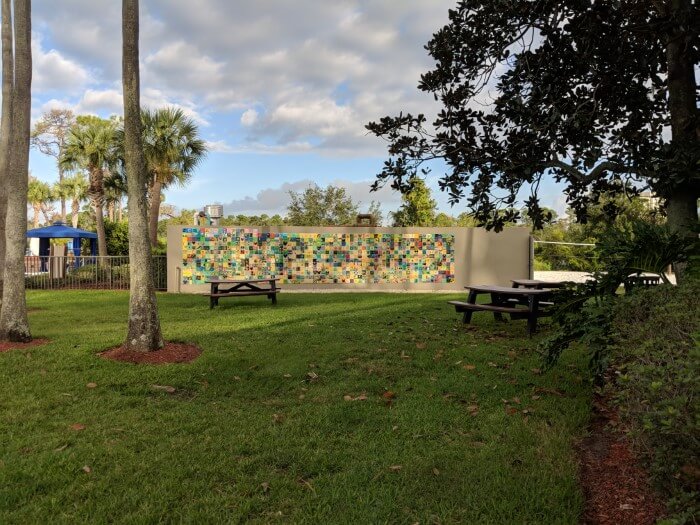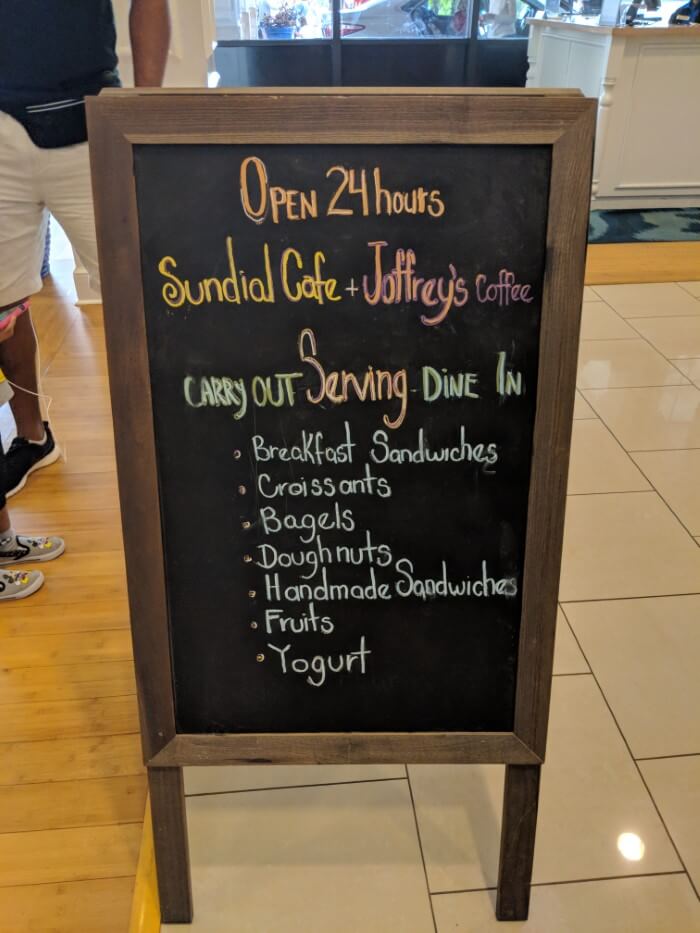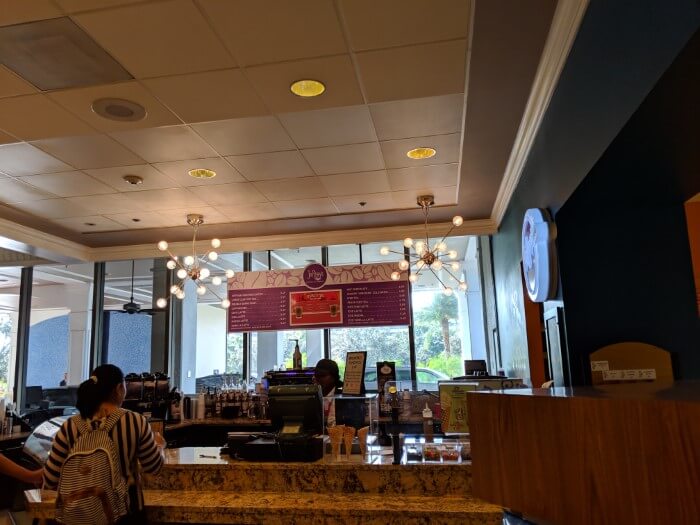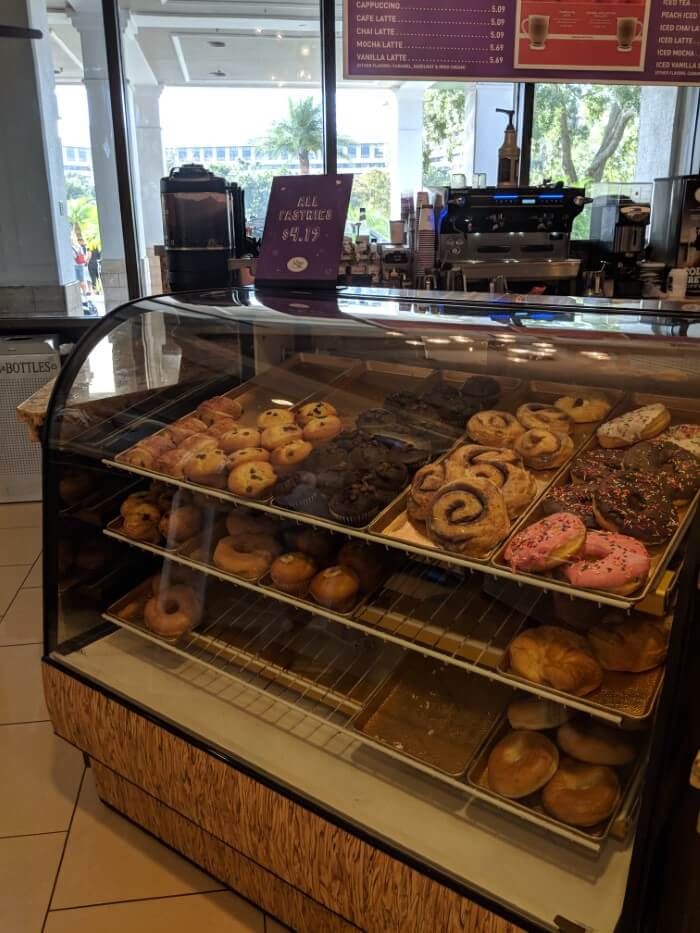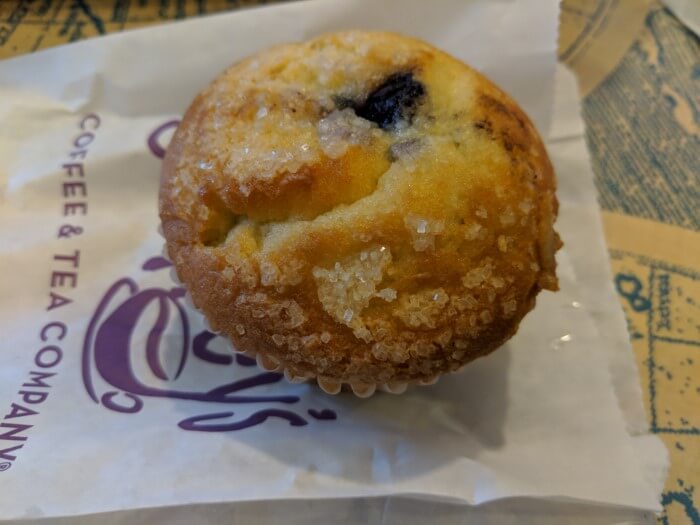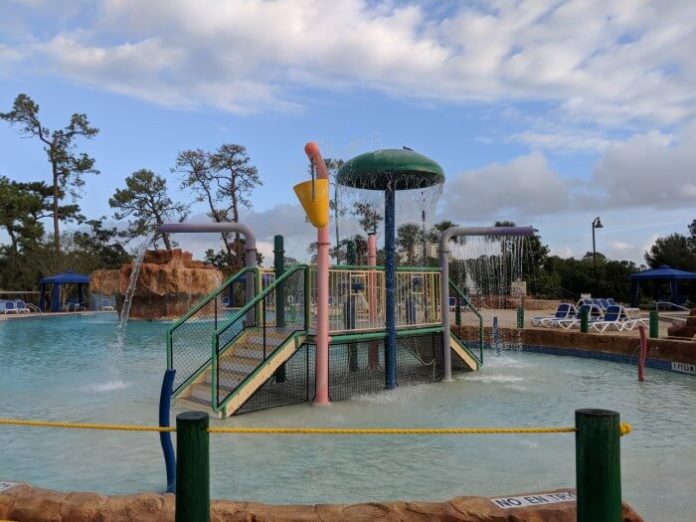 When you're not having fun at the parks, there's plenty to do at the hotel.  It's got a great pool complex with an 189,000-gallon heated pool, a hot tub and an Oasis Aquatic Pool Playground that's a zero entry pool with a rock waterfall & interactive water features.  Additionally, there are courts for tennis, basketball & beach volleyball. There's also a fitness center and a video arcade.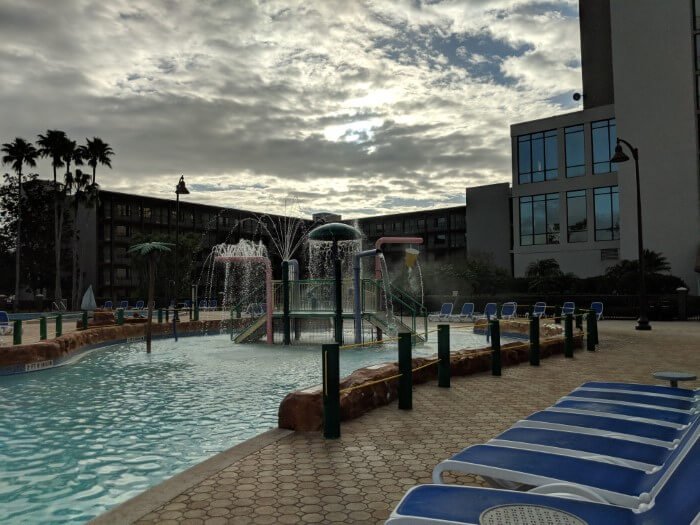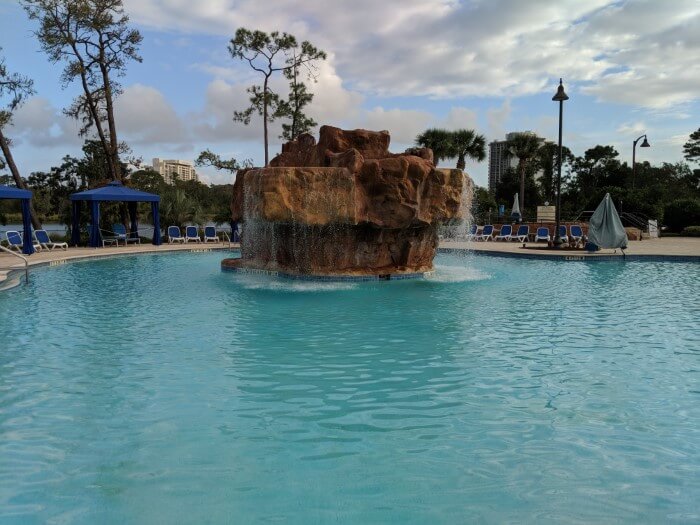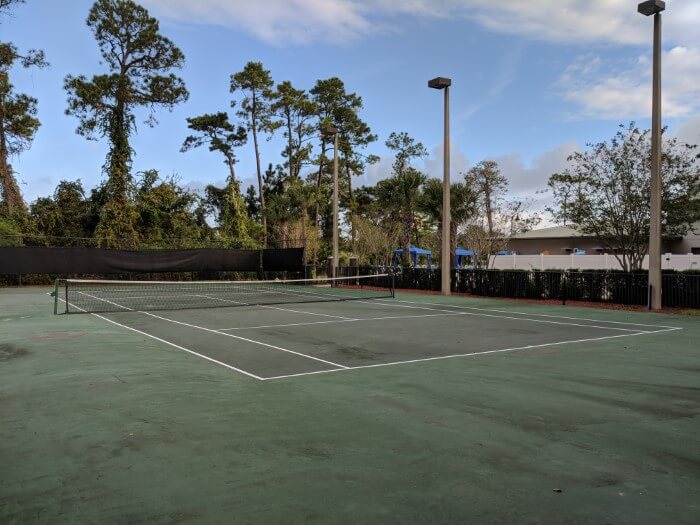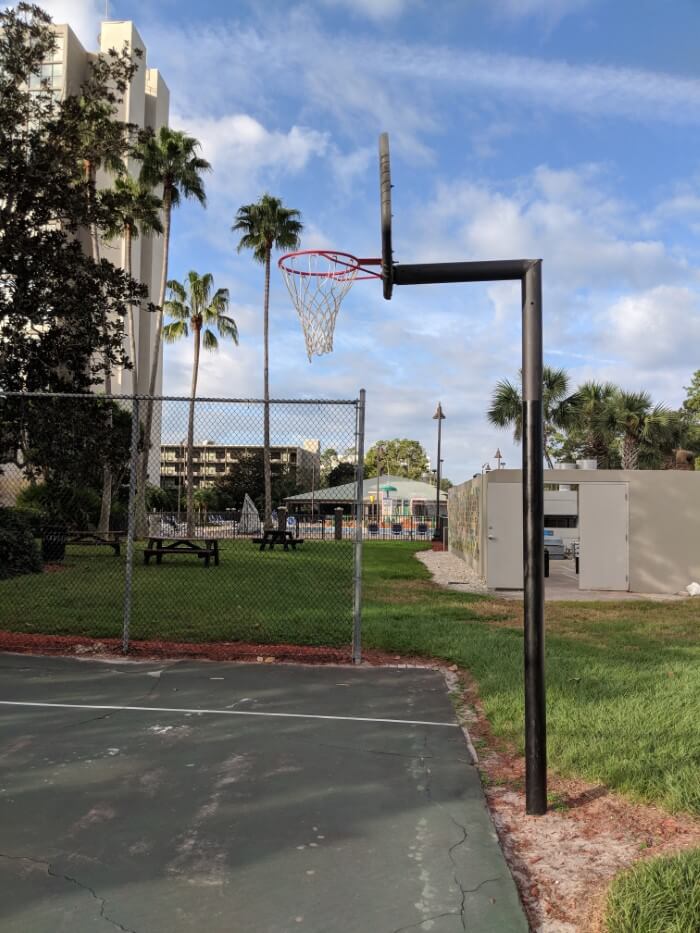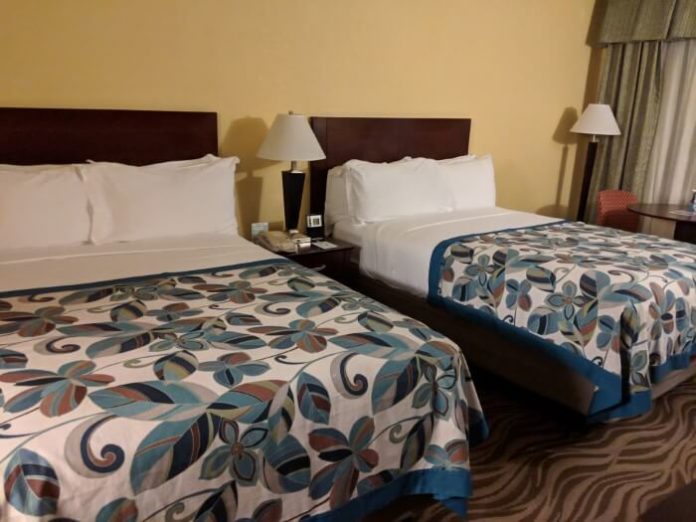 Now, this may or may not be a good thing depending on your opinion of Disney, but if you stay here rather than say a Disney Value Hotel the hotel will seem less "Disney".  Sure, there's a Disney gift shop in the lobby and a Disney character breakfast available, but the rest of the hotel has a very sophisticated feel and if you feel like you've been overdosed with Disney characters all day, you'll be pleased with the rooms that are not themed to Disney.