If you click on the links in this post, we may earn money from the companies mentioned in this post, at no extra cost to you. You can read the full disclaimer here.
Pop Century is one of the value resorts at Walt Disney World in Orlando, Florida  It's themed around 20th century American pop culture, in particular the 1950's, 1960's, 1970's, 1980's and 1990's (there are individual sections at the resort for each decade).  You can see a virtual tour of the hotel here:
As a value resort, it has cheaper parking fees and in general some of the lowest prices for Disney hotels.  I have found the pricing, though, to be a bit higher than the All Star Resorts, but I will say I do like Pop Century a bit better.  Still, you can get some pretty good rates if you book through Undercover Tourist.
Please note that is being written before completion of Disney's new gondola system, which you'll be able to use to get from Pop Century to Hollywood Studios & EPCOT.  Undoubtedly, this new great transportation will add to reasons why Pop Century is a great hotel to stay in.  Just to see, we stayed here the week that the Disney Skyliner System went up and it really did make our stay even better!  You can see a video of the Disney Skyliner here:
But here are 7 other reasons why it's great to stay at the hotel now.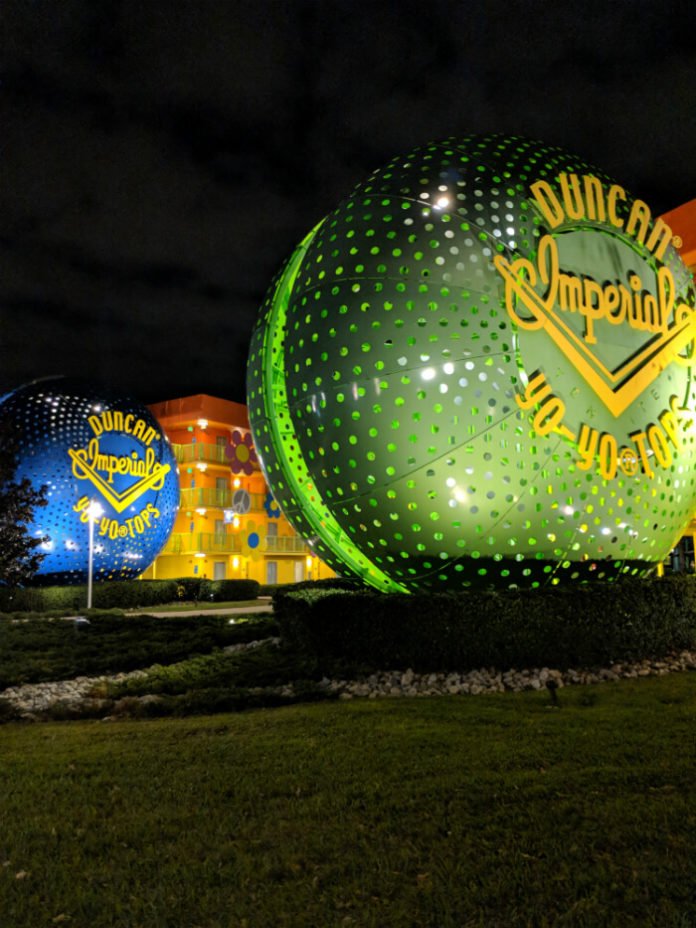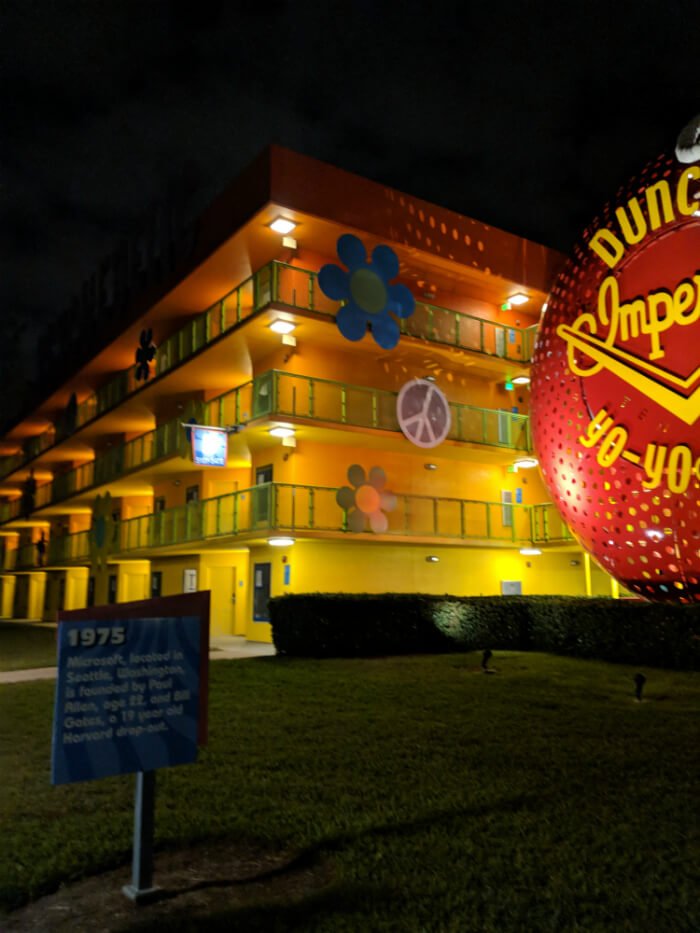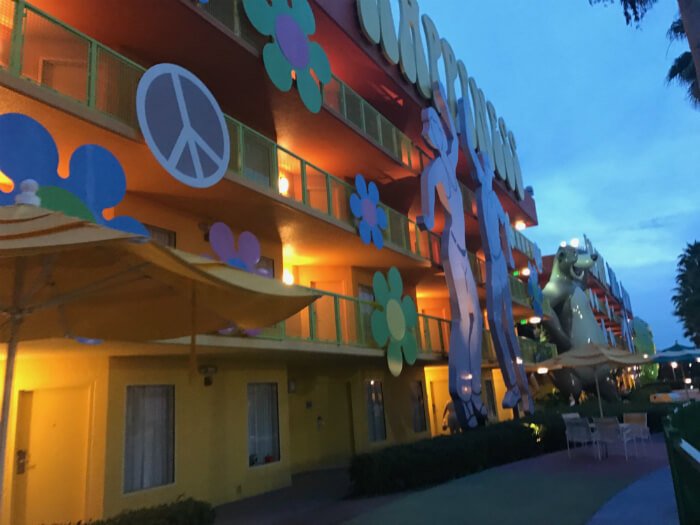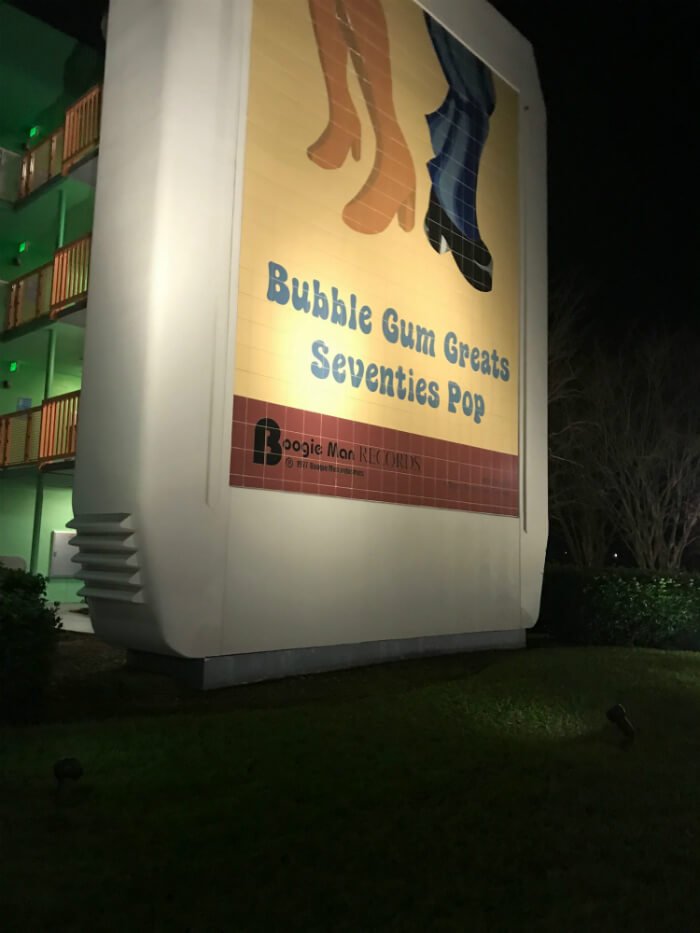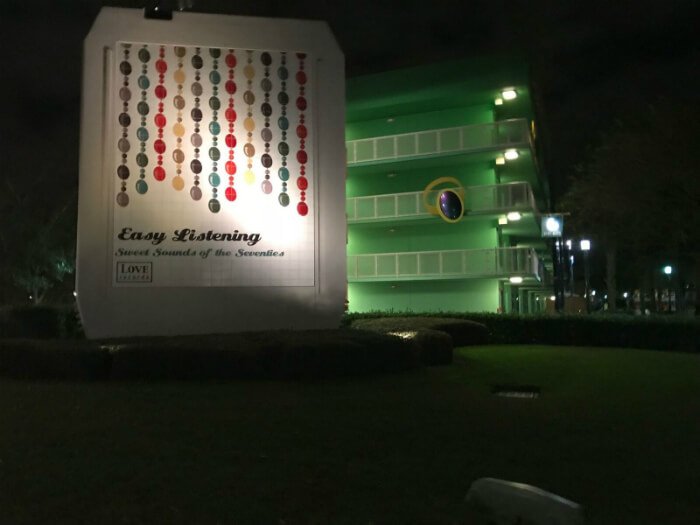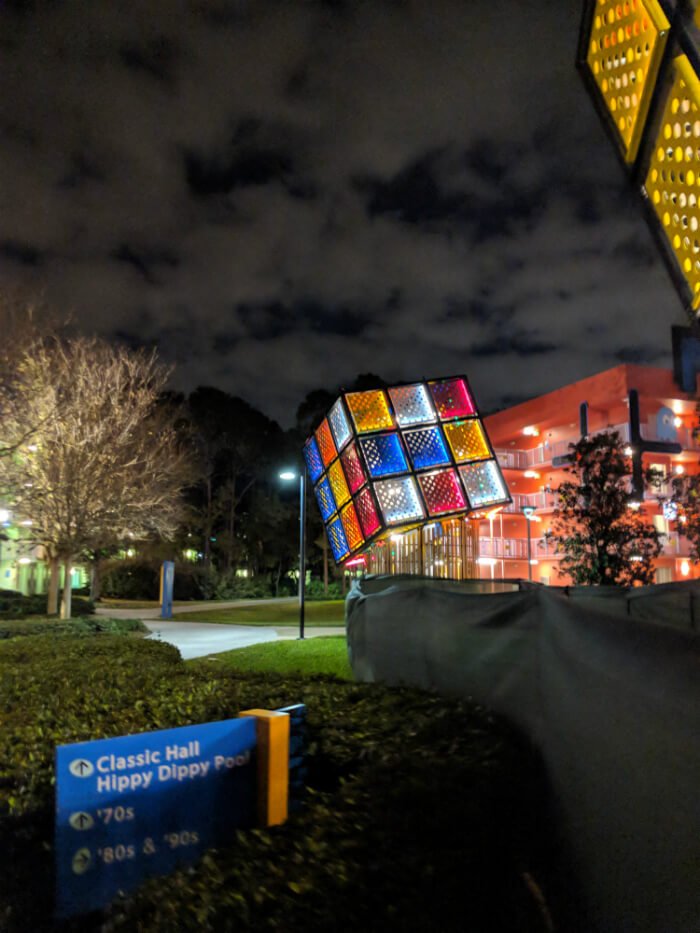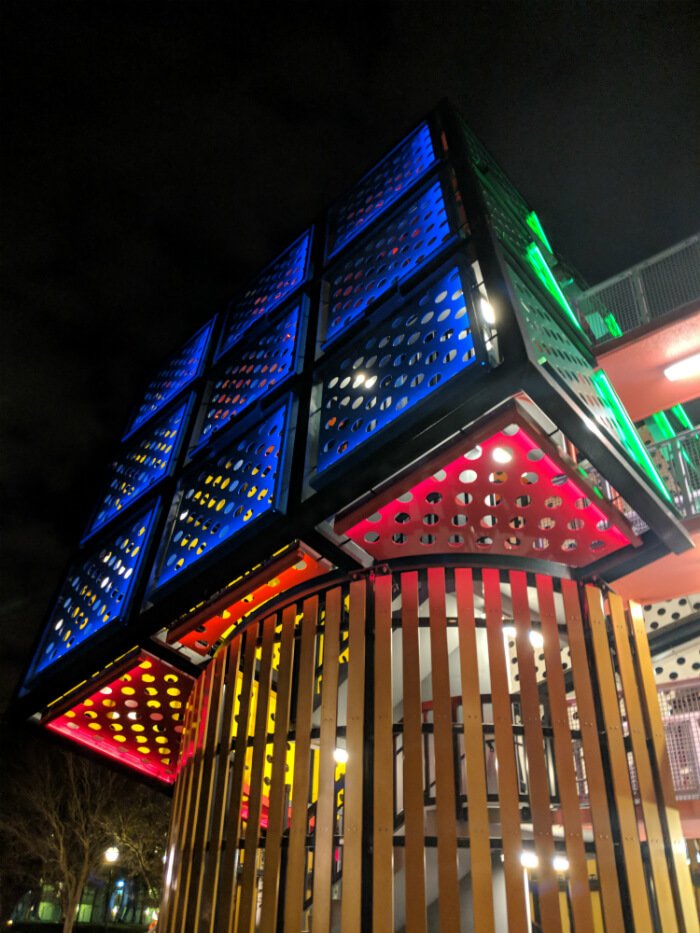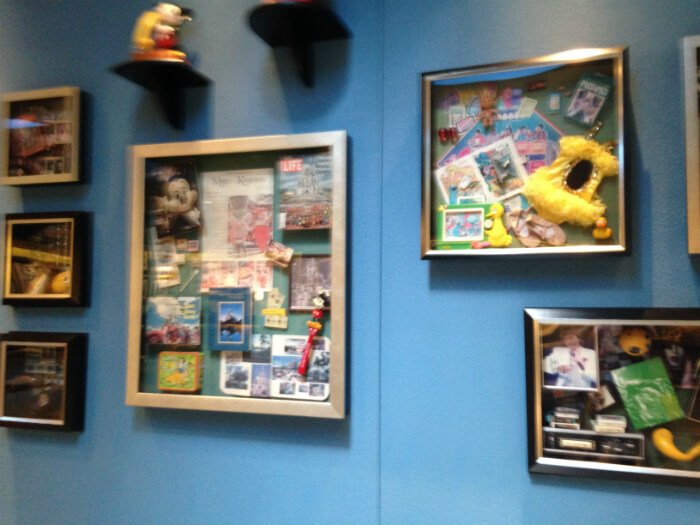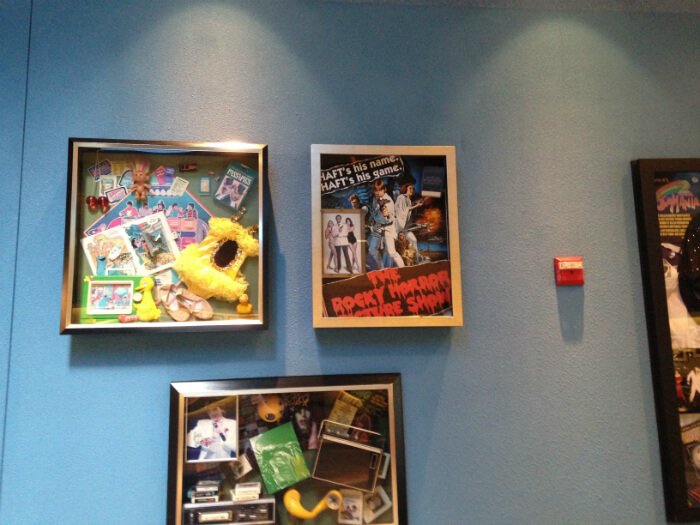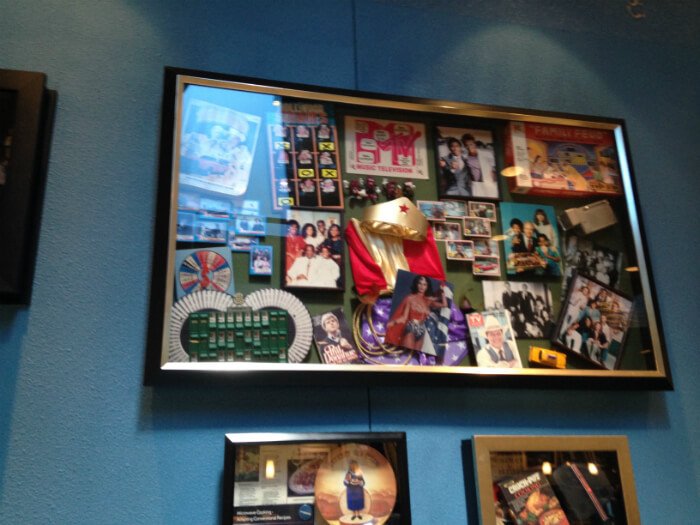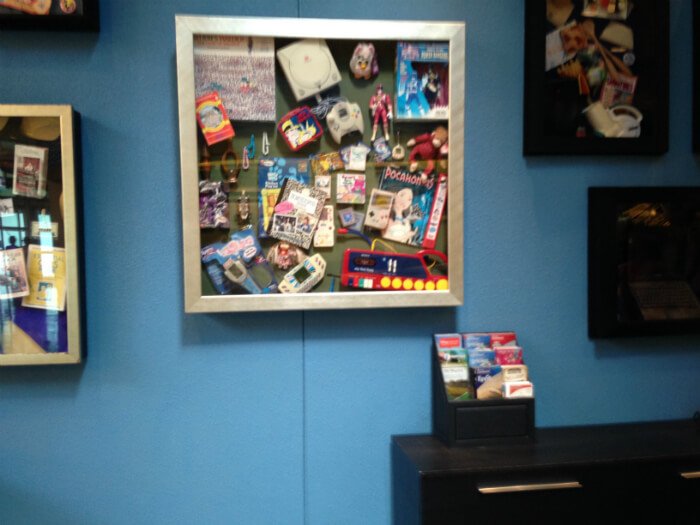 If you love nostalgia, then you'll love this resort.  All over the resort are huge icons fitting to the themed decade, like a giant bowling ball in the 1950's, a giant yo yo in the 1960's, a giant 8 track in the 1970's, a giant Rubic's Cube in the 1980's, a giant floppy disk in the 1990's and so on.  There are also huge quotes on the building that fits the era.  And then I really love the facts they have up on signs all over the resort as you walk around.  It's really a nice trip down memory lane for the stuff that you lived through and quite informative for things before your time (and in that sense it's actually perhaps the most educational Disney hotel).  You'll also love the pictures in the lobby.  The first time I stayed at Pop Century, I found myself just walking along the lobby looking at all the pictures.  They all brought back such great memories.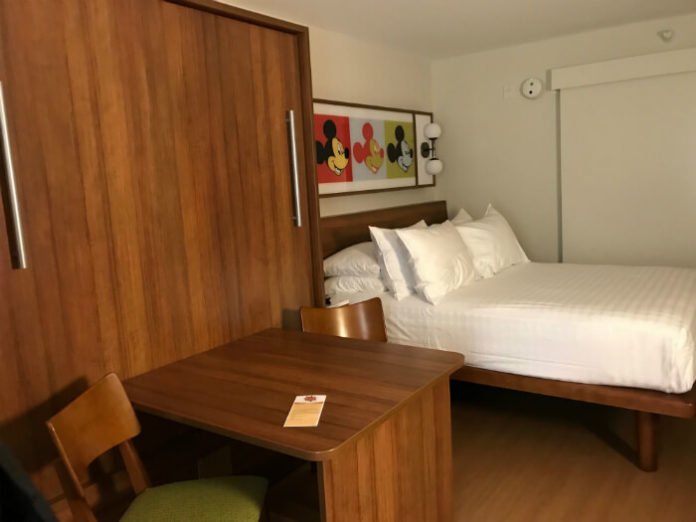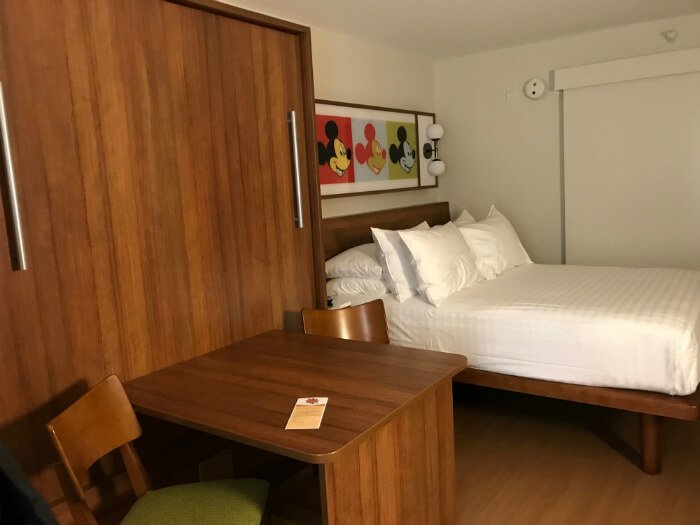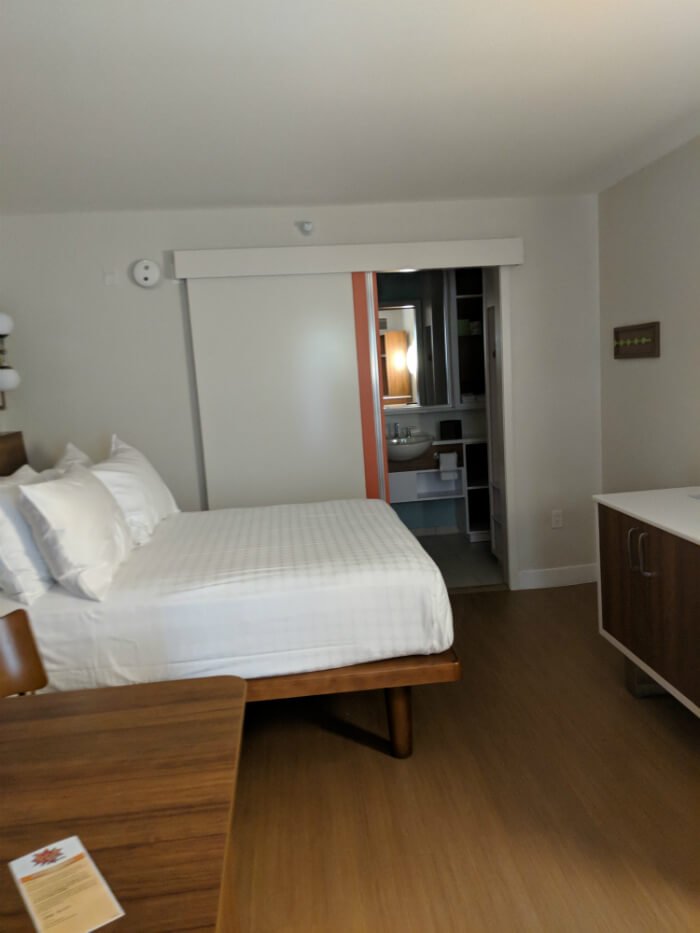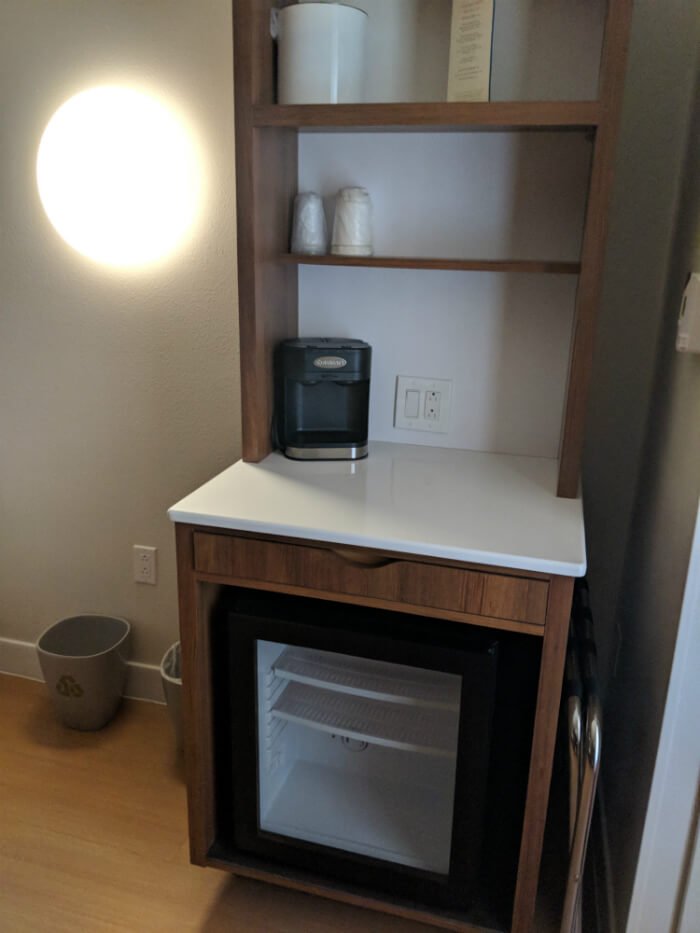 Now, full disclosure, I did not love my room the first time I stayed here but I had a completely different experience the second time I stayed here.  This is because I stayed in a refurbished room, and I loved this room.  All rooms should be refurbished by the end of the summer, and if you are staying there before then, you can request to get a room in the 60's, 70's or 80's section because all of these rooms have been refurbished (not all rooms in the 50's section have been refurbished).
Now, why did I love the refurbished room?  Well, a few reasons.  For one, the new room makes a great use of space.  If you've ever stayed in a room at a deluxe Disney hotel (like Boardwalk Inn or Polynesian Village) or a moderate (like Port Orleans French Quarter or Caribbean Resort) then you should know the rooms at Pop Century are a lot smaller.  But the new refurbishments really help make up for the lack of space.  If you are staying in a room for 3 or 4 people where you need 2 beds, you'll notice when you walk in that you'll see 1 bed and a table.  That's because one of the bed is a pullout bed, which really adds to the space of the room when you're not sleeping!  My family was even able to bring a pizza back to the room and eat at the table, which was nice and something we couldn't have done before at Pop Century.  The other really nice feature I like about the new rooms was is how many USB-charging ports there were around the room.  If you have a lot of devices you need charged, then you will love this feature.  I wish more rooms at Disney had this feature.
The only negative I would have about these rooms is that if you are going thinking that you're going to have a room that fits the section you're staying in (like a room that looks like the 1960's, 1970's, 1980's, etc.), well, you'll be disappointed  But luckily you know this beforehand and you've still got great stuff up all over the resort to make your nostalgic heart happy.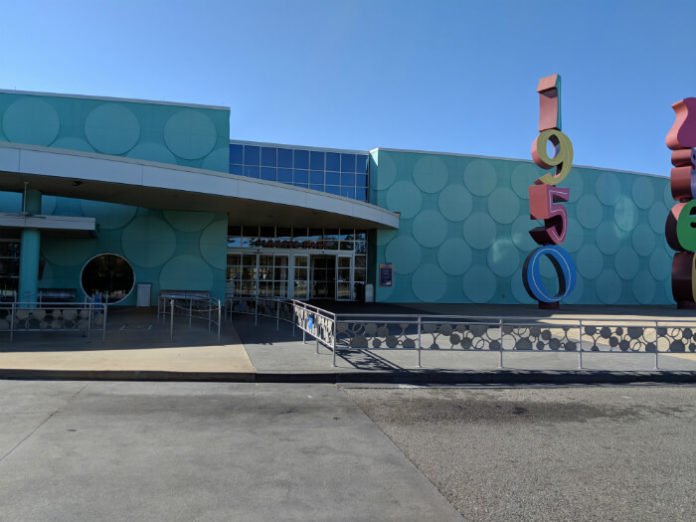 The food court is huge, which I like because every time I've been there I've been able to find a seat, even when I was there over the 4th of July weekend.  The food court also plays great music, with hits from the different eras.  The food's also very good, too.  My whole family loved the pizza and it was extremely affordable because we were able to share the pizza.
4
Easy to understand bus system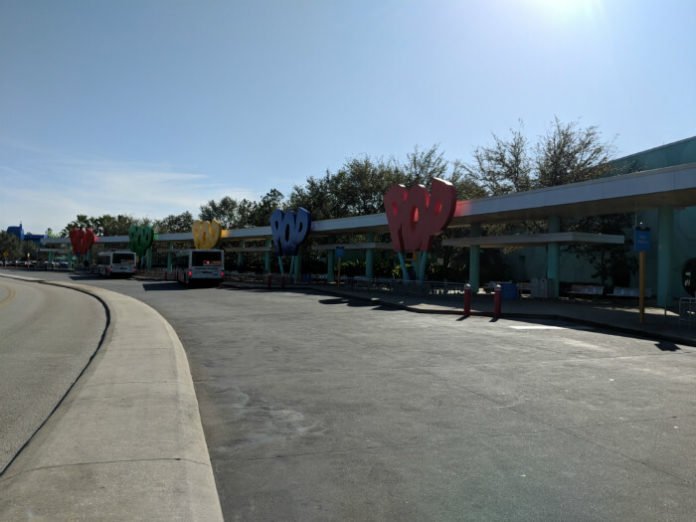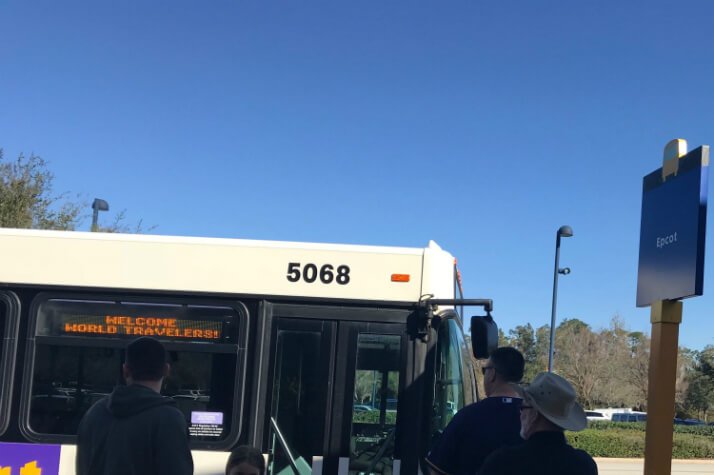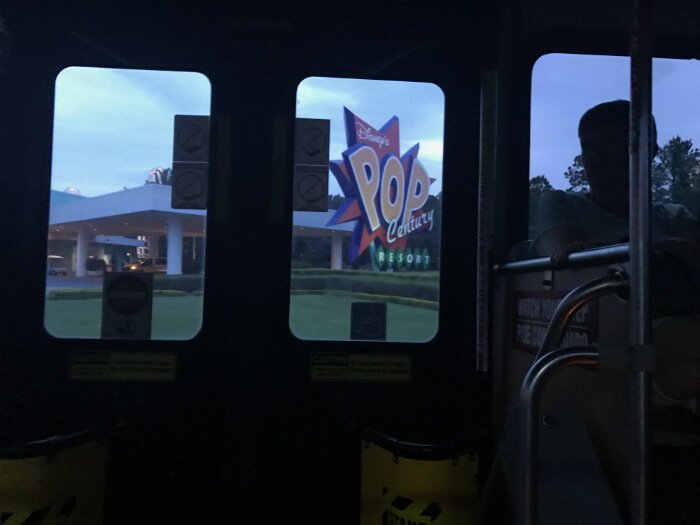 One of the things I love about Pop Century is the ease of the bus system.  You can take busses to all of the Disney parks & attractions (like Magic Kingdom, Animal Kingdom, Hollywood Studios, EPCOT, Typhoon Lagoon, Blizzard Beach, the Wide World of Sports & Disney Springs). All the bus stops are right outside the main lobby, and it's extremely easy to find, which is nice.  And there are signs up so you know where to line up, which is extremely convenient.  At some of the other resorts, like Old Key West or the Port Orleans resorts, you can sit down and wait for the bus but then once the bus comes everyone jumps up and runs to the bus and it gets quite chaotic.  That does not happen at Pop Century because everyone's already in a designated line.  The other nice thing about their bus system is that because there's only a bus stop at the front of the resort that makes the bus stop quicker.  If you were staying at say Coronado Springs you might get a bus station right outside your room but then because there are so many bus stops around the resort it makes the bus ride quite long.  Not a problem at Pop Century
All Disney hotels have a free shuttle to & from the airport, and this is important to note in case you are considering staying at cheaper hotel that's not on Disney property.  There just aren't a plethora of hotels in Orlando, Florida that offer free shuttles to both Disney World & the airport, and these services help you save money either getting transportation or renting a car.  In addition to the free airport shuttle service being free, it's also incredibly convenient and saves you a lot of time – they can even get your luggage delivered right to your room (thus avoiding the annoying baggage claim at the airport!). I used the free airport shuttle my first time I stayed here (the second time I drove) and I found it quite convenient.
6
Proximity to Art of Animation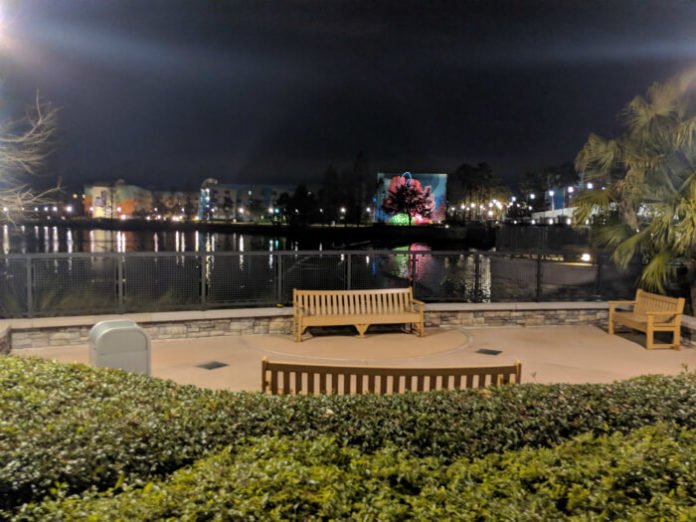 One of the neat things about Pop Century is how close it is to Art of Animation.  You only have to walk across the Generation Gap Bridge to get to Art of Animation.  Now, why is that a cool feature?  Well, a couple things.  First of all, Art of Animation has a really nice food court  If you have a long stay at Pop Century, it's neat to be able to eat at both the food court at Pop Century and Art of Animation to shake things up.  The other neat thing is the bus system.  If you are getting a bus back to your hotel and you are sick of waiting for the bus to come for Pop Century and you see the bus for Art of Animation, then you can take that bus to get back to your room.  There's more walking involved, but it is nice to have a backup option if your bus is late or you just miss the bus back to Pop Century and you don't want to wait for the next one.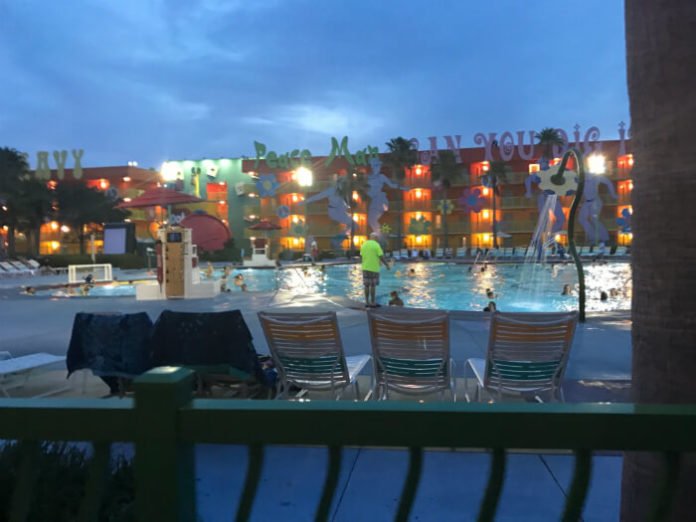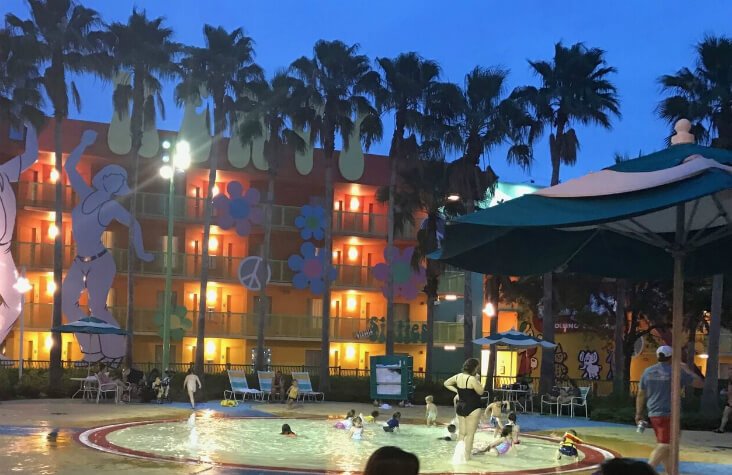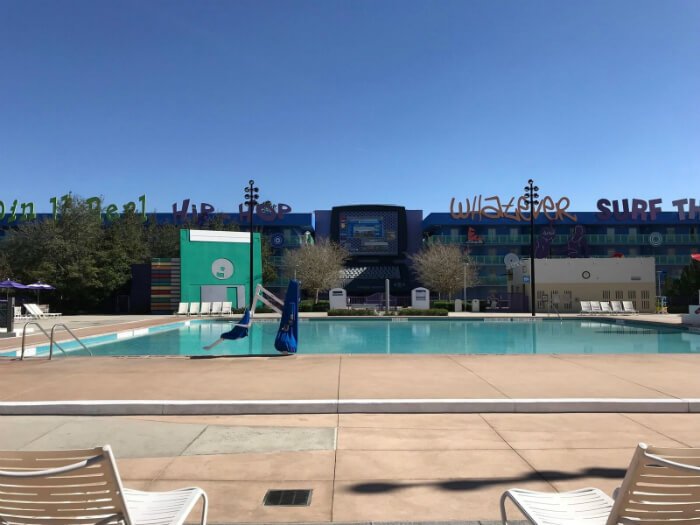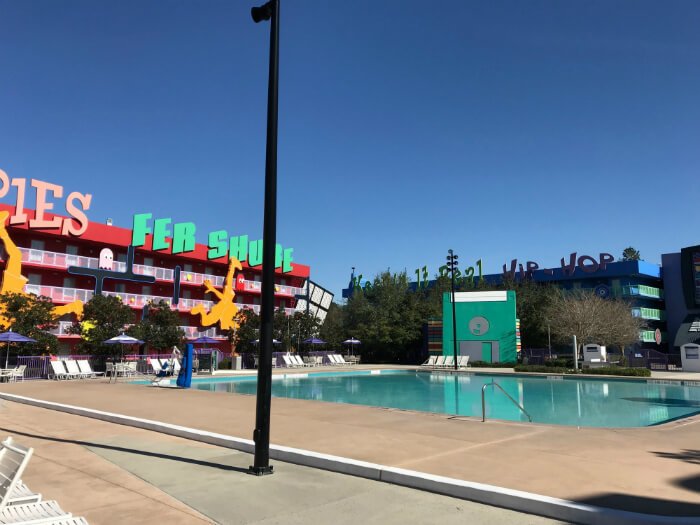 Pop Century may be considered a Disney "value" resort, but it certainly is not lacking in extra fun features that can make your family trip a lot of fun. There are multiple pools: a 1960's Hippy Dippy Pool with flower-shaped water jets & a children's pool nearby with a pop-jet water fountain, plus a smaller 1950's bowling pool & 1990's computer pool.  There's also fun activities at the Hippy Dippy pool, like Movie Under The Stars, pool parties, trivia, games, etc. There's also an arcade right off the lobby, Fast Forward Arcade, and a jogging trail & playground.