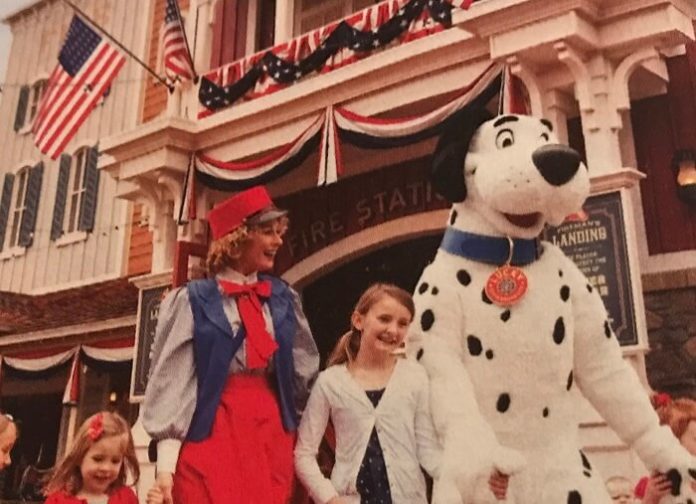 If you click on the links in this post, we may earn money from the companies mentioned in this post, at no extra cost to you. You can read the full disclaimer here.
If you're ready for some great family fun, then head to Silver Dollar City theme park in Branson, Missouri for its Star-Spangled Summer Celebration!
Click here for the lowest price for Silver Dollar City tickets.  You can also book a discounted Branson vacation package to help you save money on your trip to Silver Dollar City, too!
The Star-Spangled Summer at Silver Dollar City takes place from June 8th through July 21st, and your family will have a lot of fun – here are 10 reasons why:
Reuben's Swashbuckling Adventure: This year, you'll be able to enjoy an all-new production show at Opera House: Reuben's Swashbuckling Adventure!  It's a $1 million, Broadway-style musical show created exclusively for Silver Dollar City.  Enjoy the story of a young Ozarkian boy in the 1880s in this amazing production with great special effects, sets, flying characters and more.
The Echo Hollow Show: The Echo Hollow Show is an all-new variety show starting this summer at the 4,000-seat Echo Hollow Amphitheater where you'll hear some of your favorite classic songs from beloved artists like Elvis, Dolly Parton, Stevie Wonder and more.  Some of the highlights of this variety show include:

All-male quartet Harmonix performing songs from classic rock & country stars
Featured vocalist Allen Asbury performing a medley of songs from the 1960s
Top Branson entertainer Tracy Heaston performing tunes on the piano  & xylophone
Guest appearances by family-friendly comedians

All-American Family Buffet: During the Star-Spangled Summer at Silver Dollar City, your family will be able to enjoy a delicious buffet at Reunion Hall from 11:00 AM to 3:00 PM with delicious foods like:

Hot Dogs
Hamburgers
Smoked Chicken
BBQ Smoked Pulled Pork
Hand-Breaded Chicken Tenders
Macaroni & Cheese
Corn
Baked Beans
Homemade Salads
Garden Fresh Salad Bar
Chips
Dessert

Dance Teams: Enjoy great dance teams from across the country, like:

Southern Belles & Gents (Dacula, Georgia): June 8th-June 15th & June 17th-June 22th
Abaroska Mountain Thunder (Powell, Wyoming): June 8th-June 15th
Hearts Ablaze Dance Troupe (Greenfield, Indiana ): June 24th-June 29th
Indiana Dance Company (Bloomington, Indiana): July 1st-July 6th
PowerTaps (Woodstock, Georgia): July 8th-July 13th
Southern Rhythm Dance Troupe (Lake City, Florida): July 15th-July 20th
Red River Dance Troupe (Clinton, Arkansas): July 22th-July 27th
Premiere Dance Academy (Hollister, Missouri): July 29th-August 3rd

Greg Bennick: Enjoy the world-famous clean, family-friendly comedian, juggler & magician Greg Bennick who will be performing at the Echo Hollow Amphitheatre at Silver Dollar City this summer
Kid Magic: Enjoy seeing magic from the youngest magicians out there! Brother-sister duo Kadan Bart Rockett and sister Brooklyn, former semi-finalists on America's Got Talent, have performed in over 1,000 shows including Live with Kelly & Ryan, Little Big Shots, and Access Hollywood – and now you can see them live this summer at Red Gold Heritage Hall at Silver Dollar City!
Southern Raised: Enjoy this Ozark-mountain raised sibling musical act, Southern Raised.  This award-winning musical act draws inspiration from Christian Country, Classical, Bluegrass & Celtic music.
Fun Junction: A brand new interactive play zone will be coming to the Frisco Barn this summer at Silver Dollar City.  There will be two great paid games (Marshmallow Gun Shooting & Foam Axe Throwing) and there will be hands-on activities & toys for children from amazing brands like:

Lego & Duplo Build Tables
Mad Mattr
Crazy Aaron's Putty
Playfoam
Slimi Café
Duncan Yo-Yo products

Visiting Summer Performers: Throughout the summer, you'll be able to enjoy great visiting performers:

That Dalton Gang: June 2nd-June 5th
Kentucky Just Us: June 10th-June 12th
Band of Kelleys: June 17th-June 19th
The Farnum Family: June 24th-June 26th
The Family Sowell: July 1st-July 3rd
The Russell Clan: July 8th-July 10th
The Dixie Jubilee: July 15th-July 17th
Lindley Creek: July 22nd-July 24th
Twang: July 29th-July 31st
The Baker Family: August 5th-August 7th

The rides: It wouldn't be a trip to Silver Dollar City without its great rides, right? Have fun on your favorite roller coasters, thrill rides, family friendly rides and the classic Silver Dollar City train ride this summer during the Star-Spangled Summer celebration!