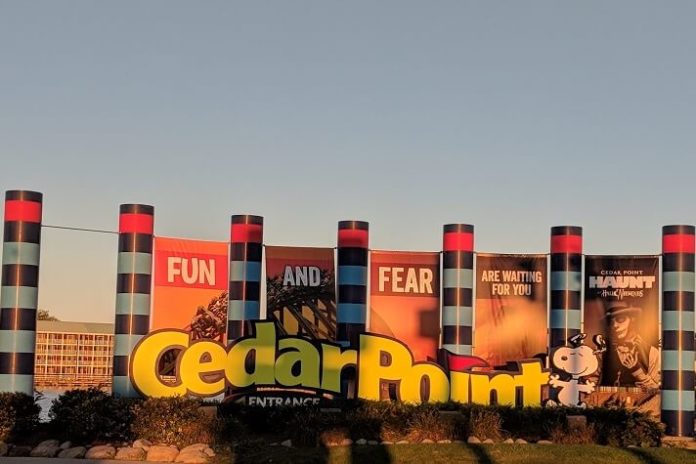 If you click on the links in this post, we may earn money from the companies mentioned in this post, at no extra cost to you. You can read the full disclaimer here.
Just because summer is over doesn't mean trips to Cedar Point in Sandusky, Ohio should stop! Actually, this is one of the best times of the year to visit Cedar Point, all because of HalloWeekends!
HalloWeekends at Cedar Point theme park are really great.  You can enjoy family-friendly fun at The Great Pumpkin Fest during the day.  Then you can enjoy Nighttime Fights at night.  You can enjoy all this with a HalloWeekends ticket.  You can find discounted Cedar Point HalloWeekends tickets here.
As the name implies, the fun at Halloweekends is only available on the weekends.  It starts September 14th and ends on October 29th.  So now's the time to book a vacation in Sandusky, Ohio!
The great Halloween decorations alone are enough for me to visit! And the great decorations aren't just in the park.  You can enjoy them at Cedar Point hotels, too.  My favorite decorations are at Cedar Point's Castaway Bay Water Park Resort.  You can see them on display in this video:
But if you need more reasons, there are more; actually, 50 reasons!  Find out why you'll enjoy Halloweekends, highlighting fun activities from both the daytime Great Pumpkin Fest family-oriented part and the Haunt part of Halloweekends more meant for older teens and adults:
1. 
Trick-or-Treating
There are candy stations all over the park where your kid can pick up candy
2. Monsters Are Coming Charlie Brown
The Monster Are Coming is a Halloween-themed stage show starring PEANUTS characters.
3. Halloweekends Pumpkin Spectacular
Enjoy seeing over 1,000 carved pumpkins lit up during the evening.  They are carved into fun designs and shapes.
4. The Great Pumpkin Parade
Watch your favorite PEANUTS characters in their Halloween costumes on giant floats with performers & dancers.  This year, it will take place on a new route along the Main Midway, from Sky Ride Station to Sky Ride Station!
5. Boneyard Battleground
This all-new attraction is coming to Cedar Point's Haunt!  It involves powerful music, flames, and non-stop action.
6. Magical House on Boo Hill
You'll find new surprises in every room of this new walk-through haunted house.
7. Camp Spooky Dance Party
Your kids will love this spooky-themed dance party with their PEANUTS friends.
8. The Great Pumpkin Photo Spot
This is a great spot for you to get a picture of your kid with Linus and the PEANUTS pals.  It's a scene from "It's the Great Pumpkin, Charlie Brown!"
9. Whistlin' Willie's Western Wake
So the story behind this show is that Whistlin' Willie, a local gold miner in Frontier Town ha died…allegedly.  You can join the local townsfolk to celebrate his life (and maybe riches!) in a party that is bound to wake the dead!
10. Planet Spooky's Scare-Eoke
Here's a chance for your little one to belt out a classic Halloween song!
11. Monster Mash Bash Hallozone
A nighttime party that the whole family can enjoy!
12. Cleveland Metroparks Zoo Presents Creepy Crawly Critters
You can get up close to creepy crawlers from the Cleveland Metroparks Zoo in this brand new attraction.  This includes snakes, possums, roaches, and more.
13. Gypsy Fortune Tellers
Have your future told by one of the park's Gypsy Fortune Tellers
14. Skin & Bones Band
A talented band of skeletons are just dying to entertain you
15. Zombie Jr. High School
A great Hallo-tween maze recommended for ages 14 and under.
16. Zombie High School
An older version of this is found at night, where you try to stay alive as you make your way through haunted halls & creepy classrooms
17. The Mystery of Eerie Estate
Another Hallo-tween maze for those 14 and under, this maze includes puzzles & activities based off the legend of George A. Boeckling
18. G.A. Boeckling's Eerie Estate
This is the attraction based off the legend of George A. Boeckling that is more catered to the older teens and adults
19. Hexed Spellbound: In the Dark
This is an all-new maze aimed at tweens.  They'll be able to explore a witches' lair and see what is around the corner.
20. 
Hexed Lights Out
This hexed attraction is for the older crowd at night, where you have to navigate through with a flashlight on the lookout for the next scare
21. Slaughter House
The butchers are looking for fresh meat…and that may be you!
22. Midnight Syndicate Conspiracy of Shadows
Enjoy a wonderful blend of horror music & movie-style sound effects at this show at the Jack Aldrich Theatre on the Main Midway
23. Harvest Fear
Haunt has an all-new outdoor scare zone full of century costumed children & scary surprises
24. Fearground Freakshow
See what happens when a freakshow goes horribly wrong during Haunt.
25. Cut Throat Cove
Meet the crew of sunken ships who have been waiting for rescue for more than 150 years
26. Deprivation
Try to find the right path to get out while enveloped in darkness
27. Blood on the Bayou
Deep in the bayou are mysteries too dangerous to explore
28.
Franklin's Tractor Trek
Kids can race each other on children-sized tractors through a hay bale course
29.
Linus' Mummy Pit
Linus, along with his mummy friends, are throwing a foam pit party just for the children
30. Peppermint Patty's Hale Bale Maze
A classic hay bale maze, but this one was created small enough for the little ones!
31.
Pigpen's Corn Box
Children can step into thousands of corn kernels & play (sort of like a sandbox, just with corn instead!) 
32.
Charlie Brown's Challenge Course
A fun-filled obstacle course for kids
33.
The Friendly Monster
Enjoy the Monster ride with a Halloween-inspired soundtrack!
34.
Spooky Express Railroad
Snoopy's Express Railroad now has cool fall swag
35. Woodstock's Crazy Cornstalks
Bring your kids along and try to find your way through the cornstalks
36. Snoopy's Spiderweb Crawl
Climb on massive mutant spiderwebs in this brand new attraction!
37.
Boo-Streak
Enjoy a Halloween edition of the classic Blue Streak ride
38.
Ocean Potion
See the Ocean Motion ride turns to a bubbling, gurgling red color
39. The Pumpkin Patches
Enjoy hearing the Pumpkin Patches harmonize some of your favorite Halloween songs!
40.
Marcie's Colorful Creations
Here's a great chance for your kid to draw colorful fall artwork
41.
Sally's Craft Corner
Your kid will get a chance to make some great Halloween crafts with their favorite PEANUTS characters
42.
Schroeder's Game of Skill
Enjoy fun games & maybe win a prize!
43.
Spooky Snoopy Eye Spy
Your child can help Snoopy find spooky (but fun) objects in a Halloween version of this classic game
44.
Lucy's Pumpkin Painting
Kids can decorate (and take home) their own mini pumpkin here
45.
Fall Foodfest
Enjoy delicious fall eats, like spooky spuds (like a pot roast potato or a turkey dinner baked potato), corn on the cob creations (like roasted garlic or spicy chipotle) or smoked turkey leg (like honey jalapeno or bloody BBQ)
46.
Night of the Living Fed
Enjoy an all-you-can-eat buffet at this Haunt-themed dinner experience
47. Toxicity
Macabre creatures still roam a skeletal battleground with abilities unknown to humans.  You will get to witness their death-defying flips, tricks & stunts at Celebration Plaza
48. Raging Inferno
Take in heavy metal rockers at Celebration Plaza
49. Midnight Syndicate: Creatures of Darkness
Experience an all-new story of a struggling artist gone wrong at Jack Aldrich Theater.
50. Happily Never After
In this all-new Haunted experience, you can wander into a deep forest where your favorite fairy tales will take a twisted turn.  This is accompanied by a soundtrack of classic rock & glam metal.