If you click on the links in this post, we may earn money from the companies mentioned in this post, at no extra cost to you. You can read the full disclaimer here.
When you are planning a Universal Orlando vacation, then staying onsite in one of their hotels is incredibly appealing.  It means you can just relax and know you can easily get to the theme parks.  All the hotels provide constant transportation to the park.  And in some cases, you can even walk to the parks.
Universal Orlando also offers some great perks to guests at their official hotels.  I think the best perk is that you can get early admission into the theme parks.  This is a great way to get shorter lines for the most popular rides.  Especially a couple of the newer rides, like Jurassic World VelociCoaster and Hagrid's Magical Creatures Motorbike Adventure, that are not included in Universal's Express Pass.  Universal's Express Pass, by the way, is a great way to skip the line on popular attractions; we go into it in more detail here.
So you know you want to stay at a Universal hotel.  The question is, which one?  The Universal Orlando Resort has a lot of great onsite hotels.
Two of the hotels you may be thinking of staying at are Sapphire Falls and Cabana Bay.  So today, I am going to compare the two to help you find the best hotel for your family's vacation.
Theming
Both hotels are themed hotels, which you can experience throughout the resort.
Cabana Bay has a 1950s and 60s Florida beach resort theme.  I absolutely love the theming of this hotel.  Everything in the hotel is perfectly themed.  It starts with the classic cars in front of the hotel.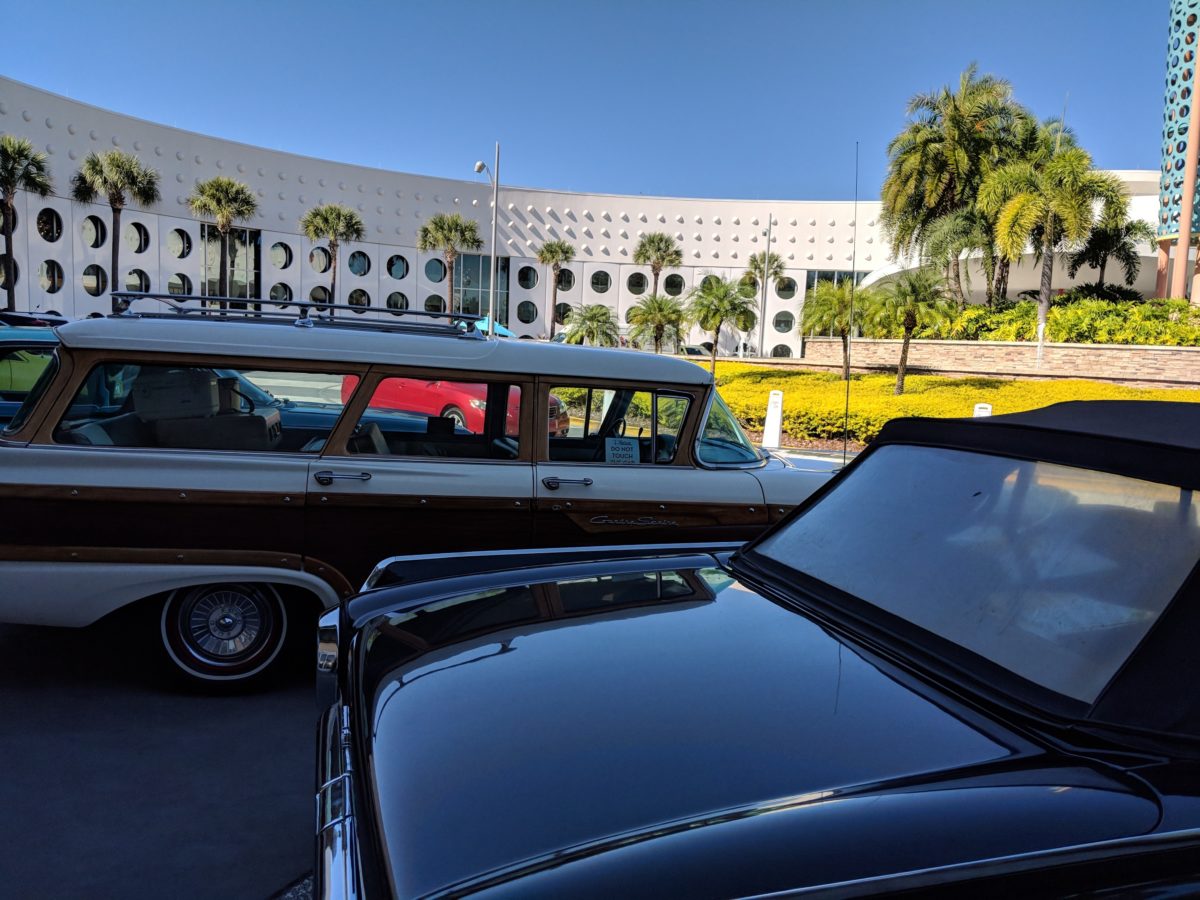 Then everything from the architecture to the decorations in the lobby and room is perfectly themed. The color scheme is perfect for the era.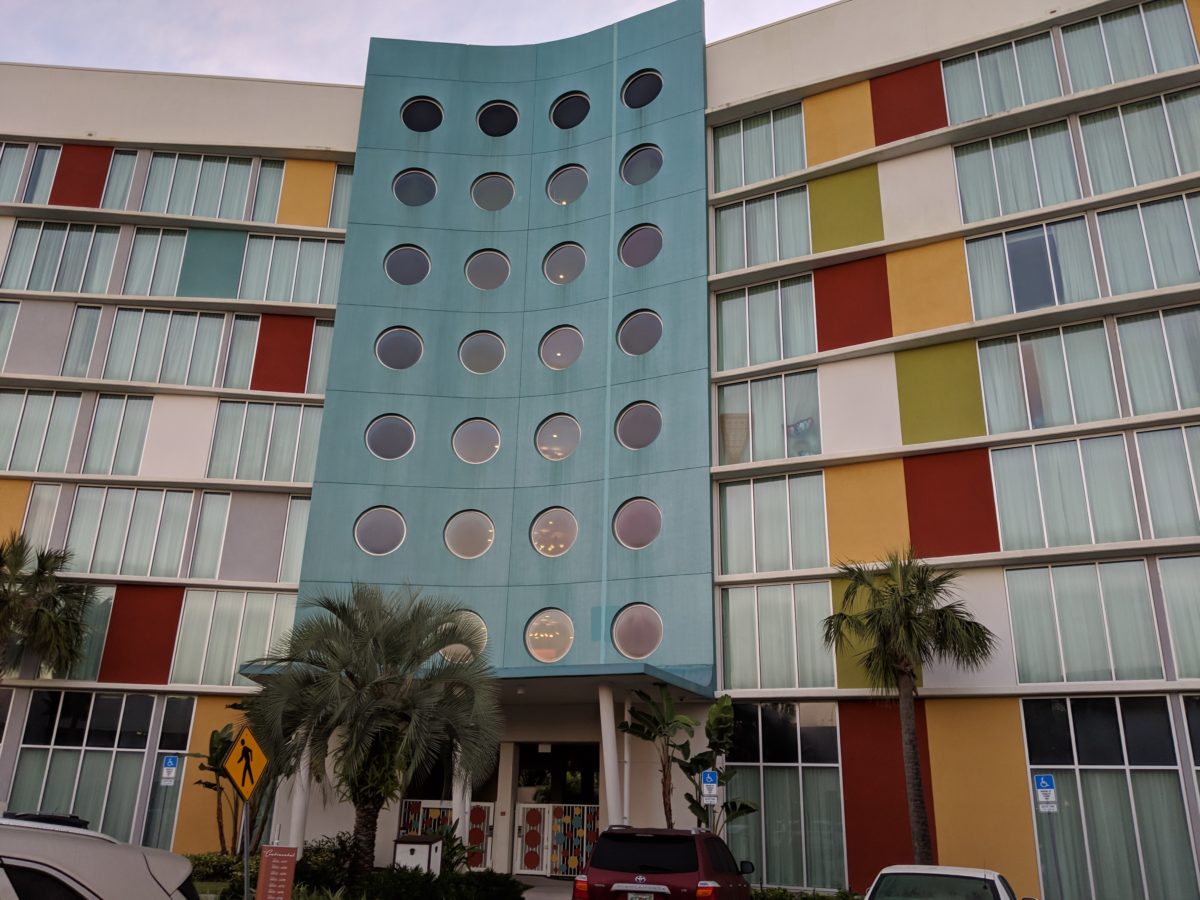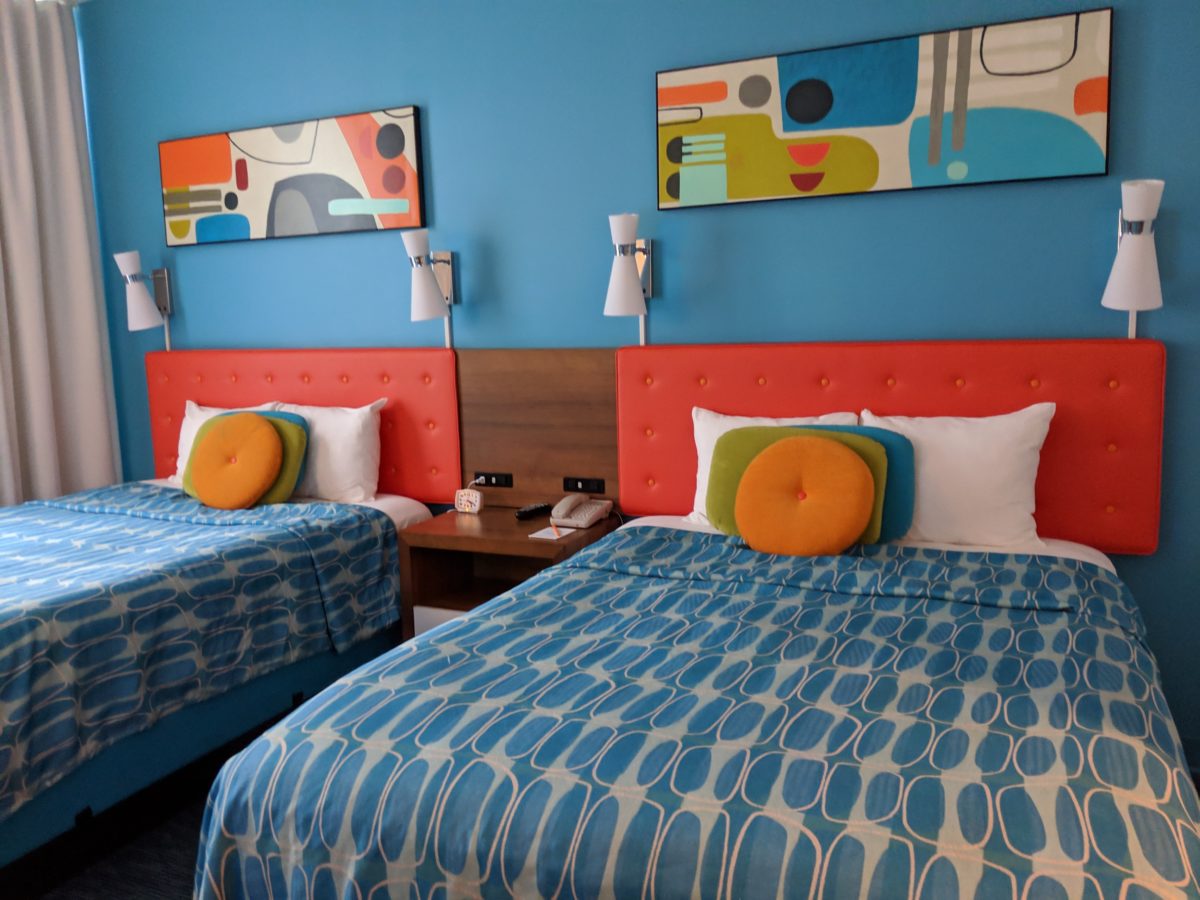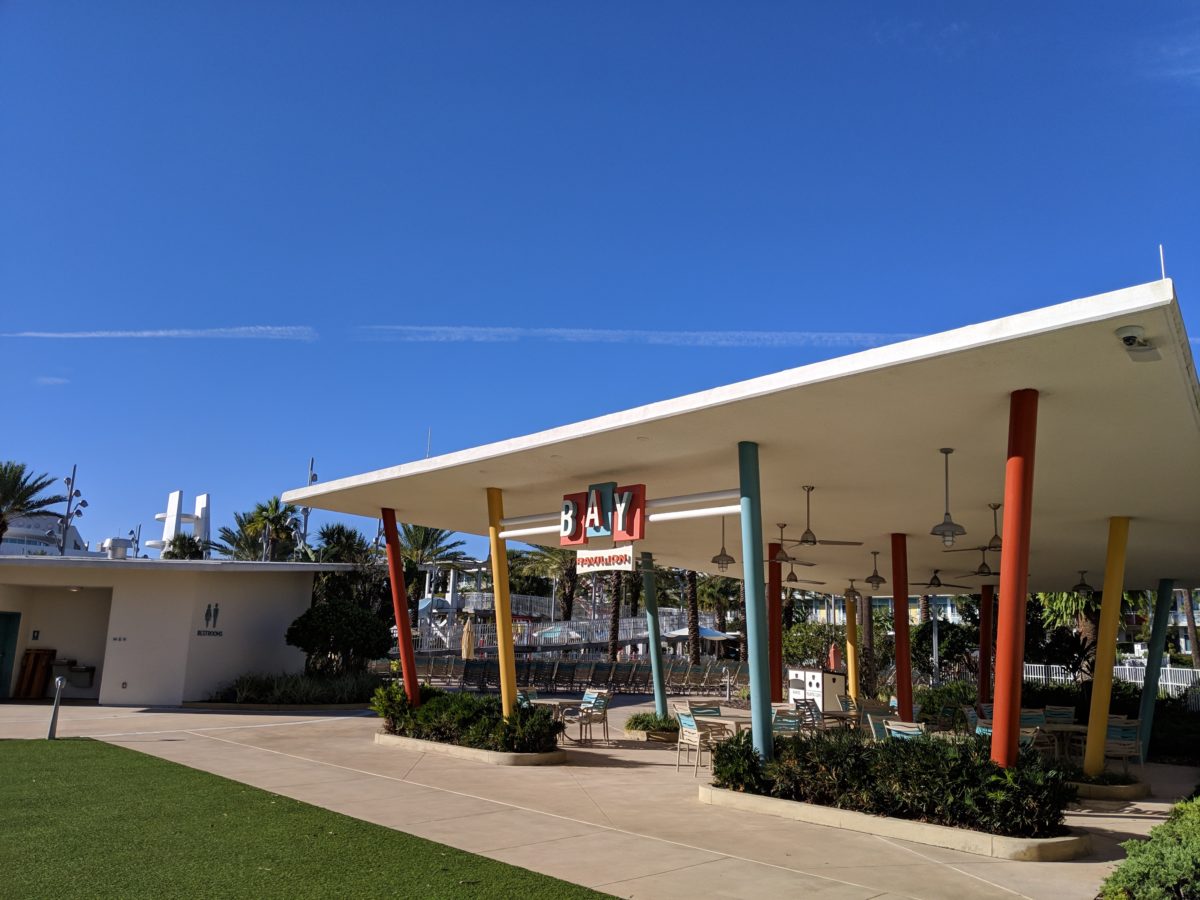 My favorite theming touch, though, is the food court. I love how they have commercials from the 1950s and 1960s era. It is such a neat touch.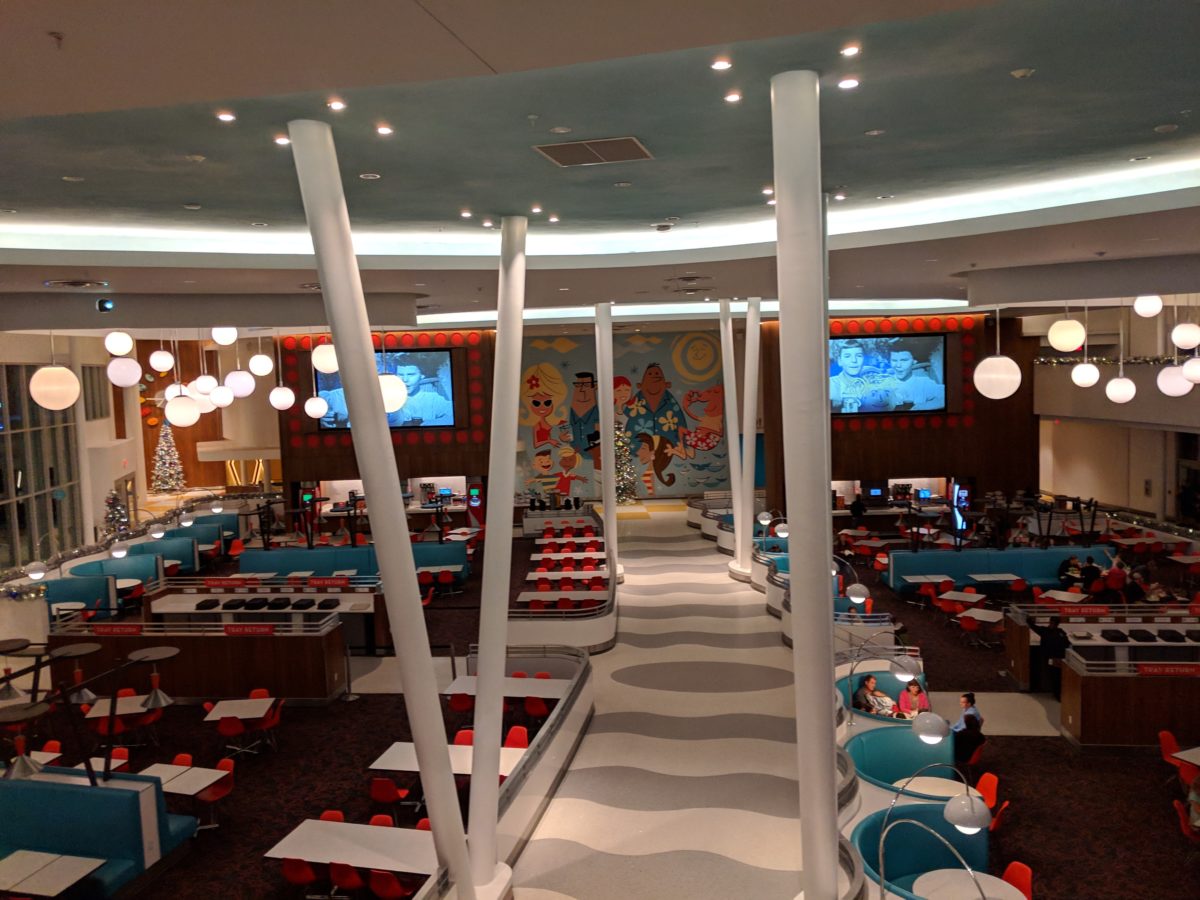 The theming of Sapphire Falls is good, too. I like the color scheme on the exterior part of the resort. I like all the pictures up throughout the resort and in the rooms.
The carpeting is really pretty and gives off an ocean feel. I love the spiral staircase that leads to the pool that gives off a Caribbean fort feel.
I like the lights in the hallway.
And I enjoy the Caribbean music played throughout the resort.
But at the same time, the theming isn't completely immersive. While it is definitely themed to the Caribbean islands, you don't really feel as if you are actually on a Caribbean island.
But Cabana Bay really does make you feel like you've found a time machine and you've been transported into the past. And that alone makes the theming at Cabana Bay better.
Winner: Cabana Bay
Location
Neither Cabana Bay nor Sapphire Falls is super close to the parks. If you want to be a quick walk away from the parks, you should probably opt to stay at Hard Rock Hotel.
But at the same time, you can walk from the parks to Sapphire Falls or Cabana Bay. But Sapphire Falls is closer. Basically, you start on a walking path right by Margaritaville at CityWalk.
The first hotel you get at is Royal Pacific, then it's Sapphire Falls, and then it's Cabana Bay. So if you want a shorter walk to and from the parks, then Sapphire Falls is a better choice than Cabana Bay.
One note I will make there, though, is that Volcano Bay is closer to Cabana Bay.
So if you want to visit Volcano Bay a lot, you are closer to this water park if you stay at Cabana Bay. But otherwise, Sapphire Falls is the best choice.
Winner: Sapphire Falls
Park Transportation
If you don't want to or can't do the walk to the parks, there is alternate transportation to the theme parks.
Cabana Bay offers continuous bus transportation to the parks.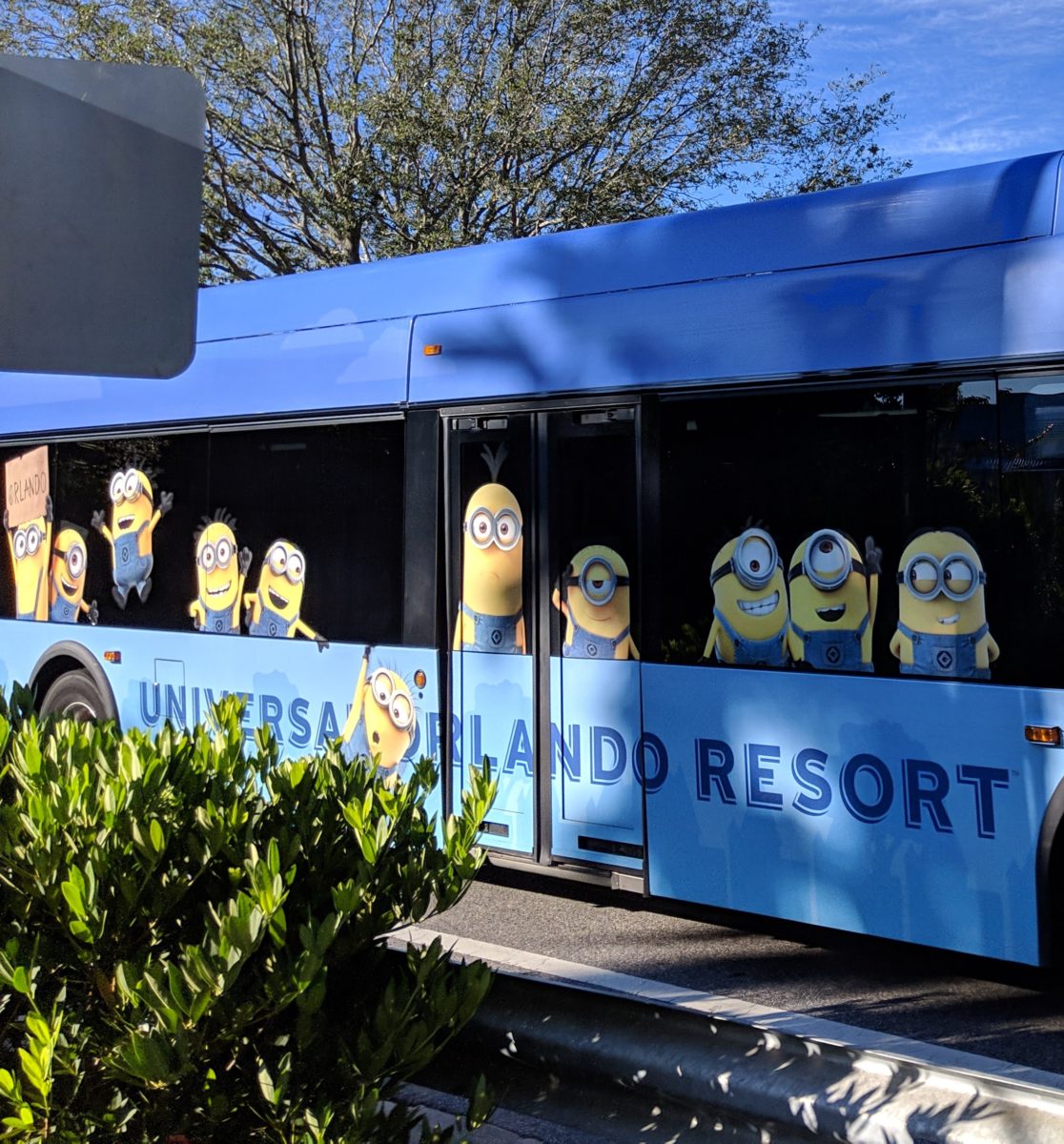 Sapphire Falls also offers bus transportation, but their busses are not as frequent.
But the big advantage of Sapphire Falls is that they also offer boat transportation. I really like boat transportation. It is a much smoother ride to the parks. The scenery during the boat ride is really great, too. You can see Royal Pacific, Islands of Adventures, and some of the restaurants at CityWalk, like the Hard Rock Cafe and the Toothsome Chocolate Emporium. They also drop you off much closer to the front of the parks. The bus drops you off much farther from the parks.
So the fact that Sapphire Falls offers this boat transportation to me is a huge plus of this hotel.
Advantage: Sapphire Falls
Pricing
Pricing may not be your only consideration.  But it is obviously something you need to think about.
One way to highlight the difference in cost is looking at the prices listed on Undercover Tourist.  Undercover Tourist is a great website to use to get discounted prices for both Universal Orlando hotels and theme parks tickets.  They list Sapphire Falls starting at $275/night.  They list Cabana Bay Beach Resort starting as low as $207/night.
Now, it is possible you could get a room at Sapphire Falls for a cheaper rate than Cabana Bay if all the cheapest rooms at Cabana Bay are already booked.  But in general, you can expect to find cheaper rooms available at Cabana Bay rather than Sapphire Falls.
Winner: Cabana Bay
Room Size
The best rates you can get for both Cabana Bay and Sapphire Falls would be the standard guest rooms, as in non-suites.
A standard room at Sapphire Falls is 322 square feet.  Rooms at Cabana Bay are 300 square feet.  So, the difference isn't huge.  But the rooms are bigger at Sapphire Falls.
Now, you can get suites at both resorts.  Sapphire Falls have suites as large as a whopping 1,353 square feet.  The largest suite you can get at Cabana Bay is 772 square feet.  Which is very large.  Just not as large as the suites you can get at Sapphire Falls.
Winner: Sapphire Falls
Resort Activities
Both Sapphire Falls and Cabana Bay Beach Resort have a lot of fun activities.  Both hotels have game rooms.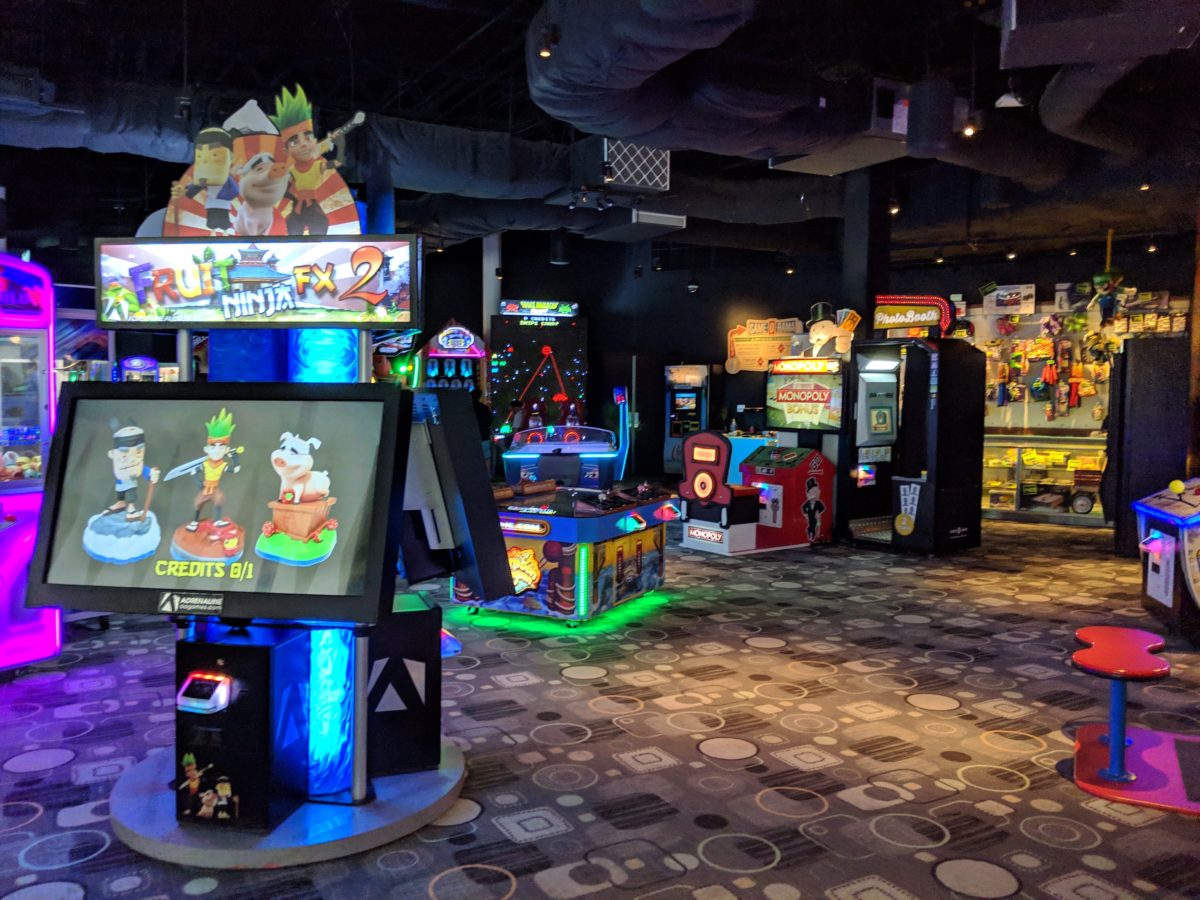 But the game room at Cabana Bay is larger and nicer, in my opinion.
Both hotels have impressive pool complexes.
Both pool complexes boast great features like sandy beaches and a 100-foot waterslide.
But Cabana Bay Beach Resort also has a lazy river.  So their pool complex is better.
And Cabana Bay Beach Resort also has an onsite bowling alley.
So overall, there are more fun activities for guests to do at Cabana Bay than there are at Sapphire Falls.
Winner: Cabana Bay
Dining
So most of the categories I compared the hotels on before had a clear winner.  But as far as dining is compared, it's more of a mixed bag.
On the one hand, Sapphire Falls has a great sit-down restaurant in Amatista Cookhouse.
My family went there one night after a day at the park.  It was really nice being able to enjoy a relaxing night where we were waited on.  And we had delicious burgers and ordered good wine and beer.
Amatista Cookhouse also has a great buffet breakfast.  It had so many different delicious options for food and was really nice.
Cabana Bay Beach Resort does not offer any dining experiences like this.
But one way Cabana Bay Beach Resort is better is their food court.  It is honestly one of the best food courts at a hotel I have ever eaten at in my life.  You can have multiple meals there and eat something different each time.  They have plenty of tables and chairs.  You can get great views of Volcano Bay.  And while you eat, you can enjoy those retro commercials I mentioned earlier.  So there is even entertainment while you eat.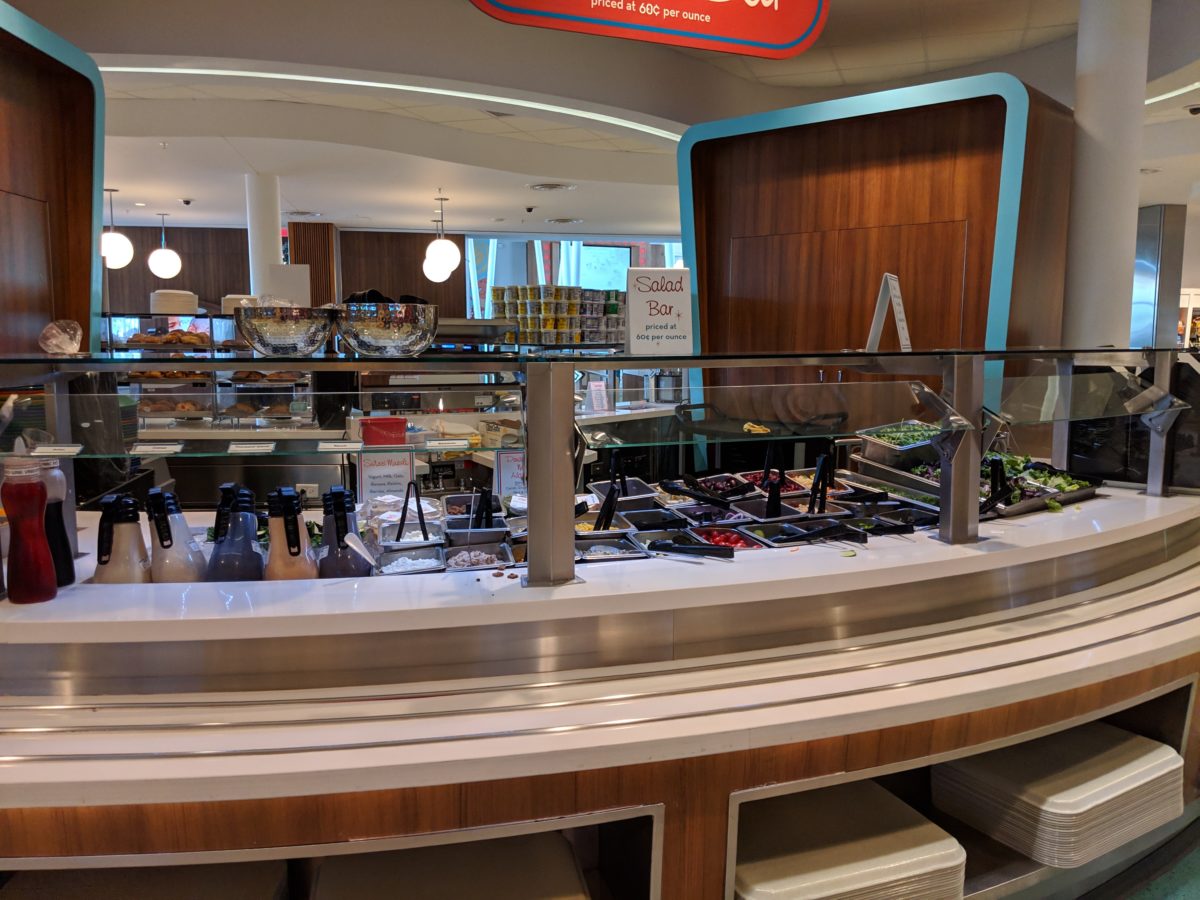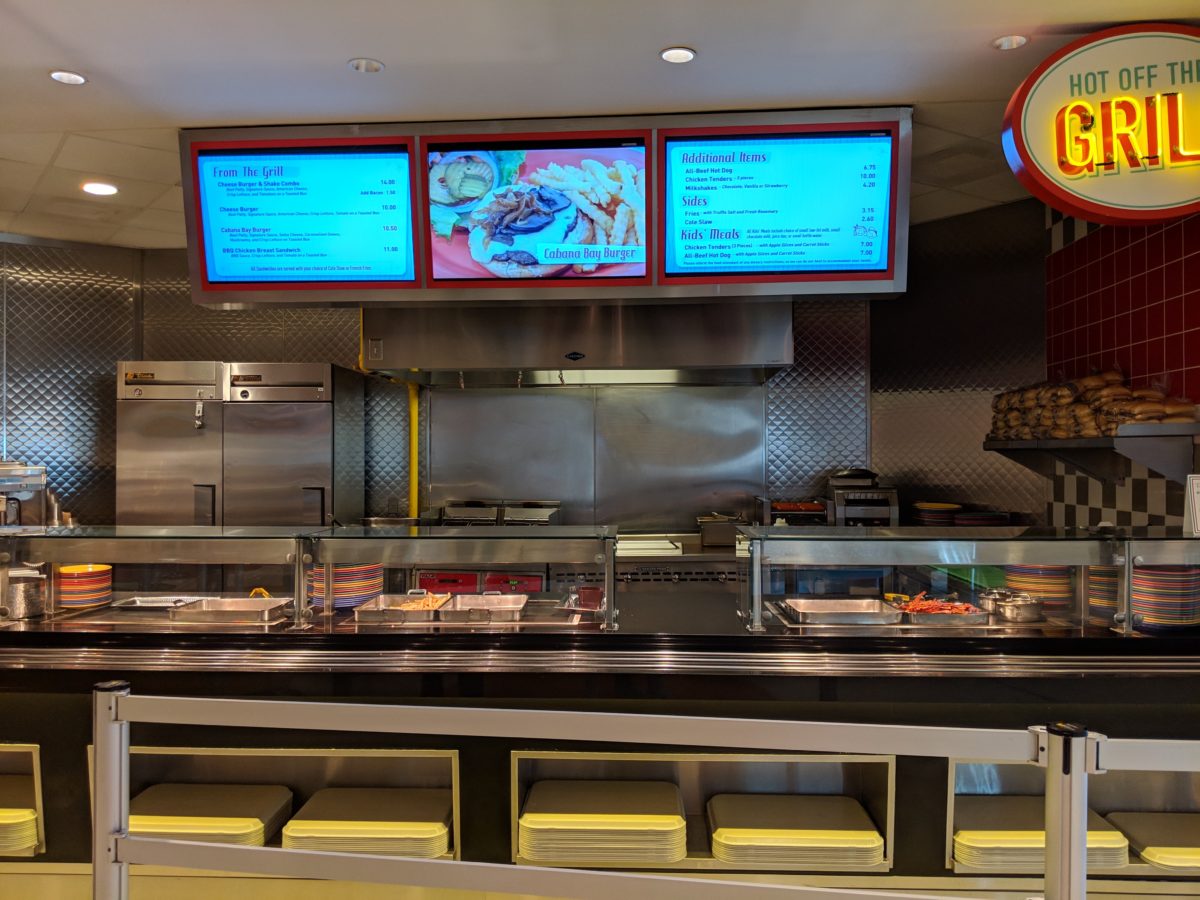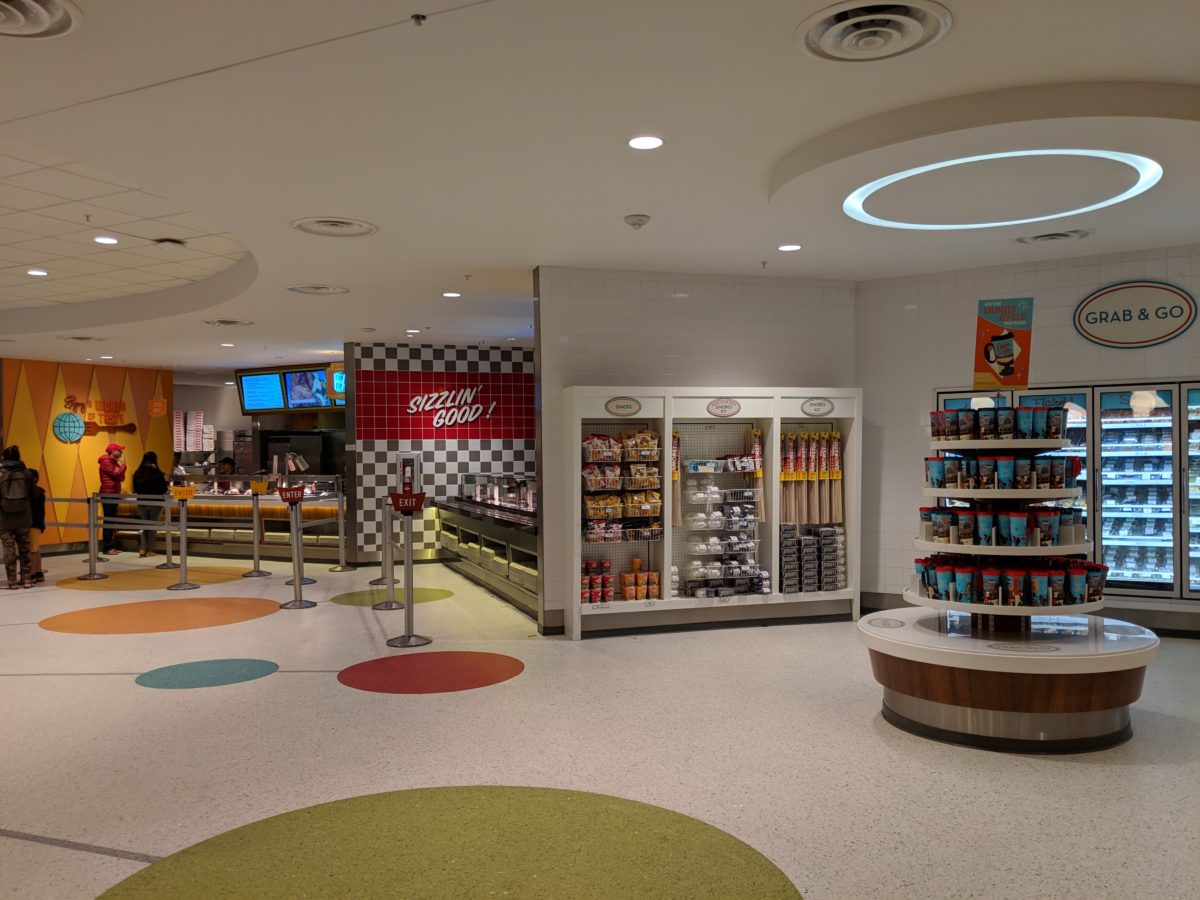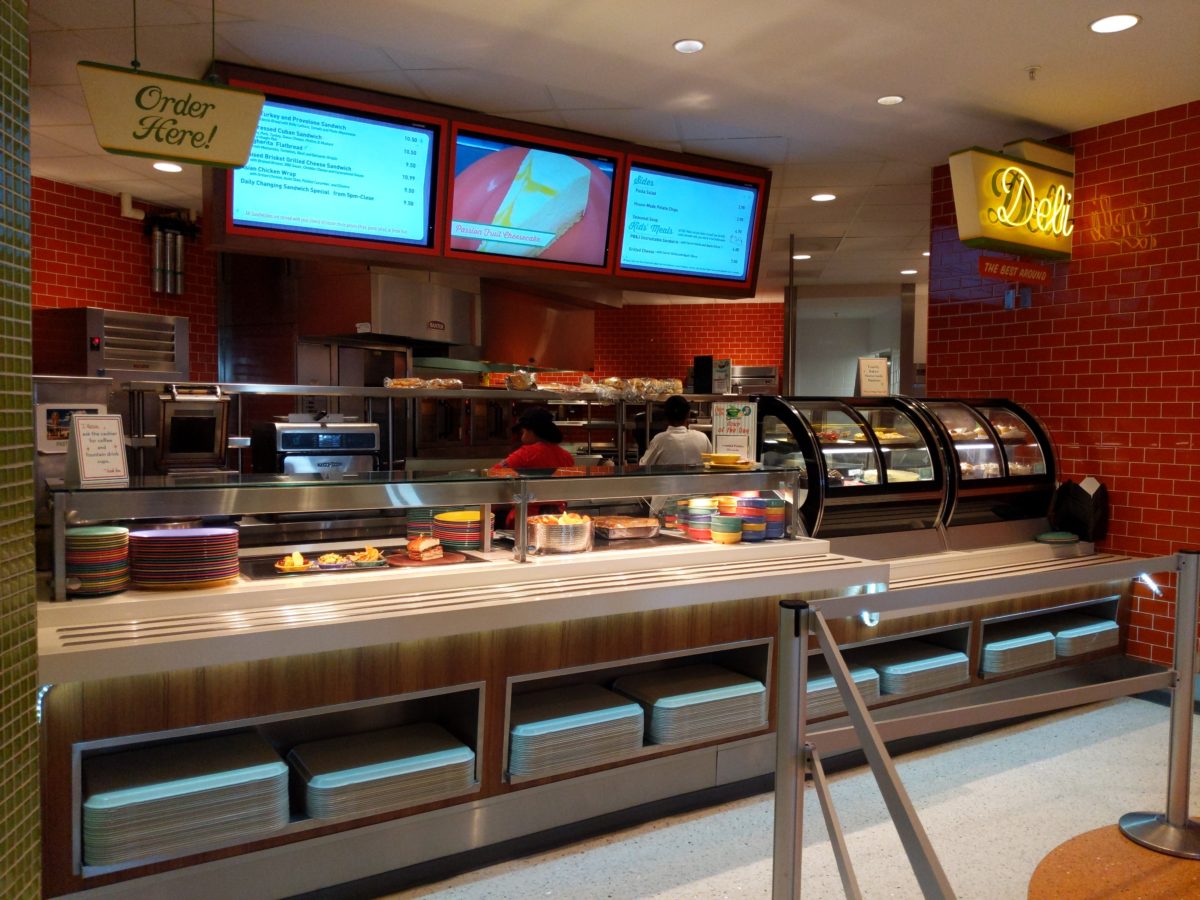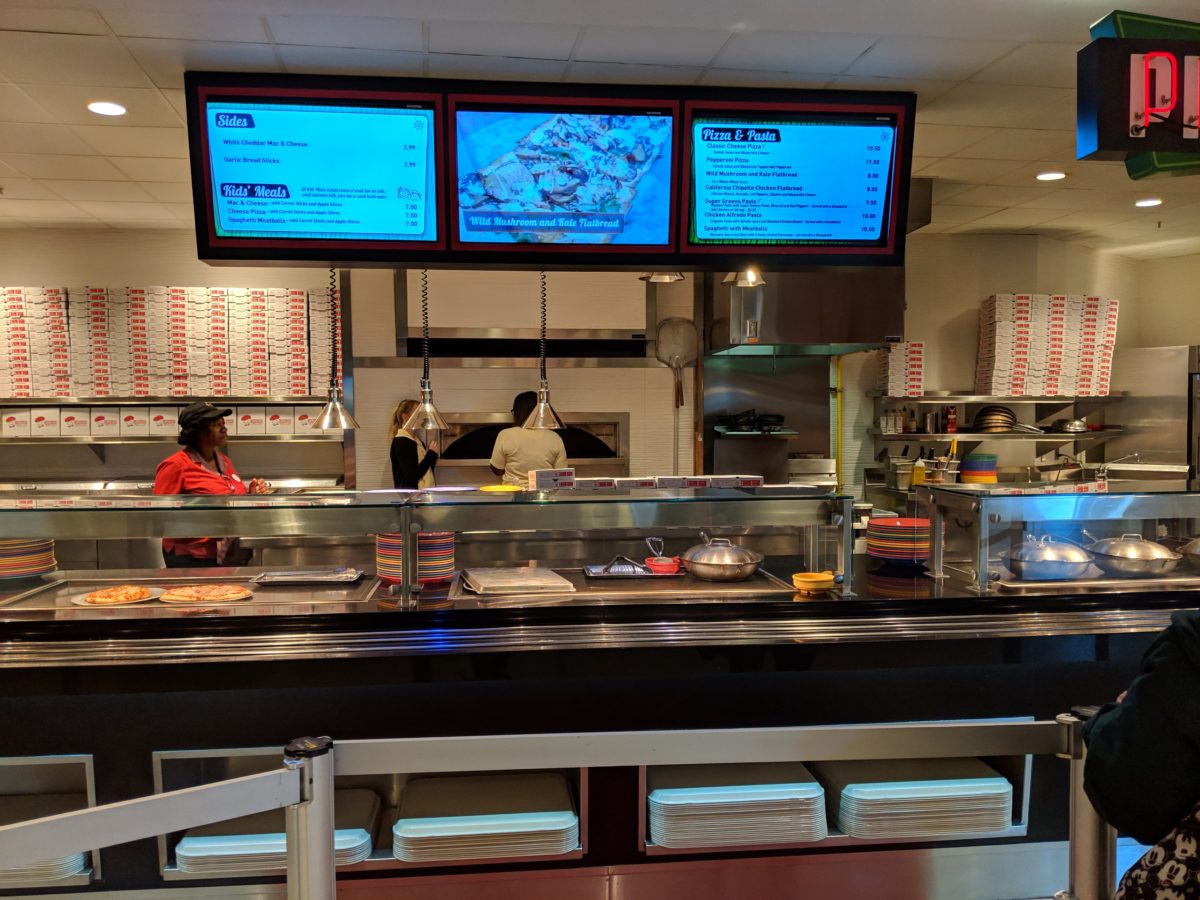 Sapphire Falls, on the other hand, does have a quick dining option in the New Dutch Trading Co.  But the New Dutch Trading Co. has very few chairs and tables.  Their menu is not as extensive.  And when we were there last, they even closed it between 2:00 and 4:00 PM.  So Cabana Bay has a much better food court.
So Sapphire Falls is better for more upscale dining, while Cabana Bay is better for quick service dining.
Winner: Draw
Conclusion
Sapphire Falls and Cabana Bay Beach Resort both offer a lot of great features for guests.  Which hotel you choose depends a lot on you what you value most.  My own personal preference is probably Cabana Bay Beach Resort, mainly due to the great theming, more affordable pricing, the lazy river, and food court.  But your priorities may be different.
If you end up choosing Cabana Bay Beach Resort, click here to book it at the lowest price available.  If you end up choosing Sapphire Falls Resort, click here to book it at the lowest price available.  And click here if you want to get Universal Orlando theme park tickets at a discounted price.
TLDR:
Choose Cabana Bay if:
Pricing is important to you since Cabana Bay is cheaper
You like more involved theming
On-site activities like a lazy river and bowling alley are important to you
You like when hotels have food courts for lots of quick dining options
You want to walk to Volcano Bay
Choose Sapphire Falls if:
You want to be closer to the parks
You prefer boat transportation to bus transportation to Universal Studios, Islands of Adventure & CityWalk
Having a sit-down restaurant onsite at the hotel is important to you
You prefer a hotel having a more upscale feel than involved theming
You want bigger rooms