If you click on the links in this post, we may earn money from the companies mentioned in this post, at no extra cost to you. You can read the full disclaimer here.
There are some great Italian restaurants at Disney World, especially at Epcot.  We recently reviewed Tutto Italia.  And today we are going to review the other restaurant at the Italian Pavilion in the World Showcase in Epcot: Via Napoli!
Via Napoli Ristorante e Pizzeria has classic Southern Italian dishes and wood-fired pizzas.  They are also famous for their Sangria.
We've been to this restaurant multiple times in the past.  I went the most recently about a month ago during my last trip to Disney World for the 50th Anniversary.
As I had remembered from our past visits, the service here is great.  They are nice right away.  When we checked in, they immediately offered booster seats and coloring pages.  So the restaurant (as you would hope from Disney World) is very kid-friendly.
Speaking of checking in, they have a great lobby with comfortable seating.  I really love the chandelier in the lobby.
Restaurant Atmosphere & Overall Impressions
The lobby isn't the only beautiful part of Via Napoli.  I really love the decor in the entire restaurant.
It is very upscale while at the same time being accessible.  I also love the Italian feel of the restaurant.  And as I mentioned earlier, it is kid-friendly.  But at the same time, it is definitely adult enough that you could have a romantic evening here, too.
Another feature of this restaurant is, depending on where you are sitting, you can watch them cook the wood-fired pizzas.
I think this is a really neat feature.
Also, as I mentioned earlier, the service is great.  For example, they did not have any menus but when I asked if they had any paper copies for my parents, they brought them.
Food Review
But the main reason you go to a restaurant is the food, right?  Well, luckily I have good things to say about the food!
The bread here is really delicious.
They bring out Olive Oil for you to dip the bread in, too.
The bread was delicious both with the Olive Oil and plain, as well.
For main entrees, Via Napoli has a lot of pizza options and some Italian dishes as well.  One interesting thing to note about their pizzas, though, is they do not have pepperoni pizzas.  So if you have your mouth set on having a pepperoni pizza, then you should probably go to another restaurant, even if Pizzeria is in the name of this restaurant.
My dad, for example, prefers Pepperoni Pizza.  So instead he ordered the Chicken Parmesan.
The Chicken Parmesan here is really good!  The chicken, breading, Spaghetti, and especially the Parmesan cheese on top is really good.  They even bring out extra Parmesan cheese you can add on the top, which I like since I really like cheese.  The sauce is really good, too.  More flavorful than spicy.  And it's a very generous serving of chicken.  This is great if you are really hungry or are hoping to have leftovers.
As good as that was, though, I shared a pizza with two other family members.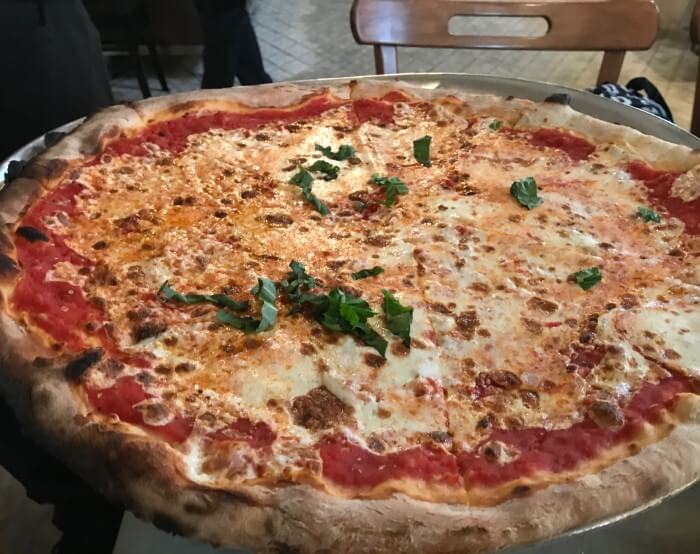 We got a large Margherita for three adults.  I was really hungry, but the pizza ended up being more filling than I was expecting.  We ended up having a couple of slices left over at the end, which we brought back to our room since we were staying nearby at Disney's Boardwalk.
In addition to being filling, the pizza was really good.  We could add Parmesan cheese onto the pizza as well, which we liked.
If I had one complaint about the pizza, it would be that a few pieces were burnt at the bottom and therefore a bit harder to eat.  But there were lots of soft pieces as well.  If you think you might have pieces leftover and don't want to bring leftovers back to your room, consider checking the pieces before you eat them to make sure you eat the softest pieces and throw out the hardest pieces.
But overall, the pizza was really delicious and I would order it again.
Overall Thoughts
My family definitely loves coming to Via Napoli for dinner.  We love the atmosphere, service, and most importantly, the food.
And because you can share a pizza with other family members, it can actually be a bit more affordable than other sit-down restaurants at the World Showcase in Epcot.
So next time you are taking a trip to Disney World, definitely eat here!
Especially if you are staying at one of the hotels with an easy entrance to the World Showcase of Epcot.  You can find out how to get discounted rates to these hotels by clicking on our links: