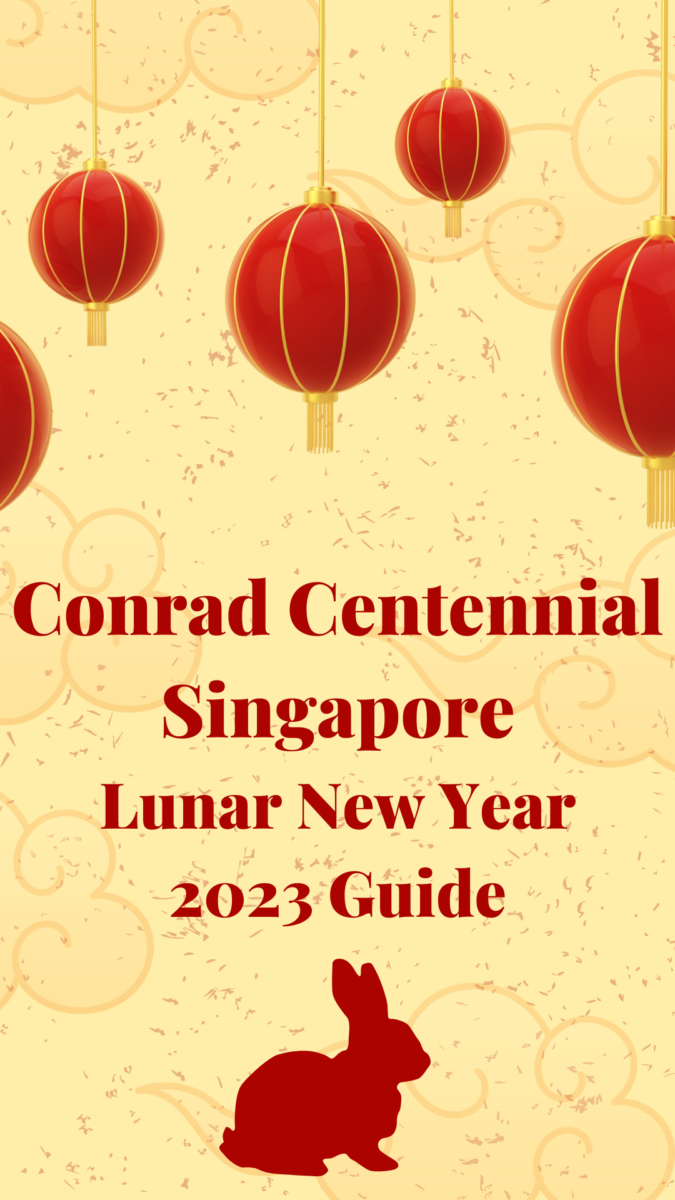 If you click on the links in this post, we may earn money from the companies mentioned in this post, at no extra cost to you. You can read the full disclaimer here.
The Conrad Centennial Singapore rises above the beautiful Marina Bay. It is within walking distance of the Esplanade, Marina Square, Suntec Convention Center and The Float. Their spacious rooms and suites blend luxury and elegance with comfort. Unwind with a soothing treatment at the Conrad Spa.
The renowned Golden Peony features sophisticated Cantonese cuisine, dim sum delights and a carefully curated wine list. All this is prepared by Celebrity Chef Ku Keung and his talented team of chefs.
Conrad Centennial Singapore is giving its guests culinary celebrations of the Lunar New Year. Chef Ku has created a Lunar New Year Menu and a Lunar New Year Dim Sum Menu.
Lunar New Year Menu
Fortune Gold Flakes "Yu Sheng" with Baby Abalone, Lobster, Mock Bak Kwa, Crispy White Bait, Fish Skin and Fresh Fruit
Premium Bird's Nest Braised with Fish Maw, Crab Roe in Golden Broth
Prosperity "Pen Cai" with Abalone, Sea Cucumber, Fish Maw, Whole Conpoy, Roast Pork, Homemade Meatball, Dried Oyster, Black Moss, Scallop, Prawn, Chinese Mushroom and Cabbage
Barbecue Lamb Rack with American Ginseng Powder and Cumin Powder
Boston Lobster Vermicelli "Mien Xian" Noodle Steamed with Egg White and Chinese Wine Broth
Rabbit Soy Pudding with Aloe Vera, Lemongrass Jelly, Peach Resin and Rainbow Pearl
Snow White with Green Tea Paste
Crispy Green Tea Pastry
Lunar New Year Dim Sum Menu
Abalone Ingots Pastry Stuffed with Minced Chicken $10.80 per person
Dried Oyster Dumpling with Black Moss Beancurd Stuffed with Seafood0 $11.80 per person
Barbeque Pork bun Charcoal Truffle Oil $10.80 per person
"Rabbit" Prawn Dumpling $13.80 per person
1 Day Advance Order Required
Dried Velvet Mushroom with Vegetarian Buns $8.80 per person
Steamed Bun Topped with Chinese Sausage with Minced Chicken $9.80 per person
Scallop Dumpling with Dried Conpoy $9.80 per person
Crispy Lobster Dumpling Wasabi Mayonnaise $11.80 per person
Golden Pumpkin Dumpling Mushroom $9.80 per person
Crispy Filo Roll Sea Perch and Avocado $12.80 per person
Crispy Turnip Pastry with Dried Abalone, Conpoy and Prawn $16.80
If you'd like to visit Conrad Centennial Singapore, click here to discover ways to save on your stay.