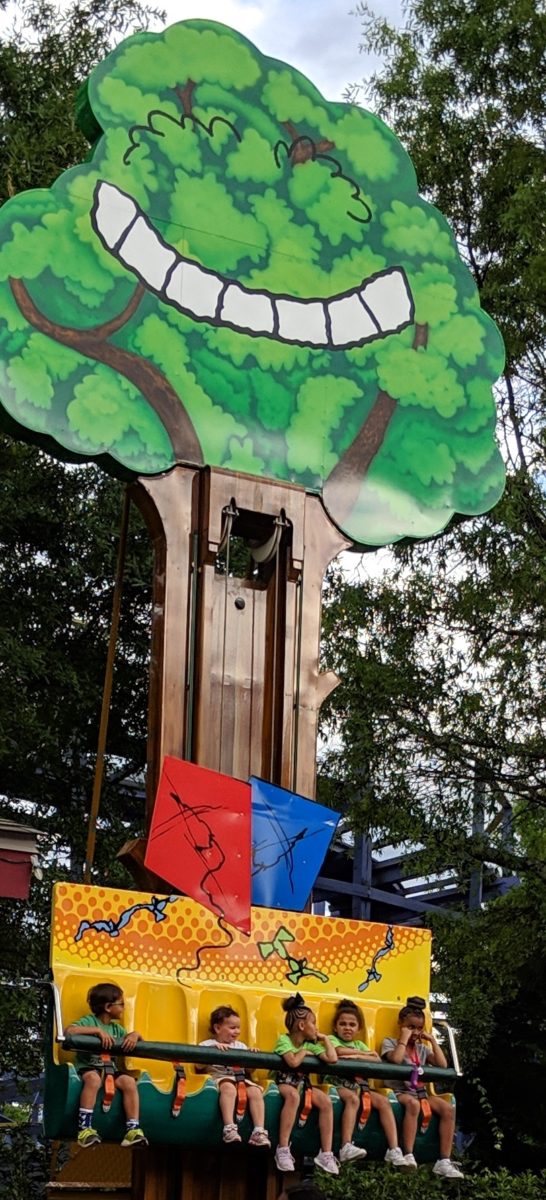 If you click on the links in this post, we may earn money from the companies mentioned in this post, at no extra cost to you. You can read the full disclaimer here.
Cincinnati, Ohio is a fun city to visit, but if you're traveling with kids, you have to wonder what is here your kids would enjoy.  Actually there are numerous activities your children would love. I'm sharing a list of 45 places and activities in Cincinnati for kids.  A lot will depend on your child's taste, but there are bound to be several things they'll enjoy.
1. Kings Island
Kings Island is the largest theme park and waterpark in the Midwest with roller coasters, family friendly rides and Planet Snoopy.
2. Hot Air Balloon
Take a hot air balloon ride and get scenic views of southwestern Ohio, the Little Miami River and Caesar Creek State Park.
3. Sky Zone Cincinnati
Sky Zone Cincinnati has over 10,000 square feet of trampolines plus a dodgeball court and foam pit. Hop, bounce and somersault all you want.
4. Cincinnati Zoo & Botanical Gardens
Cincinnati Zoo & Botanical Gardens has more than 500 animal species, including red pandas, lions and giraffes. You'll see more than 3,000 plant species in the Botanical Garden.
5. Cincinnati Riverwalk
Cincinnati Riverwalk stretches 4 miles into Kentucky and gives you stunning views of the skyline. There are creative water displays, statues, benches and swings.
6. The Heist Escape
The Heist Escape is an immersive game in which your team has to recover a stolen painting. You'll have one hour to complete the mission and escape.
7. OMNI Funplex
OMNI Funplex features laser tag game and virtual reality games. They also have bowling, a trampoline park and axe throwing.
8. Washington Park
Washington Park has a gazebo which has bands playing from time to time. Kids will love the dancing fountains on hot days as well as the creative play area.
9. Best Bites & Sites Tour
Best Bites & Sites Tour by Streetcar is a guided tour from the banks of the Ohio to downtown and Findlay Market. You'll get food tastings at some of the best restaurants and an all day streetcar pass to continue exploring on your own.
10. Coney Island
Coney Island is an amusement park and waterpark built in 1885. It features thrill rides, kids' rides and family attractions.
11. Glow Golf
Glow Golf has luminescent golf balls, lit up putters, neon obstructions and you'll play through tricky glow thermal landscapes.
12. Winton Woods Park
Winton Woods Park has a large lake for boating and fishing, several large picnic shelters, play areas for kids and hiking trails. Perky's Farms is a live animal wildlife informational area and is a great attraction for the kids.
13. Zombie Scavenger
Zombie Scavenger is an interactive game using your smartphone. You'll be given a list of items to find and, if you do, you'll survive the zombie apocalypse.
14. Arcade Legacy
At Arcade Legacy, you can enjoy classic arcade games, pinball games, console stations and more. Expect to see Mario, Ms Pac Man, Street Fighter, Super Smash Brothers, Playstation 4 and more.
15. Cincinnati Reds
Watch the Cincinnati Reds play baseball at the Great American Ballpark.
16. Smale Riverfront Park
Smale Riverfront Park has places for picnics, playground for kids, a carousel, swings and river views.
17. B Adventurous
B Adventurous has a huge play area for kids including 9 giant inflatables, a dance floor and a toddler area.
18. Wacky Walk Adventure Game
Wacky Walk Adventure Game is played with a smartphone. A remote guide will send you from checkpoint to checkpoint in Cincinnati. You'll have to answer their questions and complete wacky tasks.
19. Movies
There are a lot of great movie theaters in Cincinnati showing new releases and independent films.  You can book tickets here.
20. Eden Park
Eden Park is a beautiful park in downtown Cincinnati with great views of the Ohio River from the bluff. There's a playground for the kids and you can stroll around the lakes.
21. SkyStar
SkyStar will let you soar nearly 15 stories over Cincinnati's Riverfront Park. The SkyStar Observation Wheel has 36 private, climate controlled gondolas. Get fantastic views of the Ohio River, Riverfront Park and the Cincinnati skyline.
22. Krohn Conservatory
Krohn Conservatory has a unique butterfly exhibit and extensive greenery.
23. The Cincinnati Fire Museum
The Cincinnati Fire Museum is a historical firehouse turned into a museum with an array of 19th-century firefighting artifacts and exhibits on fire safety.
24. Stan Kimbrough Basketball
Stan Kimbrough Basketball has professional trainers teaching basketball skills and techniques to players of all levels. They offer classes and private instruction.
25. Newport Aquarium
Newport Aquarium is a watery haven dedicated to creating educational and exciting experiences. Be surrounded by sharks, stingrays, penguins and fish plus Gator Alley, Freshwater Falls, Shark Bridge and more.
26. Carew Tower
Go to the top of Carew Tower for 360-degree view of Cincinnati and into Kentucky without glass or a high wall in the way. Take your camera for some stunning photos.
27. iFLY
If your kid wants to try skydiving, a great way to feed their adrenaline in a safe, controlled environment is by taking your kid to iFLY.  They have an indoor flight tunnel that moves air in a vertical column at speeds high enough so guests can feel like they are flying.
28. Scallywag Tag
Scallywag Tag offers laser tag.
29. Ault Park
Ault Park has picnic tables, great views of the Little Miami River, walking trails and beautiful flowers.
30. Southern Lanes Sports Center
Southern Lanes Sports Center is a bowling alley in Alexandria, Kentucky.  You can save up to 40% on a bowling package here.
31. Escape Room
The Escape Game Cincinnati will have you and your team locked in a room. You'll have one hour to find clues, solve the puzzle, and escape.
32. EnterTRAINment Junction
As a kid I was fascinated by trains, as a lot of children are.  At EnterTRAINment Junction, there is a 25,000-square-foot indoor model train with 90 G-scale trains and 2 miles of track.  The train winds through handcrafted, gorgeous landscapes, like an 11-foot waterfall, thousands of trees, and scenes that show the railroad's early, middle, and modern periods.  Click here to book this attraction at 33% off.
33. Cincinnati Walking Sightseeing Tour with Pizza & Ice-cream
What kid doesn't like pizza and/or ice cream?  That is the beauty of the Cincinnati Walking Sightseeing Tour with Pizza and Ice-cream.  So you enjoy sightseeing in Cincinnati while your kid enjoys the food that is part of the tour.
34. General Custers Golf & Gulp
General Custer Golf & Gulp has 2 18 hole mini golf courses with a wooden pirate ship, quirky sea creatures and water obstacles. They also have a bungee trampoline jumper and great ice cream, sundaes and shakes.
35. FC Cincinnati
See FC Cincinnati play at Nippert Stadium. FC Cincinnati is in the Eastern Conference of Major League Soccer.
36. Scavenger Hunt
A fun way to take a tour of Cincinnati with kids is a scavenger hunt.  You learn a lot but they are engaged as they solve clues.  You can do it with Unique Scavenger Hunt Experience in Cincinnati by Operation City Quest.
37. Glenwood Gardens
Glenwood Gardens has a discovery center with programs for nature lovers and curious minds. Kids have fun in the fairy garden, watching trains and sitting in the tree house.
38. Pinball Garage
Pinball Garage is an arcade in Hamilton, Ohio.  You can get game credits, food, and drink at a discounted price here.
39. Cincinnati Reds Hall Of Fame & Museum
Cincinnati Reds Hall Of Fame & Museum is a "must see" for Reds fans and baseball fans. They have thousands of artifacts, interactive exhibits, photos and more.
40. Greater Cincinnati Police Museum
Greater Cincinnati Police Museum has extensive exhibits on crime, criminals, forensics, communications, guns, uniforms, badges and much more. The guides are retired law enforcement officers.
41. Cincinnati Observatory
Cincinnati Observatory is one of the oldest operating observatories in the U.S. and has the oldest telescope in the U.S. Get a night sky viewing and see Mars, Jupiter, Venus and more. There is a mini-museum which is great for kids.
42. V+V Visionarium's Butterfly Social
V+V Visionarium's Butterfly Social for adults and children includes lunch, crafts including Butterfly Kites with local artists, seed bombs, paint your own butterfly wings and kite-flying after party at Ault Park.
43. Rockin' Jump Cincinnati
Enjoy jumping around on a trampoline or playing a game of dodgeball at Rockin' Jump Cincinnati.
44. The Original Findlay Market Tour
Enjoy a 90-minute tour of Ohio's oldest public market.
45. Lunken Playfield
Lunken Playfield has walking and biking trails. Located next to Lunken Airport, you can watch planes take off and land. Vintage World War II aircraft are often on display at the airport. There are tennis courts, a driving range, a playground and picnic options.