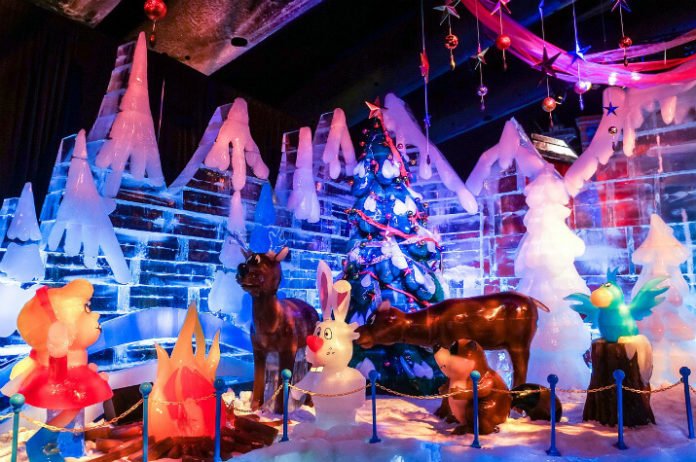 If you click on the links in this post, we may earn money from the companies mentioned in this post, at no extra cost to you. You can read the full disclaimer here.
During this 3 day Christmas tour, you'll see & experience great holiday cheer in Virginia.
You'll leave New York City for Virginia on day one, passing through Philadelphia and Washington D.C. on the way.
Then at twilight, you'll arrive at Virginia Beach, where you can see great Christmas decorations.
You can walk on the boardwalk to see the holiday & voyage themed lights, such as a sail boat, mermaid & a sailing Santa (this is not included in the cost of the tour so to see this, you will need to pay $10 extra).
On the second day, you'll first visit Norfolk to see the USS Wisconsin, where was important in the Invasion of Lingayen Gulf & the war of Iwo Jima & Okinawa (this will also cost $15.95 extra for adults, $14.95 for seniors & $11.50 for children).
After that you will travel to Busch Gardens in Williamsburg to celebrate Busch Gardens' Christmas town (this is also not included in the cost of the tour, but see here for Busch Gardens' Christmas town information & ways to save on tickets).
On day 3, you'll tour the Chesapeake Bay Bridge Tunnel, the bay which connects Virginia Beach, Norfolk & the east coast of Virginia.
From there you will go to the Gaylord National Ice! at the Gaylord National Resort & Convention Center in National Harbor, Maryland where you can enjoy beautiful Christmas themed ice sculptures (you will need to pay extra for this, too; around $41.80 for adults & $34.10 for children).
After that, you will head to Washington DC to visit the National Christmas Tree in front of the White House.
From there, you will head back to New York City!
With this tour, it pays to take it with family or friends.  If you buy two tours, you get a discount on the third!