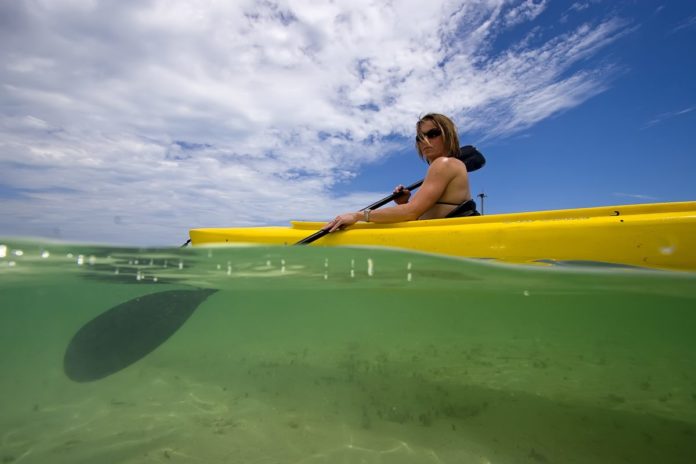 If you click on the links in this post, we may earn money from the companies mentioned in this post, at no extra cost to you. You can read the full disclaimer here.
Eco tours are a wonderful, socially responsible, environmentally friendly way to explore the beauty of Key West, Florida.  So here at Green Vacations, we came up with our list of the best Key West eco tours.
1. Key West Eco Tours aboard the Java Cat
The Key West Eco Tours aboard the Java Cat is a small group eco-tour aboard a Java Cat Sailing Catamaran, which you can find at the Key West Historic Seaport.  Experienced captains & a helpful guide will take you into the protected areas of the shallow backcountry Florida Keys National Marine Sanctuary that's filled with a lot of unique creatures.  You'll see lots of birds and tropical fish in the uninhabited mangrove islands.  You'll even be able to snorkel over a pristine sponge and coral garden.  And you can save money by buying your tickets here.
2. Key West Eco Kayak Tours
Another great eco-tour you could take in Key West, Florida would be the Key West Eco Kayak Tour.  You can choose either a single or a tandem kayak and you'll get instructions on how to maneuver your kayak, so you can do this tour whether you are an experienced kayaker or you are brand new to kayaking.  You'll be able to see dramatic scenery and awe-inspiring wildlife such as dolphins, sea turtles, rays, fish, and aquatic birds while you kayak through mangrove forests and tidal flats.  You can get a discount price on this tour by clicking here.
3. Key West Backcountry Schooner Eco-Tour
This Key West eco-tour involves a 6-hour cruise and snorkeling tour aboard a wooden sailing schooner.  You can watch for sea turtles and dolphins during the morning sail, where you'll also be served a continental breakfast that includes pastries and fruit.  You'll then follow a guide and kayak through mangrove islands.  You'll then return to the boat for a buffet lunch that includes Key West's "pink peel" shrimp, fried chicken, deli meat, cheeses, fresh bread, etc.  You'll then spend the afternoon snorkeling at a nearby patch reef.  Afterwards, you'll get back on board where you can help yourself to unlimited beer, wine, and soft drinks at the open bar (which is included in the price of your excursion).
4. Key West Mangrove Ecosystem Paddleboard Tour
Another great eco-tour you could take while you're in Key West, Florida is the Key West Mangrove Ecosystem Paddleboard Tour.  No paddleboarding experience is necessary on this tour, as the waters are super shallow and there will be a guide.  The guide, in fact, will also teach you about the geological structure of the Keys and the wildlife that inhabit the area.  Some of the animals you might see include tropical fish, aquatic birds, starfish, crabs, jellyfish, sponges, and sea cucumbers.
5. Sunset Cruise & Glass Bottom Eco Tour
Get breathtaking views of North America's only living coral reef during the Sunset Cruise & Glass Bottom Eco Tour.  You can see them up close without getting wet and in an air-conditioned cabin through glass-bottom windows on your catamaran in this tour.  More than 300 marine life species, like the majestic elkhorn, pufferfish and brain coral, could be seen during your boat ride.  You'll learn a lot from your informative captain & crew.  And you'll also get to witness one of the most beautiful sunsets in the world from the water.
6. Key West Helicopter Eco Tour
Not all Key West eco tours take place in the water; this Key West Eco Tour takes place in a helicopter!  You'll get amazing aerial shots above Key West, Snipe Keys, and Mud Keys.  You could see sharks, dolphins, sea turtles, stingrays or even a sunken boat!
7. Florida Keys Eco – Adventure
Take your choice of a stand-up paddleboard or a single or double kayak with a marine biologist out to the sea grass flats in the Florida Keys Eco – Adventure.  This is an amazing chance to explore the unspoiled old-growth mangrove eco-system and see amazing marine life such as bonnethead sharks, nurse sharks, southern stingrays, barracudas, manatees, spotted eagle rays, sea turtles, tropical fish, tarpon, etc.  After that, you'll get refreshing cold drinks and lunch.  After lunch, you'll get to snorkel with the marine biologist guide where you could see dolphins, nurse sharks, moray eels, sea turtles, fish and more.