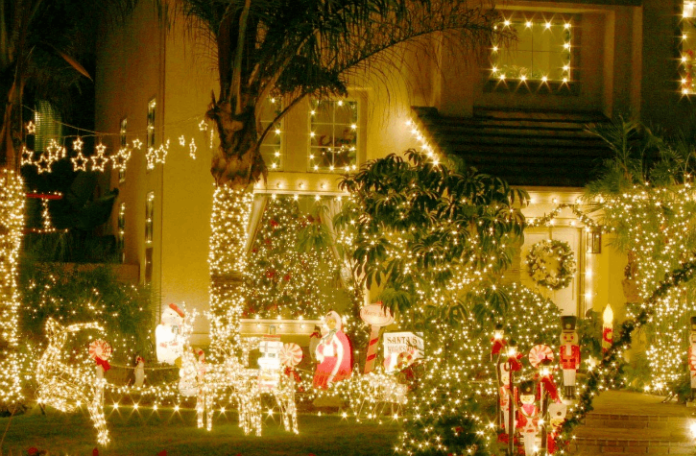 If you click on the links in this post, we may earn money from the companies mentioned in this post, at no extra cost to you. You can read the full disclaimer here.
Newport Beach Christmas Lights Cruise
For over one hundred years, Southern California residents have enjoyed the Newport Beach Christmas Boat Parade.  You can see boats, yachts, canoes, and kayaks decorated for the holiday season.  Hundreds of ships compete for top awards.
Bayfront homes in Newport Beach also get in on the holiday spirit.  After Thanksgiving, you see the homes decorated with elaborate holiday decorations and Christmas light displays.  So starting in December, you can enjoy beautiful holiday decorations.
Want a great way to see these festive holiday lights & decorations?  Then consider taking the Newport Landing Cruise.  You'll be able to see the light displays of Bayfront estates.  And you can enjoy one of the largest decorated boat parades in the country.
On this tour, your vessel will follow the boat parade route, so you'll see the best in show houses & homes for the parade.  And you'll also get a chance to see the ships decked out with holiday cheer.  So it is kind of the best of both worlds.
If you are only interested in the holiday lights of the Newport Beach homes, then you can take a cruise starting December 2, 2022, and up to December 31, 2022.
If you want to see the boat parade, then you'll need to book the cruise on December 14, 2022, or December 15, 2022, because that's when the boat parade is happening.  The parade also takes place from December 16th through December 18th, but those cruises are not eligible for the coupon I'm about to tell you about.
Coupon
So about that coupon that will save you money on this holiday boat cruise!  Click here and you can save up to 44% on the holiday lights cruise or Christmas boat parade cruise.
Make sure you act now, though.  As I said, they are limiting the capacity so everyone can properly social distance.  So book your ticket now while there is still availability!