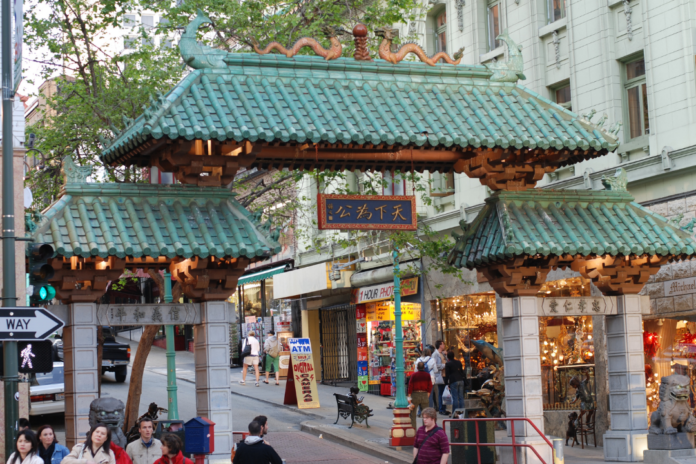 If you click on the links in this post, we may earn money from the companies mentioned in this post, at no extra cost to you. You can read the full disclaimer here.
Come get a taste of history and delicious authentic Chinese cuisine on a two-hour walking tour of Chinatown. You'll see Chinatown's most famous sights plus intriguing hidden gems never seen by the bus tours. It's great exercise and your taste buds will be delighted!
You will meet your guide at Dragon's Gate. Built in 1972, it is the main entrance to Chinatown and has the inscription, "All under heaven is for the good of the people," by Dr. Sun Yat Sen, who was known as the father of modern China.
San Francisco has the largest Chinatown outside of Asia and the oldest Chinatown in North America.
The first Chinese immigrants came to San Francisco in1848. In 1849, gold was discovered at Sutter's Mill. Tens of thousands of people from all around the world came to California hoping to strike it rich. In 1852, 67,000 immigrants came to San Francisco, with almost ⅓ of them being Chinese.
Tour Itinerary
Chinatown grew and today it covers over 30 blocks. You'll stroll down Stockton Street past busy markets selling fresh produce and exotic foods. Your knowledgeable guide will tell you about Chinatown's rich history, culture and authenticity.
See buildings designed like pagodas. Have your camera at the ready to capture photos of beautiful street decorations.
You'll visit Old St. Mary's Cathedral. Constructed in 1853, it was the first Asian church in North America.
Your next stop will be at Eastern Bakery and you'll taste traditional Chinese cookies and pork buns (subject to availability). The bakery owners will give you tips on how you can make these cookies.
You'll see Portsmouth Square which has been called "the heart of Chinatown." The park is home to many historical markers and statues. In 1849, the discovery of gold was first announced in this square.
Be sure to come hungry to this tour. The next stop is Delicious Dim Sum. Here you can tempt your taste buds with homemade "small dishes," like dumplings, won tons, egg rolls and more.
The tour's finale will be at Golden Gate Fortune Cookies Co. You will have a chance to taste the cookies. You'll also learn about the cooking techniques needed to make them as well as the historical significance of the fortune cookies.
Chinatown Tour Discount
Are you looking for a way to save money on this tour.  Click here and you can save $11 (20% discount).