If you click on the links in this post, we may earn money from the companies mentioned in this post, at no extra cost to you. You can read the full disclaimer here.
Visiting Orlando is so much fun during any time of the year, but it's especially magical around Christmas time.
And if you're planning a holiday trip to Orlando, Florida, you're definitely going to want to include visiting Universal Studios Resort as part of your travel itinerary!
But maybe you've never visited Universal during the holiday season. Or perhaps you have but you're not sure what activities you can enjoy this year.
Not to worry! We'll go over all of the fun Christmas events at Universal Orlando for 2021 in this guide. This includes the Christmas parade, popular Grinchmas show, Holiday Tribute Store, a fabulous holiday tour, seasonal happenings at the Universal hotels and more.
Universal's Holiday Parade featuring Macy's
This holiday parade takes place nightly at Universal Studios Florida.
And since it's featuring Macy's, you'll get to see gigantic Macy's balloons!
Plus, there are colorful, detailed floats, featuring some familiar favorites (like the Minions from Illumination's Despicable Me, and characters from DreamWorks Animation's Madagascar and Shrek).
And what Christmas parade would be complete without an appearance from Santa Claus?
You can see for yourself how much fun it is here:
The Grinchmas Who-liday Spectacular
Are you a fan of How the Grinch Stole Christmas! by Dr. Seuss (the inspiration for the show)? Do you enjoy live entertainment? Are you looking for ways to get into the Christmas spirit this year? If you answered yes to any of these questions, you should definitely check out the Grinchmas show.
This live show, starring (of course) the Grinch, combines humor, music, and some heartwarming moments.
To watch the Grinchmas Who-liday Spectacular, you'll need admission to Universal's Islands of Adventure.
Also at Islands of Adventure, you'll get to enjoy photo opportunities with – and perhaps some listen to some singing by – residents of Whoville.
Tip: When we attended the first showing on its 2021 opening day (November 13), we had to walk quite a bit to get to the theater (the old Blue Man Group theater). Where to go is fairly clearly marked – you start off in Seuss Landing – but it takes longer to get to the theater than it initially seems. So you definitely want to get there well before showtime.
Holiday Tribute Store
This fun and charming store is located in the New York area of Universal Studios Florida. And it's themed to the holidays! Specifically, you can visit Santa's Workshop, the Grinch's lair or even the Yule Ball (the formal wizard winter celebration).
Christmas in The Wizarding World of Harry Potter
You can tell it's Christmas time at Hogsmeade (in Universal's Islands of Adventure) and Diagon Alley (in Universal Studios Florida)! Both sections are full of beautiful Christmas decorations.
Enjoy the special holiday elements in the performances of Celestina Warbeck and the Banshees as well as The Frog Choir.
And when the sun goes down, Hogwarts Castle in Islands of Adventure lights up with The Magic of Christmas.
Universal's Holiday Tour
If you want the ultimate holiday experience at Universal Orlando, then this tour is for you!
This is a semi-private tour (can include multiple parties but no more than 15 guests total). It lasts approximately 5 hours. You'll enjoy lots of fun holiday activities:
Reserved viewing area for Universal's Holiday Parade featuring Macy's
Reserved seating area for The Grinchmas Who-liday Spectacular
Exclusive On-Stage Holidays Q&A with the Whos
Meet and greet with Santa with one (1) keepsake photo
Meet and Greet with the Grinch and hot cocoa bar at Circus McGurkus Cafe Stoo-pendous
Universal's Holiday Tree Hunt
After-hours showing of The Magic of Christmas at Hogwarts™ Castle
Because you'll be visiting both Universal's Islands of Adventure and Universal Studios Florida, you'll need valid park-to-park admission (it isn't included with the tour). Depending on the date you choose, it costs between $69.99 and $89.99.
You can book a tour for the following dates:
November 21-28
December 12-16
December 18-January 2
If you try to book a date and it's not currently available, you might want to try calling and asking about a waiting list.
Mannheim Steamroller
Are you a fan of the best selling holiday artist of all time, Mannheim Steamroller? Then you'll definitely want to catch one of their live performances at Universal Studios Florida! See them in person on one of the following dates:
December 4
December 5
December 11
December 12
Holiday Tree Hunt
If you like scavenger hunts and Christmas trees, you'll want to do this!
First, you'll need to purchase a Holiday Tree Hunt brochure, which costs $10 plus tax.
Next, you'll look for various trees, decorated for the holidays, inside the 2 theme parks (Universal Studios Florida and Islands of Adventure) as well as at Universal CityWalk. There are 15 trees in all. When you find a tree, present your brochure to a Team Member at the location so you can get a stamp on your brochure.
Then, you can redeem your brochure for a special holiday ornament!
The following locations are where you can get your stamps (and purchase a brochure if needed).
Universal Studios Florida
The Bourne Stuntacular Gift Shop
Holiday Tribute Store
MIB Gear
San Francisco Candy Factory
Silver Screen Collectibles
SpongeBob StorePants
Universal Studios Store
Islands of Adventure
All Hallows Eve Boutique
Cats, Hats & Things
Comic Book Shoppe
Islands of Adventure Trading Company
Jurassic Outfitters
Toon Extra
Universal CityWalk
Universal Legacy Store
Universal Studios Store
Once you're ready to redeem your ornament, you can do so at these places:
Park Plaza Christmas Store (Universal Studios Florida)
Port of Entry Christmas Shoppe (Islands of Adventure)
Universal Studios Store (Universal CityWalk)
Now, the fine print does indicate that in order to redeem the ornament, you don't actually need to get any stamps for finding the trees. But it seems like that would be missing out on all of the fun!
Universal Studios Orlando Hotels at Christmas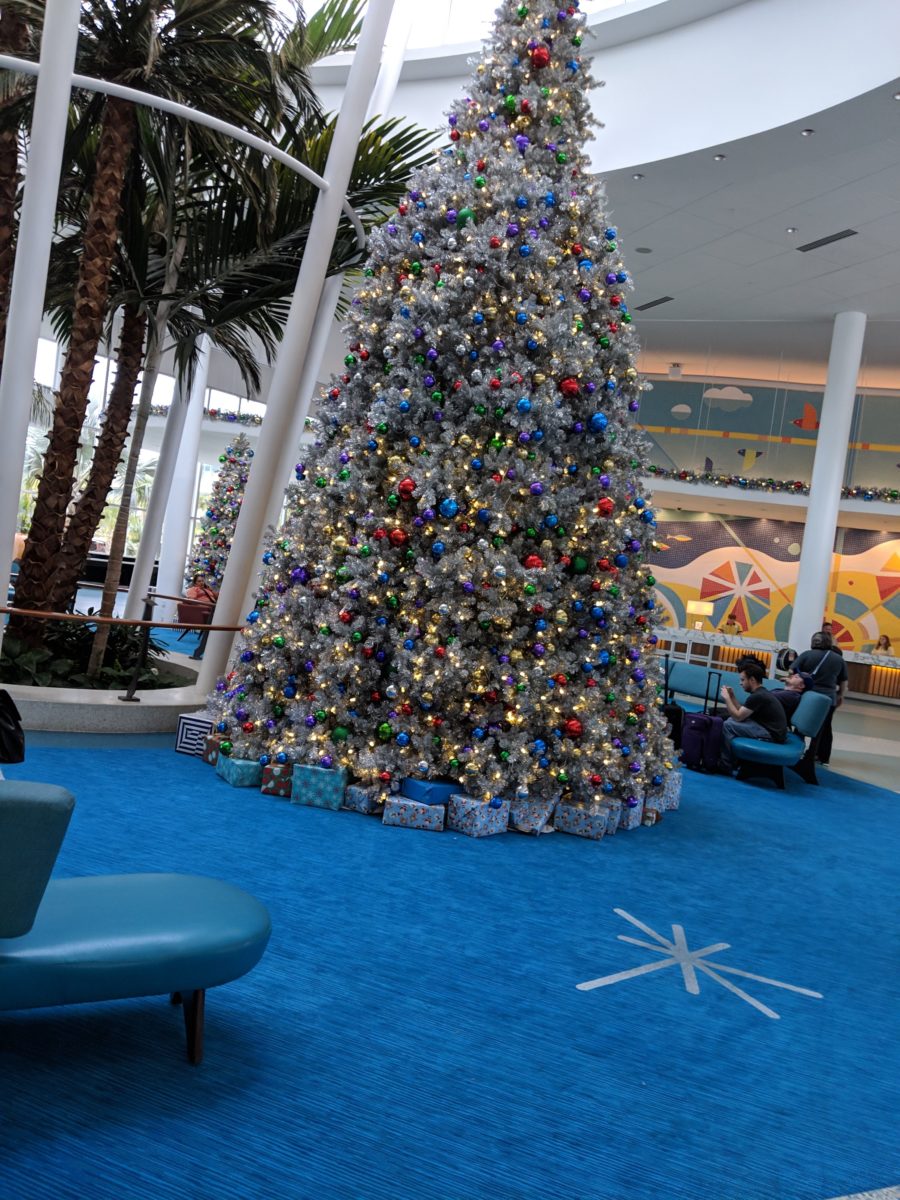 If you stay at a Universal Studios hotel in Orlando during the Christmas season, you can enjoy the gorgeous holiday decor throughout the resort. You can see the Christmas decorations in this video of Portofino Bay.
But it's not just Christmas decor that makes celebrating the holidays at a Universal hotel special. There are also a number of fun holiday-themed activities you can enjoy! At each hotel, you can attend a Hanukkah Menorah Lighting Ceremony. And there are some events that are specific to the various hotels as well.
Let's take a look at some of the highlights at all of the Universal hotels.
Loews Portofino Bay Hotel
Strolling Holiday Carolers
Christmas Tree Lighting Ceremony & Party on the Harbor Piazza
Holiday Crafts & Activities for Children
You can find out more in this detailed Portofino Bay Hotel Christmas guide.
Loews Royal Pacific Resort
Christmas Day Breakfast Buffet in Jake's American Bar
Christmas Day Buffet in Islands Dining Room
Hard Rock Hotel
Christmas Tree Lighting Ceremony in the Lobby
Christmas Eve & Christmas Day Family-Style Dinners in The Kitchen
Christmas Day Brunch in The Kitchen
Loews Sapphire Falls Resort
Christmas Day Breakfast Buffet in Amatista Cookhouse
Christmas Day Buffet in Amatista Cookhouse
Universal's Aventura Hotel
Christmas Day Meal Special in Urban Pantry
Universal's Cabana Bay Beach Resort
Winter Wonderland and Christmas Tree Lighting Ceremony in the Lobby
Christmas Day Meal Special in Bayliner Diner
Surfside Inn and Suites (Universal's Endless Summer Resort)
Christmas Day Meal Special at Beach Break Café
Dockside Inn and Suites (Universal's Endless Summer Resort)
Christmas Day Meal Special at Dockside's Pier 8 Market
Universal Orlando Discount Tickets
I know reading this is going to want to make you visit the Universal Orlando Resort this holiday season!
But before you book your trip, make sure you click on this link.  You can find discount tickets to the theme parks and cheaper prices for the Universal Orlando hotels.  You can even save money here by booking your hotel and tickets together!