If you click on the links in this post, we may earn money from the companies mentioned in this post, at no extra cost to you. You can read the full disclaimer here.
One of the things I love about Disney World resorts is how the dining often matches the theming of the hotel. And at Disney's Animal Kingdom Lodge, you can enjoy African-inspired dining at its many restaurants:
Jiko – The Cooking Place
The Mara
Maji Pool Bar
Sanaa
Victoria Falls Lounge
Boma – Flavors of Africa
Cape Town Lounge and Wine Bar
Uzima Springs Pool Bar
Sanaa Lounge
This month, several of the Animal Kingdom Lodge restaurants are adding delicious new dishes to their menus. We're going to go over these new menu items. And then we'll share some advice for staying at Animal Kingdom Lodge!
Animal Kingdom Lodge Menu Additions
Disney's Animal Kingdom Lodge has two sections, Jambo House and Kidani Village. We go over the differences between them here. For each restaurant that's added new options to their menu, we'll let you know where at the hotel they are located.
The Mara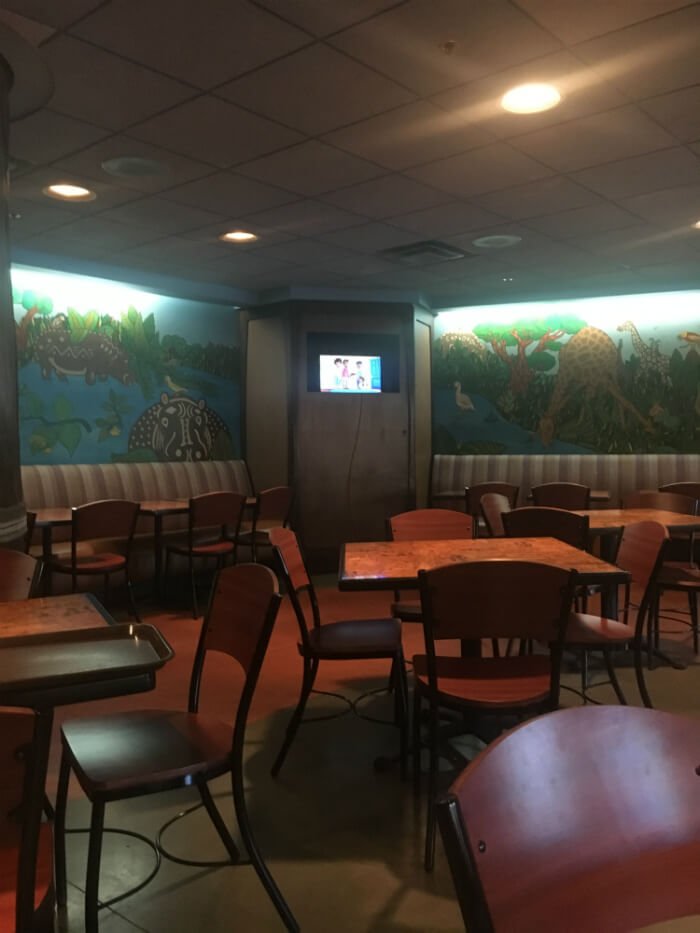 A colorfully decorated dining location, the Mara is basically the Animal Kingdom Lodge food court. The restaurant, located at Jambo House, is named for the Mara River that starts in Kenya and ends in Tanzania.
Starting December 8th, there are several new items you'll find on the menu:
Chermoula-spiced Shrimp Bowl – Includes pilau rice (similar to rice pilaf), cucumber-tomato salad, grilled shrimp, chermoula sour cream, and kale slaw
Marinated Sun-dried Tomato and Herbed Ricotta Flatbread – Flatbread with tomato sauce, arugula, fresh herb ricotta, sun-dried tomatoes, and four-cheese blend
Oak-grilled Chicken Bowl – Includes marinated chicken thighs and pilau rice
South African Vegetable Bowl (plant based) – Includes avocado-tahini sauce, curried vegetable stew, kale slaw, pilau rice, and dried fruit achar
Jiko: The Cooking Place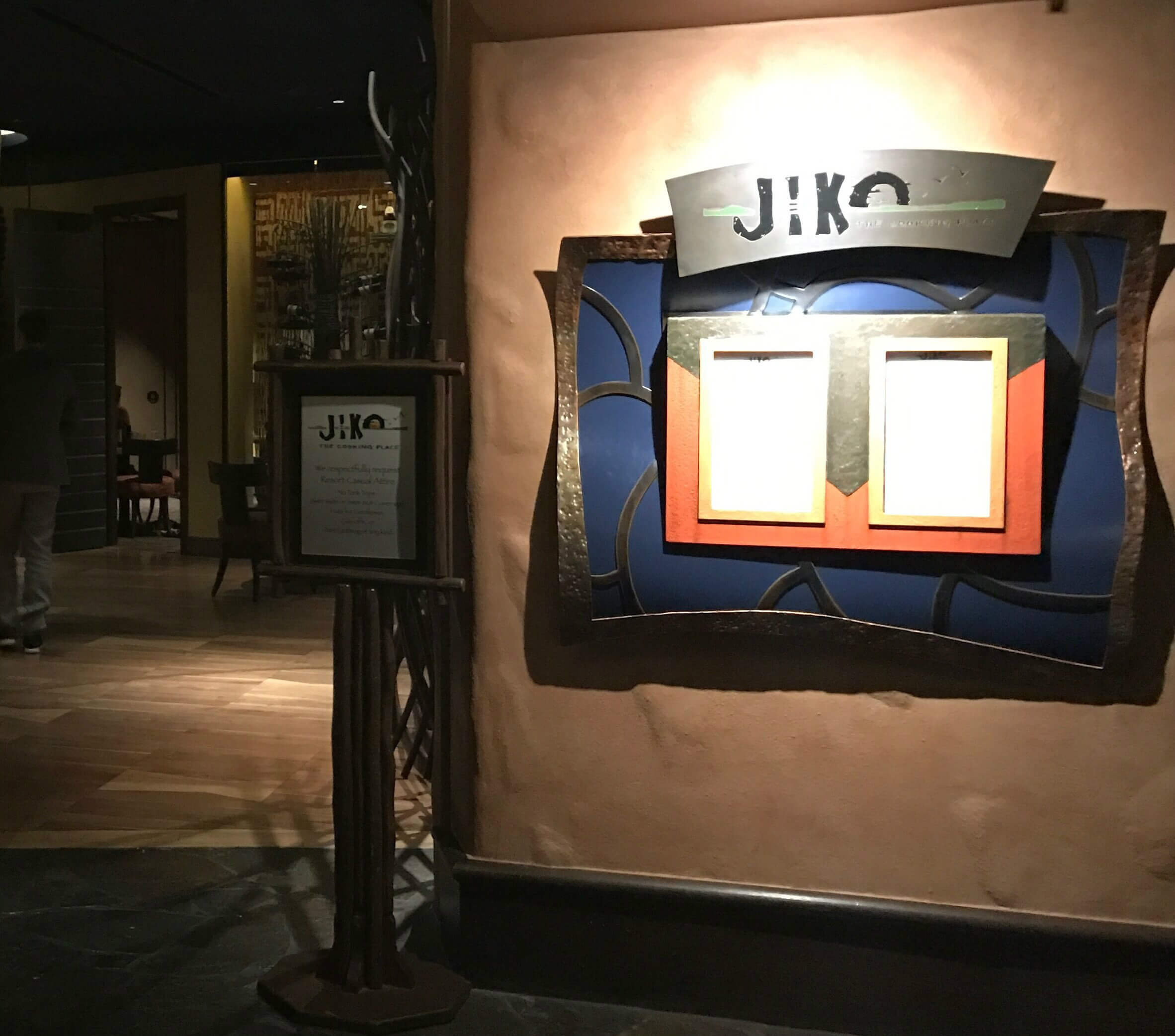 A Disney Signature Dining experience, Jiko is a fine dining location at the Jambo House. Its menu, which changes seasonally, includes traditional African, Mediterranean and Indian cuisine. It is recommended that you make reservations in advance; we go over the pros and cons of making dining reservations at Disney World here.
The menu now features a new appetizer option:
Sweet Potato-Groundnut Soup – pickled red chilies, finger lime, sorrel, and spiced groundnuts (aka peanuts)
Maji Pool Bar
This appropriately named pool bar – "maji" is Swahili for "water" – is located in Kidani Village. You can order sandwiches, salads, and snacks, including both alcoholic and non-alcoholic beverages.
And starting December 8th, you can also order these dishes:
Multigrain Tabbouleh (plant based) – A salad with grilled vegetables, grains, and fresh herbs
Short Rib Grilled Cheese – Gouda cheese, pickled onion, and short ribs slow-cooked with red wine, tamarind, and a house-made spice blend, all between two slices of buttery brioche bread
Shrimp Bakuli – A bowl with pickled carrots, chilled poached shrimp, and Basmati rice with berbere aïoli and a soy-ginger dressing
Spiced Pork Nachos – Nachos topped with herbed crema, beans, kachumbari, and tender pork prepared with garlic, vinegar, paprika, a house-made spice blend, and tomato
Other Animal Kingdom Lodge Restaurants
In addition to the new and creative food options, there's also a signature beverage that will be coming to some of the restaurants at Disney's Animal Kingdom!
Way of Water was created to celebrate the premiere of the new movie "Avatar: The Way of Water." It's a fabulous blend of BACARDÍ Raspberry Rum, African Starr Rum, lemonade, and Bols Blue Curaçao. And this beautiful drink is garnished with mint and a glowing lotus flower.
You can order it at the following locations:
Sanaa (Kidani Village)
Boma: Flavors of Africa (Jambo House)
Victoria Falls Lounge (Jambo House)
Please note that since this is an alcoholic beverage, guests must be 21 years of age or older to enjoy it.
Staying at Animal Kingdom Lodge
After reading about all of these delicious offerings, you may be wondering: Can you eat at Animal Kingdom Lodge without staying there?
Luckily, the answer is yes! If you have dining reservations at one of the table service restaurants, you can dine there. You can even park at the hotel if you have a restaurant reservation. In fact, you can park for up to 3 hours, which should give you a little time to look around the beautiful hotel.
But there is a good chance you'll want to stay at the hotel for longer than 3 hours! Animal Kingdom Lodge has a great feature where you can stay in a room with a Savanna view. Here's a video tour of our family's stay in a Savanna view studio at Kidani Village. You can see both inside our deluxe studio as well as some of the animals we were able to see from our balcony.
If you'd like to book at room at the resort, check out our list of 5 ways to save money at Animal Kingdom Lodge.
And once you've booked your stay, take a look at our 10 tips for staying at Animal Kingdom Lodge.