If you click on the links in this post, we may earn money from the companies mentioned in this post, at no extra cost to you. You can read the full disclaimer here.
Disney's Animal Kingdom Lodge is a wonderful hotel to stay in when you visit Walt Disney World in Orlando, Florida.  Not only do you get the perks of a Disney hotel (free transportation to/from the airport, extra time in the parks before it opens or after it closes, frequent buses to the parks, etc.) but you also can see animals from your hotel!  My family has stayed there multiple times and we have loved every stay.
By staying here more than once, we have learned a few things about how to make a stay at Animal Kingdom Lodge even better.  So we have compiled this list of ten ways to make your stay at Animal Kingdom Lodge the best!
1. Book Your Hotel Through David's Vacation Club Rentals
The first time I stayed at Animal Kingdom Lodge, I booked through Disney's website.  I thought I got a great deal, but one night was more expensive than multiple nights when I booked later.  And that is because I discovered booking a Disney Vacation Club room.  I am not a Disney Vacation Club member.  But that doesn't matter.  You can still get a DVC room through David's Vacation Club Rentals and you spend so much less money.  We have a video of how you can do this here:
Now, there are two buildings in Animal Kingdom Lodge: Jambo House and Kidani Village.  We go into a comparison between the two buildings here.  Kidani Village is entirely made up of Disney Vacation Club rooms.  But there are also Disney Vacation Club rooms at Jambo House.  There are savanna view rooms available with Disney Vacation Club rooms.  I bring this up to let you know that you'll be able to have the exact same great experience by staying in a Disney Vacation Club.  You'll just spend a lot less money.
2. Get a Savanna View Room
When you book your room at Animal Kingdom Lodge, you can choose a Savanna View room.  Staying at a Savanna view room is incredibly special.  You can literally see animals from your room's window.  You can also go sit on a balcony and watch animals.  Now, every trip is different and you may not always see animals.  I've had different experiences each time I have stayed.  But every experience has been amazing!  It just makes the trip even better, even if you don't spend that much time in the room.  We actually made a video from our Savanna view room on our last trip you can see here:
But what happens if all the Savanna view rooms are sold out for your stay?  Should you not go at all?  Well, absolutely not!  You can still get so much out of your stay.  You'll see get the amazing African theming and Disney's signature attention to detail.  And there is a way you can watch the animals.  There are great viewing areas where you can sit and watch the amazing animals walk by.  So if you don't have a Savanna view, I would take advantage of this.
3. Take Lots of Pictures & Videos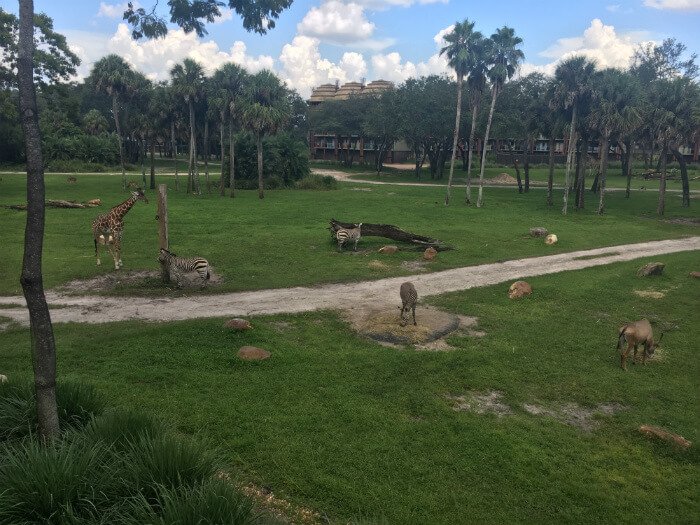 Staying at Animal Kingdom Lodge is obviously an amazing experience, so you're going to want to remember it.  Make sure you take lots of pictures & videos so you can remember it – and so you can share it with friends and family on social media!  And if you worry your phone will die, check out how we keep our phone charged at Disney World.
Speaking of videos, here is another video of Kidani Village that will get you pumped for your trip:
4. Decide Ahead of Time on Genie Plus & Lightning Lane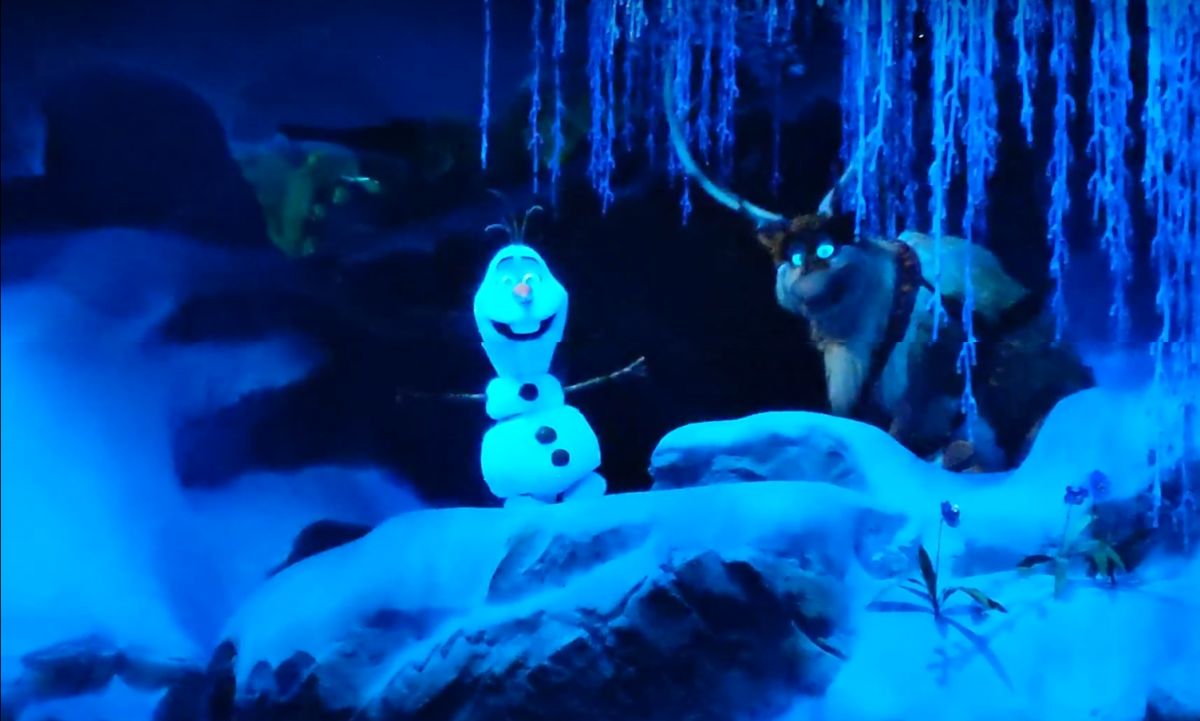 Genie Plus is a service you can purchase during your Disney World trip. It allows you to make reservations to use the Lightning Lane entrance to certain rides. The whole idea is that it lets you save a lot of time waiting in line for your favorite rides. Rides that typically have long lines that you'll want to use Genie Plus for include Peter Pan's Flight at Magic Kingdom, Na'vi River Journey & Kilimanjaro Safaris at Animal Kingdom, Frozen Ever After, Remy's Ratatouille Adventure & Test Track at Epcot and Millennium Falcon: Smugglers Run & Slinky Dog Dash at Hollywood Studios. We go over what Genie Plus is and how it works here.
The cost of Genie Plus varies from day to day. (If the parks are more crowded, the cost tends to go up.) It might range from $15-$30 per person (plus tax). However, as long as it can fit into your budget, I recommend deciding in advance whether or not you want to use Genie Plus on each day of your vacation. That's because the later in the day you purchase Genie Plus, the less availability of rides there is. We discuss whether or not Genie Plus is worth the cost here.
So with Genie Plus, you can choose between many rides. There's also an a la carte option where you pay for an Individual Lightning Lane. You are paying just for that one ride. Only a few rides have the Individual Lightning Lane option, and they are not included with Genie Plus. While it can vary, generally those rides are:
Seven Dwarfs Mine Train at Magic Kingdom
Avatar Flight of Passage at Animal Kingdom
Guardians of the Galaxy: Cosmic Rewind at Epcot
Star Wars: Rise of the Resistance at Hollywood Studios
When you stay at a hotel on Disney World property, you get the option to purchase an Individual Lightning Lane starting at 7:00 AM that day. Everyone else has to wait until the park opens that day. Therefore, it's a good idea to decide beforehand if you want to get an Individual Lightning Lane so you can take advantage of the early start and make sure to secure the ride you want.
5. Order Magic Bands Ahead of Time
One of the neat perks about staying at an official Disney World hotel is the Magic Band.  They not only can get you in the park but you can also use it to get in your room instead of having to use a key!  You can also use your Magic Band when you have a Fast Pass and you want to get in the Fast Pass line.  You can also link your Magic Band to your debit or credit card and then pay for everything at the park with your Magic Band.  That could allow you to get into the park without any kind of bag, which means you won't have to wait in line for bag check!
Disney recently released a new line of Magic Bands. A Magic Band+ has the benefits of the previous bands but also offers some additional features. We go over those features here.
Anyone can buy a Magic Band or Magic Band Plus, but if you are staying at a Disney World hotel, you get a discount (about $10 off). But in order to do that, you'll need to order your Magic Bands before you get to your hotel.  You can do this through My Disney Experience.
6. Bring Food & Drinks
Now, I said earlier that you'll be able to have the same experience in a Disney Vacation Club room.  But the truth is you actually get a little bit better.  In a regular room at Animal Kingdom Lodge, you do not get a kitchen.  But you get a kitchen with a Disney Vacation Club room or villa.  You've got a refrigerator, microwave, silverware, plates, dishwasher…when I say kitchen, I mean a kitchen!
You also have a table.  Last time I stayed here, my family brought food and we were able to each lunch while sitting and watching the animals outside.  What an experience!  You won't feel like you're saving money; you'll feel like you've just given your family an unforgettable experience!
Now, if you are flying in, you might think you won't be able to bring food.  But you can actually have food delivered from Amazon Pantry.
7. Have Breakfast at the Hotel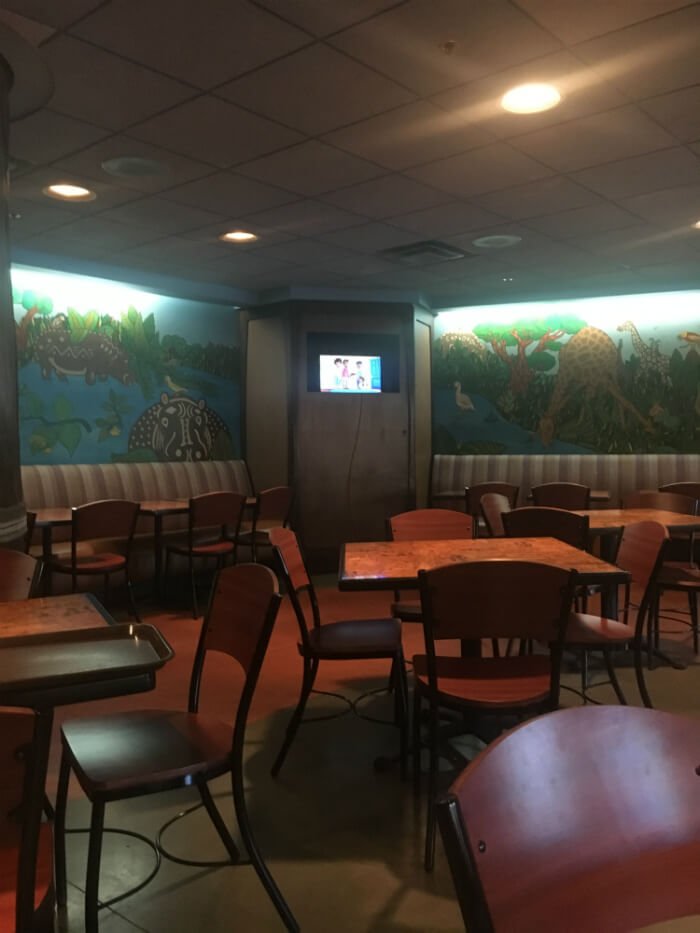 Now, I know I said you should eat some meals at the room.  And that is certainly true.  But at least one day in your trip, have breakfast at the hotel.  Animal Kingdom Lodge has really great quick-service breakfast.  If you're staying in Jambo House, you can have breakfast at The Mara.  And if you're staying at Kidani Village, you can have breakfast at Sanaa.  Sanaa is really neat because you can actually see animals while you eat.  You can see our review of Sanaa here.  But at both places, you can have Mickey waffles!  And if you're worried about the price, read how we save money on Disney dining.
8. Buy Your Disney World Tickets Beforehand
If you're staying at Animal Kingdom Lodge, then I'm sure you'll want to visit Walt Disney World.  Make sure you buy your tickets before you get there.  You'll save money by buying your tickets online.  If you buy your tickets at the gate, you'll spend more.  And you can save even more money on tickets by taking advantage of these Disney World ticket deals.
9. Visit Animal Kingdom at Night
Animal Kingdom is a really cool park to be in at night.  Pandora – The World of Avatar looks totally different at night – and it's amazing!  It's like getting an all-new experience.  Animal Kingdom also has great nighttime shows.  Rivers of Light is a great show you can watch at night.  Tree of Life Awakenings is a great show where you can see beautiful projections on the Tree of Life.
Now, I can guess what you're thinking.  Sure, this sounds great.  But what does it have to do with staying at Animal Kingdom Lodge?
But here's the thing about Animal Kingdom Lodge.  As you might have assumed, it is very close to the actual Animal Kingdom Park.  Now, you can't actually walk to the park.  It's not like how you can walk to Hollywood Studios from Boardwalk, Epcot from the Beach Club, or Magic Kingdom from Bay Lake Tower.  But the bus ride is really quick.  Seriously, you'll get on the bus to go back to your hotel and before you know it, the bus is letting you off.  Busses to other Disney hotels or off-site Disney hotels will take longer.  So if you're worried about your kids staying out too late, you should be able to get back to your room quicker if you are staying at Animal Kingdom Lodge.  So take advantage of this and see Animal Kingdom theme park at night!
10. Shop Before You Go
As I'm sure you're aware, Disney World can get expensive.  But there are some items you can buy beforehand that will make your trip cheaper.  If you wait to buy some of these items at the park, you'll pay more.  So check out this list.