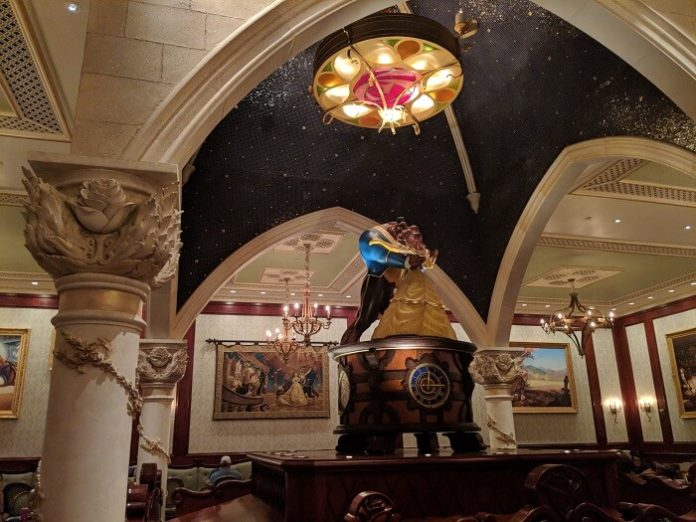 If you click on the links in this post, we may earn money from the companies mentioned in this post, at no extra cost to you. You can read the full disclaimer here.
If you're planning on visiting Walt Disney World in Orlando, Florida and you're going to spend a day at Magic Kingdom, then you're going to need to eat at some point.  While Magic Kingdom has lots of great rides & attractions, their dining options are lacking in my opinion when compared to say EPCOT.  But that doesn't mean of course you can't find great dining options. From the many, many times I've been to Magic Kingdom, here are, in my opinion, the 6 best places to eat at Magic Kingdom (and by the way, if you want to save money on dining at Magic Kingdom, here is a great way to do that):
1. Be Our Guest Restaurant
This is by far my favorite restaurant at Magic Kingdom, and you can find it in the New Fantasyland.  I absolutely love the theming, as the restaurant is set up like the castle in Beauty and the Beast (which is one of my favorite Disney movies).  You can enjoy a quick service breakfast & lunch and a sit-down dinner – personally, I prefer lunch because I like the menu better plus it's cheaper, although if you like meeting characters you may prefer the dinner because then you can meet The Beast.  In addition to the great theming, Be our Guest Restaurant has really delicious food with French & American cuisine (I personally recommend the Croque Monsieur or French Onion Soup). The one negative is I'm not alone in my opinion that this is a great dining experience – you're going to need to get a reservation here if you want to eat here.
2. Tony's Town Square Restaurant
This is a great restaurant right on Main Street, U.S.A. and like Be Our Guest, it is also themed after a beloved Disney classic, this one being Lady and the Tramp.  I liked the pizza here, which I was able to share (which helped save money). I also like how it is a sit down restaurant indoors (which is kind of a nice break for us adults in between running around the park) and you get waited on.
3. Columbia Harbour House
This is my favorite quick service restaurant at Magic Kingdom.  It's in Liberty Square and is not themed on a classic Disney movie but it fits in perfectly in Liberty Square, with a great historic New England seaside feel.  The shrimp is delicious; even those in my family that aren't big seafood fans like it. The restaurant mostly serves seafood, but there is other options (like chicken nuggets) if someone in your party can't, or won't, eat seafood.  Last time I was there we bought the shrimp & fish combo platter and we bought 3 meals for 4 people and were fine, which saved money.
4. Pinocchio Village Haus
If you like the Disney movie themed restaurants I mentioned before, then you'll like this restaurant theming since, as you probably guessed, it has a Pinocchio theme.  It is located in Fantasyland and, if you are lucky enough to snag one of these tables, you can even sit and watch people start their ride on It's A Small World. It is a quick service restaurant and offers affordable (well, affordable for Disney standards, at any rate Italian fare (I like the flatbread pizzas here).
5. Gaston's Tavern
Gaston's Tavern is a great place to go for snacks, but there are also deli sandwiches that you can purchase that can make for a good (and affordable – well, Disney affordable, anyway) meal.  It's located in the New Fantasyland near Be Our Guest restaurant.  The theming is really good and in keeping with Beauty & The Beast with on-point decorations, and I enjoy the musical arrangements.  They also have really delicious cinnamon rolls that I recommend to anyone with a sweet tooth!
6. Sleepy Hollow
I really like the food here, and the only reason it's not higher on the list, or that I don't visit this restaurant more, is because it is outdoors.  The weather can making eating outdoors not at all appealing to me, because it can get quite hot in Florida and eating indoors at one of the previous restaurants I mentioned can get you out of the heat (and the last time I visited in January I actually had the opposite experience, where I was so cold I wanted to get indoors to warm up!).  But there are times you can hit the weather just right at Disney World and eating here is a very pleasant experience. Not only is the food here delicious, with amazing waffles & strawberries, but it is located by Cinderella's Castle and you can get great Castle views during your meal.
7. Cosmic Ray's Starlight Cafe
This unique restaurant in Tomorrowland is a great place to cool off in the summer (or warm up in the winter) and they offer a lot of indoor seating.  What makes Cosmic Ray's Starlight Cafe stand out is the entertainment at the restaurant, namely an animatronic alien who "plays" the "astro organ" and sings (and also tells very cheesy jokes).  Not to spoil the magic for you, but as you'll be able to tell right away, this is pre-recorded.  This restaurant might appear higher on this list but the prices are a bit high in my opinion, but their burgers are very good.