If you click on the links in this post, we may earn money from the companies mentioned in this post, at no extra cost to you. You can read the full disclaimer here.
Walt Disney World in Orlando, Florida is a truly magical place to visit, well, anytime, but especially during the holiday season.
And one of the most popular things to do at Christmas time is enjoy the Candlelight Processional in EPCOT.
Today, we're going to go over what it is – and how you can guarantee your seat by taking advantage of a Candlelight Processional Dining Package!
What is the Candlelight Processional at Disney World?
The Candlelight Processional is a beloved tradition during the holidays at Walt Disney World – specifically, in Epcot.
During the holiday show, a celebrity narrator will share the story of Christmas, with the help of a large choir and 50-piece orchestra. This performance takes place at the America Gardens Theatre, which is an outdoor theater (partially covered) at the American pavilion in Epcot's World Showcase.
Epcot Candlelight Processional Narrators List
Nov. 24-25 – Chrissy Metz (New for 2023)
Nov. 26-27 – Luis Fonsi (New for 2023)
Nov. 28-29 – Ann-Margret (New for 2023)
Nov. 30-Dec. 2 – Simu Liu
Dec. 3-5 – John Stamos
Dec. 6-8 – Neil Patrick Harris
Dec. 9-11 – Marlee Matlin
Dec. 12-14 – Brendan Fraser (New for 2023)
Dec. 15-16 – Eva Longoria (New for 2023)
Dec. 17-18 – Joey McIntyre (New for 2023)
Dec. 19-20 – Sterling K. Brown (New for 2023)
Dec. 21-23 – Jordan Fisher (New for 2023)
Dec. 24-26 – Steven Curtis Chapman
Dec. 27-28 – Audra McDonald (New for 2023)
Dec. 29-30 – Lisa Ling
What time is the Epcot Candlelight Processional?
The performance times are:
Can you get Candlelight Processional tickets?
You cannot purchase tickets to the Candlelight Processional.
However, you can make sure you're guaranteed a seat. And that's by taking advantage of the Candlelight Processional Dining Packages!
What happens is that you'll eat at one of 8 Epcot restaurants the day of the performance. And then you will receive one guaranteed seat per person in your party!
Seven of these restaurants require advanced dining reservations, which you'll definitely want to do. Reservations open up online on October 17, 2023, and can be made up to 60 days prior to your Disney trip.
The eighth restaurant does not take reservations, so it's a great option if you aren't able to secure a dining reservation (or if you want to enjoy the cheapest option). However, it is subject to availability, so your safest option is to make a reservation at one of the other restaurants.
And just which restaurants are included in the dining package? Let's go over that now!
Candlelight Processional Dining Package Restaurants
Here are the different dining package options, along with prices for both kids (ages 3 to 9) and adults (ages 10 and up). Please note that these prices do not include taxes or gratuity. For all but the last, reservations are highly encouraged.
Spice Road Table
This Mediterranean restaurant is located in the Morocco pavilion.
It is the least expensive option of the restaurants requiring reservations, at $55 for adults and $24 for children.
Each person gets 2 small plates and 1 nonalcoholic beverage. Your party will also get a tagine and dessert platter to share.
You can see our review of Spice Road Table here.
Garden Grill Restaurant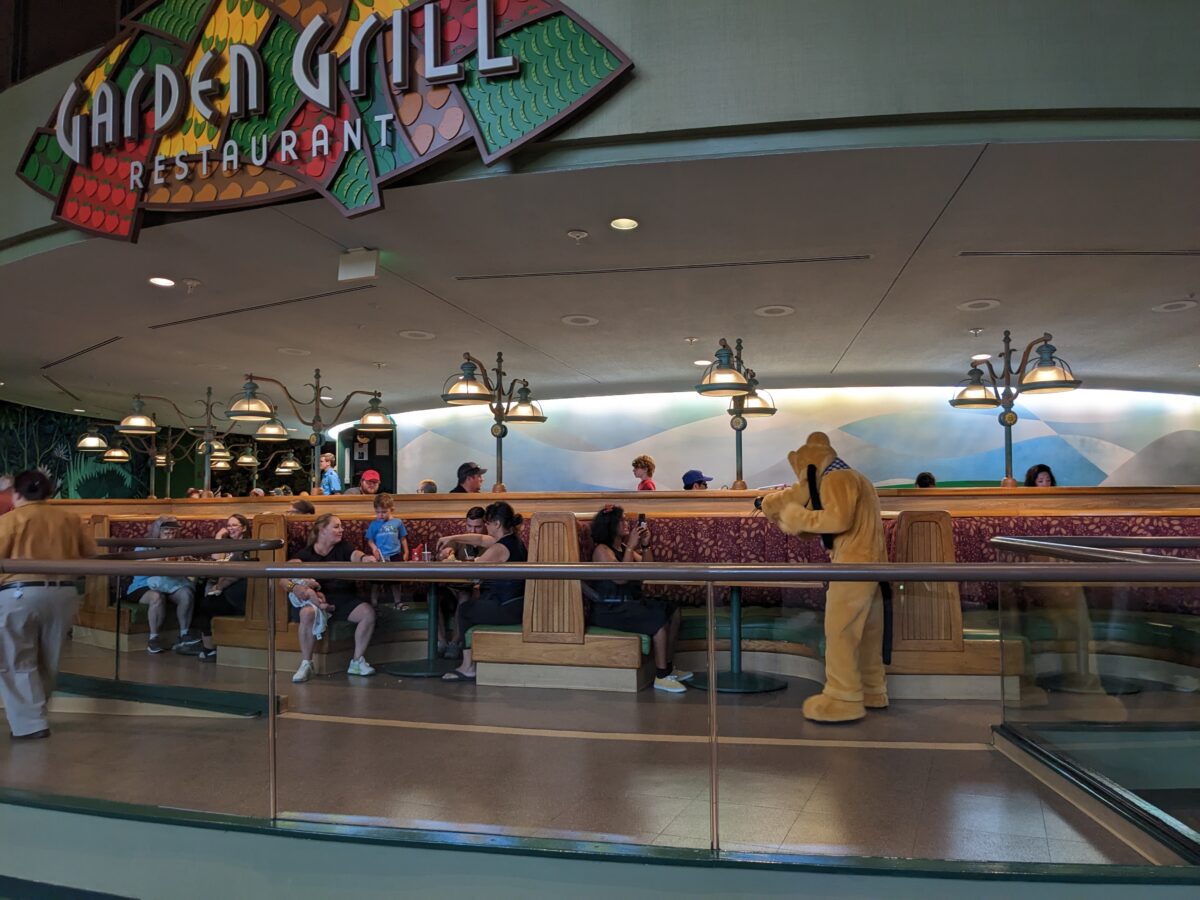 This is a character dining, family style restaurant in the Land pavilion.
For breakfast, the price is $63 for adults and $40 for children. And for lunch and dinner, the cost is $78 for adults and $50 for children.
The price includes a family style meal and nonalcoholic beverage per person.
Biergarten Restaurant
Biergarten is a buffet restaurant featuring German food and live entertainment.
The price for adults is $65, while for kids it is $37.
Each person will enjoy a buffet meal and a nonalcoholic beverage.
Find out what the restaurant is like in our Biergarten dining review.
Rose & Crown Dining Room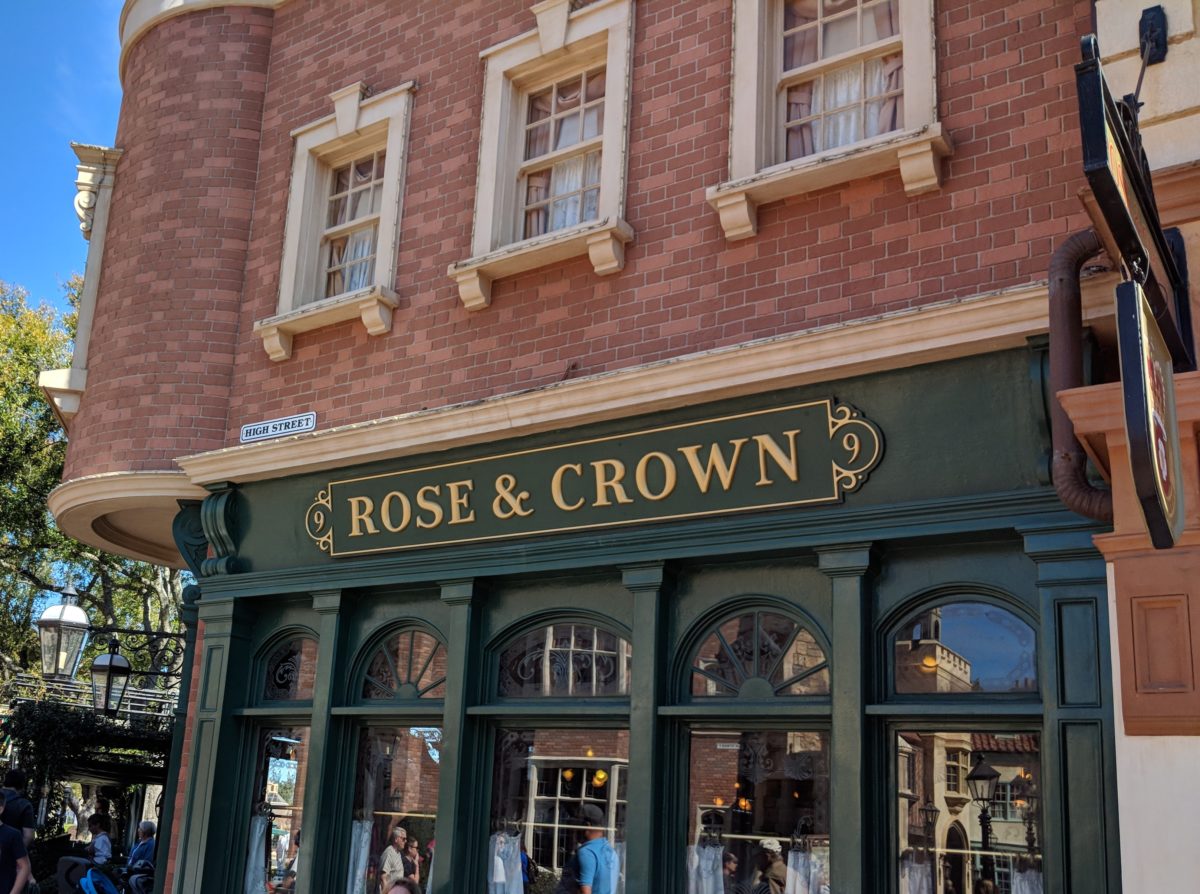 This British pub is located on the water – you can even enjoy outdoor seating with water views. (Indoor dining is available as well.)
For the dining package, the cost is $66 for adults and $29 for children.
This includes an appetizer, entrée, dessert, and nonalcoholic beverage.
Akershus Royal Banquet Hall
At Akershus, you can enjoy Norwegian food during your Disney Princess character dining experience.
The price for breakfast is $71 for adults and $45 for kids. For lunch and dinner, it costs $83 for adults and $53 for kids.
Included in the price is a family style meal and a nonalcoholic beverage.
We go over what it's like to dine there in our Akershus restaurant review.
Coral Reef Restaurant
At this seafood restaurant in The Living Seas, you can view over 2,000 sea creatures in a coral reef (including sea turtles, rays and even sharks).
The price is $78 for adults and $32 for children.
That includes a nonalcoholic beverage, appetizer, entrée, and dessert.
Le Cellier Steakhouse
This steakhouse is located in the Canada pavilion.
It's the most expensive dining package, at $104 for adults and $42 for children.
And with that price, you'll get an appetizer, entrée, dessert, and nonalcoholic beverage.
Regal Eagle Smokehouse: Craft Drafts & Barbecue
This is the only quick service restaurant on the list, as well as the only one that doesn't take reservations. You'll find the smokehouse in the American Adventure pavilion (aka the America pavilion).
The price is $41, making it the least expensive options for adults.
You'll get a nonalcoholic beverage, appetizer, entrée, and dessert.
And you can learn more about the food and dining experience in this review of Regal Eagle Smokehouse.
Epcot Ticket Discount
While you can't buy a ticket specifically for the Candlelight Processional, you will need park admission to Epcot.
If you need park tickets, we know of great ways to save money on your Epcot and Disney World tickets.