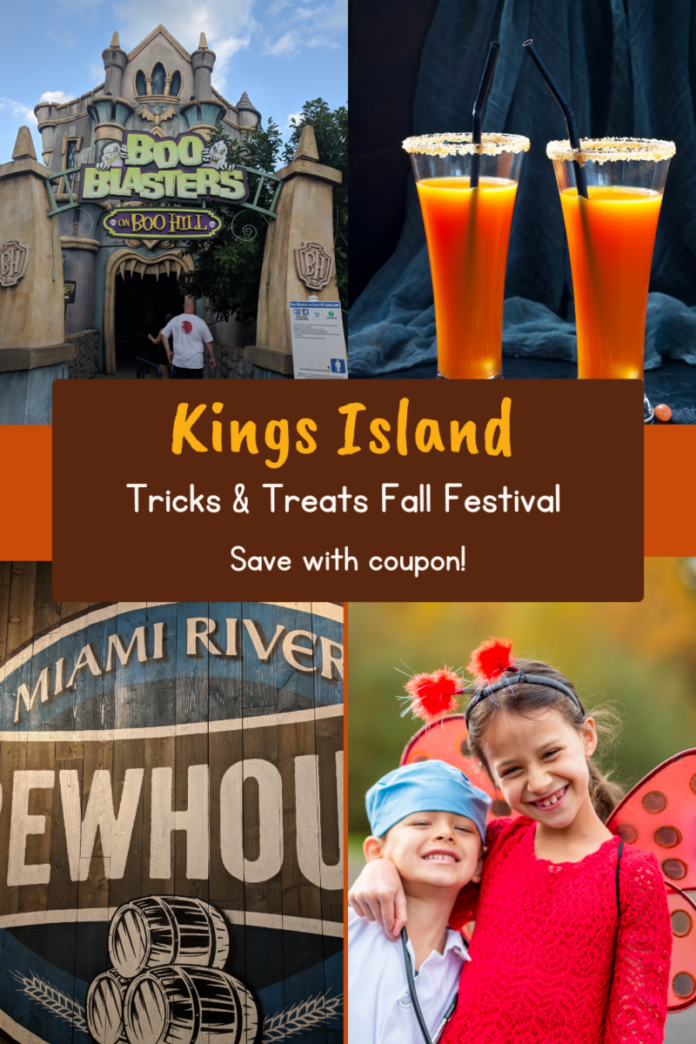 If you click on the links in this post, we may earn money from the companies mentioned in this post, at no extra cost to you. You can read the full disclaimer here.
Kings Island in Mason, Ohio near Cincinnati is one of my family's favorite theme parks.  We've talked about it a lot here on this blog.  In fact, we recently told you about King Island's Halloween Haunt event.  We've also shown you a virtual tour of the park.
But today, I want to tell you about a really fun fall festival you can enjoy there this autumn.  And that is the Tricks and Treats Fall Fest!
This festival takes place on weekends (Saturday and Sunday) starting this past weekend and running through October 29, 2023.
There are a lot of fun activities and food you can enjoy at this festival.  We're going to tell you about them.  And then we'll tell you how you can save money on tickets to the Tricks and Treats Fall Fest!
Trick or Treating
You'd have to be able to trick and treat in a festival with trick and treating in its name, right?  So I am really glad Kings Island has included that in its activities for this special event.  Ten different trick-or-treating spots are set up throughout the park.  Children will get individually packaged treats – and maybe even some fun tricks, too!
Halloween Costumes
When you think of trick or treating, you think of Halloween costumes, right?  Well, children who are 12 years old and younger can come to Tricks and Treats Fall Fest dressed up in their Halloween costumes!  Kings Island even has its own Costume Council searching for members to join their "houses" as they create teams for a big Halloween costume contest.
And if you haven't bought a Halloween costume yet for your child, you can purchase a  Halloween costume here.
Food & Drinks
The candy you get from trick-or-treating isn't the only thing you can eat at this festival.  There are great foods and drinks available.
There is a special fall festival menu available at the following locations:
Wishbone Grill
LaRosa's Pizzeria
International Street Funnel Cakes
Sweet Spot
Chicken Shack
The French Corner
Enrique's Cantina
Kings Island Food Truck
Rivertown Funnel Cakes
Grain & Grill
Rivertown Potato Works
There are also specialty Booze and Brews Bars throughout the park during Tricks and Treats.  You can get great craft beer, ciders, and specialty drinks there.  You can find them at the following locations:
Rotten Gourd
Mercado
Festhaus Bar
Jukebox Diner Bar
Oktoberfest Bar
Miami River Brewhouse
Halloween Crafts
You can enjoy Halloween crafts at the Tricks and Treat Fall Fest, too.
The crafts include:
Pumpkin Decorating
Halloween Coloring
Mask Making
Halloween Bracelets
Shows
There are multiple shows available during Tricks and Treats:
The Monsters Are Coming, Charlie Brown
The Fangtastics
DJ Dr. Scream Dance Party
Other Activities
But that's not all!  Other fall-themed activities you can enjoy at the event include:
Ghoulish Games
Corn Cart Alley
Monster Makeover
Artisan Pumpkin Patch
Children tractor rides
Oh, and did I mention some of your favorite rides will be available during this event, too?
Coupons
Oh, and here's something else great about this event: it is included in general admission to Kings Island.  And that means you can take advantage of these Kings Island coupons, which will save you money!  No promo code or discount code is even needed with these coupons!