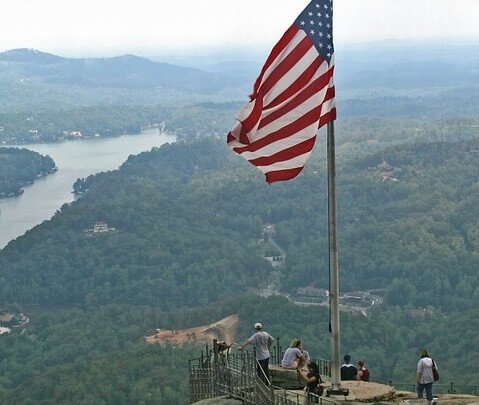 If you click on the links in this post, we may earn money from the companies mentioned in this post, at no extra cost to you. You can read the full disclaimer here.
Chimney Rock is a towering 315 foot granite outcropping on the very edge of the Blue Ridge Mountains.  From the top, take in stunning panoramic views of Hickory Nut Gorge and Lake Lure.
Lake Lure has crystal clear water and unparalleled beauty.  There are great stretches of water, 3 long bays, an island of 7 acres and many small bays and inlets with a backdrop of tree covered hills and mountains.  It is famous for hiking, fishing, swimming, boating, bird watching, rock climbing, skiing and more. If you've seen "Dirty Dancing," you've seen the beauty of this area.
Lake Lure and Chimney Rock are a feast for fall color lovers who will be coming here in large numbers.  If you'd like to visit, then consider one of the following hotels that were ranked as the best Lake Lure and Chimney Rock hotels by TripAdvisor.  And you can use TripAdvisor to find the best prices for these hotels.
The 1927 Lake Lure Inn & Spa

Willowbrook Inn

Grafton Lodge

Chimney Rock Inn

Carter Lodge

Hickory Falls Guesthouse

The Esmeralda Inn