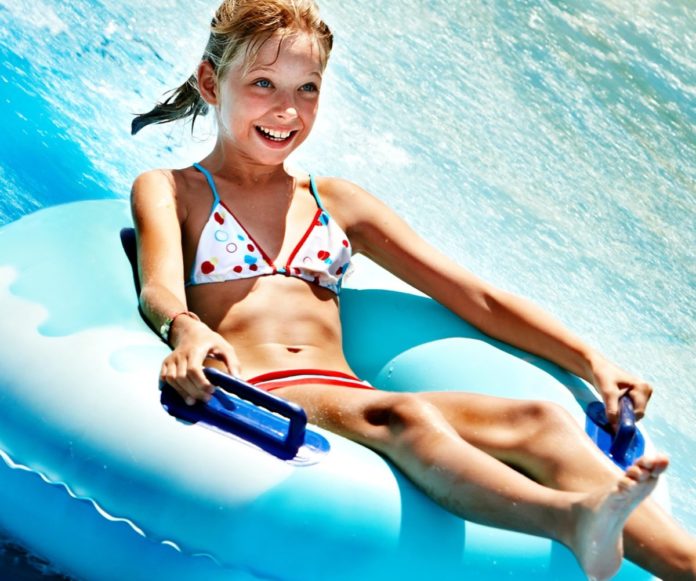 If you click on the links in this post, we may earn money from the companies mentioned in this post, at no extra cost to you. You can read the full disclaimer here.
Six Flags America
Six Flags America is a popular theme park in the Baltimore & Washington D.C. area.
The theme park has lots of great rides and attractions that will entertain all ages.
Six Flags is famous for its fun thrill rides, which is included in the price of admission:
SUPERMAN: Ride of Steel: Enjoy riding 73 miles per hour on 5,400 feet of twisting red track that includes a 20-story drop
Roar: A wooden coaster with a 9-story drop & lots of reversals over 50 miles per hour
BATWING Coaster: Enjoy five superhuman inversions on this roller coaster
Mind Eraser: Enjoy five inversions as you go 115 feet in the air
The JOKER'S Jinx: Go from 0 to 60 miles per hour in just over 3 seconds in this roller coaster
Voodoo Drop: Enjoy a 140-foot free fall at 56 miles per hour
Wild One: Enjoy 4,000 feet of thrills & hills on this roller coaster
Firebird: Maryland's only floorless roller coaster!
Bourbon Street Fireball: Enjoy 360-degree thrills as you zoom over the Mardi Gras section of the theme park
Ragin Cajun: Spin around on this fast track thrill ride
WONDER WOMAN Lasso of Truth: Enjoy spinning around this extreme swing ride at 40 miles per hour on a 24-story tower.
But there are also great rides for children, too:
Pepe Le Pew's Tea Party: Mini-teacup ride
Elmer's Around the World in 80 Seconds: A fun Elmer Fudd-themed balloon ride for kids
Whistlestop Train: A scenic tour of the park
Happy Junction: Old-fashioned train car ride
Foghorn Leghorn's Tinseltown Train: A children's train ride
Taz's Film Works: A children's swing ride
Sylvester's Pounce and Bounce: A bouncy tower lift for children
Up, Up & Away: A junior Ferris wheel with balloons
Yosemite Sam's Hollywood Flight School: Children can enjoy riding in personal propeller planes
Whistlestop Whirlybirds: A junior helicopter ride
Great Chase: A kid-friendly roller coaster
Sky Jumper: A 30-foot tall free fall tower that is more geared towards kids
Whistlestop Bus Line: An up-in-the-air bus tour for children
Looney Tunes Prop Warehouse: A Looney Tunes-themed children's play area
Whistlestop Park Playground: A playground for children
Whistlestop Pop-Jets: Great during the hot weather, water fountains will blast at any moment!
It has a waterpark, Six Flags Hurricane Harbor, that is included in the price of admission and has lots of great rides:
Tornado: A thrill ride where you raft down a 132-foot tunnel
Bonzai Pipelines: Go on a 6-story downhill adventure after you fall through the trapdoor
Halfpipe: Race down a 4-story half pipe at 23 miles per hour on your innertube
Shark Attack Mako: An extremely fast open-air body slide with sudden drops
ZoomAzon Falls: Enjoy 4 unique body slides racing down from the trees of the Amazon!
Shark Attack Hammerhead: A straight, enclosed slide with unexpected dips
Vortex/Riptide: A half-enclosed tube slide that finishes in a whirlpool!
Bahama Blast: High-speed tube slide ride
Paradise Plunge/Reef Runner: A winding, curving slide
Calypso Cannonballs: Two short curvy slides in the middle of a pool that all ages can enjoy
Bamboo Chutes: A slide ride option for kids
Splashwater Falls: An interactive play area with more than 100 water features
Buccaneer Beach: A two-pool beach play area for the little ones
Hurricane Bay: A million-gallon wave pool of fun!
Wahoo River: Enjoy a river adventure with themed splashing waterfalls
There is also a lot of entertainment throughout the park, such as:
At The Hop: A 1950s themed musical extravaganza
Let the Good Times Roll: A Midway Masquerade: Watch Six Flags dancers take over the streets of Mardi Gras
Mardi Gras Party Band Featuring DWQ Jazz Band: Hear local talent play your favorite parade tunes
Let's Dance!: A high energy show for kids with audience participation
Six Flags America Coupon
Looking for a coupon to help you save money on your visit?
You can do that by purchasing your tickets through Tripster.
You can buy tickets for Six Flags America in Bowie, Maryland for just $48.50 – a savings of $22.49!