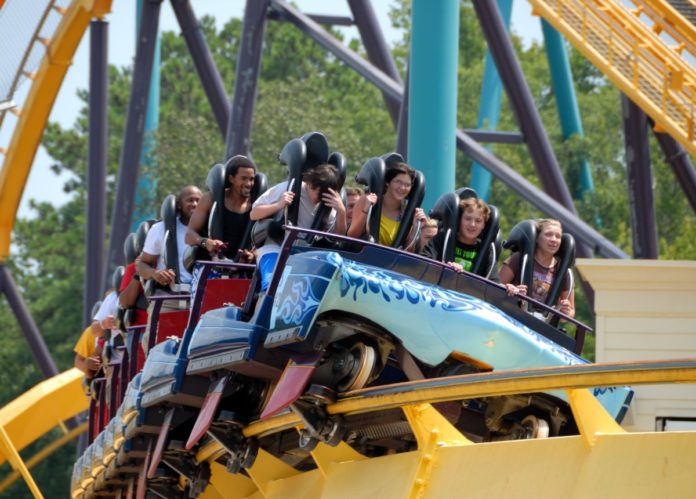 If you click on the links in this post, we may earn money from the companies mentioned in this post, at no extra cost to you. You can read the full disclaimer here.
With summer fast approaching, now is the time to start thinking about heading to Six Flags Over Georgia, the popular Atlanta area theme park that has been entertaining families since 1967.
Six Flags has so many things to offer guests, like amazing thrill rides like:
Acrophobia, where you're dropped over 200 feet
Dare Devil Dive, where you go up a 95-foot hill and then free fall
Georgia Scorcher, where you experience drops & inversions on 11 stories of steel
Goliath, an intensive 70 mile-per-hour roller coaster
SUPERMAN: Ultimate Flight, an intense roller coaster at 51 miles-per-hour with twists, loops & curves
BATMAN: The Ride, an intense 50 mile-per-hour roller coaster
Mind Bender, a classic roller coaster that flips you at 50 miles-per-hour
Sky Coaster, where you plummet 18 stories through the air at 50 miles-per-hour
THE JOKER Chaos Coaster, where you rock back and forth through 7 stories of loops
Great American Scream Machine, a popular wooden roller coaster
Blue Hawk, where you'll enjoy looping and turning upside down
Dahlonega Mine Train, where you can enjoy a roller coaster that takes place on an old mining car
JUSTICE LEAGUE: Battle for Metropolis, an immersive 4-D experience
SkyScreamer, where you'll swing at 40 miles per hour on swings while you're 24 stories above ground
Twisted Cyclone, an all-new wood & steel hybrid roller coaster
Hanson Cars, where you can enjoy a ride in a classic turn-of-the-last century motor car
Pandemonium, the newest ride, which is the tallest swinging pendulum in the Southeast
There are also many family rides that kids & parents can enjoy together like:
Thunder Rivers, a white water river adventure ride that is great for helping you cool off on hot Georgia days (which happen a lot in the summer)
Monster Mansion, a dark boat ride through a mansion full of monsters
Log Jamboree, a classic flume ride down a mountain river
Harley Quinn Spinsanity, a great family spin ride
WONDER WOMAN Flight School, where you'll fly your own invisible jet
THE JOKER Funhouse Coaster, a roller coaster that kids can ride too
SUPERMAN:Tower of Power, a free-fall drop tower kids can enjoy, too
GOTHAM CITY Crime Wave, a jumbo carousel tower
Rockin' Tug, a tugboat that not only tugs but twists & swivels, too
Gold Town Racers, a classic go-kart ride
Riverview Carousel, a classic carousel ride
Speedy Gonzales Speed Boats, a family-friendly boat ride
Up, Up and Away, fly over Six Flags in a hot air balloon ride
Yosemite Sam's Wacky Wagons, a fun wagon ride kids and adults can enjoy
Daffy Duck Bucket Blasters, a fun water battle the whole family can enjoy
Marthasville Railroad Station & Rabun Gap Railroad Station, enjoy an old-timey steam engine ride
Sky Buckets in Peachtree, a great, relaxing ride where you can enjoy aerial views of the park – and get from Peachtree to ScreamPunk.
And then there are children's rides the kids will love:
The Batcopters, a helicopter ride just for kids
Tweety's Tree House, where you'll go up and down 20 feet in the air
Bugs Bunny High Sea Adventure, a 2-person small swinging vessel for kids
Acme Trucking Company, where kids can enjoy the feeling of driving
Looney Tunes Adventure Camp, a Looney Tunes themed children's play area
In addition to rides, you'll also be able to meet your favorite Looney Tunes characters & kids can enjoy a Looney Tunes Dance Party.
If you would like discounted tickets to Six Flags Over Georgia, then purchase your tickets through Tripster, where you'll save $19 on admission.