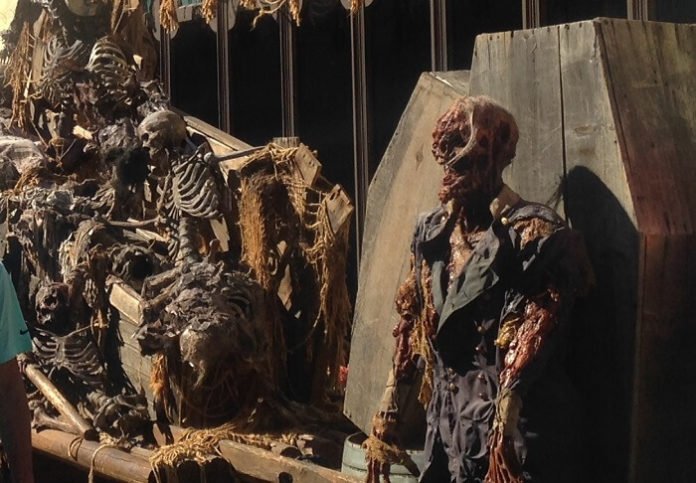 If you click on the links in this post, we may earn money from the companies mentioned in this post, at no extra cost to you. You can read the full disclaimer here.
Universal Studios Hollywood is a lot of fun any time of the year, and they have a lot of great events.  But perhaps their most famous and beloved event takes place during the fall every year.  And that event is Halloween Horror Nights.  It is a wonderful chance to be scared out of your mind by your favorite horror movie characters.
Halloween Horror Nights at Universal Studios Hollywood is great every year, and 2023 should be no different.  After all, they have eight haunted houses, scare zones, a live show, the Terror Tram, and more.
I'm going to tell you about all the great attractions at Halloween Horror Nights this year.  And then I'll tell you how you can save money with a coupon!
Haunted Houses
They have eight haunted houses this year that are sure to terrify even the bravest guests.  Here are the haunted houses that have already been announced.
Stranger Things 4
I can't have been the only one who, after seeing the fourth season of Stranger Things, immediately wondered what the haunted house would be like!  The horror flavor of the season makes it so perfect for HHN.  And in this haunted house, you and your friends can see if you can resist Vecna's gruesome curse.
The Last of Us
Here's another show that just works so well at HHN.  See if you and your friends can stay silent in an effort to survive Clickers.
The Exorcist: Believer
The Exorcist terrified me as a kid, and that was just from looking at the movie cover at my local movie rental store.  So it's pretty exciting that there is an Exorcist-themed haunted house.
Here's the basic plot behind this haunted house.  Two missing girls have been found.  They have no memory of how they got there and what happened to them.  But one thing is apparent – evil has returned with them…
Chucky: Ultimate Kill Count
A Child's Play is another movie that scared me when I was in first grade and my older sister just told me the plotline.  The premise of this haunted house is that everyone's favorite serial killer doll, Chucky, is back.  Can you and your party survive all his bloody hijinks and get out alive?
Universal Monsters: Unmasked
If you love all the classic monsters from Universal Studios, you'll love this haunted house.  These monsters include the Invisible Man, Dr. Jekyll and Mr. Hyde, the Phantom of the Opera, and the Hunchback of Notre Dame.  This haunted house will take you to the Paris Catacombs.
Terror Tram
The popular Terror Tram is back this year!
So what is the terror tram?  Well, have you ever taken the backlot tour at Universal Studios Hollywood where see movie sets?  Well, this is a tram tour out of your nightmares!
This year, you get to experience "Hollywood Harry's Halloween".  This is a spectacle with a terrifying cast of characters.  This part takes you past the iconic Psycho House and then through Steven Spielberg's War of the Worlds set.
But that's not all.  You also get to walk through the Jupiter's Claim set from the new Jordan Peele movie, NOPE.  There you'll see frightening characters from another classic Jordan Peele horror movie, the Tethered from Us.
Scare Zones
Throughout the streets of Universal Studios Hollywood, you'll encounter ghoulish creatures. They'll pop up when you least expect it.
Universal Studios hasn't announced the scare zones yet, but when they do, I'll let you know.  Here are the scare zones that were there last year.
El Pueblo del Terror
Think you're clear of all horror once you exit the La Llorona: The Weeping Woman haunted house?  Think again, because other supernatural characters from Latin America's most terrifying myths.
Sideshow Slaughterhouse
The New York Street part of Universal Studios will be transformed into a battle zone where workers and performers from a carnival sideshow are out for blood.
Clownsawz
Can you try to escape a demonic group of clowns who seek to terrorize you with a chainsaw as you leave the theme park?
Death Eaters
For the first time ever, the Dark Lord's devoted followers (the Death Eaters) will be roaming Hogsmeade Village, looking for others to pledge their loyalty to Voldemort.
Rides & Attractions
You can ride some of your favorite rides at Universal Studios during the night.  Last year, these rides included:
Harry Potter and the Forbidden Journey
Jurassic World: The Ride
Flight of the Hippogriff
Revenge of the Mummy—The Ride
Transformers: The Ride-3D
The Simpsons Ride
Food & Drinks
At some dining locations throughout Universal Studios, you can find specialty drinks and food themed to the 2023 haunted houses.
Merchandise
Head to Production Central in Universal Studios and Universal CityWalk to purchase Halloween Horror Nights-themed merchandise.
Live Entertainment
Enjoy live entertainment with delightfully frightening surprises.
Coupon Code
Looking for a coupon code to help you save money on Halloween Horror Nights at Universal Studios Hollywood tickets?  I can get you something even better!
All you have to do is click here.  Then you can save up to 37% on your ticket.  The discount is automatic, so no coupon code or promo code is even needed!