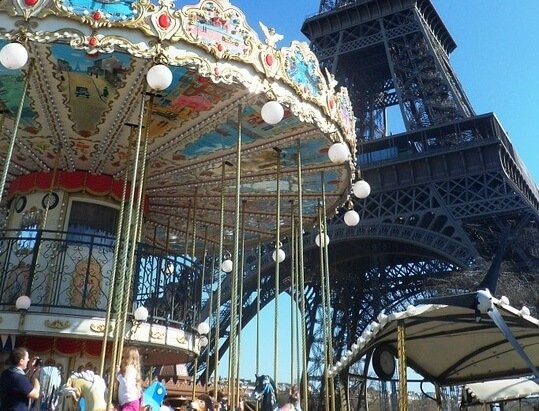 If you click on the links in this post, we may earn money from the companies mentioned in this post, at no extra cost to you. You can read the full disclaimer here.
Paris is an amazing destination that myself and many other adults love, or would love, visiting.  It's got so many things to offer – romance, beauty, historical sites, museums, great shows, etc. – but unfortunately a lot of those things don't necessarily interest children.  If you are planning a trip to Paris with children and are worried there won't be enough for them to do there, don't worry; I know of 10 activities that are absolutely kid-friendly and you're bound to find something in this list for even the pickiest child!
1. Disneyland Paris
Despite Paris being in the name, it is actually in nearby Marne-la-Vallée, but it doesn't take too long to get to Disneyland Paris if you are staying in Paris (somewhere around 45 minutes to an hour). Disneyland Paris has two theme parks and if you are familiar with Disneyland or Disney World in the United States, then you'll notice they have a lot of the same rides. Good rule of thumb: if you've been to a Disney park before and you liked it, you'll like Disneyland Paris; if you didn't like it, you won't like Disneyland Paris.  It is, understandably, very popular with your children, and you could consider doing it towards the end of your trip as a reward to your children if they don't misbehave.  And you can find out how to get discounted Disneyland tickets here.
2. Asterix Park
If you are looking for an amusement park that your children would enjoy, Disneyland Paris is not the only nearby attraction.  Parc Astérix is a theme park in France based on the Asterix comic book series.  It's got a lot of fun roller coasters as well as other great activities that adults & children can enjoy together.  You can find a great price for a ticket to this theme park here.
3. Thoiry Safari Park
If you purchase the Thoiry Safari Park private tour transfer from Paris, then you & your family will be picked up from your Paris hotel in a luxurious air-conditioned car and be taken to Thoiry Safari Park which is 40 km from Paris.  There are over 1,000 animals for your family to enjoy.  You can see animals native to Africa roaming around the park, like lions, tigers, elephants, rhinoceroses, giraffes, hippopotamuses and bears.  You can also look at exotic plants in the park's Botanical Garden.  There's also a "Magic Island" at the park, which is basically a playground but has the unique aspect of having a glass hole in the ground where you can observe underground animals.  You can also enjoy a maze with walls made of plants, where you can run around hide or simply just smell the flowers.  And finally (as if the rest wasn't enough!) you can enjoy Thoiry Castle, which was constructed in 1559.  It's where the royal treasurer and alchemist did his scientific studies.  It's A relic of the Renaissance of the XVI century and it has a vast collection of tapestries, pictures & statues of that epoch. The people working at the palace are dressed in costumes of that era & they'll show you the interior of the castle & will share some of the castle's secrets.  So all in all, there is a lot to do there for the family to enjoy.
4. Orsay Museum Private Guided Tour for Families & Kids
Do you have an appreciation for art not mirrored by your children?  If you take this Orsay Museum Private Guided tour with your family, you'll be able to take a closer look at famous works done by Monet, Renoir, Manet, Van Gogh & more – but during the tour, you'll play educational games & participate in activities aimed towards keeping children interested.  Your tour will be led by a top rated kid friendly guide, and during the tour your guide will lead your family to the upper big clock where you'll get a breathtaking view of Paris, France.
5. Paris: Louvre Museum Private Family Tour Designed for Kids
The Louvre Museum is another place adults often want to visit a lot more than children.  But once again that is not a problem if you take a tour designed for kids like this one.  You can marvel at classic art from the Italian Renaissance, Egyptian period, and French Revolution (and you can see the famous Mona Lisa!).  But the interaction between the tour guide and your children will keep them entertained.  It's truly the best of both worlds!
6. Versailles Palace Private Family Tour Designed for Kids
Here's another tour that let the adults tour a famous site that on the surface is not kid-friendly.  But with this kid-friendly tour, it will be.  You'll learn about the famous figures who lived here like from Louis XIII to Louis XIV to Marie-Antoinette.  You'll get to see famous rooms like the Hall of Mirrors, and the Queen's and King's apartments.  But the tour is specifically adapted for children and teenagers ages 7 to 17 years-old.  And here's an added bonus of the tour: you get to skip the lines!
7. Le Marais Treasury Hunt
This is a really neat tour.  It's a 2-hour tour in Le Marais & why you might think a child would not enjoy it, this is not an ordinary tour.  This tour is led by a kid-friendly historian and your kids will act as detectives, solving riddles & enigmas along the way.  Your kids will also get an activity booklet to use throughout the tour, and along the way you'll be able to see great Parisian history, such as the oldest remains and the Shoah Memorial.  You'll learn about the fate of the Jewish community in Paris during WWII, but the guide will adapt this to your child's age. This is the perfect tour if you want to learn something, and you want your children to learn something, but you don't think they're ready for/would enjoy a more adult-centric tour.  You can purchase tickets for Le Marais Treasury Hunt through Viator.
8. Paris Aquarium
I've always found aquariums to be a great activity for children & adults alike to enjoy, because sea creatures tend to amaze all ages.  And the Paris Aquarium is France's largest aquarium, and it's in a great location, very close to the Eiffel Tower (So if your kids behave at the Eiffel Tower, you can always reward them with a trip here).  The Paris Aquarium has films, exhibitions, workshops & a touch pool for children, so there's enough to do there for kids and if you buy your ticket here, it's pretty affordable as well (which is good, because Paris can get expensive enough as it is).
9. Eiffel Tower Carousel
There are a lot of great carousels in Paris, but perhaps the most iconic is the one near the Eiffel Tower.  An added bonus with this carousel: if your kids ride the carousel and you can get a photo of them riding the carousel with the Eiffel Tower in the background, well, that would probably make for the best Instagram picture ever.
10. Paris Walking Tour for Children & Families
This tour is unique because you can take the tour with your children, or you can drop your children off with a local mother & guide.  Your children will even get to pick out the route and what do, choosing from a variety of activities that were handpicked by local moms.  Your kids could have fun sailing toy boats in the picturesque Jardin du Luxembourg, seeing life-size African animals at the Natural History Museum, see a great puppet show, etc.  So whether you'd like to enjoy this experience with your kids or get some time to yourself to explore Paris, make sure you book this tour through Viator.