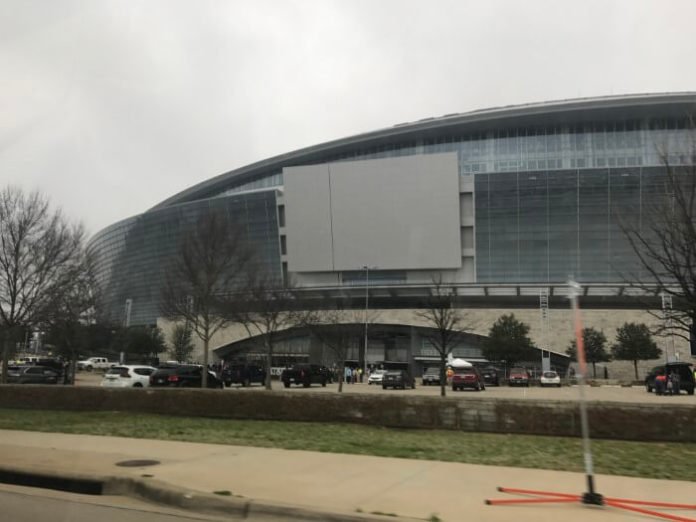 If you click on the links in this post, we may earn money from the companies mentioned in this post, at no extra cost to you. You can read the full disclaimer here.
Get a close up view of one of America's state-of-the-art football stadiums. Go on a three hour walking tour of AT&T Stadium in Arlington, Texas, home of the NFL Dallas Cowboys.
Your tour guide will walk you through this new expansive stadium. It is affectionately known as "Jerry World" after the Cowboys' owner, Jerry Jones.
Tour Itinerary
On this tour you will see
The world's largest domed structure
One of the highest capacity stadium in the NFL
The world's largest column free interior
One of the largest high-definition screens in the United States
Get a behind the scenes look at a stadium you've seen many times on television. Tour the print and radio media press boxes. See the luxurious private suites and the Cotton Bowl offices. Your knowledgeable guide can give facts and figures as well as fascinating stories about the team and the fans.
A unique feature of the AT&T Stadium is the outstanding collection of museum quality contemporary art. Enjoy the impressive works by esteemed contemporary artists. These works of art are distributed throughout the stadium.
You'll see the Dr. Pepper Star Bar. It is an original 17,000 square foot bar featuring Dr. Pepper products. The Bar has a backlit, vintage Dr. Pepper sign and actual Dr. Pepper bottles cast in the concrete bar top. It comes with 7 huge flat-screen televisions and 6 concession stands. There are 15 aluminum arches that light up each time the Dallas Cowboys score.
You can also see an interactive fountain. The Ford Motor Company Fountain is an interior fountain with lights and rapidly changing water flows. It puts on quite a show.
And then it's on to the locker room. See where your favorite players prepare for each game. You'll also see the Cowboys' cheerleaders' dressing room. And you'll see where the post-game interviews take place.
Best of all, you'll have a chance to walk out on the field. You can even toss the football around.
This tour is a "must" for football fans and an absolute necessity for Dallas Cowboy fans!
Coupon
Are you looking for a way to save money on this tour? Click here and you can save $12 (11% discount) on each ticket.