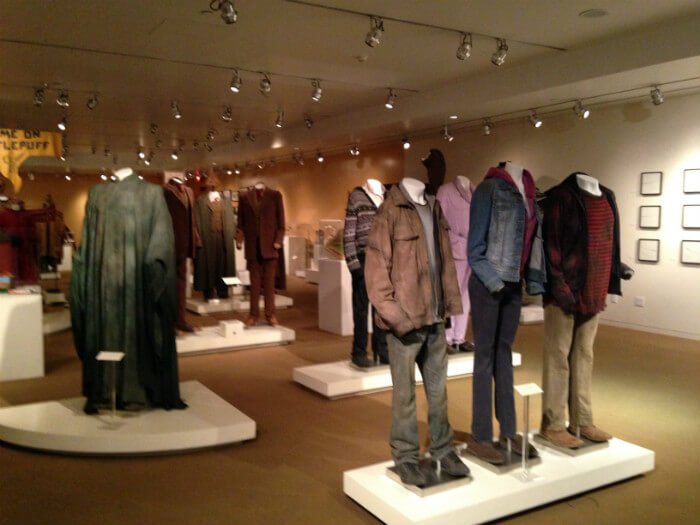 If you click on the links in this post, we may earn money from the companies mentioned in this post, at no extra cost to you. You can read the full disclaimer here.
If you love Harry Potter then you might not think of Los Angeles, California as the perfect vacation spot for a Harry Potter, but it actually is.  There are two really great activities you can do that I think you would really enjoy.
First is the Warner Brother Studios Tour.  I highly, highly recommend this really fun tour that I think you will enjoy for reasons other than Harry Potter, but you will also really enjoy the tour even if you're just visiting for the Harry Potter exhibit.  The Harry Potter part of the Warner Brothers tour has recently been expanded, and there's a lot of great things to see here.  You'll be able to see concept art and then the final designs used on the set of the Harry Potter movies.  You'll be able to see detailed costumes of characters like Lord Voldemort, where you can see costumes from his rise from Tom Riddle to the Dark Lord.  You'll even be able to see costumes from the new Fantastic Beasts and Where to Find Them movie.  This was one of my favorite parts of the Warner Brothers Tour, and I think you'll really like it.
But that's not all there is to do in Los Angeles.  You can also visit The Wizarding World of Harry Potter at Universal Studios Hollywood theme park!  Once again, I think you will enjoy the entire theme park, but as a Potterhead, you'll get a kick out of all the wizarding activities.  You can choose your own wand at Ollivanders.  You can pick up Chocolate Frogs and Fudge Flies at Honeydukes.  Other great stores any Harry Potter fan would enjoy that you can shop at here are Gladrags Wizardwear, Wiseacre's Wizarding Equipment, Filch's Emporium of Confiscated Goods, Dervish and Banges, Zonko's Joke Shop, and the Owl Post.  You can soar above the castle grounds with Harry Potter & his friends on Harry Potter and the Forbidden Journey ride.  You can experience the fun of flying on a hippogriff by enjoying the Flight of the Hippogriff roller coaster.  You can attend the Triwizard Spirit Rally and enjoy the vocal stylings of the Frog Choir.  When you get thirsty, grab a butterbeer or pumpkin juice at Hog's Head and when you're hungry try Fish & Chips or Shepherd's Pie at Three Broomsticks.  And at the end of the day you can enjoy the Nighttime Lights at Hogwarts Castle.
You can save money on both of these attractions by booking a vacation package through Reserve Los Angeles.  You can even add on a hotel to your stay through Reserve Los Angeles to save even more money, and you won't even need to ask Hermione for a good spell to get this great deal!