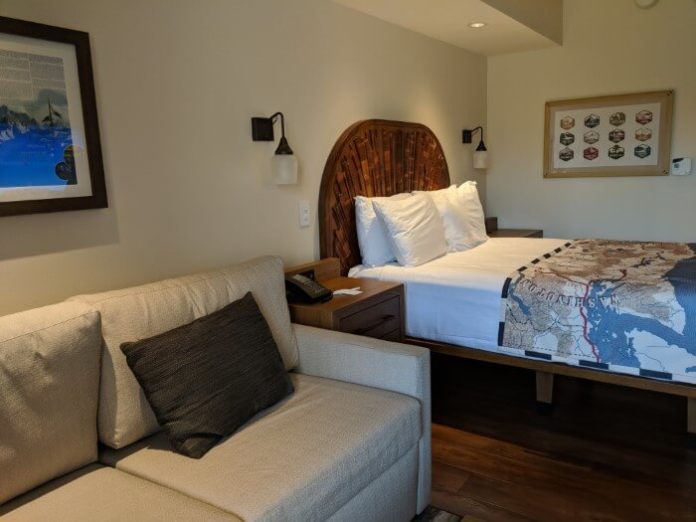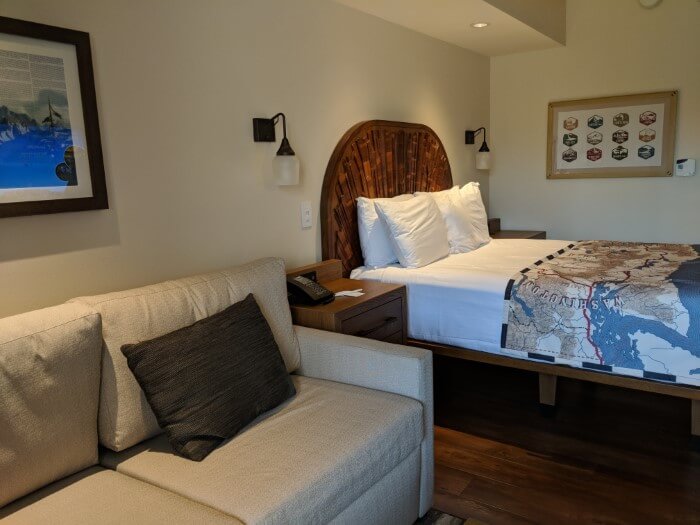 If you click on the links in this post, we may earn money from the companies mentioned in this post, at no extra cost to you. You can read the full disclaimer here.
The newest Disney's Vacation Club is Copper Creek, part of Disney's Wilderness Lodge Resort in Walt Disney World in Orlando, Florida.  I recently had the pleasure of staying there and my family and I absolutely loved our stay! You and your family can enjoy staying here, too, even if you are not a member of the Disney Vacation Club; I go into detail here about how to do that.  You could stay at Copper Creek for less than what it would cost to stay in Wilderness Lodge but get all of the great amenities you get at Wilderness Lodge (extra magic hours, boat transportation to Magic Kingdom & bus transportation to the other parks, amazing pools, arcade, salon, etc.).
I've stayed in a lot of Disney Vacation Club villas and have loved all of them, but Copper Creek was special to me and I think a wonderful choice if you are planning a trip to Disney World for these 10 reasons.  Please note that I will be reviewing a studio villa, but a lot of the same points apply to the larger villas available:
Location: One complaint I do have about some of the DVC villas at Old Key West & Saratoga Springs is that some of the buildings are far away from the main building, which can be annoying if you want to get breakfast at your hotel, refill a mug, etc.  An awesome thing about Copper Creek is that isn't that large so there are no rooms that are too far away from the main building, and an added bonus is you can actually to the main building without having to go outside. That may seem like a small thing, but it's really not when it's raining or extremely hot or cold.
Views: No matter what room you get, you'll get great views of Bay Lake, the pool, the courtyard, Boulder Ridge Villas or the Wilderness Lodge.  And you can enjoy it on your balcony or patio if you have a first floor room.
Space Under the Bed: One thing I like about the room is that there's space under the bed where you can put your luggage.  This is a great use of space and makes the room feel even more spacious.
Pull-out Sofa: The studios at Copper Creek had one of the most comfortable sofa beds I've ever slept on in Disney World…or anywhere else, for that matter.  If you are traveling with more than one person and someone is going to be sleeping in the sofa bed, this is a huge plus because an uncomfortable bed can lead to a poor night's sleep, and I'm sure you don't want to be dealing with a cranky child all day!  It was also the easiest sofa bed I've ever pulled out, which my back appreciated.
Spacious Rooms: The rooms are quite spacious, which can make for a much better stay because you won't worry about tripping over someone's luggage.
Lots of outlets: This may seem like a small thing, but as someone who carries a lot of electronics on my trip so I can work, trust me, it is not!  There are tons of outlets and USB ports all throughout the room.
Ottoman: If you're like me and you use your computer a lot even on vacation, then you'll be pleased to know that you can pull the ottoman out so it can be used as a tray for your computer, which I think is a really nice touch!
Drawers: I love it when rooms have a lot of drawers since I tend to pack a lot when I go on vacations, and Copper Creek definitely lived up to my expectations!  I also really liked the special touch of the drawers' handles that completely fit the hotel's theme.
Large TV: If you want to relax at the end of the day at the parks with TV, you'll be happy to know that this room comes with a very large nice TV
Extra Touches: I really like all the Disney attention to detail throughout the room, like the map of California, Oregon & Washington on the bed, to the pictures and just the overall Wilderness Lodge feel to the room.  It definitely made me sad to check out – and trying to figure out when I could schedule a trip back!