If you click on the links in this post, we may earn money from the companies mentioned in this post, at no extra cost to you. You can read the full disclaimer here.
Planning a trip to Walt Disney World Resort in Orlando, Florida?  Then you should book a stay at Disney's Pop Century Resort!  Pop Century is one of Disney's onsite hotels.  It is themed to the 1950s, 1960s, 1970s, 1980s, and 1990s.  You can read our review of the hotel here.  And you can see a virtual tour of the hotel here:
So are you ready for a stay at Pop Century?  First, make sure you read our 12 tips to make your vacation even more magical!
1. Book Through Other Websites
You can often save a lot of money by booking your Pop Century stay through websites other than Disney.  We give you tips on five ways to save on your hotel stay here.
2. Use Disney's Skyliner Transportation System
Disney's Skyliner is a great new transportation system that just debuted at Disney World this past week.  You can use the Disney Skyliner Transportation system as a quick way to get to Epcot or Hollywood Studios theme parks.  There is a Skyliner station conveniently placed between Pop Century & Art of Animation.  You can see a video from our time on the Skyliner from our last stay at Pop Century here:
So definitely make sure you use the Skyliner to get from Pop Century to Epcot and Hollywood Studios.  The Epcot station even lets you out an entrance to the World Showcase, which is great if that's where you want to go.  They're quicker than the busses – and more exciting.  You can read our full review from the Skyliner here.
3. Pick Your Magic Band Out Ahead of Time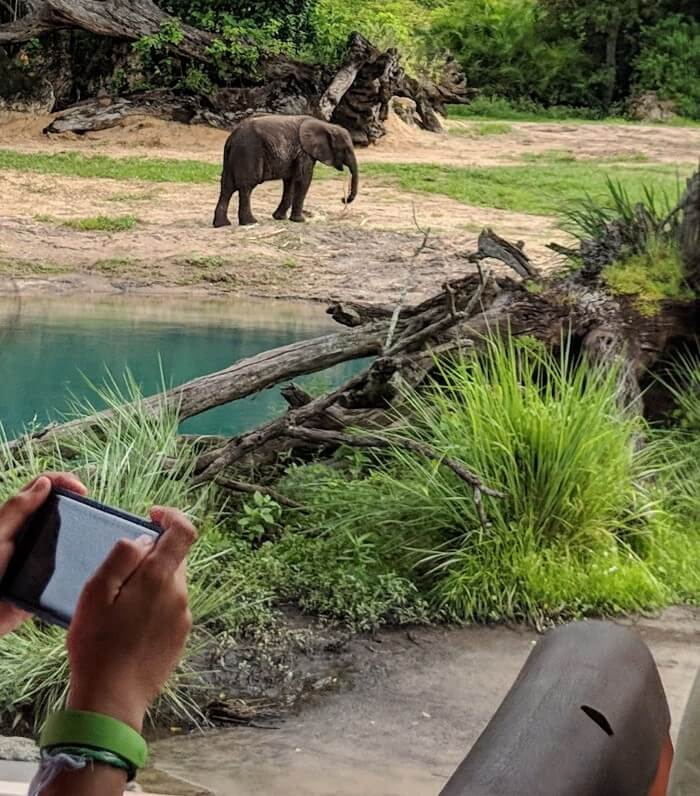 Magic Bands are a neat creation of Disney.  They go on your wrist and they serve a lot of great functions.  For one, it serves as your key to your room at Pop Century.  It can also get you into the parks.  If you book a fastpass, you can use your magic band to get into the fastpass line.  This helps you avoid the long waits on popular rides.  You can even charge foods or anything you buy in the gift shop to your magic band.
Disney gives you the option of customizing your magic band if you do it in advance.  You can pick out your favorite color for free.  And if you pay a little extra you can get a special design.  But you will need to do this at least 5 days in advance.  So to make your trip even more special, make sure you take advantage of this!
4. Book Your Fastpasses 60 Days in Advance
Remember how I mentioned fastpasses earlier?  Well, one of the great things about staying onsite at a hotel like Pop Century is you can book your fast passes in advance.  Like you can book it 60 days in advance as opposed to anyone who's not staying onsite at Disney World.  The fastpasses help you avoid the lines.
But there are limits to how many people can get fastpasses each day to each ride.  So if there's a ride that's really popular, you can book your fast passes in advance to make sure you are one of the ones who gets the fast pass.  We're talking the most popular rides at Magic Kingdom (like Seven Dwarfs Mine Train & Peter Pan), Epcot (like Soarin' & Frozen Ever After), Hollywood Studios (like Slinky Dog Dash & Toy Story Midway Mania) and Animal Kingdom (like Na'vi River Journey & Avatar Flight of Passage).  So make sure you take advantage of this great feature!
5. Buy Stuff Ahead of Time
Another thing you're going to want to do ahead of time is shop.  There are a lot of items you can buy a lot cheaper if you buy it before you get to Disney World.  Not surprisingly, Disney jacks up the price on certain items.  Check out our full list of things you should buy before your trip here.
6. Get a Refillable Mug
One thing I like about Disney World hotels is the ability to get a refillable mug.  With the Rapid Refill system, you can buy a mug at the beginning of your trip.  Then, you can refill your mug all trip for no extra cost.  It can really save you a lot of money.  They are only available at Disney hotels like Pop Century.  So make sure you buy one at the beginning of your trip!
7. Get a Preferred Room
You can pay a little more and get a preferred room.  If possible, I think it's worth the money.  I've stayed at both a preferred room and a general room, and I really liked the preferred room stay.  The preferred rooms are the rooms in the 1960s section and some in the 1950s section.  Your room is much closer to the main lobby, which is where you can get mug refilled and have meals.  You are also much closer to Disney's Skyliner Transportation System.  It saves you a lot of time.  And you are really close to the main pool, the Hippy Dippy Pool.
8. Have a Meal at Art of Animation Resort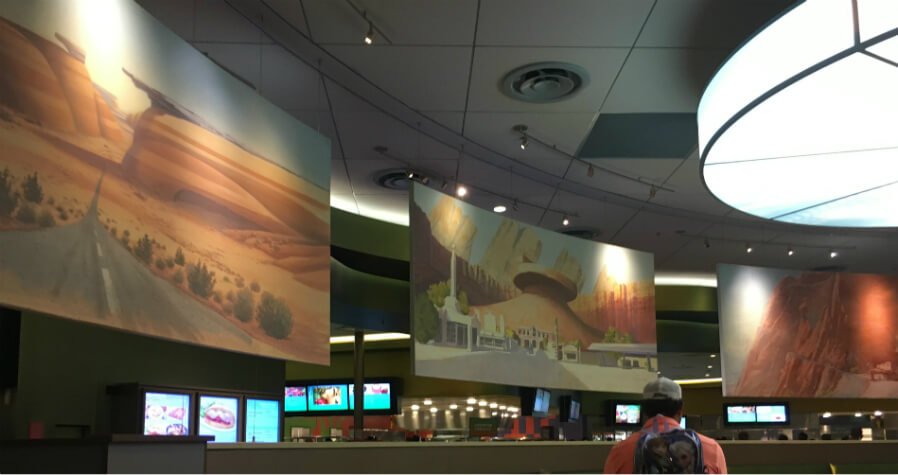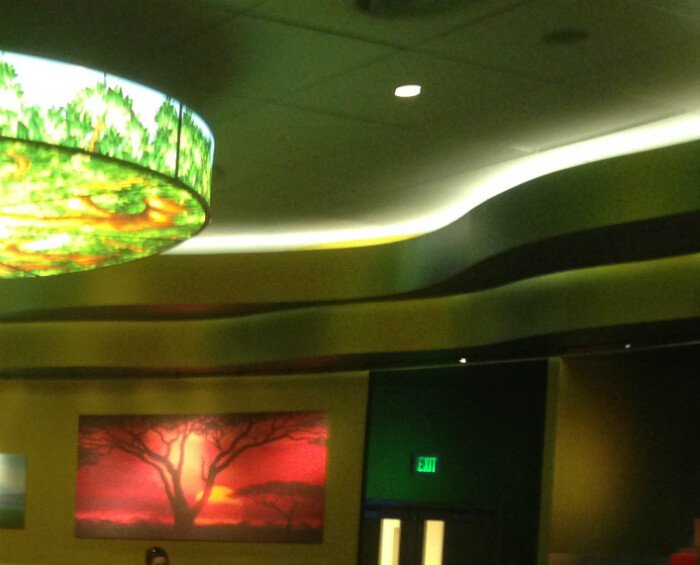 I really like the food court at Art of Animation, Landscapes of Flavor.  There are beautiful pictures up of four popular Disney animated classics: The Lion King, The Little Mermaid, Finding Nemo & Cars.  Art of Animation is very close to Pop Century, so I would make my way there once to eat a meal.  You can bring your refillable mug, which you'll be able to use at Art of Animation.  And it will give you a change of pace from the same food court day after day.
9. Watch Epcot Fireworks from outside the Skyliner Station
Right by the Skyliner Station between Pop Century and Art of Animation is a great spot to catch fireworks at Epcot.  You won't get the music, but you will get a great view of fireworks without having to work hard to get a good seat.  And afterward, you can walk right back to your room.  Just check the times of the Epcot fireworks.  Epcot recently started a new fireworks show that I think you'll love.  You can see it here:
10. Check Out The Decorations in the Lobby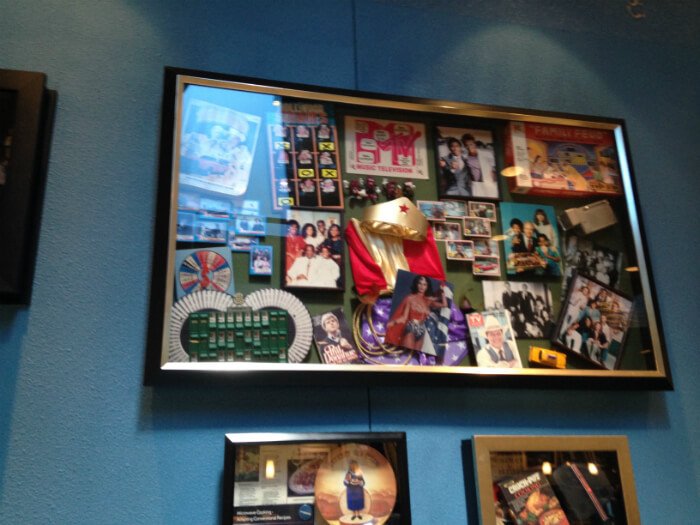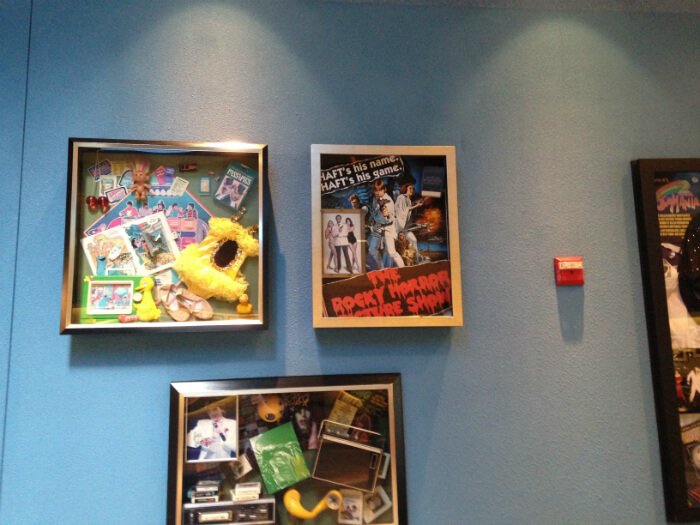 When you stay at a Disney World hotel, you're probably not thinking about spending a lot of time in the lobby.  But take a few minutes out to see the decorations in the lobby.  If you lived through the 1990s and/or earlier, then it will really take you back.
11. Take a bus from the parks to Art of Animation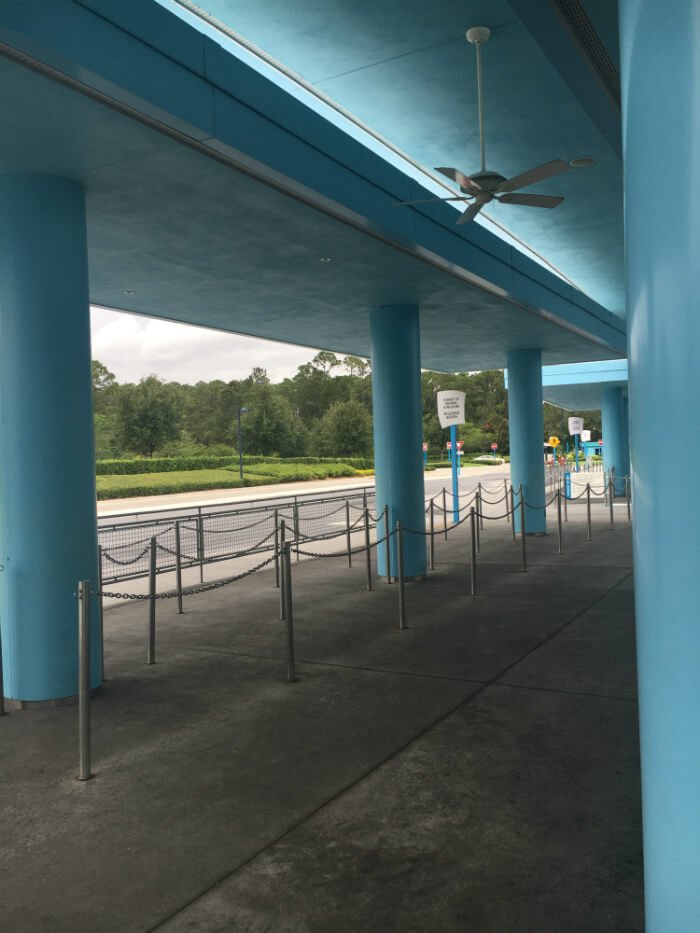 When you don't use the Skyliner, you'll want to take advantage of the busses available to guests at Pop Century that take you to the parks.  When you're ready to come back to your hotel, you'll head to the Pop Century bus.  But what happens if you notice the Pop Century bus leaving just as you walk up?
A new bus will probably be arriving in the next twenty minutes, maybe sooner.  But if you don't want to wait for the next bus, consider taking a bus back to Art of Animation.  As I mentioned before, Art of Animation is very close to Pop Century.  And the bus stop for Art of Animation is usually right next to the bus stop for Pop Century at each park.  So you'll be able to notice if the Art of Animation bus comes.  You can then got out of your line and into the Art of Animation line.
12. Forego Mousekeeping for a Gift Card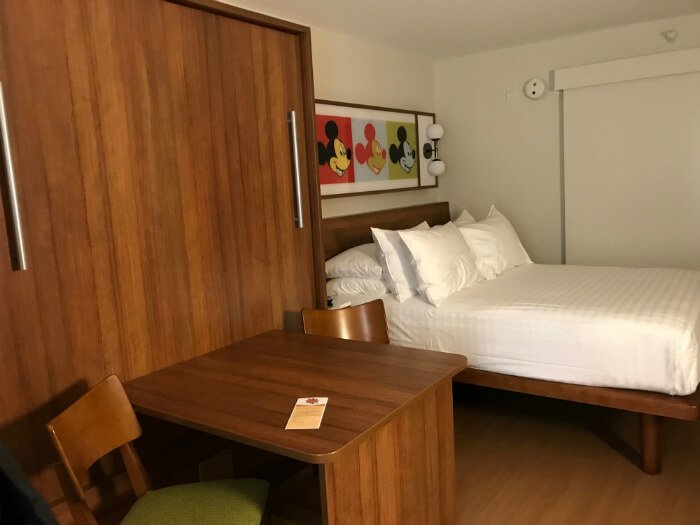 When you check in to Pop Century, they'll ask if you want housekeeping (or "mousekeeping") each day.  If you opt not to have housekeeping visit each day, you can get a Disney gift card instead.  The amount will be based on how long your stay is.  You can then use that Disney gift card to pay for some of the dining on your trip or a souvenir.  Or maybe use it to start saving up for your next Disney World trip!
Conclusion
In conclusion, there are lots of tricks you can use to make your stay at Disney's Pop Century Resort as enjoyable as possible. And to recap, you can check out this video with some of these tips:
Save this for later – pin it to Pinterest!