If you click on the links in this post, we may earn money from the companies mentioned in this post, at no extra cost to you. You can read the full disclaimer here.
Beaches and Cream at Disney World
Beaches and Cream is a great restaurant located at Disney's Beach Club hotel.  The first time my family stayed at the Beach Club, I actually thought it was just a restaurant for desserts.  Which would be great.  But Beaches and Cream is so much more than that.  It is actually a great place to have a meal.
My family has eaten here multiple times, both before and after the refurbishments.  The refurbishments took place last year and Beaches and Cream opened back up in December 2019.  I loved Beaches & Cream before, but I think the refurbishments have actually made it even better.
The main reason I like it better is how many more tables there are.  Before, there were very few tables.  Now, there are more tables, which is great.  Because getting a reservation to Beaches & Cream was hard before, and now it's easier.
So why should you get a reservation at Beaches & Cream?  We'll go over that right now.
The Atmosphere
My favorite thing about Beaches & Cream would have to be the atmosphere.  It has a great, retro feel to it.  You can see it throughout the restaurant when you first come in.  You feel like you're in an old-fashioned soda shop.  Adding to that retro feel is the jukebox.  Kids and adults get a kick out of playing music on the jukebox here.
The restaurant also has an appropriate beach feel, which I love.  It feels like a retro soda shop on the beach.  And I absolutely love the pictures up!  There are great pictures of classic Disney characters at the soda shop and at Beach Club.
The Food
So as I said before, the food at Beaches & Cream is really good.  It makes a great place for dinner & lunch with multiple menu options.  It is a little more expensive than a quick service restaurant at Disney World, but the food's better, too.  And if you want to save money on a meal here, check out our tips to save money on Disney World dining.
My family's favorite menu items include:
Reuben Sandwich
Angus Beef Burger
The French Dip Sandwich
But, of course Beaches & Cream offers delicious desserts!  Take a look at this Mickey Confetti Milk Shake.  It even comes with a Rainbow Confetti Cupcake and a souvenir cup you can take home with you!
But my favorite would have to be the sundaes!  I absolutely love them!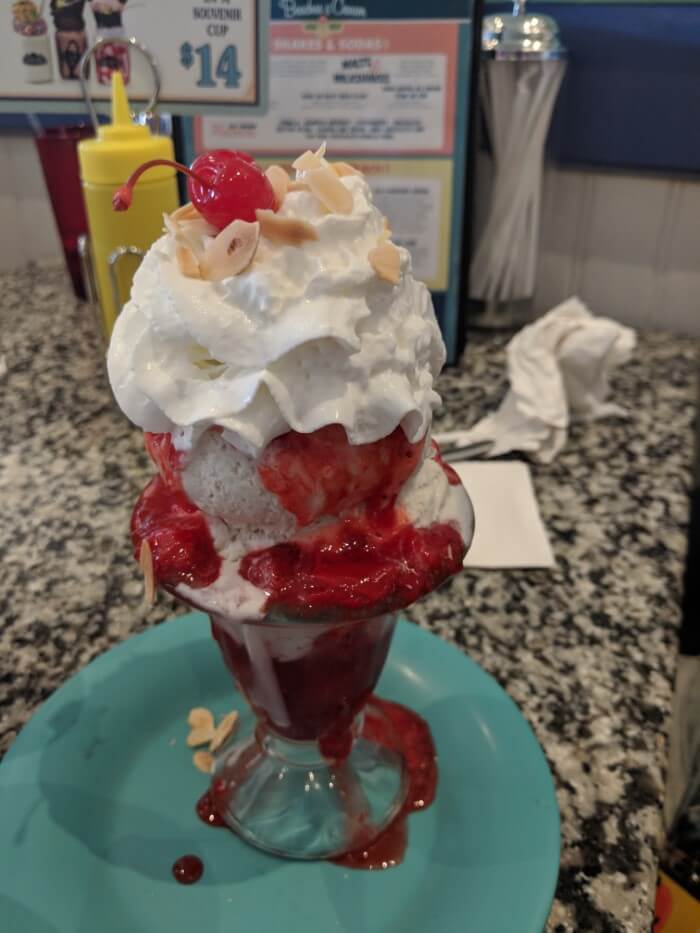 And this is a great place to go if someone in your party is celebrating a special day.  If someone is having a birthday, anniversary, wedding, etc., they'll announce it and everyone in the restaurant will clap.  So definitely keep this in mind if you're planning a Disney World trip for a special occasion!
The Location
I absolutely love the location of Beaches & Cream.  It's located at the Beach Club, which is one of my favorite Disney World hotels.  It is a Disney deluxe hotel, but there are ways to book the hotel for a much cheaper rate.  We go over that here.  You can read our review of the Beach Club here.  You can also see a virtual tour of the Beach Club here:
A nice thing about is location at the Beach Club is that it's close to a Disney Rapid Refill Station right by the pool.  So if you are like my family and you get mugs, you can take them and refill your mug.  Then just get water at your meal.  That will save you some money.
It's also convenient if you are staying at the Yacht Club.  You can see a virtual tour of the Yacht Club here:
It's also within walking distance if you're staying at the Boardwalk, or the Swan and Dolphin Resorts.
The location is also great because it is within walking distance of EPCOT and Hollywood Studios.  You can also take a boat from here to EPCOT or Hollywood Studios.  So you could eat here and then head to either park.  It is also close to the Disney Skyliner Station.  That makes it convenient if you are staying at Art of Animation, Pop Century, the Caribbean Resort or the Riviera Resort.