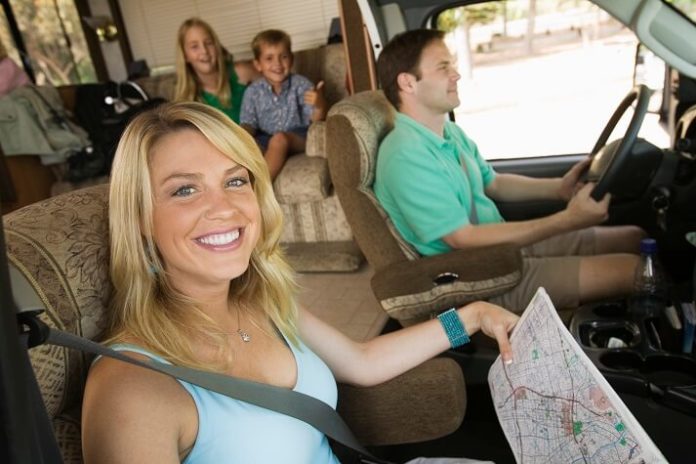 If you click on the links in this post, we may earn money from the companies mentioned in this post, at no extra cost to you. You can read the full disclaimer here.
If you've ever looked for great rates for Disney hotel rooms, you may have noticed incredibly low rates for "The Campsites at Disney's Fort Wilderness Resort".  You can book a campsite to park your RV and it's a great way to get a really fun, new experience at Walt Disney World – while being onsite. Because Disney's Fort Wilderness Resort is right there on Walt Disney World Resort – and it's so close to the action that you can actually take a boat to the Magic Kingdom (which is a pretty awesome way to get to Magic Kingdom and beats taking a bus).
Disney's Fort Wilderness Resort is a really awesome resort and by renting a campsite there, you can take advantage of all its awesome features, such as horseback riding, kayak & canoe rentals, archery, etc. (just see all the features it has when compared to other moderate hotels).  There's even a Chip 'N' Dale's Campfire Sing-A-Long! It's also a really amazing experience that your family can really enjoy because it's combining the adventure of "roughing it" (or at least as much roughing it that I could handle) with a Disney World trip – not only will your family never forget the fun they had at the Disney World theme parks, but they'll also never forget the fun they had at the Fort Wilderness Resort and in the RV.  And of course, the money you will save on this trip will be amazing!
How to Rent an RV
So if you're sold on renting an RV and spending your Disney World trip at the Fort Wilderness Resort, you may be wondering, how do I go about renting an RV?  Well, I recommend RVshare. RVshare offers the largest selection of trusted RV rentals in the country. They connect you to RV owners and RVshare offers you world-class insurance & free 24-hour roadside assistance.
So how do you go about renting through RVshare?  Well, here are the 4 steps:
Enter your pick-up date

Enter your drop-off date

Press "search" so you can look through the listings for the perfect one for you!
Once you book the rental of your choice, you'll get a quick tutorial from the owner on the ins & out of the rental so you won't feel lost and once you're comfortable, you are ready for an amazing Disney World vacation!
Save this for later – pin it to your favorite travel or Disney Pinterest board!