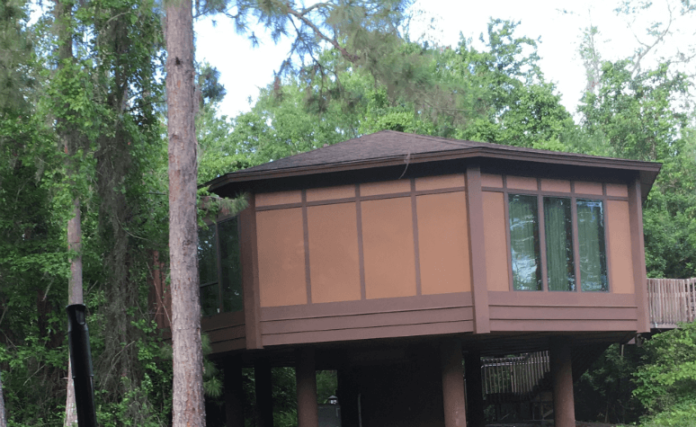 If you click on the links in this post, we may earn money from the companies mentioned in this post, at no extra cost to you. You can read the full disclaimer here.
Walt Disney World Resort in Orlando, Florida is a great place to go for a vacation for large families. With 4 parks (Animal Kingdom, Magic Kingdom, EPCOT & Hollywood Studios), there is so much for the whole family to do, no matter what their interests are.
And now our family can enjoy all of this at a fraction of the normal cost through David's Vacation Club Rentals.  David's Vacation Club allows you to stay at hotels previously booked through Disney Vacation Club (please see more about these DVC rentals here).  You can stay at a Treehouse Villa at Saratoga Springs Resort.
Staying at a Treehouse Villa is a truly unique, wonderful experience.  There are only 60 available, and you get to stay in your own separate treehouse, a great woodsy experience (but with functioning working bathrooms!).  In fact, these treehouses feature 2 bathrooms, 3 bedrooms and a kitchen!  This is a perfect place to stay for a large family, for multiple generations of families or for more than one family who want to spend some time together.  Saratoga Springs Resort is a Disney World resort too, which means that it comes with extra perks you don't get staying offsite, the two best for me being that you get Magical Express (free transportation to & from the airport – a huge plus if you are flying into Orlando) and extra magic hours, where you get to the parks before or after the regular park hours which can get you shorter lines.
Standard room rates for the Treehouse Villa are $829/night before taxes, but with the deal on David's Vacation Rentals, you can book a Treehouse Villa for $468/night, taxes included!  You can book the Treehouse Villa from Sunday, January 13th through Thursday January 17th for $1872, and if you stay there with other families/family members, you can split this cost.  So enjoy a truly magical, amazing vacation next year by booking a Treehouse Villa!