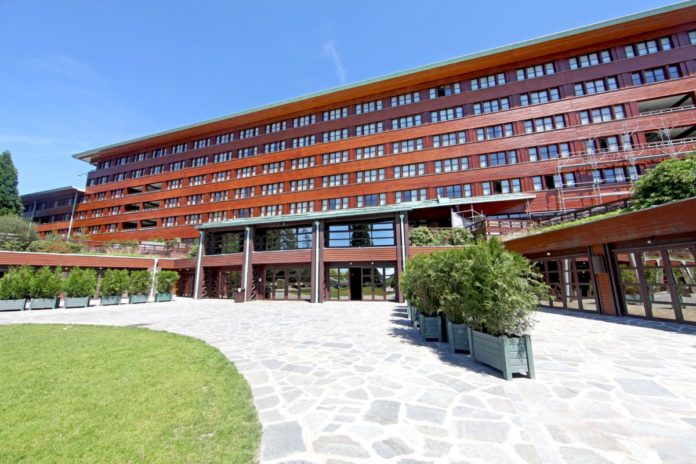 If you click on the links in this post, we may earn money from the companies mentioned in this post, at no extra cost to you. You can read the full disclaimer here.
Disney's Sequoia Lodge at Disneyland Paris is a wonderful option for families wanting a great Disney holiday at the popular Disneyland Paris Resort in Marne-la-Vallée, France.  Today, I'll go over all the reasons why you'd love a stay there.
Hotel Theming
Disney's Sequoia Lodge was designed by French architect Antoine Grumbach and was created in the style of the American National Park lodges built around the beginning of the 20th century like the ones built at Yellowstone National Park, Yosemite National Park, etc.  The hotel has a nice rustic feel and lush pines surrounding it to help give that feeling.  This hotel is a great choice for those wanting a United States type feel to a holiday without having to leave Europe.
Hotel Location
A great thing about Disneyland Paris hotels is that a lot of them are within walking distance from the Disney parks, Disneyland and Walt Disney Studios Park.  Disney's Sequoia Lodge is no different, as it just a 15-minute walk from Disneyland and Walt Disney Studios Park if you walk through Disney Village.  In that sense, Sequoia Lodge could be seen as a good alternative to Disney's Davy Crockett Ranch, which also has rustic theming but is not within walking distance of the Disney parks.
Hotel Rooms
Disney's Sequoia Lodge has a number of rooms with double beds for families.  You can choose just a standard room, or you could pay more and get a room that is closer to the hotel facilities or a room that is close to hotel facilities and is lakeside.  Additionally, you can also pay more and get a club level room, which would give your family access to a private lounge with free afternoon snacks and a personalised check-in.  There is also a honeymoon suite available, which would give you extra space and a separate lounge (additionally, booking a honeymoon suite means you get free breakfast and free VIP FASTPASS, which gets you unlimited, multiple-use tickets so you can have priority access to any FASTPASS-equipped attraction).
Hotel Amenities
In addition to the close proximity to the Disney parks, Disney hotels are great because of the extra amenities offered to guests, and Disney's Sequoia Lodge is wonderful in that regard.  One of those is Hotel FASTPASS, which gets you one FASTPASS ticket you can use at any time to any of the FASTPASS-equipped attractions.  This is in addition to the FASTPASSES available to anyone visiting the parks, so it really is a great value because the rides available for FASTPASSES often have long lines.  Here are the rides available for FASTPASS:
Disneyland:
Indiana Jones and the Temple of Peril
Star Wars: Hyperspace Mountain
Buzz Lightyear Laser Blast
Big Thunder Mountain
Peter Pan's Flight
Star Tours, Discoveryland
Walt Disney Studios Park:
Rock'n'Roller Coaster starring Aerosmith
The Twilight Zone Tower of Terror
Ratatouille: The Adventure
Another great perk when it comes to the park is Extra Magic Time which is available to guests at official Disney hotels.  This means that on select days, you are able to stay in the park an hour later than everyone else or you can get into the park an hour earlier than everyone else.  This is another great way to save time on lines.
Disney's Sequoia Lodge also has an indoor and outdoor swimming pool complex, with the outdoor pool available seasonally.  Please note though that, unfortunately, the pool closed until the 31st of July 2019; however, if your stay is before then you will be able to use the pools at Disney's Newport Bay Club and Disney's Davy Crockett Ranch.  But if you are staying after that, you will be able to enjoy an indoor pool with a waterfall and water slide plus a whirlpool bath, sauna, and steam room and outdoor pool with a water play area.
Other amenities include free car parking, air conditioning, and a TV with Disney and international TV channels.  There is also a fitness room available to guests and a number of great dining option, which we'll get to next.
Dining
Disney's Sequoia Lodge has three great dining options.  Hunter's Grill and Beaver Creek Tavern are great dining options in a cosy wood cabin with great buffet options with an international flavor.  Redwood Bar and Lounge is a great cosy place to go to enjoy a cocktail and snack by an open fire (which is especially great if you're visiting in the winter!).
Cost
Pricing wise, Disney's Sequoia Lodge is more expensive than Disney's Hotel Cheyenne and Disney's Hotel Santa Fe but not as expensive as Disney's Newport Bay Club, Disney's Hotel New York or the Disneyland Hotel.  Disney's Sequoia Lodge is quite affordable for a family holiday, especially if you book through the Walt Disney Travel Company and book a package deal with theme park tickets (Please note that this option is only available for for United Kingdom and Ireland residents.  If you are a Disney fan living in the United State, your best bet for a great price on Sequoia Lodge is Hotels.com).