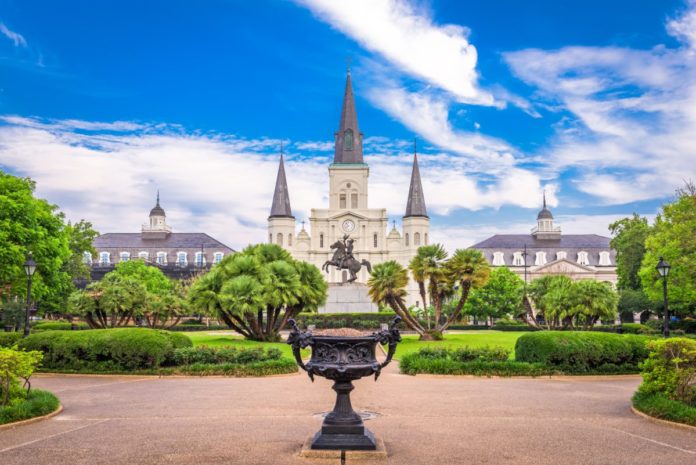 If you click on the links in this post, we may earn money from the companies mentioned in this post, at no extra cost to you. You can read the full disclaimer here.
New Orleans Travel Guide
New Orleans History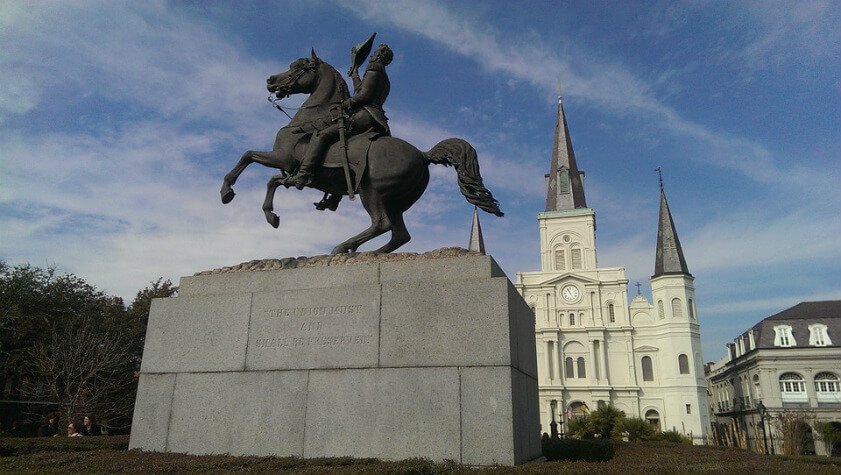 New Orleans was settled in the spring of 1718 by the French.  It was named in honor of the Regent of France, Philip II, Duke of Orleans.  In 1722, it was made the capital of French Louisiana. In 1763, French Louisiana was ceded to the Spanish Empire.  Later, it was returned to French control and then, in 1803, Napoleon sold Louisiana to the U.S. in the Louisiana Purchase.
From the early days, New Orleans was known for its cosmopolitan polyglot population and mixture of cultures.  It grew rapidly with the influx of Americans, Africans, French and Creole French. This mixture has created a city and a culture unlike any other in the world.
New Orleans Culture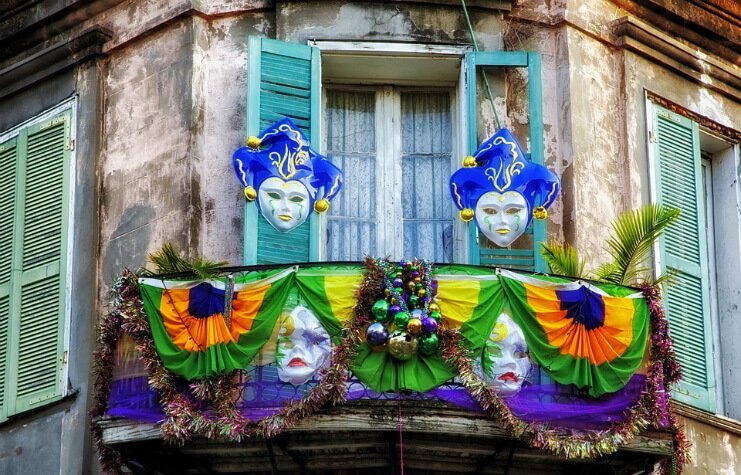 New Orleans is one of a kind.  No city can compete when it comes to food, cultures, historic architecture and tourist activities.  Visitors are delighted by the French Creole elegance of the French Quarter and the opulence of the Garden District.
During Mardi Gras, New Orleans becomes the country's center of action.  Downtown is turned into an adult playground. Parades in residential areas provide entertainment for children and the young at heart.  And anytime of year, you can find live music, delectable Creole and Cajun cuisine, fresh seafood, farmers markets, unique shopping, nightlife and so much more!  Find out how to save money on a Mardi Gras Vacation Package here.
Jazz was born in New Orleans.  In Congo Square, to be exact, Jazz is the music that was created when African, African-Caribbean and European traditional converged in New Orleans.  Music was part of every aspect of social life in the "Big Easy," including Carnival, debutante balls, parlor parties and even funerals. New Orleans was fertile ground for that new art form.  You can save on a New Orleans Jazz Cruise by clicking here.
Many of the earliest names in Jazz were from Louisiana – Jelly Roll Martin and Louis Armstrong,  Others came later including Louis Prima, Al Hirt, Pete Fountain, Edward "Kidd" Jordan and Ellis, Branford and Winton Marsalis. 
The Voodoo of New Orleans
Voodoo is as much a part of New Orleans as Jazz, Mardi Gras and gumbo.  Voodoo is a religion connected to spirits, ancestry and nature. It is a fusion of African, Haitian and Catholic spiritual beliefs and practices.  It became popular with slaves in New Orleans during the 18th centruy and has its share of colorful mythologies and personalities.
New Orleans is a great place to learn about Voodoo.  Begin with the New Orleans Historic Voodoo Museum. A small building, its two rooms are packed with artifacts from Africa, Haiti and New Orleans detailing Voodoo history and the symbols behind its rituals.  Drum music adds to the ambience. See Voodoo dolls, Voodoo altars, a zombie whip from Haiti and Rougaron (alligator man).  
Learn about New Orleans' famous Voodoo Queen, Marie Laveau.  She lived in the city during the 19th century and practiced both Catholicism and Voodoo.  Her healing powers were so legendary devotees continue to make a pilgrimage to her resting place in St. Louis Cemetery #1.  
Take a tour to learn more about Voodoo, Vampires and Ghosts in New Orleans.
New Orleans: Haunted?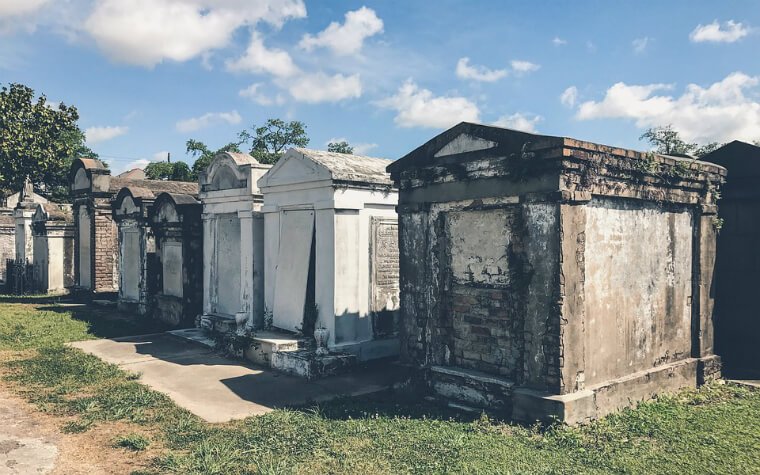 New Orleans is believed to be America's Most Haunted City and is home to more haunted hotels than any other place.  If you're looking for a paranormal experience in your hotel stay, you should consider the following hotels. And click on the links to get a great price for them:
The Fleur de lis Mansion, The Avenue Bed & Breakfast, The Jean Lafitte House are three Bed & Breakfasts that are said to be haunted.  New Orleans is a place where the dead refuse to rest. From pirates to yellow fever victims to murdered slaves, all manner of other worldly spirits might just join you on your evening stroll.  Atrocities were committed in the infamous LaLaurie Mansion. New Orleans teems with restless spirits, Its eerie cemeteries have earned it the name of "City Of The Dead."
New Orleans Vampires
New Orleans is rich in all manner of macabre.  You can't go far in the French Quarter without passing a site infamous for its vampire lore.  The first vampire stories originate with the settling of New Orleans by the French. The King of France sent a group of girls to marry the first French settlers.  Each girl had a casket shaped box of different sizes, presumably to hold their belongings. The girls lived in the Ursuline Convent on Chartres Street until they got married.  The casket boxes were stored on the third floor and were found to be empty. The mortality rate in New Orleans skyrocketed with the girls' arrivals, with the infant mortality rate highly affected.  Legend has it that the casket boxes are still stored on the third floor and no one is allowed on that floor.
The Saint Germain House on Royal Street was the home of Jacques St. Germain in 1902.  A party throwing socialite, he served delectable food but was never seen to eat any of it, he only drank glass after glass of red wine.  After a woman accused him of trying to bite her neck, St. Germain vanished. The police searched his house and found no food but many bottles of red wine that was a mixture of wine and blood.  
It is easy to imagine vampires creeping from the shadows of the crypts or prowling for victims in the unlit alleys in the French Quarter.
New Orleans Neighborhoods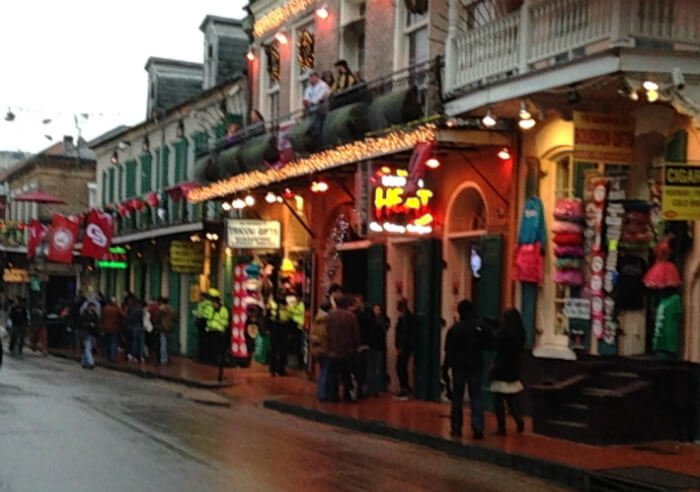 New Orleans has some of the most interesting architecture, food and entertainment dispersed through different neighborhoods.
The French Quarter features European architecture, Bourbon Street nightlife and Royal Street antique shopping.  Enjoy seeing street performers and historic landmarks.
The Garden District has classic revival mansions, colleges and universities and St. Charles Streetcar.  You can go boutique shopping on Magnolia Street and walk down lovely tree lined residential streets.
Treme is the oldest African American neighborhood in New Orleans.  You see colorful Creole cottages and shotgun homes and multicultural landmarks.
The Arts/Warehouse District features art galleries, museums, trendy restaurants and industrial renovated warehouses.
Marigny/Bywater offers a vibrant arts and culture scene, a bohemian residential vibe and the St. Claude Arts District.  You can enjoy live music on Frenchman Street.
Downtown has skyscrapers, business epicenter, upscale hotels and cocktail lounges, rooftop bars, arcades and gaming.  Sports events and tailgating are enjoyed here.
Mid City has the Museum of Art & Sculpture Gardens and above ground cemeteries.  Enjoy family fun in City Park, the local dive bar scene and Canal Streetcar.
Lakeview has family fun in City Park and waterfront views and activities,  Enjoy quaint dining and shopping on Harrison Avenue.
Gentilly & 9th Ward is a multicultural community featuring Vietnamese cuisine and soul food.
New Orleans Food
New Orleans is known for its delicious food.  Creole and Cajun cuisine dominate here. Try jambalaya, po boys, beignets, gumbo and maybe even gator.  You can see this on the Taste of Nawlins Tour.
New Orleans Festival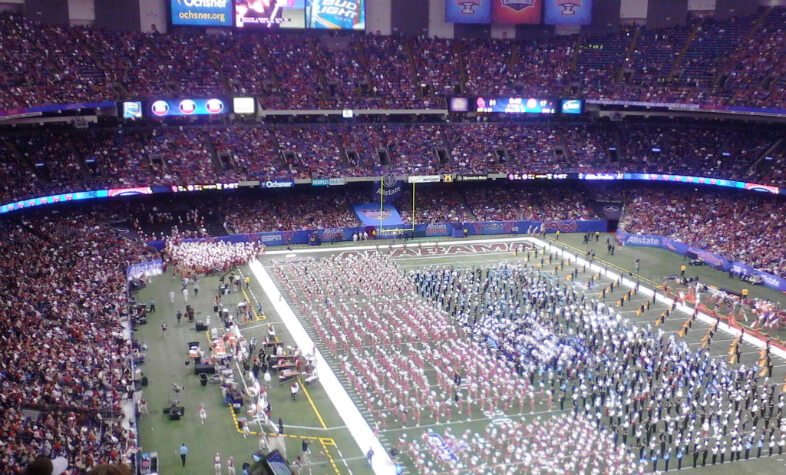 New Orleans has been called "The Festival Capital of the World" and "Best City In America For Festivals."  It is home to over 130 festivals each year:
January
Allstate Sugar Bowl
I've been to the Sugar Bowl.  I saw a great game that everybody was talking about the next day and saw a fabulous half time show!
Kings Day Celebration
King Cake Festival celebrates one of New Orleans' sweetest treats: King Cake!  You can taste dozens of King Cakes from bakeries and restaurants.
New Orleans Tamale Fest
Central City Oyster Jam
Chef's Charity for Children
February
Mardi Gras Parades
Krewe of Armenius Ball
Krewe of Armenius Ball is a gay carnival ball held on the Saturday evening before Mardi Gras
Tet Fest
Tet Fest is a free celebration of Vietnamexe New Year
Magic Ladle Soup Cook-off
Nuit Belge New Orleans
Nuit Belge New Orleans has 12 of New Orleans' finest chefs preparing two dishes for tasting
Jerk Chicken Festival
March
Tennessee Williams New Orleans Literary Festival
The Tennessee Williams New Orleans Literary Festival with the crowd favorite Stella! Yelling Contest
Hogs For The Cause
Hogs For The Cause is a pork cooking contest raising money for youth cancer charities
Louisiana Oyster Jubilee
Louisiana Oyster Jubilee constructs the world's longest oyster po boy stretching over 1 French Quarter block
Congo Square New Worlds Rhythm Festival
Buku Music & Art Project
Italian Heritage Festival
New Orleans International Beer Festival
April
New Orleans Jazz & Heritage Festival
New Orleans Jazz & Heritage Festival with international superstar musicians
French Quarter Festival
French Quarter Festival is the largest free music festival in the U.S.
May
New Orleans Wine & Food Experience
New Orleans Wine & Food Experience features over 2 dozen local restaurants and over 90 chefs to showcase their finest dishes
New Orleans Oyster Festival
New Orleans Oyster Festival has both oyster shucking (18 in 2 minutes) and oyster eating (24 dozen in 8 minutes) contests
Greek Fest
Greek Fest is celebrated on Bayou St. John at the oldest Greek Orthodox church in the Americas
Mid City Bayou Boogaloo
Mid City Bayou Boogaloo celebrates New Orleans' culture and art
June
French Market Creole Tomato Festival
French Market Creole Tomato Festival is held in the nation's oldest marketplace
Blueberry Festival
Louisiana Catfish Festival
Louisiana Cajun Zydeco Festival
Louisiana Cajun Zydeco Festival celebrates Cajun music and the hybrid offshoot, Zydeco
New Orleans Pride Festival
Festigals
Festigals is a female empowering getaway
July
Coca Cola's ESSENCE Festival
Coca Cola's ESSENCE Festival celebrates African-American music, beauty, health and entrepreneurship.  It features an extraordinary lineup of musicians and special guests. 2019 Headliner was Michelle Obama.
Bastille Day Fete
Bastille Day Fete celebrates New Orleans French heritage with French cooking, demonstrations, music, dancing, kids, activities, aostume contest and specialty French cuisine.
Tales of the Cocktail
Tales of the Cocktail is a festival filled with seminars, workships, tastings, competitions and more
Satchmo Summer Fest
Satchmo Summer Fest honors the most famous local musician, Louie Armstrong
San Fermin en Nueva Orleans
San Fermin en Nueva Orleans is the New Orleans version of the running of the bulls.  Participants run in the streets chased by roller derby girls with plastic bats. There is a pre-race celebration and a post race celebration.
West Bank Beer Fest
August
Hancock Whitney White Linen
Hancock Whitney White Linen is an annual art walk in the Warehouse Arts District.
Dirty Linen Night
Dirty Linen Night is an art walk in the French Quarter
Red Dress Run
Red Dress Run is a 2 mile race/barcrawl for charity with everyone – men and women – wearing red dresses
COOLinary New Orleans
COOLinary New Orleans is a celebration of New Orleans restaurants
September 
Southern Decadence
Southern Decadence is the largest event in the South with over 160,000 participants
New Orleans Burlesque Festival
New Orleans On Tap
New Orleans On Tap with home brewed beers
October
Voodoo Music & Arts Experience 
Voodoo Music & Arts Experience with 85 hours of music
New Orleans Film Festival
New Orleans Film Festival with 200 films and 25,000 attendees
Louisiana Seafood Festival
Art for Art's Sake
Oktoberfest
Hell Yes Fest!
Hell Yes Fest!  Is a 10 day comedy fest with 100+ comedians 
Crescent City Blues & BBQ Festival
Gretna Heritage Festival
New Orleans Book Festival
Japan Fest
November
Oak Street Po Boy Festival
Theme Creole Gumbo Festival
Chefs Emeril Lagasse & Donald Lenk's Boudin, Bourbon & Beer Festival
Bywater Mirliton Festival
Bywater Mirliton Festival celebrates food, music, art and the unique culture of Bywater
Fringe Fest
Louisiana Renaissance Festival
Second District Blues Fest
New Orleans Irish Channel Fest
December
Celebration In The Oaks
Celebration In The Oaks is a month long holiday lights festival in City Park and it is spectacular
Bonfire On The Levee
Caroling In Jackson Square
Caroling In Jackson Square lit by 10,000 candles
New Orleans for Families
New Orleans, Louisiana is not just a great travel destination.  There are actually a lot of great activities for children in New Orleans, too.  Click here to find out what made our list of the best family activities in New Orleans.
New Orleans Travel Deals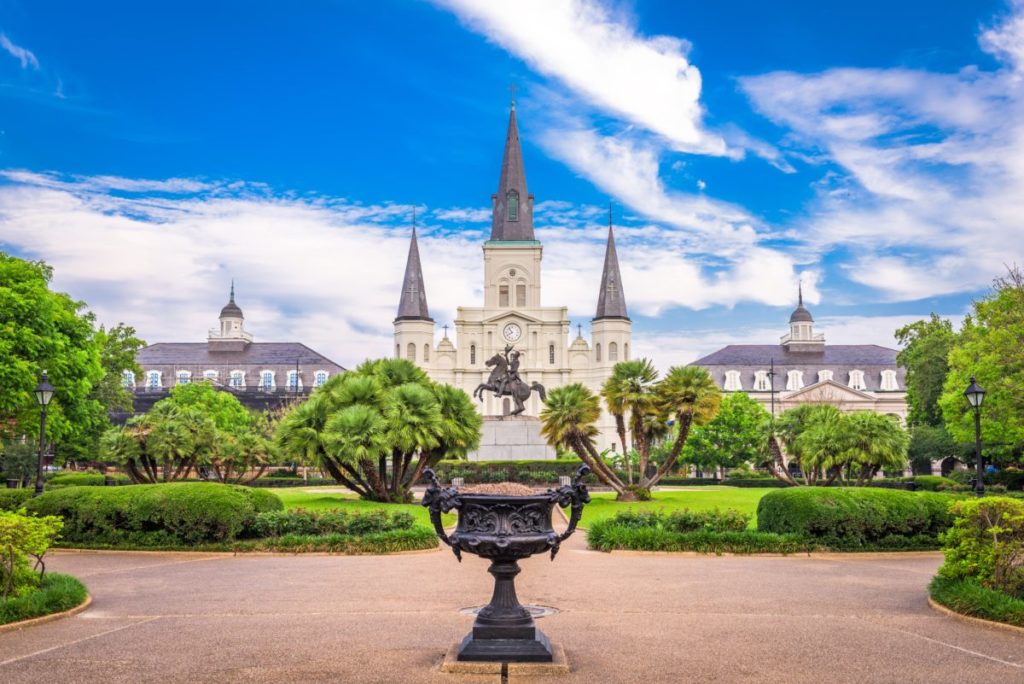 Throughout this travel guide, we've given you links to help you save money on your New Orleans trip.  But here are a few more ways you can save in New Orleans.
A great way to see any city (New Orleans included!) is with a hop-on, hop-off bus tour.  You get audio commentary, great views from atop the double-decker bus and you can stop at any attraction you want to explore.  Find out how to save on a hop-on, hop-off bus tour by clicking here.
If you click here, you can read a comparison between the Power Pass and the Sightseeing Pass.  These are two cards you can purchase that can help you save money on top New Orleans sightseeing attractions.
Find out how to get cheap flights to New Orleans by clicking here.
You can save money on New Orleans hotels by clicking here.
Save on the Chalmette Battlefield Cruise by clicking here.