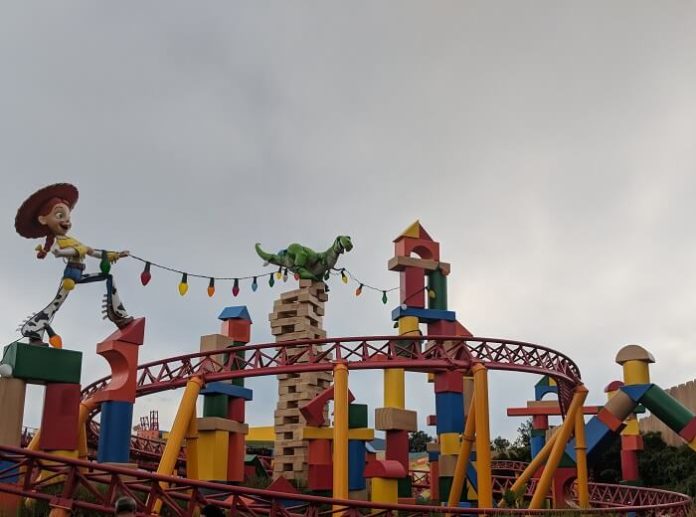 If you click on the links in this post, we may earn money from the companies mentioned in this post, at no extra cost to you. You can read the full disclaimer here.
When you're planning a trip to Walt Disney World Resort in Orlando, Florida, then there are a lot of things to think about: booking a hotel, getting tickets to the Disney World parks and, if you don't live close to Disney World, you may need to book a flight (and if the flight is really long, please see our tips for long flights to Walt Disney World).
If this is the case for you, then a Disney World vacation package may be the best bet for you.  By booking everything together, you can save a lot of money; in fact, I've found that you can often save around $100 by booking your flight along with your hotel on Expedia.  And through Expedia, you can book your hotel, your airline tickets, your Disney World theme park tickets and even a car rental.
So here's how you can get a great Disney vacation package with airfare through Expedia.
Under "leaving from", enter the city you are leaving from (like Boston, Dallas, Phoenix, etc.)

Under "going to", enter Orlando, Florida

For "departing" and "returning" enter in the start and end dates of your desired vacation

Enter the number of rooms you want, adults 18+ and children that are coming on your trip

Pick which flight you want (economy, first class, business, etc.)

Click "search".  On this step you may have to clarify which airport you want to fly out of

Here's where you can pick your hotel.  There are a lot of amazing hotels in Orlando, and one thing to keep in mind is that while non-Disney hotels often cost less, Disney hotels do give you free transportation from the airport to the hotel, which can save you a lot of money.  However, you can always rent a car or book transportation from the airport, but this is just something you should think about. Now if you are trying to look for Disney hotels, one trick I use on Expedia to find Disney hotels is to enter the word "Disney's" in the "Search by property name".  All of the Disney World resorts on Disney World property starts off with the word "Disney's" (such as Disney's Port Orleans Resort French Quarter, Disney's Port Orleans Resort – Riverside, Disney's All-Star Music Resort, Disney's Caribbean Beach Resort, Disney's Art of Animation Resort, Disney's Animal Kingdom Lodge, etc.).

Once you pick your hotel, click on it and then you can pick your room.  Some rooms are more expensive than others (like for Port Orleans Riverside, you can get a royal guest room with Disney Princess decorations and that costs more, or a river view costs more, a preferred room which means you're closer to the main building also costs more, etc.).  Once you picked your room, click "Select".

Now you can choose your flights to & from Walt Disney World.  You can pick the best flight for you based on length of flight, cost, preference or airlines, etc.

Once you've picked your flight, you will be taken to a screen that shows the trip you have picked.  If you would like to rent a car during your stay (and it will save you a lot of money to book your car rental with the rest of your vacation), you can add it here.  Please see the screenshot below. If you picked a non-Disney hotel, you can also consider adding the "Shared Shuttle: Orlando International Airport" to your trip, which is cheaper than getting a taxi.  Scroll down a little and you'll see that option.
Here is where you can also add on your Walt Disney World tickets.  Just scroll down on the screen to where it says "Things to do in Orlando, FL".  Click the button "View Details" and then you'll see the option "Find Tickets". You can pick your tickets based on how many days you will visit the park and if you want the option of visiting more than one theme park during one day (such as visiting Toy Story Land at Disney's Hollywood Studios in the morning and then getting a nice meal at the World Showcase at EPCOT at night) then you need to pick the "Park Hopper" option.  

Once you pick your ticket option, you'll pick the first date you will be visiting the parks under "Choose your date" and then you will pick how many children's (ages 3 to 9 years old) tickets you'll need and how many adult tickets (ages 10 years old and up) you will need. Then press "Add to trip". If you want to add on tickets to Universal Studios or SeaWorld theme parks you can do it here, too.

Now, you're ready to finalize your trip!  Press "Next: Final Details" and you can fill out all your travelers' information for the flight, you can add trip insurance here, etc.  You'll notice you'll be able to get a lot of Expedia points for this trip, which is the great thing about booking through Expedia because you can use those Expedia points on future trips, to Disney World or anywhere else you would like to visit!