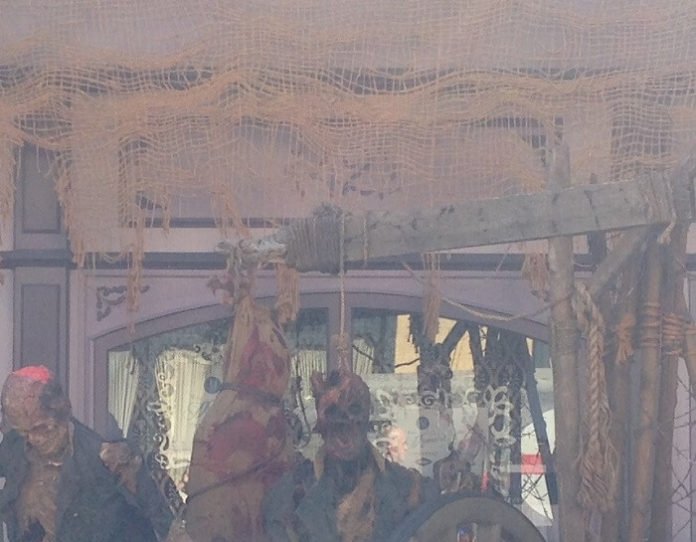 If you click on the links in this post, we may earn money from the companies mentioned in this post, at no extra cost to you. You can read the full disclaimer here.
Halloween Horror Nights at Universal Orlando
This fall, be prepared to be afraid…be prepared to be very afraid, actually, if you're daring enough to try the Halloween Horror Nights at the Universal Resort!
On select nights from September 6th through November 2nd, 2019, at 6:30 PM, Universal Orlando will be transformed with haunted houses, live shows, scare zones…and of course several of your favorite Universal Orlando rides and attractions will be around for you to enjoy!  And since this is Universal, you'll be scared by some of your favorite scary movies & shows.
First please note, though that this event is aimed towards adults and teenagers.  This may be too scary for children under 13 years old (and, let's face it, some adults).  If you have younger children and want a Halloween event in Orlando, you may have a better time at Mickey's Not So Scary Halloween Party, SeaWorld's Halloween Spooktacular, or LEGOLAND's Brick-or-Treat event.  But if you want good scares, you are in the right place!
So today I'll be going over all the great entertainment you'll see and then tell you how you can get discounted tickets.
Haunted Houses
There are 10 amazing haunted houses at Halloween Horror Nights in 2019:
Stranger Things
Stranger Things is back this year (yay!) but this time you'll experience the most terrifying moments of seasons 2 & 3.  Some of these scary moments include:
Those terrifying snarling Demodogs
The scenes from Hopper's cabin
The Starcourt Mall scary scenes
Us
It is so exciting that this year we will get a haunted house from the new classic horror movie, Jordan Peele's Us!  You'll enter this funhouse at the Santa Cruz Pier.  The Wilson family—and you—will be hunted by terrifying doubles known as the Tethered.
Universal Monsters
Get spooked by the famous Universal Monsters, like:
Frankenstein: Try to escape this manmade monster in Dr. Frankenstein's laboratory
Dracula: Get spooked in Dracula's castle
The Wolfman: Try to escape through a dark Bavarian forest
And more!
Ghostbusters
In this haunted house, you'll step right into the original classic beloved movie, Ghostbusters.  You'll experience Slimer along with other ghoulish spirits, specters and ectoplasm-dripping phantasms materializing out of nowhere!
Killer Klowns from Outer Space
In this haunted house, you'll have to make sure you stay away from cotton candy cocoons.  You don't want to end up as a gooey snack!
House of 1000 Corpses
This haunted house is based on Rob Zombie's epic horror masterpiece.  You'll come face to face with the psychotic Firefly family.
Depths of Fear
The story behind this haunted house is that a deep-sea mining company has built an installation deep in the ocean.  Unfortunately, the waters have become infested with parasitic slithery monsters, the Mouthbrooders.  Don't you hate when that happens?
Graveyard Games
You'll be in a graveyard at night when some disrespectful teens (nice going, guys!) have awoken vengeful spirits.  Now ghosts have risen to torment everyone who has disturbed them.
Nightingales: Blood Pit
The story behind this haunted house is that Ancient Rome has suffered a horrible drought. Their ruthless emperor has done what any ruthless emperor would do: declare that gladiatorial games will continue nonstop until the rains return.  And that might be bad enough…but then bloodthirsty creatures appear.
Yeti: Terror of the Yukon
The story behind this haunted house is that you're in a remote part of Canada.  To escape the cold, you'll enter a logging camp.  But unfortunately, you've entered Yeti territory.
Scare Zones
In addition to haunted houses, there are 5 scare zones that are also really great – and (naturally) scary.
Zombieland Double Tap
Loved the first Zombieland movie?  Then try making it through the sequel! See if you can escape the United States of Zombieland before being eaten.
Rob Zombie Hellbilly Deluxe
Experience the heavy metal horror of Rob Zombie live while his popular songs come to life.
Anarch-cade
The Avenue of the Stars will be overtaken by a menacing 80s-inspired arcade where you only get one life.
Vanity Ball
Blade-wielding artists slice up willing participants into (disturbing) living works of art.  Do you want to be next?
Vikings Undead
Viking warriors have risen from the grave and will now wreak havoc on the Central Park section of Universal Studios Florida. The Vikings were barred from Valhalla (a Viking paradise) and they have channeled their rage over this into an endless onslaught of gore.
Live Entertainment
In addition to the scare zones & haunted houses, you will also be entertained by new or bigger than ever shows.
The one I am most excited for is Halloween Marathon of Mayhem.  Pounding electro music, huge water screens & piercing lasers will join together for a spectacular show at Universal Studios' lagoon.  It features a new take on Stranger Things, Ghostbusters, Killer Klowns from Outer Space and Universal Monsters.
Academy of Villains: Altered States is back, but will be bigger and better than ever!  You'll enjoy a mix of dance and theatrics by a talented group of performers.
Rides
Some of your favorite rides will be open during this event:
Revenge of the Mummy
Hollywood Rip Ride Rockit
MEN IN BLACK Alien Attack
These rides will be open but will close prior to the end of the event:
Harry Potter and the Escape from Gringotts
Fast & Furious: Supercharged
TRANSFORMERS: The Ride-3D
The Simpsons Ride will also be open on select nights.
Discount Tickets
The Halloween Horror Nights event is considered a separate event and is not included in the cost of general admission.  So if you are planning a trip to Orlando around this time and you buy tickets for Universal Studios while you are there, you will also need tickets to this event.
The best way to get discounted tickets is through Best of Orlando.  You can save a whopping 30% by booking through this website.  Now, this event works similar to Mickey's Not So Scary Halloween Party, where you pay more based on what day you go.  For example, if you go on Halloween, you'll pay more money.  But if you book a date that is less popular, you can buy a ticket on Best of Orlando for as low as $56!  
You can buy tickets through Universal Orlando's website and that will save you money rather than buying the ticket at the event, but the cheapest ticket available is just $67.99 – which is obviously a lot more expensive than the rates through Best of Orlando.
The other place I always like to check out for discounted Universal Orlando tickets is Publix.  You can often find good prices if you're at a Publix in Florida.  But their prices, while saving you money, don't compare to the prices you'll find on Best of Orlando.  They are on par with Universal Orlando's online tickets.  The lowest price you'll find is $67.99.  So once again, if you want to save money, your best bet is Best of Orlando.