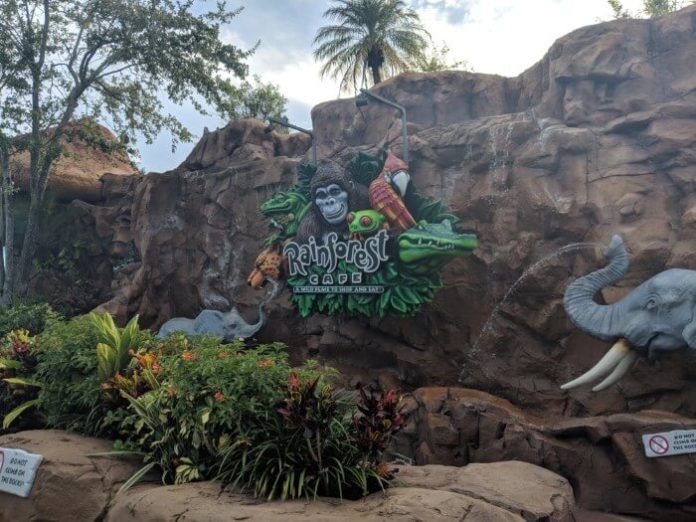 If you click on the links in this post, we may earn money from the companies mentioned in this post, at no extra cost to you. You can read the full disclaimer here.
Every time I take a trip to Walt Disney World in Orlando, Florida, I make sure to have one meal at the Rainforest Cafe at Animal Kingdom.  Not only is the food delicious (my favorite is the Caribbean Coconut Fried Shrimp), but I love the rainforest atmosphere with the great animal animatronics.  Plus, it's a sit down restaurant in an air conditioned building with a bar. I probably could have just sold with you that sentence, right?
But just in case you're not sold, the Rainforest Cafe can also be a great economical decision.  Now, you may be wondering how if you've peaked at the menu. But there are actually a few ways to save money here – actually, here are 3.
Pay with Disney gift cards: You can pay for your Rainforest Cafe meal with a Disney gift card.  Now, you may be wondering, how do I get a Disney gift card? For more information on how to use Swagbucks to get Disney gift cards for dining, please see here.
Join the Landry's Select Club: Even though Rainforest Cafe is located inside Disney World it is not owned by Disney World; it is actually owned by a company called Landry's and they have a great reward program.  You can earn points towards meals either there or at other Landry's restaurants and you can even get free gift cards for your birthday. In addition to the savings, you can also get preferred seating which means you don't even have to get a reservation.  See more information about the program here.
Disney Dining Plan: You can get your meal covered by the Disney Dining Plan.  For more information on the Disney Dining Plan, and how to save money with the Disney Dining Plan, check out these tips by Best of Orlando (a great place to go to get discounted Disney World tickets & Disney hotel stays).
Save this for later – pin it to your favorite travel or Disney Pinterest board!