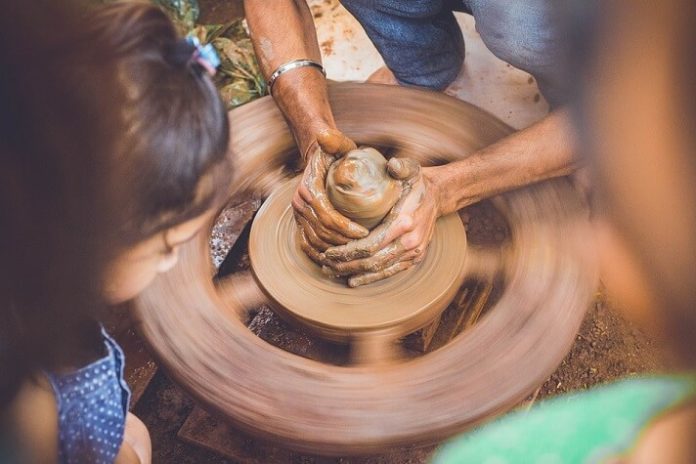 If you click on the links in this post, we may earn money from the companies mentioned in this post, at no extra cost to you. You can read the full disclaimer here.
This fall, you really need to head to Silver Dollar City in Branson, Missouri, because their special fall festival event is a must see!  The National Crafts & Cowboy Festival, taking place at Silver Dollar City from September 12th – October 27th, has been voted as one of the nation's best fall harvest festivals by U.S. News & World Report Travel & was named the Best Fall Festival in Missouri by Travel & Leisure.  And if that's not enough reason for you to go ahead and buy your Silver Dollar City tickets right now (which you should do through Reserve Branson to get the best deal), I've got 10 more reasons why you should attend the National Crafts & Cowboy Festival this year:
125 Visiting Craftsmen

: This festival features 125 visiting craftsmen, some of the best in the nation, and you'll be able to meet them & see them demonstrate their skills.  You'll be able to see craftsmen who excel in:

Clay, Metal, Glass & Stone

Fiber & Fabric Arts

Jewelry & Decor

And more!

Wild West Show

: You need to attend this year if you want to see this great show, because it's the final year it will be at Silver Dollar City's fall festival!  And it's a great show, too, giving you the spectacle of Buffalo Bill's Wild West Show which wowed audiences worldwide from 1883 to 1913. The show is hosted by A.J. Silver, bullwhip artist & trick roper extraordinaire and it features the Western Trick Riders, 8-time World Champion Hoop Dancer Nakotah LaRance, sharpshooter Kala Howard and David Rosaire and his Perky Pekes.  It even features a patriotic finale complete with pyrotechnics & an American Bald Eagle flyover. This is definitely one you're not going to want to miss, and since this is the last year of the show at Silver Dollar City, this is all the more reason you need to go now!

Barn Dance

: Enjoy a good old Barn Dance at the Carousel Barn, complete with live music from Silver Dollar City's own Horsecreek Band!

Silver Dollar City Stagecoach

: The National Crafts & Cowboy Festival will not only be a great place to see amazing arts & crafts, but it will also mark the homecoming of the historic Silver Dollar City Stagecoach.  This is a historic, authentic 1880s stagecoach that was part of the Overland Stage Line carrying passengers & mail out west before it became one of the first Silver Dollar City rides in the 1960s. You'll be able to see the restored coach in the Red Gold Courtyard with Cowboy Rick Hamby.

Kent Rollins

: Kent Rollins, who has been featured on

Chopped

&

Throwdown with Bobby Flay

on the Food Network as well as

Food Fighters

on NBC, will demonstrate his authentic chuck wagon cooking from his restored 1876 Studebaker wagon.  You'll also be able to enjoy his cowboy stories, humor and poetry when you come by and see him!

Buck Taylor's Cowboy Emporium

: You'll be able to meet Gunsmoke star & cowboy artist Buck Taylor!

Live Music

: There will be a lot of great musical performances at the National Crafts & Cowboy Festival, like:

The Farnum Family: Enjoy this great family band play Gospel, Bluegrass & Western music from September 12th – September 30th

Faith's Journey: Enjoy beautiful Gospel favorites from this talented Branson-based trio from October 3rd – October 27th

The Hanson Family: Enjoy great Western Swing music from this great musical act from October 3rd – October 27th

Spoken 4 Quartet: Enjoy the soulful gospel melodies of the Spoken 4 Quarter, Branson's own great band, from October 24th – October 27th  

Visiting Performers

: You can enjoy great western music from visiting performers at the Riverfront Playhouse.  Here's the schedule (please note, this is subject to change):

The Western Flyers from September 12th – September 16th

Syd Masters & The Swing Riders from September 26th – October 7th

The Home Rangers from October 10th – October 12th

The Willis Clan from October 17th – October 21st

Best of Missouri Hands

: You can see what talent the state of Missouri has throughout this festival as some of the state's best craftsmen and artists' works will be on display.  You'll see great jewelry art, hand-woven baskets, pottery, birdhouses, sandstone art, nature photography, paintings, etc.

Cherokee Indian Trading Post

: You can watch Native American artisans demonstrate crafts like flute making, bow making, pottery, cooking, etc. that are a staple of Native American culture & heritage at the Cherokee Indian Trading Post in the Red Gold Courtyard.