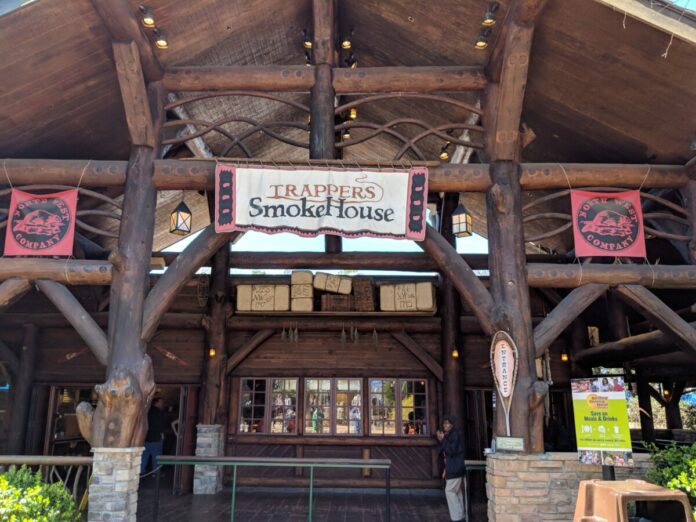 If you click on the links in this post, we may earn money from the companies mentioned in this post, at no extra cost to you. You can read the full disclaimer here.
What is the All Day Dining Deal at Busch Gardens Williamsburg?
If you're planning a trip to Busch Gardens Williamsburg, you're definitely going to want to think about dining options.
Meals at theme parks can get expensive. But with the All-Day Dining Deal at Busch Gardens, you can pay a one time fee that covers all your meals for the day!
How does it work? Well, you'll get a wristband, which you'll show at participating restaurants in the park.
You can get one meal every 90 minutes.
For adults, this meal includes:
1 entrée
1 regular sized fountain drink (non-alcoholic)
1 side OR dessert
Children on the All Day Dining Plan get the following with their meal:
1 kid's entrée
1 kid's sized drink
1 side OR dessert
We're going to take a look at what dining options are included in the All Day Dining Deal. Then, we'll go over whether or not this is a good deal for you and your family. Finally, we'll give you some tips we've learned that can help you make the most of the dining plan.
Which restaurants does Busch Gardens Williamsburg All-Day Dining include?
The All-Day Dining Deal at Busch Gardens Williamsburg includes 6 dining locations:
Das Festhaus
German Pretzels and Beer
Les Frites
Marco Polo's Marketplace
Squire's Grille*
Trappers Smokehouse
Let's take a look at each of them so you can get an idea of where to find them and what they offer.
*Please note that Squire's Grille is temporarily closed.
Das Festhaus
Location: Oktoberfest
Includes: German fare (as well as other options, like pizza or chicken)
This fun restaurant is set up like a festive dining hall, with long wooden tables that can be shared by multiple groups or families. There is a stage in the middle of the hall for entertainment (fun, family friendly shows, usually involving singing and dancing).
Some of the entrées at Das Festhaus include oven-roasted chicken, bratwurst, pizza options, roasted sirloin sandwich, garden salad and more. You can also choose from a number of sides (like German potato salad, french fries, sauerkraut and more). There are dessert options, like cake and pudding. To drink, choose from milk, Coca-Cola products and a variety of draft beers.
One feature that makes Das Festhaus especially appealing is that it is entirely indoors. Not every restaurant at Busch Gardens Williamsburg has indoor seating. In fact, Das Festhaus is the only place with indoor seating that is included in the All Day Dining Deal. This makes it stand out as one of the best options on a really hot – or really cold – day.
German Pretzels and Beer
Location: Oktoberfest
Includes: The name says it all!
At German Pretzels and Beer (aka Beste Brezeln und Bier), you can enjoy a variety of pretzel-themed menu items. Order a pretzel sandwich or pretzel-wrapped hot dog. Use one of the dipping sauces with your pretzels. And of course, you can't forget about the beer! Choose from authentic German, craft and seasonal beers. (Please note, though, that alcoholic beverages are not included in the All-Day Dining Deal.)
Les Frites
Location: France
Includes: French fries with toppings
While plain French fries can be delicious, at Les Frites they take fries to a whole new level!
For example, with BBQ Fries, you get fries with pork barbecue, coleslaw and cheese. Irish Loaded Fries come with sour cream, bacon and cheese. Other options include Italian Fries (with marinara sauce and cheese), Poutine (with gravy and cheese curds) and Classic Fries (with chili and cheese).
Marco Polo's Marketplace
Location: Italy
Includes: Italian, Mediterranean & Asian
At Marco Polo's Marketplace, the entrees reflect the cuisine of not only Marco Polo's home country but the places he explored as well. This makes it an excellent place to go if you have a big group or a lot of different tastes in your family, because there are a variety of options! The menu includes such items as beef cannelloni, Mongolian beef or chicken, vegetable lo mein, chicken Parmesan, garlic rosemary lamb, orange chicken and more. There's also a nice selection of sides, including dumplings, Caprese salad, fried rice, spring rolls, roasted potatoes or vegetables and more. But you might end up skipping the sides and heading straight for the desserts, where you can even create your own cannoli.
While there is no indoor seating, the Marketplace is located next to Il Teatro Di San Marco, an open air theater with covered tables for seating. This makes it a nice place to eat if you want to get out of the sun or rain – and especially nice if there happens to be a performance going on!
Squire's Grille
Location: England
Includes: British and American food
Please note that Squire's Grille is temporarily closed.
Choose the Fish-n-Chips (one of our favorites here at Green Vacation Deals!) or English Garden Salad, or try one of the burgers or chicken tenders. At Squire's Grille, you'll have a number of choices to fit the different tastes of your family or group. Sides include fries, mozzarella sticks or a side salad. And if you want dessert, there are various cakes and pudding as well as fresh fruit.
You can find out more about the menu and the restaurant in our full Squire's Grille restaurant review.
This is the dining option closest to the entrance to the park, so if you want to start – or end – your day with a meal, its location makes it a great option.
Trappers Smokehouse
Location: New France
Includes: Slow-Smoked Barbecue
Entrees at Trapper's Smokehouse include hickory and oak-smoked spare ribs, slow-smoked chicken, and beef brisket smoked for 10 hours. (There is also a garden salad option.) For a side, you can choose from options like baked beans, fried pickles, Mozzarella sticks and a side salad. The kids menu features chicken nuggets and mac & cheese. And if you'd like, there are assorted cakes, pudding and fresh fruit available for dessert.
Is All Day Dining worth it at Busch Gardens Williamsburg?
In most cases, yes, All Day Dining is worth it at Busch Gardens Williamsburg.
Now, if it's a good deal – and just how much of a good deal it is – depends on how many meals and/or snacks you are planning to have during your time at Busch Gardens Williamsburg.
Because you can only go through a restaurant line once every 90 minutes, if you will only be spending a few hours at Busch Gardens, this probably isn't a good deal for you. Similarly, if you plan on having lunch before you arrive or dinner after you leave, then you might want to pass on All Day Dining.
Money Saved with All Day Dining
But let's say you plan on having a meal at Das Festhaus, for example. (And for simplicity's sake, we won't be looking at taxes.)
The average price of an (adult) entrée (including the German entrées, pizza, sandwiches, and salads) is $15.59.
The average price of a dessert or side is $5.99.
The average price of a soda (which varies on size) is $4.09.
This comes to $25.67.
Two meals (for lunch and dinner) would come to $51.34.
But the All-Day Dining Plan costs just $49.99.
This means that if your order is roughly average price, the Dining Deal is definitely worth it!
And if you get a snack and/or a soda, or a couple of snacks and a couple of sodas throughout the day, you're saving even more money.
Depending on when you visit Busch Gardens Williamsburg, there can be a lot of opportunities for these snack breaks. In July, for example, the park opens at 10 am each day and closes sometime between 9 pm and 11 pm (depending on the date).
Other All-Day Dining Benefits
In addition to being financially worth it (which, let's face it, is the most important aspect by far), there are other advantages to getting the All-Day Dining Deal.
Because you'll pay for your dining before your trip, this makes it easy to budget for travel expenses. Otherwise, meal prices can sometimes add up quickly on the day of your park visit.
And since you get a wristband to wear, you won't have to bother with payment methods each time you want to get a meal or snack.
Do you have any All-Day Dining tips?
Here are some tips for getting the most out of your All-Day Dining Plan at Busch Gardens Williamsburg.
Buy All Day Dining Beforehand
Click here to purchase the All-Day Dining Deal so that it's already taken care of before your trip.
See Which Restaurants are Open
On the day of your visit, check the website to see which restaurants are open. Some dining locations are open seasonally.
Get a Park Map
Download a park map or save this link on your phone. A visit to Busch Gardens often involves a lot of walking. You might also choose to take advantage of the train or Skyride (if they are open). Regardless, the park is rather spread out. Keep this in mind when deciding how to plan your day and where to eat.
Eat During Shows (or Avoid the Crowds)
Click on the day of your visit to see a show schedule. You might (or might not) want to time one of your meals around a performance. As we talked about before, these dining options are ideal if you want to watch live entertainment:
Das Festhaus
Marco Polo's Marketplace (next to Il Teatro Di San Marco)
Drinking Costs Extra
Budget for alcohol beforehand. Alcoholic beverages are not included in the All-Day Dining Plan, but there are a lot of great places to get wine and especially beer. If you're planning on drinking alcohol, you'll have to pay separately for that.
Don't Share Your Meals
While sharing one or a few All Day Dining Plans with a larger group of people may sound like a good economical decision, it's strictly against the rules. It can also lead to you losing your All Day Dining privileges, which is definitely not going to save you money!